Hey everyone,
You now have a chance to win a free WPFunnels Pro license! 🏆
Since we are celebrating 2 successful years of WPFunnels, we've decided to run a special contest that you can easily take part in.
📅 Contest Launch: November 9, 2023
🔗 How To Take Part In The Funnel Trend Challenge?
Create a small social post explaining how you have used, are currently using, or are planning to a funnel for your business.
After sharing the funnel journey, mention in a comment of your post, if you are currently using WPFunnels or are planning to use it in the future.

*You do not have to be a current WPFunnels user. We simply want to know your funnel journey & use case.
Use the hashtags: #funnelchallenge #wpfunnels #funnelhacker

*Your public post must include all of these hashtags to be eligible for the contest.
You may or may not include images (though we would really appreciate you using images.)
Once you post on social media, let us know by submitting this form:
Whether you're a beginner or a pro, show off your funnel-building knowledge and passion to the world; that's all we ask for.
🌟 Here's an example of how you can share your funnel experience: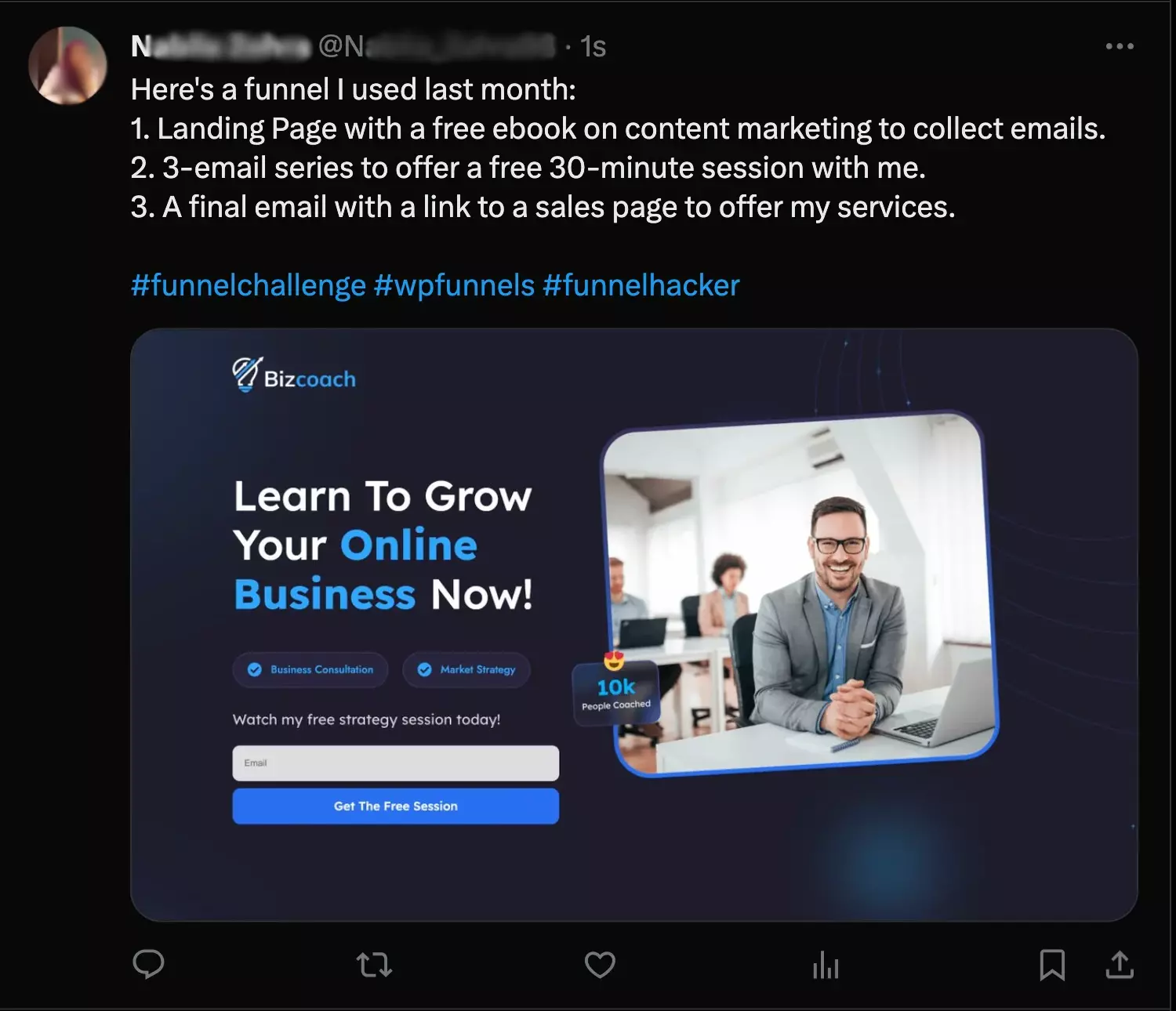 *You may use as many details as you want. As long as it paints a picture of your funnel, it's good to go.
📅 Participation Deadline: November 30, 2023
🌟 Reward:
3 lucky winners will get a free WPFunnels Pro (5-sites) annual license.
We will give the winners an option to come on an interview call with us, which we will share on all our social channels.
Winners will be announced on December 1st, 2023, via emails & social post.
🌟 Where To Post?
Accepted platforms to post on:
Facebook (post)
Twitter
Instagram (post or reel)
Threads (post)
LinkedIn
Youtube (post or video)
**Or, if you have some other platform with a lot of followers, you may request us to accept it via email.
Join the funnel trend challenge, and let's make the 3 hashtags trending together! 🔥
Go ahead and post now!