If you run a website, you know how important email marketing is. And now, with the help of AI, it has become so much easier.
According to Phrasee, 98% of the times, AI generated email subject lines are better than the ones written by humans.
Similarly, AI can now help you write complete email copies and even plan a proper email marketing campaign with better quality and conversion optimization than most people are capable of.
That is why, today, we will look at 8 amazing AI email marketing tools that can help you successfully plan email campaigns even if you are not highly experienced.
These are tools that are actively being used by thousands on their WordPress sites and have a great reputation for delivering high efficiency. Some of them work via ChatGPT, whereas others have developed their own AI email writer.
If you are planning to upscale your email marketing game, then these would be the tools you should be choosing from.
So, let's begin.
How To Use AI For Email Marketing?
Most people will consider AI as a tool to write content such as blogs, web-page copies, Ad copies, or maybe email copies. However, there's more to that.
If you can instruct well, you can have an AI tool deliver much more than just copies. You will rather be able to use AI for almost every aspect of your email marketing needs.
Here are a few significant ways AI is super useful in email marketing.
i. AI Email Writing
You may describe the purpose and the message you want to deliver with an email, and your AI email writer will be able to generate high-quality email copies.
So, instead of scratching your head to write conversion-optimized email copies, if you simply learn to explain the requirements to your AI email marketing tool, you will get better emails than what you could write on your own.
Of course, it won't be 100% perfect. You will still need to have a little bit of human touch. But the main format and the concept will be ready. All you need to do is invest 10 more minutes into improving it, and your email will be ready.
ii. Subject Lines With AI
Writing the email subject line is probably the most difficult part of creating an email campaign. It will determine whether you will get enough open rates or not.
Surprisingly, AI tools have managed to become super efficient on the matter. You can actually get the best email subject line suggestions from an AI writer than most humans can.
iii. Plan Promotional Email Campaigns With AI
Besides generating written content, AI is also capable of helping you plan marketing campaigns.
Last year, we actually used the help of ChatGPT to plan a pre-email series for the launch of our own email marketing tool, Mail Mint. The campaign was quite successful and got us huge sales from the very first day of our launch.
If you can instruct the purpose of your email campaign and the end goal, you can get a comprehensive plan to prepare email journeys for your customers.
iv. Suggestions On Types Of Campaigns to Run
You may often be in a dilemma about what type of email campaigns to incorporate for your business at different marketing opportunities. At this point, you may ask your AI tool to help you out.
Often, you will be surprised by some brilliant campaign ideas.
For example, AI gave us suggestions on a brilliant welcome email series for our email subscribers that we never thought of implementing in the past, along with several others we already use.
v. Optimize Email CTA
The email CTA is another barrier when it comes to email writing. You may have written a brilliant copy, but a poorly used CTA can ruin its conversion potential instantly.
It is wise to take CTA ideas from your AI tool to match your campaign goals and increase the chances of making your readers take action.
Now that you have learned about a few ways AI can be used in email marketing, let us look at 8 AI email marketing tool that you may rely on for the best results.
8 Reliable AI Email Marketing Tools For Your WordPress Site
Following are 8 AI tools that you may use to enhance your email marketing efforts and achieve higher ROI from your email campaigns.
1. Mail Mint
Mail Mint is currently one of the easiest email marketing automation plugins in WordPress that comes with everything you need to run result-oriented email campaigns.
You can collect leads using its own lead forms and then manage them effectively using lists, tags, or custom segments.
Once you have leads, you may run specific email campaigns or email sequences using an easy UI and an advanced email builder to design your email body.
Plus, you can also set up email automation flows based on user actions such as specific form submitted, user logged in, product ordered or purchased (WooCommerce), enrolled in course (TutorLMS), and many more. You may add emails, delays, conditional actions, etc.
AI Email Marketing Features In Mail Mint
Here's where it gets interesting. Mail Mint allows you to connect with your ChatGPT account. Then, you may easily generate email subject lines and email copies while creating your email campaign (without leaving Mail Mint's email builder).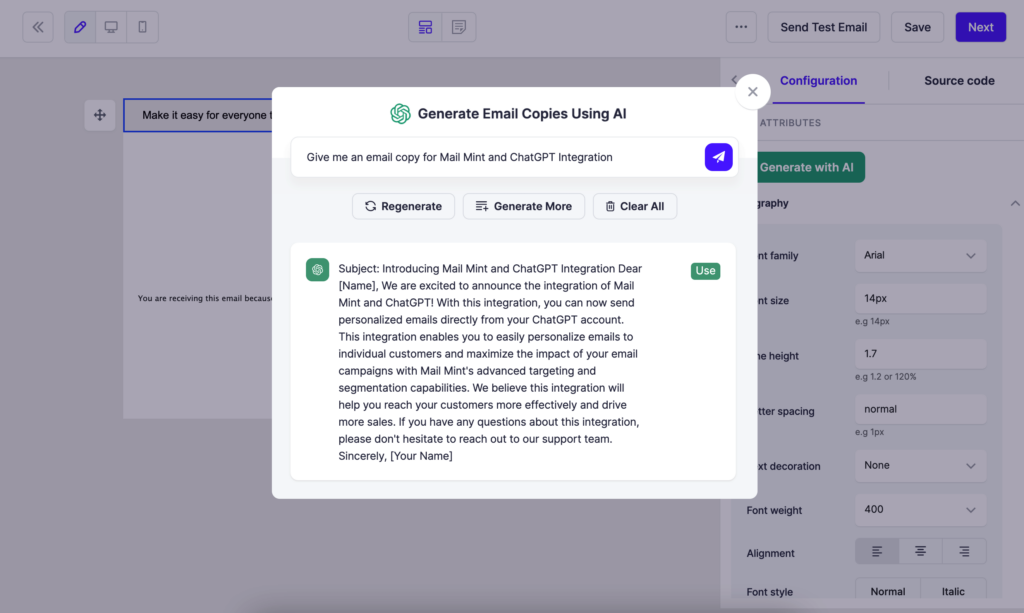 Rather than going to ChatGPT and copying the emails from there, you can generate the whole thing without leaving the email builder.
Plus, the custom UI for the subject line generator and email copy generator is much easier to use compared to ChatGPT's own UI.
It definitely helps to create quality emails without moving between multiple tools.
So, if you are using a WordPress website, Mail Mint is definitely the plugin you would want to use for email marketing with AI.
2. Brevo
Brevo (formerly known as SendInBlue) is a complete email marketing platform along with lead forms, contact management, segmentation, and email automation based on actions in emails (email opened, clicked on link, etc.).
They have their own email SMTP, which is among the best for medium-sized businesses. Plus, the easy UI offers a comfortable email marketing experience.
AI Email Marketing Features In Brevo
Brevo has an AI assistant to generate email subject lines and copies easily.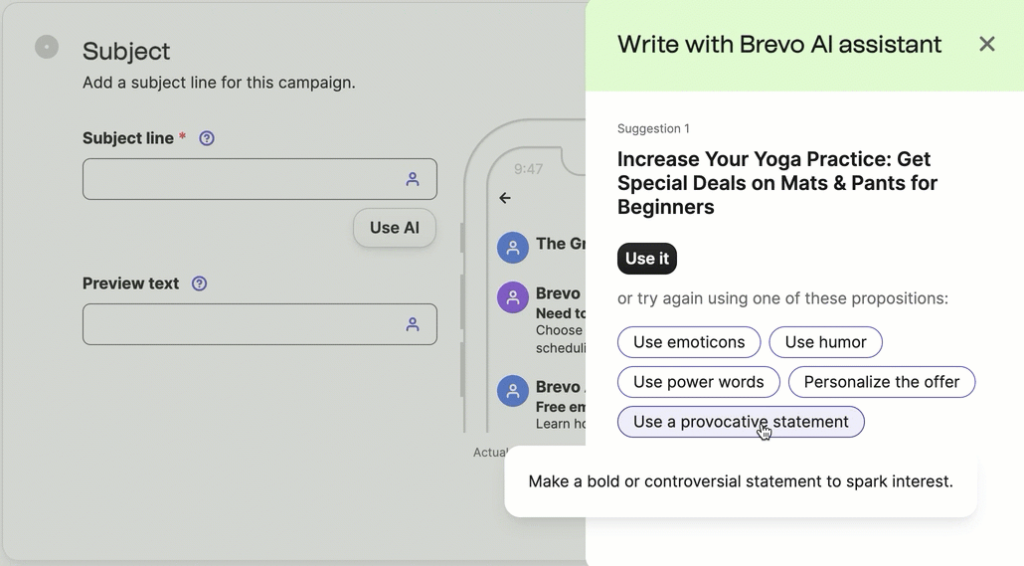 The AI assistant for email subject lines has its own unique prompts, such as options to use emoticons, humor, power words, and many more, which makes it easy to generate the subject line you want.
4. Zeta Global
Zeta Global excels in AI-driven email marketing, offering personalized insights based on each subscriber's history and preferences. This platform not only crafts tailored emails but also recommends the best times and frequencies to engage users. With Zeta, you get real-time data analysis that improves campaign accuracy. Plus, its all-in-one approach lets businesses handle various marketing channels in one place. Zeta's AI techniques make all the difference for businesses keen on growing their leads.
Core AI Email Marketing Features In Zeta Global
The standout feature of Zeta Global is the rapid AI-powered insights on customer behavior, providing real-time recommendations unlike any other platform.
5. Twilio SendGrid
We all know Twilio as one of the best SMS marketing tools. However, you may not know that they also have a powerful email marketing tool that goes along with SMS marketing and social media messaging.
Basically, they are working towards building an all-out communications platform for digital marketing towards customers.
The Twilio Customer AI
Though in the early stage, the Twilio customer AI is one of the most powerful AI features you will find out there.
It uses the past history of every customer to craft a personalized profile for each of them. An then, you can ask for suggestions on email campaigns, SMS campaigns, offers, email copies, and many more.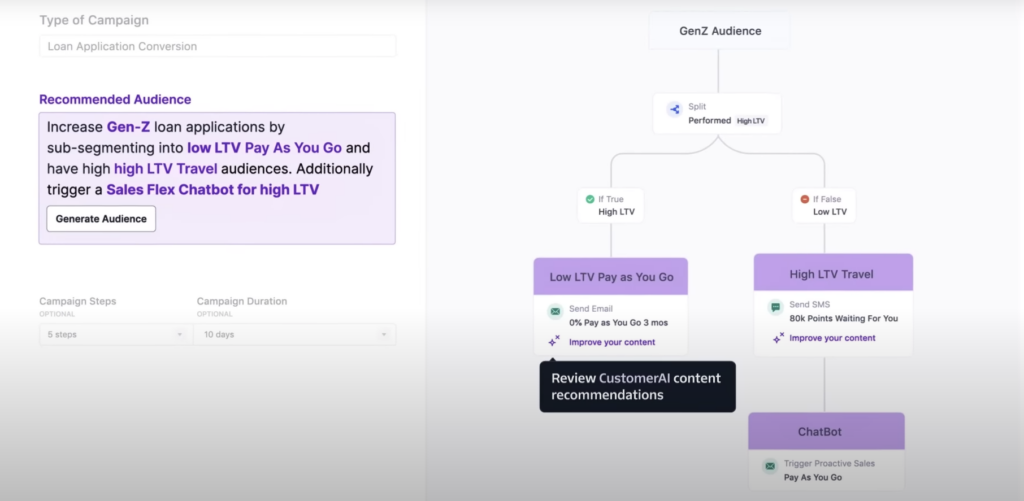 You would probably want to take a look into this if your business conversion is mostly dependent on email marketing and SMS marketing.
6. Mailmodo
Mailmodo is a mix of several marketing aspects, such as email marketing, surveys, contests, lead generation, etc.
But its main purpose is email marketing along with a beautiful UI to plan your campaigns. It's mostly popular for its amazing email templates and easy-to-use email designer.
AI Email Marketing Features In Mailmodo
Mailmodo offers AI assistance for generating subject lines and email copies. However, its most unique AI infusion is the template generator. You give instructions, and it will generate great email templates for your email campaigns.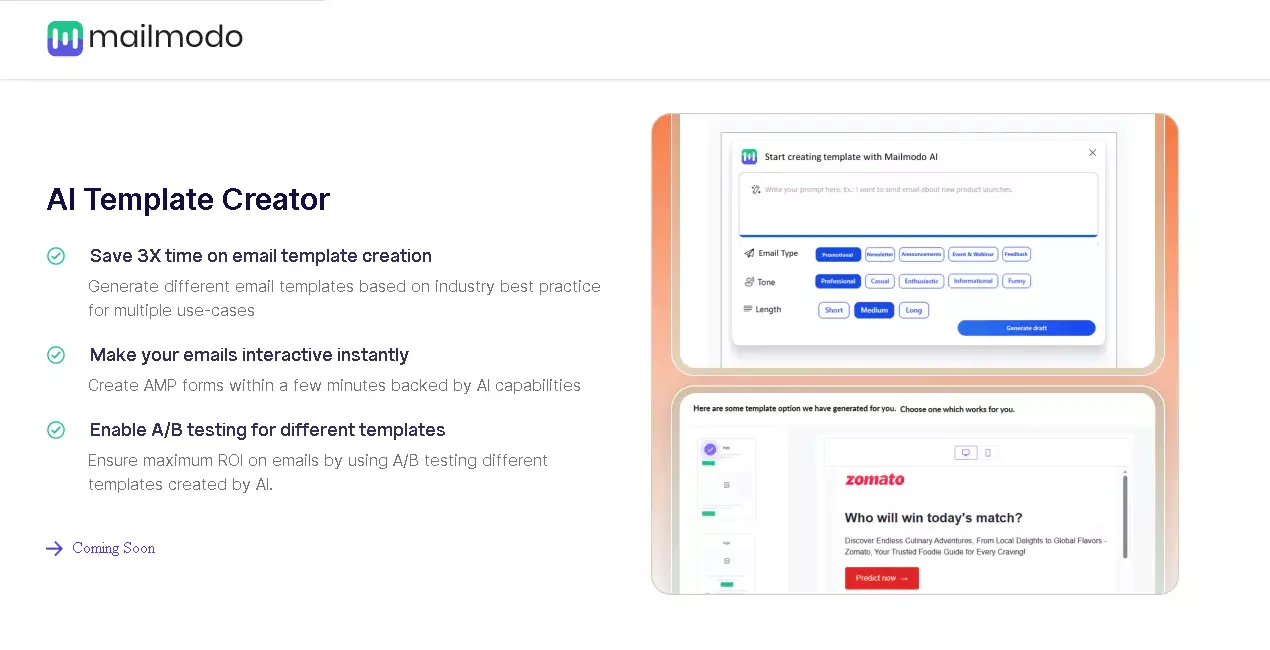 This, if properly instructed, can result in highly productive email campaigns.
7. Phrasee – AI for Email Marketing
Phrasee is a complete AI tool that has a special platform for generating email content – images, subject lines, email copies, etc.
It comes with guides on how to instruct its AI assistant so that you can prepare the best content for your email campaigns. The tool also predicts what content your subscribers will likely engage with and adjusts accordingly. Plus, it studies past campaigns to refine its approach. So, basically, you will be able to create more personalized email campaigns along with AI.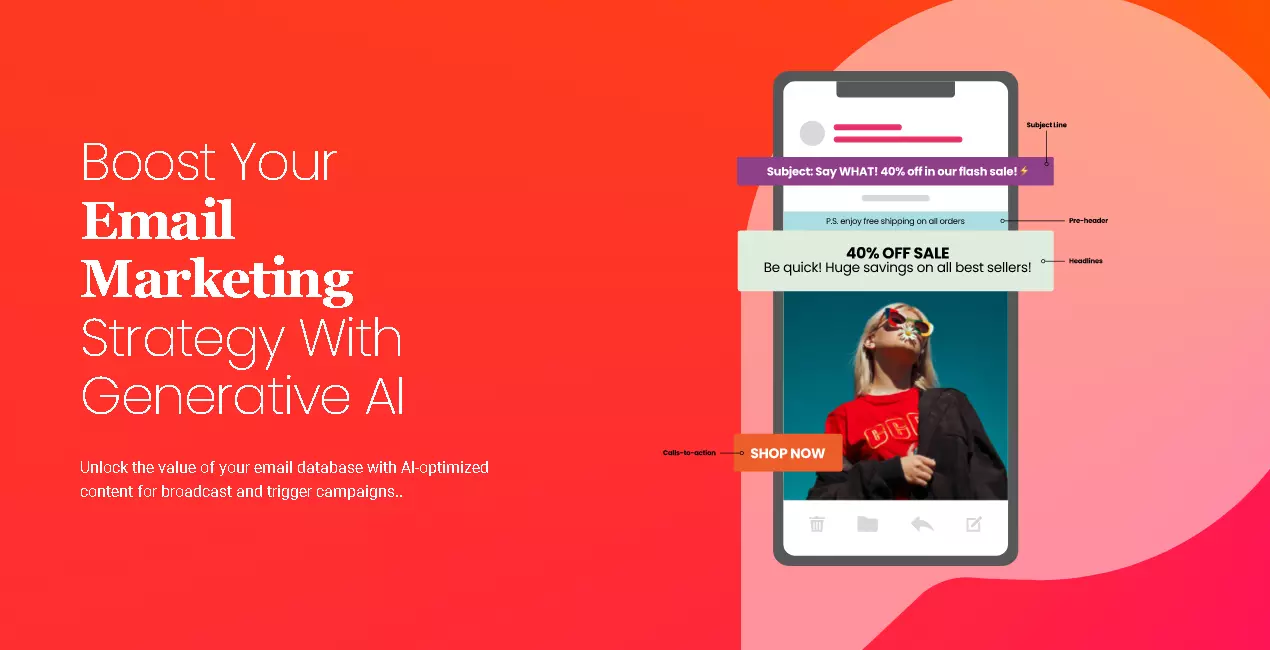 3. ActiveCampaign
ActiveCampaign is among the top three email automation tools to trigger email sequences based on several triggers such as email opened, link clicked, button clicked, form submitted, purchase completed, goal achieved, and many more.
Its UI is designed to make it easy for marketers to generate leads and then set up automated email flows to convert them.
Overall, it's one of the fastest-growing email marketing tools that gain popularity real quick.
AI Email Marketing Features In ActiveCampaign
ActiveCampaign has a special feature called predictive sending and content that will be able to automatically send emails at the best possible time for each recipient. Plus, it also has the ability to suggest what content will go well for specific segments.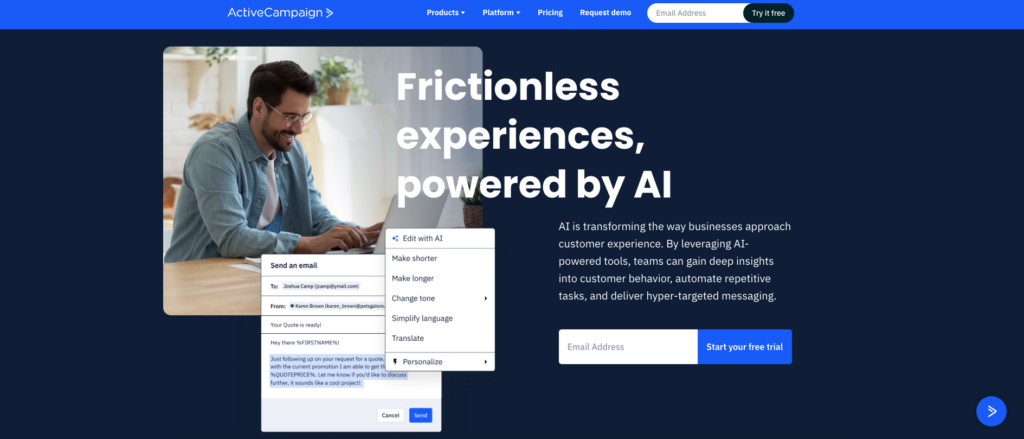 However, AI is probably not its best suit. But predictive sending is definitely very useful to increase conversions.
8. Omnisend
Omnisend is a versatile email marketing platform designed to suit businesses of all sizes, although mostly focusing on e-commerce.
It's an email marketing tool that offers a simple email builder along with advanced email automation flows for e-commerce sites. Along with emails, it also has SMS integration to include in your email automation flows.
AI Email Marketing Features In Omnisend
Omnisend mainly has a free email subject line generator, which you can actively use to prepare your email subject lines.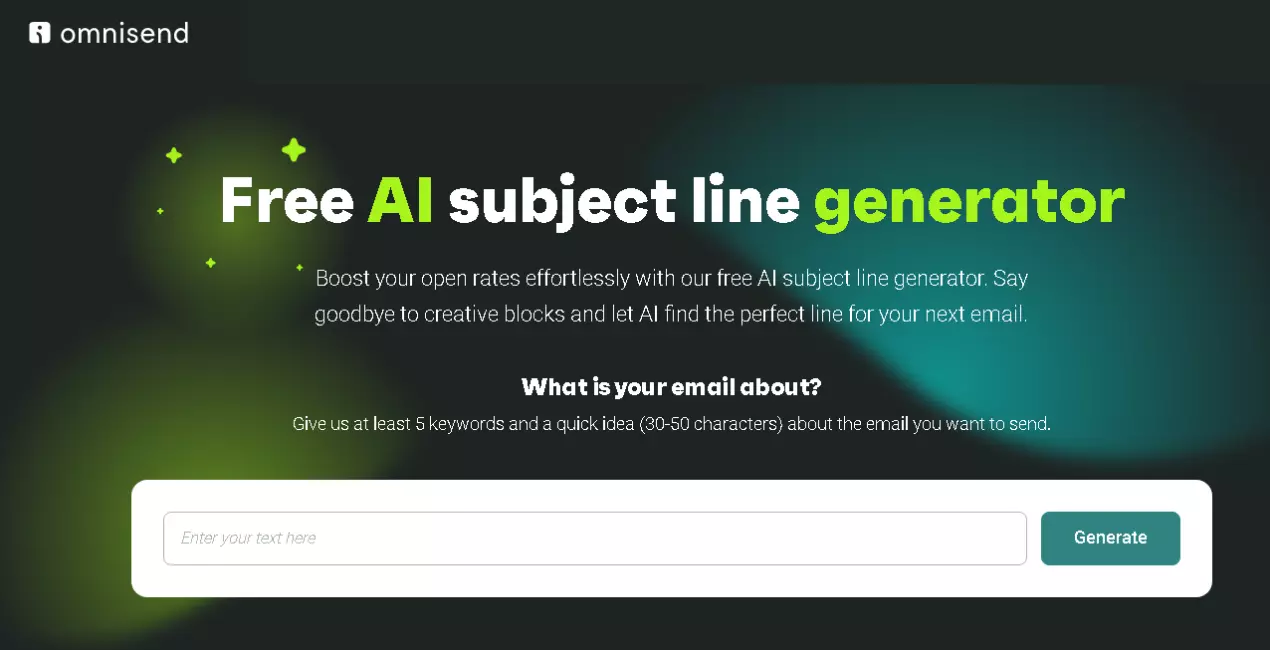 However they do recommend a few other AI tools that can be used to generate email copies for their platform.
Why Use AI Email Marketing Tools Rather Than Using ChatGPT
ChatGPT is probably the most revolutionary AI content generator ever. And no doubt, it can generate the best quality email content if instructed right.
But why should you use an AI email marketing tool and not ChatGPT directly?
Well, the answer is clear. You would want to use a single platform to prepare all your email campaigns. If you want to use ChatGPT for email writing, it's totally fine. But it means you will have to manually copy/paste the content into your email client and format the content. This may lead to errors in the email and loss of focus in the campaign.
Plus, some of the AI email marketing tools you read about earlier have additional features than generative AI. There are tools to prepare custom email templates, planning campaigns, and organize your customer profiles using AI.
Overall, for quiet email content generation, ChatGPT is good. But for email campaigns for businesses, using a specialized tool is the better option.
Conclusion
As you saw, there are amazing tools for email marketing using AI. But which tool is the right one for you depends on the complications you need help with in email marketing.
For example, if you want to manage leads and set up email marketing automation campaigns in WordPress and only need help with writing email subject lines & copies, then Mail Mint would be the best option. But if you are an e-commerce site with advanced requirements, then Mailmodo or Twilio SendGrid would be great options.
Likewise, each of the tools mentioned in this article has their own AI features to enhance email marketing. So check out each of them and decide which is right for your business.