Getting new customers online can sometimes feel like a huge challenge. However, you're not the only one feeling this way.
A study from HubSpot showed that 61% of marketers find it tough to attract leads.
Hence, you need to find creative ways to attract potential prospects and collect leads. And one of the best ways to collect leads is to use lead magnets.
The idea is that if you offer something valuable, that your target audience will find useful, for free, then they will be more likely to provide their details just to claim this free resource.
But, what lead magnet should you offer? Which one is suitable for you?
Well, today, you will learn about 10 lead magnet ideas that you may use to collect targeted leads that align with your business.
After reading this article, you will be able to
Understand what is a lead magnet.
Plan a proper lead magnet for your targeted leads.
Learn 10 compelling lead magnet ideas that you may use for your business.
Once you have qualified leads, you will be able to run effective email marketing campaigns and get high results.
So let's begin.
What Is A Lead Magnet?
A lead magnet is a powerful marketing tool that leverages the magnetic allure of "free" to capture potential customers' contact information. By offering valuable content, resources, or incentives at no cost, businesses entice interested individuals to willingly provide their details in exchange for these freebies. This strategy serves as an entry point to initiate a relationship, nurture prospects, and eventually convert them into paying customers, all while fostering goodwill and trust through the provision of valuable, no-obligation offerings.
A lead magnet is a term that refers to a useful resource or tool that you give away for free to attract a certain targetted audience. And in return, you collect their names, email addresses, and phone numbers.
So, it is something you use as an incentive to turn potential prospects into leads, which you can then nuture and convert into your customers.
However, it is not just a normal giveaway. It is something that you know your target audience will find useful. They have to feel this is something they must have and after getting it, they should find real value out of it.
If you manage to use the right lead magnet, then it will be easier to convince your leads into customers because now, they will recognize you and find you credible due to the value they have already received for free.
What Is Considered A Good Lead Magnet?
A lead magnet is considered a good lead magnet when it effectively achieves your primary objectives, which are
to attract potential leads,
encourage them to provide their contact information, and
initiate a meaningful relationship between your business and the lead.
Here are some key characteristics that define a good lead magnet:
Relevant To The Target Audience
A good lead magnet is highly relevant to the target audience. It addresses a specific problem, need, or interest that resonates with potential leads. The content or offer should align with their current stage in the customer journey.
Provides Real Value
A lead magnet should provide real value to the audience. Whether it's in the form of educational content, a discount, a free resource, or exclusive access, the lead magnet should be something that potential leads find genuinely beneficial.
Solves A Problem
An effective lead magnet often solves a particular problem or offers a solution. It should leave the audience with a clear benefit or a sense of accomplishment.
Quick And Easy To Consume
Good lead magnets are typically concise and easy to consume. This ensures that potential leads can quickly grasp the value and benefit it offers.
How To Create A Lead Magnet?
You need to follow these two main steps to create a lead magnet that works.
Step 1 – Planning & creating the lead magnet that resonates with your target audience
Step 2 – Having a clear outline of how to use that lead magnet to collect leads
Here is a detailed guide on creating a proper lead magnet for your sales funnel.
10 Lead Magnet Ideas (With Examples) To Collect More Leads
Generally, most people think lead magnets are something for free that gathers leads. But in reality, they are much more than just "giving something away for free".
Suppose, you are a digital marketer & you sell SEO courses. If you offer a free pdf for cooking recipes then you can't attract your ideal leads. Also, it doesn't go with what you are selling. The freebie has to be something that the potential leads may find useful & relevant. It's something that will align your leads to find your next emails relevant and meaningful, i.e., get them ready for conversion. So, a checklist for proper technical SEO would be a great lead magnet to attract the right audience.
Once you are able to use the right types of lead magnets, you will be able to get targeted leads and segment them for more personalized email campaigns. which will largely boost your conversion rates.
Now, there are many types of lead magnets that you can use to collect different types of leads that align with your marketing plans. For each you use, you will need its unique lead magnet funnel to be able to convert more qualified prospects into leads. Hence, it's crucial to decide what lead magnet you want to be able to attract the right leads.
Let us look at a few lead magnet ideas that you may actively use to collect quality leads.
1. Offer A Free eBook
eBooks are the most popular type of lead magnets that most marketers use to collect leads.
Basically, you may write a short book on carrying out a certain tactic or strategy, or a guide on solving a certain problem, and then offer it as a free eBook in exchange for the customer's email and name.
This will help you demonstrate your expertise to your potential clients and set them up for your next marketing steps.
For example, suppose you are a marketing coach. You may write an ebook on "Steps to plan the 3 stages of a funnel the right way." This you may use to attract startup business entrepreneurs or marketers. And then, you may plan on offering them a low-cost consultation, before funneling them into taking your full coaching service.
2. Actionable Checklist
People always like to be extra sure that they are following the right steps when carrying out a certain tactic or activity. At this point, a simple checklist can be a great help. In fact, many often start learning by following a checklist.
So, an actionable checklist is a great resource to offer as a lead magnet.
For example, let's say you are selling a complete course on social media marketing. To attract the right audience, you may offer a checklist for social media marketing as a lead magnet. This will set up your leads with the idea that they must learn the steps mentioned in the checklist. And then, when you reach them later to promote your course, they will look for lessons that cover areas that they are not experts in. If you write a good copy and make an attractive offer, many of your leads will end up purchasing the course.
3. Free Consultation
If you are a consultant or into coaching, offering a free consultation can be a great way to attract potential leads.
For example, if you are a financial advisor for business investments, then most people would first want to be sure they can trust you with their situation. Hence, you may promote a free 30-minute consultation to help business owners understand their current investment opportunities. Most business owners with less experience on the subject will be happy to take this opportunity. If the consultation goes well, you might land high-ticket clients for long-term contracts.
4. Templates & Workbooks
People love pre-built templates or fill-in-the-blank workbooks when it comes to implementing any business ideas.
For example, a well-written email series for abandoned cart recovery will be quite popular among e-commerce store owners. A workbook would be a great way for a product manager to identify the product USPs compared to competitors.
The idea is to offer a possible layout or format that people can use to generate instant output, without having to plan the whole thing from scratch. So, it's similar to a checklist, but with a hand-held guide.
5. Free Educational Webinars
Certain topics may be too complicated to explain on digital content, and some topics in certain niches may be easier to go by in person. So, many marketers often resort to hosting free webinars as part of their funnel.
For example, let's say you are a business coach. You may host a free webinar to highlight your special techniques to help business owners develop better decision-making capabilities. Many business owners would like to attend it, and you will have an opportunity to show off your expertise in helping them.
The end goal of most webinar funnels is to land a few high-ticket clients. So, if you have a high-ticket service to offer, then using free webinars would be a great way to start the funnel journey.
6. A Quiz To Determine The Ideal Solution
In some industries, a quiz may be a great idea to collect leads. It's a rather unique way to engage with potential clients and drive them into a well-planned funnel.
For example, suppose you are a fitness coach. You may create a quiz to help people determine what type of training routine they should follow based on their current body fitness and their goals. You may promote that they can get this for free by going through a simple quiz. Whoever takes the quiz, you may send them a customized routine based on their answers to your Quiz.
This will help win over many, provided that the routine you suggested actually brings some results in a short period of time. After that, you may start nurturing your leads and start promoting your main services which could be a subscription to your training videos, or getting a paid app, or even personal training services.
7. Free Trials For Hands-on Experience
A free trial is a common tactic you see most SaaS tools use to make people interested in their tool. But what you didn't know is a free trial is more than just a trial of the software. It's actually a lead magnet that makes the customer attached to the tool and increases the chances of premium conversion.
For example, suppose you are selling a team collaboration tool and are offering a 30-day trial. Many business owners and managers will sign up for the trial in hopes of finding a tool that suits their needs. By the time the trial is over, you will have already sent emails to explain ways to use your tool for optimized output, and the business will have already gotten used to the tool. So, if your product price is reasonable and if the product is actually good, many of the trial users will end up converting.
8. Case Studies With Valuable Lessons
A well-observed case study is always a big attraction for people who face similar issues. And, you can use a case study as a lead magnet to attract these people into becoming your potential leads.
For example, you could create a case study to show how a company managed to solve its people management issues with help from you and your team while implementing some out-of-the-box tactics. And then, with a well-planned lead nurturing strategy, you may convince them to seek help from you.
9. Free Courses Or Lessons
If you are a course creator or have a membership site for premium courses, then offering one of your courses for free can be a good lead magnet.
Suppose you create courses related to email marketing. So you could offer a single course on explaining the basic anatomy of an email for free. But to access it, people will have to opt in. Then, you may run a tripwire funnel to try and convince them to eventually become premium members.
Another approach with courses would be to offer a free lesson. Meaning, if you have a premium course that covers several topics, you could cover the first one or two lessons for free to get people interested. Whoever registers, you may follow up with lead nurturing emails and then make a good discount offer to convert them.
10. Access To A Private Community
This is a unique way to attract leads. Basically, you could organize a private community, and offer access to the community for free in exchange for a person's name and email. This could be a community where you share exclusive discounts or unique offers that they may not get in general. Or, it could even be a community where you share rare resources.
Eventually, you may use these leads to sell some of your affiliate products and make great commissions.
How To Create A Lead Magnet Funnel In WordPress
Now that you have got a great idea about various types of lead magnets, let us look at how you may create a funnel using a lead magnet.
Let's use an example.
Suppose you've crafted a "Beginner's Guide to Digital Photography" as your lead magnet. Here's a walkthrough of setting up a funnel to capture potential photography enthusiasts as leads.
This will involve 3-steps:
Get a reliable funnel builder
Craft a 2-step funnel
Set up email automation to send lead magnets.
1. Get A Reliable Funnel Builder
You first need to choose a reliable funnel builder that will allow you to craft a proper lead-generation funnel journey.
In WordPress, one of the best options would be WPFunnels.
WPFunnels comes with exclusive features to help you visually craft a funnel journey and design the funnel pages using your preferred page builder. Here, you will be able to use an opt-in form to collect leads on the landing page, and connect it to its specially integrated email marketing tool, Mail Mint, to set up email automation for sending your lead magnet.
~ You may learn more about lead generation using WPFunnels here.
2.. Craft A 2-Step Funnel
To promote your lead magnet, you may use a 2-step funnel that includes a landing page and a thank you page. To do so, follow the steps below.
1. Go to WPFunels and click on"Create New Funnel." Here, choose a pre-built Lead Funnel template.
This will import a 2-step funnel with a well-designed landing page and a thank you page.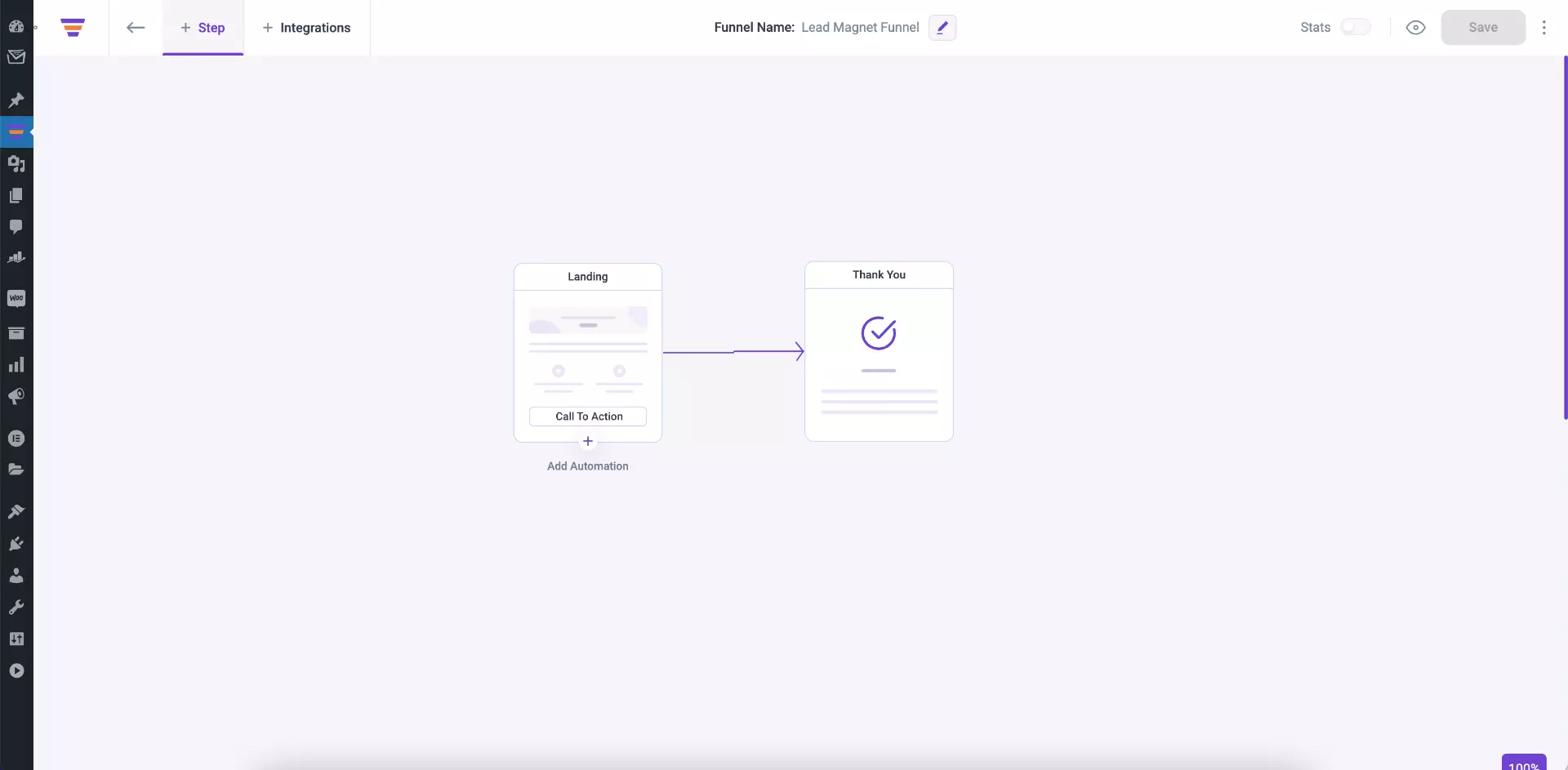 2. Design the Landing page with and use a compelling copy to promote your lead magnet, along with an opt-in form to collect leads.
3. Edit the thank you page and ask the prospect to check the email to get access to the lead magnet.
3. Set up email automation to send lead magnets
For this step, make sure you also have Mail Mint Pro (along with WPFunnels Pro) activated.
1. Click on the plugin icon below the landing step and choose the action "Add to List(s)."
2. Select the action and click on the edit icon. There, set the condition to "Opt-in is submitted." And assign it to a list in Mail Mint.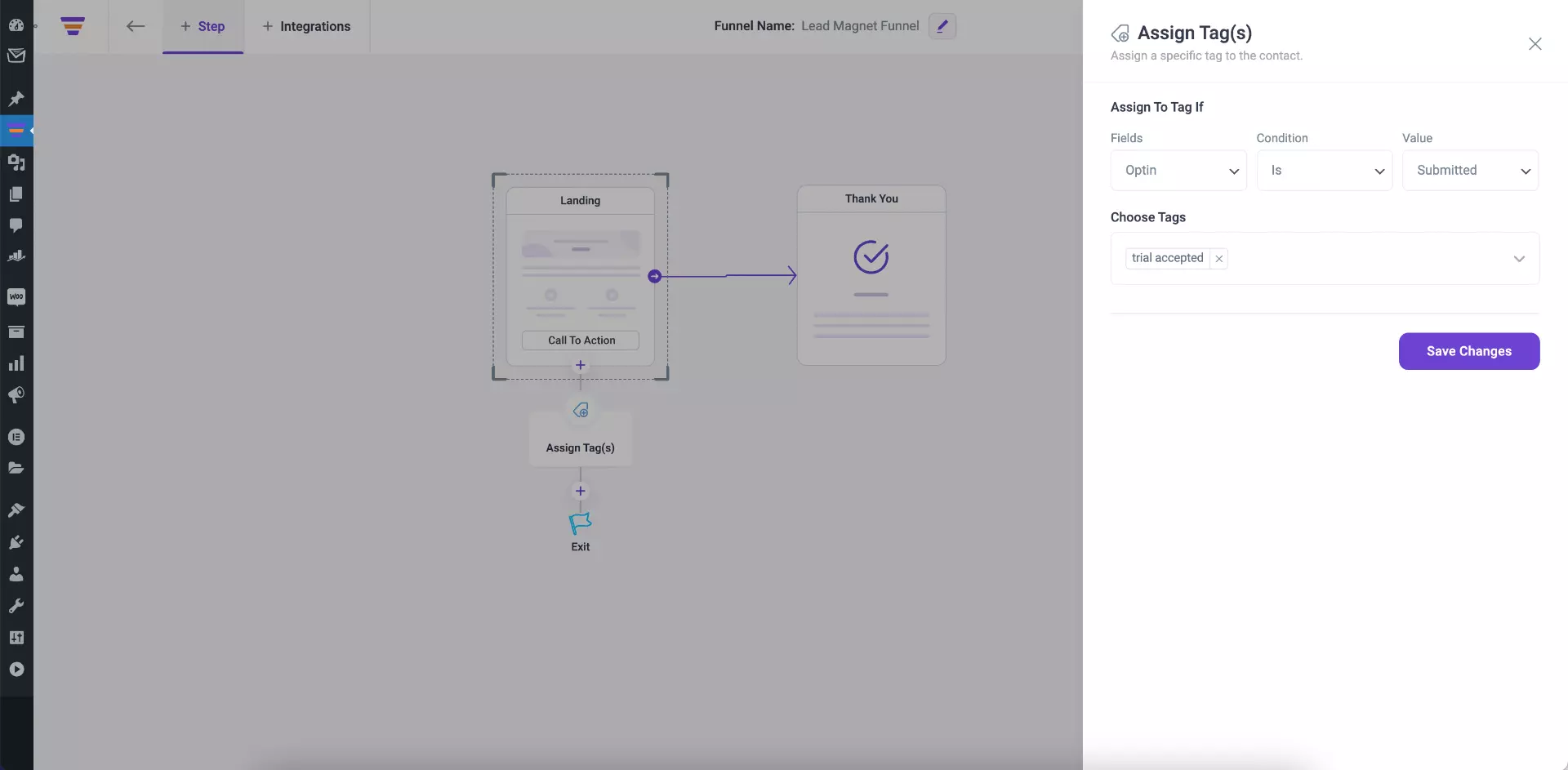 3. Add another action below the landing step to "Send An Email." Configure the email and include a link to your lead magnet in the email copy.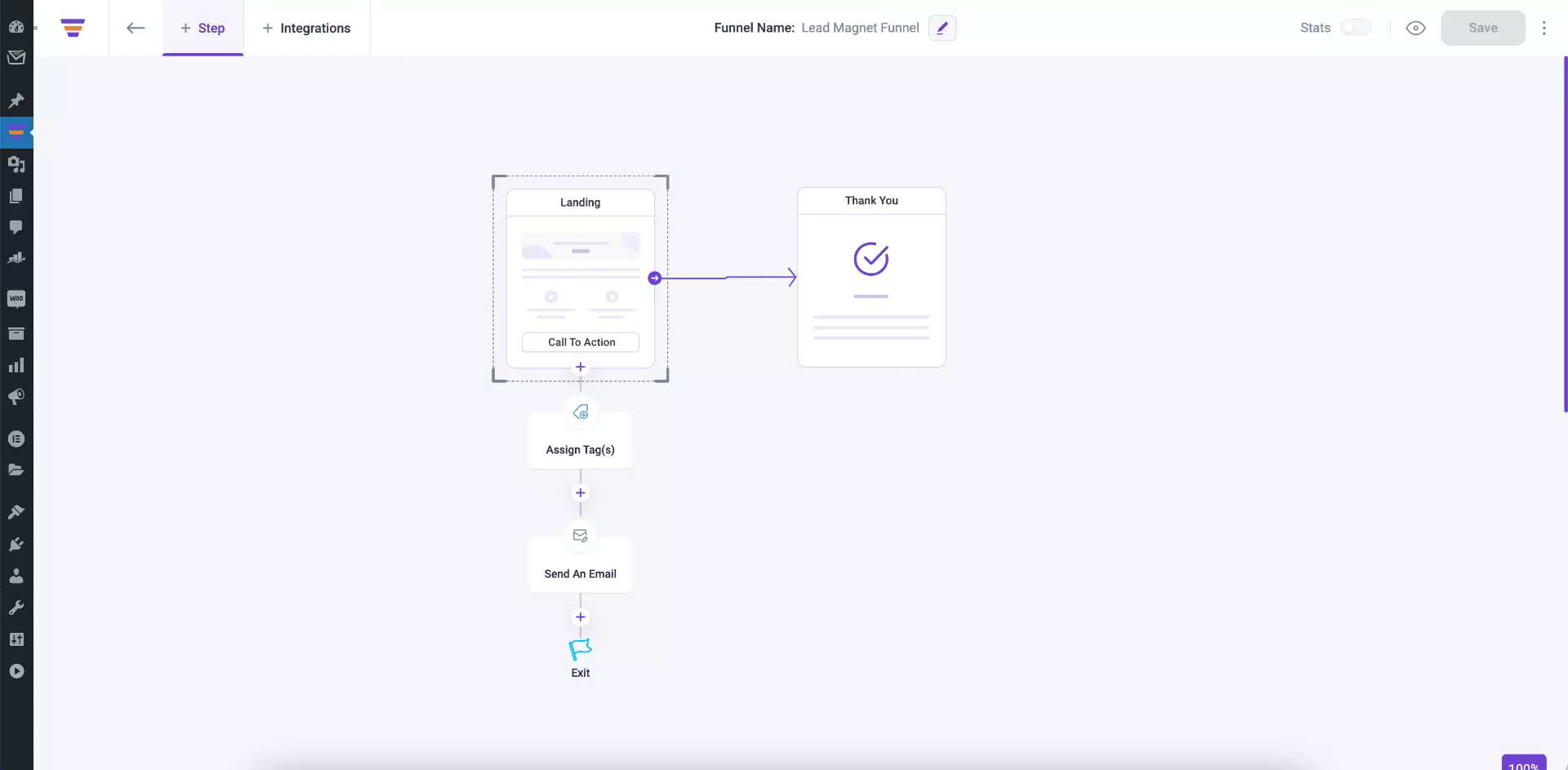 And that's it. Your funnel is ready.
Remember, the success of this funnel will totally depend on your copy and the Ads you run to bring in relevant topics.
Final Thoughts
So far, you learned that there are several types of lead magnets to choose from. You can collect different types of leads using different incentives. But, you need to choose the right lead magnet depending on your target audience and the goal with your leads
Along with the right lead magnet, you will also need a proper funnel, which is quite easy to create in WordPress thanks to WPFunnels and Mail Mint.
Once you have proper leads, your marketing campaigns will be much more successful.
So go ahead and choose the best lead magnets that suit your business.
And if you haven't already, get WPFunnels & Mail Mint to craft the best lead generation funnels in WordPress.