Email marketing has always been the number one marketing strategy out there. But nowadays, it has become a lot more difficult to convert clients than it used to be a few years back.
Almost all the businesses out there are using email marketing actively and it's getting harder to make people open emails and convert. This is why the demand for an email marketing specialist has gone up recently along with their salaries.
This means, if you can build up your skills to become an email specialist, then you too can become a valuable asset to your company and start making more money.
However, it is not as simple as it sounds. Becoming an expert with emails can be time-consuming as you can only get better at email marketing with experience. Plus, there is a specific set of skills that you must get good at.
Today, you will learn about the core qualities that you must have to become an email marketing specialist.
So let's begin.
Who is considered an email marketing specialist?
An email marketing specialist is someone who specializes in crafting and sending emails that are aligned to meet the marketing goals expected via emails.
He may work on email newsletters, promotional emails, recommendation emails, launch emails, etc. Basically, an email marketing specialist should be an expert in any type of email campaign and bring significant results through high-level planning and copywriting.
What do email marketing specialists do?
Knowing that an email marketing specialist is an expert in any type of email campaign, he has to be directly involved in all marketing aspects of a company or product.
Naturally, you wouldn't find a specific job position for an email specialist. Rather, a certain marketer from a team can be an email marketing specialist provided that he has all the necessary skills.
Having said that, if you take on this role, then you will have the following key responsibilities:
Suggest Lead Generation Ideas
Though not a core requirement, you are expected to suggest ideas on how to generate leads and grow the email list.
List Management
As an email marketing specialist, you will also be responsible for maintaining the email list for example, conducting effective lead segmentation, initiating email verification methods, identifying and removing unresponsive emails, and setting up the right lead scoring metrics for the leads.
Plan Email Campaigns
You will be expected to suggest the right email marketing requirements during any marketing campaigns. Plus, you will also have to plan specific email campaigns for various occasions. The fact is, that an email specialist must take responsibility to cover a certain part of the expected revenue generation during any marketing campaign.
A/B Testing Of Emails
An email specialist should also conduct effective A/B testing with subject lines & email copies to ensure maximum results for email campaigns. You will have to know what type of variations to try out and decide which one works better.
Monitor Analytics & Improve Email Marketing
If you take on this role, you should be really good at understanding email metrics and deciding which areas of emails to improve on to get better results in the next email campaigns.
All of these are what will be expected from you as an email marketing specialist. However, you will need a few specific skills if you want to successfully carry out your responsibilities.
Let us look at 7 must-have qualities of an email specialist.
But behind every effective email campaign, there's a dedicated professional crafting those messages with precision and purpose.
7 Key Qualities Of An Email Marketing Specialist
Before you can confidently say you are an email marketing specialist, you need to be very good at a few key skills.
Have Great Copywriting Skills
Understand Email Automation Scoping
Good At Leads Segmentation & Personalization
Has a Proper Understanding Of The Anatomy Of An Email
Good With Email Marketing Metrics & Reporting
Has Knowledge Of Various Email Campaigns
Ability To Plan A Conversion-optimized Email Journey
1. Have Great Copywriting Skills
If you are aspiring to be a top-tier email marketing professional, then you must have top-notch copywriting skills, especially when it comes to preparing meaningful email subject lines and writing short but persuasive email copies.
You need to be able to write the perfect subject line to ensure high open rates, and then, prepare a well-planned copy that will persuade the readers to take action.
Eventually, depending on your goal with a particular email, you have to tailor your copy to connect with the reader and make the decision you want him to take.
For example, if the goal is branding, then you want to more people to open the email, and the email copy should have some catchy content that will make readers remember your brand.
Another email campaign for branding could be one where you include a link to a free resource, and write a copy that will convince the reader that this resource is something he must get. The resource will focus on branding, while your email's goal will be to make the reader get the free resource.
Similarly, if your goal is customer conversion, then your email copy should not only influence a click on the button/link but also prepare them to take action afterward, such as purchasing the intended product. This means, your copy must have the right transition and a strong CTA.
Overall, the success of an email will mostly depend on your copywriting skills.
2. Understand Email Automation Scoping
While you can be very good at writing emails and planning campaigns, you also have to find ways to reduce the effort involved in email marketing. Meaning, you have to learn ways to automate certain email marketing aspects.
For example, when a person subscribes to your email list, it is likely that you will welcome him in the same way as you would any other subscribers. Hence, you should consider automating a welcome email series for new subscribers.
According to Epsilon, automated email messages to new subscribers have resulted in an average of 70.5% higher open rates and 152% higher click-through rates than standard marketing messages.
Similarly, suppose you planned a promotional email sequence for a 2-week discount campaign. In this case, you could schedule the emails in advance so that you do not have to send reminder emails and last-call emails manually.
Obviously, to be able to use email automation, you need to choose an email marketing tool that has these features.
Some email tools will even let you schedule emails on the most active times of each customer based on campaign analysis from past 2-3 campaigns. Others have amazing options to automate abandoned cart recovery emails by tracking lost carts and customer emails.
Depending on which business you are part of, it is your job as an email specialist to decide what sort of email automation can be set up on a regular basis or for each marketing campaign.
3. Good At Leads Segmentation & Personalization
Segmenting leads could play a crucial role in any email marketing campaign if done right.
According to a recent study, companies that segment their leads can increase their conversion rates by up to 355%!
There could be various types of lead segmentation you could implement depending on your marketing requirements.
Once you segment your leads, you will then be able to plan targeted email campaigns with personalized content.
For example, if you have segments based on locations, then you could send emails to prospects for each country in their own native language. You could send emails in German to people from Germany, and emails in Spanish to people in Spain, and so on.
Similarly, if you have business-specific segments, your email copy could vary based on each industry you target. For example, if you offer a social media marketing tool, then your email copy could be different for bloggers compared to Ad firms in terms of use cases and benefits.
So, to be an email marketing manager, you need a good idea of what segments to create to plan the perfect personalized email campaigns. The end goal is always to get the highest revenue with optimum ROI.
4. Has a Proper Understanding Of The Anatomy Of An Email
As an email specialist, you need to learn how you may optimize your content for each part of an email for the best results. And it all starts with the transition of your email from the subject line to the footer of the email.
Hence, you need to have a basic idea about the general anatomy of an email and how you can utilize it uniquely for each email campaign.
Following is the general anatomy of an email: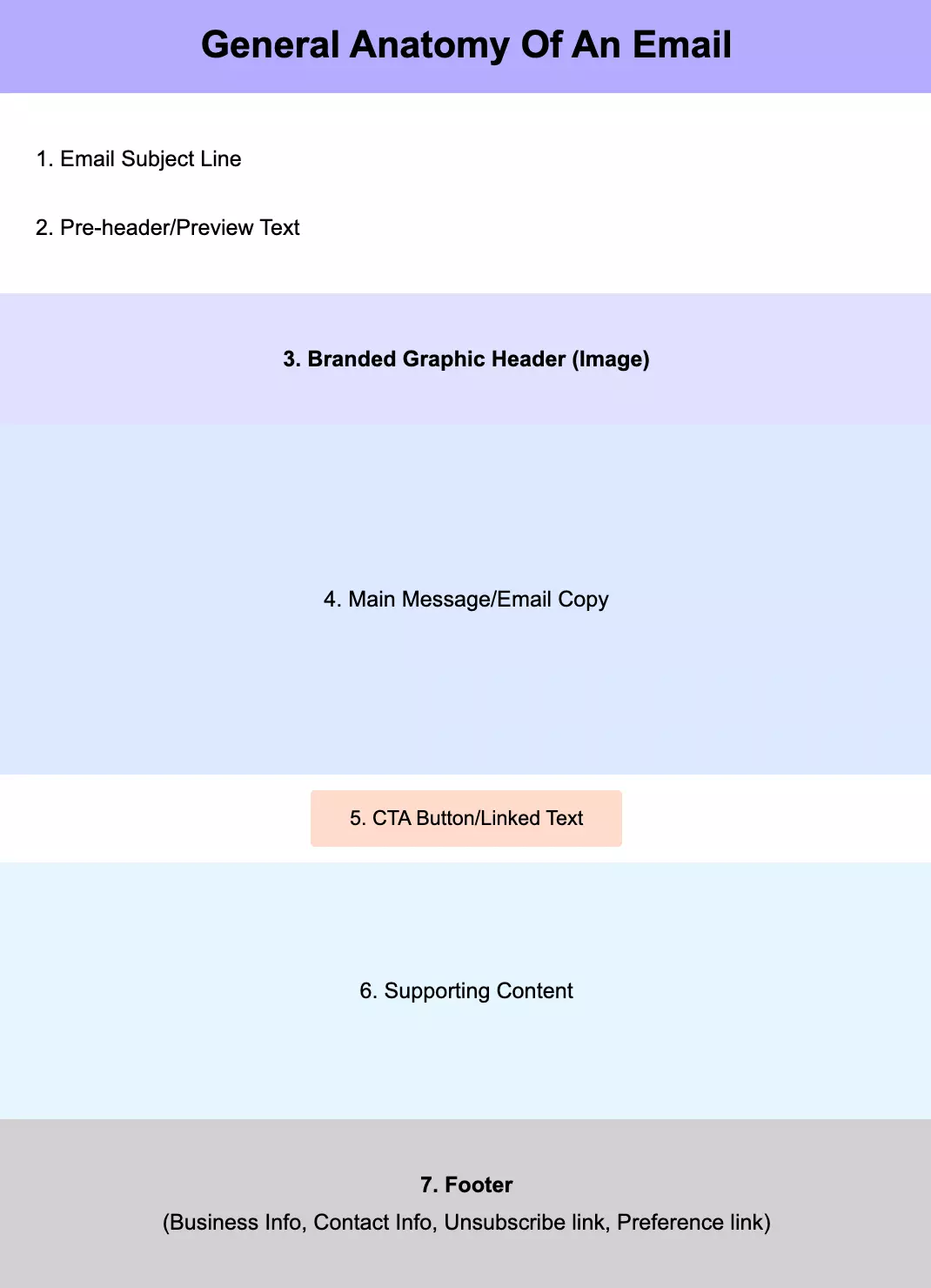 You will need to learn how you can transition prospects from opening the email to reading the mail email copy, and eventually taking the action as per your CTA, while making sure you are not violating any email protocols (via proper email footer).
In some campaigns, your email copy will include benefits and use cases while others will simply be a direct message of what you want the prospect to do.
For example, if you are sending a last-call email for a certain discount, then the main email copy will simply be a direct message that the discount will end soon in x-hours. However, if it's a launch email about a new product, then your main copy would be a persuasive one, listing down the benefits of this new product and a reason why the user must get it now.
The same can be said about each area of the email subject line, preview text, and the email body, except the footer. The footer should always contain your company information, contact information, unsubscribe link, and preference link. These are necessary for most email clients to have the email in their inbox.
5. Good With Email Marketing Metrics & Reporting
You need to have great knowledge of tracking various email metrics and take action depending on the results.
Following are the key email analytics you should be concerned about:
Email Deliverability
Email Open Rate
Click-Through rate (CTR)
Click To Open Rate (CTOR)
Bounce Rate
Unsubscribe Rate
Each of these metrics will define the success of your email campaign depending on your goal. For example, a low open means your email subject line needs improvement, whereas a low CTR means your email copy or design needs improvement.
You may also track a few advanced email metrics to further narrow down the success rate of your emails:
List Growth Rate
Conversion Rate
Device-Specific Email Campaign Metrics
Spam Reports via Email Sending Service
Individual Email Engagement Rate
Revenue Per Subscriber
Avg. Revenue Per Email Campaign
Email Campaign ROI
Overall Email Marketing Analytics
Each metric will help you determine what areas of your email or the campaign to improve on, which you can identify via A/B testing before launching the complete campaign.
~ Here's a detailed guide on how you can use each email metric to improve your email marketing efforts.
Based on email analytics, you should also learn to prepare reports that you may present along with the core marketing reports to determine the ROI and profit margin of your email marketing efforts.
The report will help you and the team determine how much positive contribution you are making as an email marketing specialist and how much more or less resources to invest under your guidance. So, if you want to propose an increase in email marketing efforts, you must prove it with data from your email analytics reports.
6. Has Knowledge Of Various Email Campaigns
Your knowledge of email marketing will grow with each new email campaign you run. As an email specialist, you need to gain knowledge on more and more types of email campaigns. The more email campaigns you can plan, the better you can contribute to your company's marketing efforts.
Since email marketing is still the most profitable marketing method, it is crucial to run as many profitable email campaigns as possible.
~ Here's a guide on a few unique email campaigns you may learn and implement immediately.
So if you haven't already, analyze your business model and start implementing more types of email campaigns that has the potential to generate higher revenue.
7. Ability To Plan A Conversion-optimized Email Journey
This part is crucial and something you should aspire to master over time.
A single email campaign with a persuasive copy that has a proper transition is already very effective. But what if you could create a transition between multiple emails? Now, that is something that can drive more results than your ordinary email campaigns.
As an email marketing specialist, you will have to master crafting a series of emails that transitions from another into a complete email journey to make a prospect reach a certain goal.
For example, suppose a person signs up for weekly newsletters on your website. You may plan a welcome email series that ends up making the prospect follow you on social media and check out your core product/service.
Now, this example could be a series of 3-5 emails where you initially welcome the subscribers for joining your email list. But then, you send more emails at set intervals with valuable content before asking them to follow you on Twitter or subscribe to your YouTube channel. Then send another email to check out your product or service.
For this email campaign to be successful, the whole journey has to be planned for a proper transition, starting with the subject line of the 1st email, to the intervals of the next emails, to giving convincing reasons to follow your social channels and take a look at your product/service.
And it's not as easy as it sounds. For each goal you have, you have to plan a whole new series where each email should have a particular goal in mind for the subscribers.
~ Here's a guide on how you can create an email journey for your leads to convert them into taking your desired final action.
Such plans can only be launched successfully with proper experience and dedication toward your role as an email marketing specialist.
Being good at planning email journeys doesn't mean you will always plan email funnels and abandon regular emails or automation flows. But for major campaigns such as a product launch campaign, crafting a complete email journey is the most effective strategy to go by.
So it is a quality that you must work hard to achieve before you can yourself an expert email marketing specialist.
Types Of Tools An Email Marketing Specialist Should Have Knowledge On
To streamline your tasks, keep things organized, and ensure your emails land where they're supposed to, the right tools can make all the difference.
And for various email marketing activities, you will need different types of tools. Following are the tools you must gain knowledge on to be able to carry out your responsibilities as an email specialist.
1. Email Marketing Software & Email Clients
First, you need to learn about the most popular email clients such as Gmail, Outlook, AppleMail, etc., and how they monitor emails for spam.
Next, you need to understand how a few email marketing software work and what to expect when choosing an email marketing tool. For example, you would want a tool that allows you to design emails easily, send emails in bulk, and schedule email campaigns. You would also want email automation features and email sequence-building capabilities. Overall, you will need email software that will help you execute the email campaigns you propose.
Here are a few examples:
Mail Mint
A self-hosting email marketing automation tool in WordPress that comes with email automation, campaign builder, visual email design, and email sequence builder.
MailChimp
The most popular email marketing tool for single email campaigns with easy email creation and email list management.
ActiveCampaign
An email marketing tool specialized in behavioral email automation along with basic email marketing campaigns.
Omnisend
This email marketing tool is built to run email automation campaigns for e-commerce shops.
Snov
A great email marketing tool to craft marketing email drip campaigns.
There are many more email marketing tools you may look into.
2. CRM or Leads Management Tools
A CRM can be very useful when you want to actively collect and manage leads. Most CRMs such as Salesforce, HubSpot, etc., come with advanced lead management features such as segmentation, 360 customer analytics, email automation, lead scoring, etc.
However, most CRMs tend to be expensive. So you may rather settle with basic tools with just lead segmentation options and email list collection features. Tools such as Mail Mint, Brevo, FluentCRM are some of the options you may look into for this.
The ideal scenario for an email marketing manager would be to have a tool that acts both as a CRM and an email marketing automation tool. In WordPress, Mail Mint would be a great choice to serve as a basic CRM and email marketing automation tool.
3. Content Calendar Tool
You need to have a tool to maintain a content calendar so that you can stay aligned with your marketing plans and schedule your email campaigns prior to the assigned dates for successful on-time execution.
Tools such as Asana, Trello, Upbase, CoSchedule, etc, would be great for this.
4. Tools For Quality Email Writing
You need to have high-quality email campaigns. To maintain the quality of your email subject lines and copies, you may take help from various tools.
For example, Grammarly or Hemingway Editor would be great for maintaining proper grammar. ChatGPT, CopyAI, or other such AI writers could be a great help in crafting well-planned email series easily.
5. Email Testing Tools
Many ignore this but having access to email testing tools could make a huge difference in running quality email campaigns.
As an email marketing professional, you would want to make sure your emails are properly formatted and designed when sent to your subscribers. Many email testing tools will allow you to check if the emails go to the inbox properly and if they look as you planned in various email clients. Once checked, you may make improvements where required and then get ready to launch your campaign.
Then there are email testers to help you identify if your email is spammy or well-prepared, along with a comparative score. This will allow you to improve your email subject line, copy, and CTA.
Tools such as Litmus or Mailtrap could help with these matters.
Apart from these 5 tools, you may also need to have knowledge of Google Trends and a few industry research tools to stay on par with the latest email marketing trends.
Where To Gain More Knowledge On Email Marketing?
Here are a few resources where you may learn email marketing:
Email Marketing Blogs by GetWPFunnels.com & Mail Mint team.
Free Email Marketing Resources by HubSpot.
Courses on Email Marketing by CXL.
Good Email Courses by Udemy.
Email Marketing Courses by Coursera.
Books on Email Marketing by expert marketers.
Email Marketing Resource List by Selzy
Conclusion
Being an email marketing specialist can be a huge responsibility. You will be responsible for a major chunk of the company's revenue goal through email marketing.
Hence, you must make sure you strengthen all the required qualities explained in this article and become the best email specialist for your business or company. And if you can master all the required skills, then you will become one of the most valuable assets in your company and a prominent marketer in no time.
So go ahead and start building up your skills to become an email marketing specialist.
Cheers.