Your business needs a steady flow of new leads to grow. Whether you are a professional coach, counselor, course creator, software firm, or simply run an e-commerce business, having qualified leads will help you easily get quick conversion whenever you have something new.
But to capture leads who fit into your target audience description, you need a plan. You need to craft a proper journey to be able to get the emails of the right prospects.
And one of the best ways to capture leads is to use an optin funnel.
In this article, you will get a good knowledge of what an optin funnel is and how it can help you capture more leads.
So let's begin.
The Concept Of An Optin Funnel
An optin funnel is a simple journey where you convince targetted visitors to share their names and emails (or more) with you.
The idea is to collect a list of leads who have the right interests and you can run email campaigns in the future to convert them into purchasing your core product or service.
A typical optin funnel involves two web pages, an automation tool to send emails, and creative ways to bring traffic to your funnel.
Let's look at an example.
Suppose, you create and sell Advanced Web Design courses.
Now, to collect leads, you can organize a free 3-day workshop for students who want to learn Basic Web designing. So you can take the following steps.
Simply create a Landing Page to promote your free Web design workshop and ask visitors to signup for it by providing their name, email, and phone number.
Next, prepare a Thank You page after that to give them instructions on what's next.
Once you have the pages ready, you can set up the leads to be saved to your preferred CRM or automation tool.
That's it. Your setup is ready.
The next thing to do is to bring in traffic to your Optin page via social shares on relevant groups, referrals via blogs related to web design, email marketing, or targeted paid Ads.
In the example above, anyone who signs up, you are sure they are interested in learning how to Web Design. This means the leads you collect are all potential clients to purchase your Advanced Web Design Course.
This is just one case of using optin funnels. There are many types of optin funnels that you can use, depending on your goal with your leads.
Different Types Of Optin Funnels And Use Cases
Let us look at a few types of Optin Funnels and their use cases. Then you may choose which one is suitable for your business.
1. Squeeze Page Funnel
Squeeze Page Funnel is a proven lead generation tactic for High Ticket Sales.
It's basically a targeted approach by offering a goal-oriented lead magnet.
The idea is, you offer a lead magnet that is somewhat related to your core product/service. And in the resource you provide as a lead magnet, either keep a reference to your core product or keep a certain topic untouched and leave a hook for your core product there.
For example, if you sell courses for designing websites using Divi, you can offer a free guide on basic web design hacks, on the landing page of your Squeeze funnel.
People who want this guide will provide you with their emails and names, which you can store in your CRM.
Now, within the guide, after showing how to create a basic web page, leave a hook that you also have courses to learn "how one can use advanced Divi layouts to make the pages more attractive," and then leave a source where they can get that course.
So here, you are mentioning that one can make the page even better with advanced Divi layouts, but you are not giving a guide on it here. You are leaving a hook there so that if someone is interested, they will collect the course.
Now, the hook in this example won't covert many. But it gave them a hint that you have more courses to help develop their skills further. Later, when you run email campaigns to promote your core products, these leads will remember, and some will end up purchasing the main courses.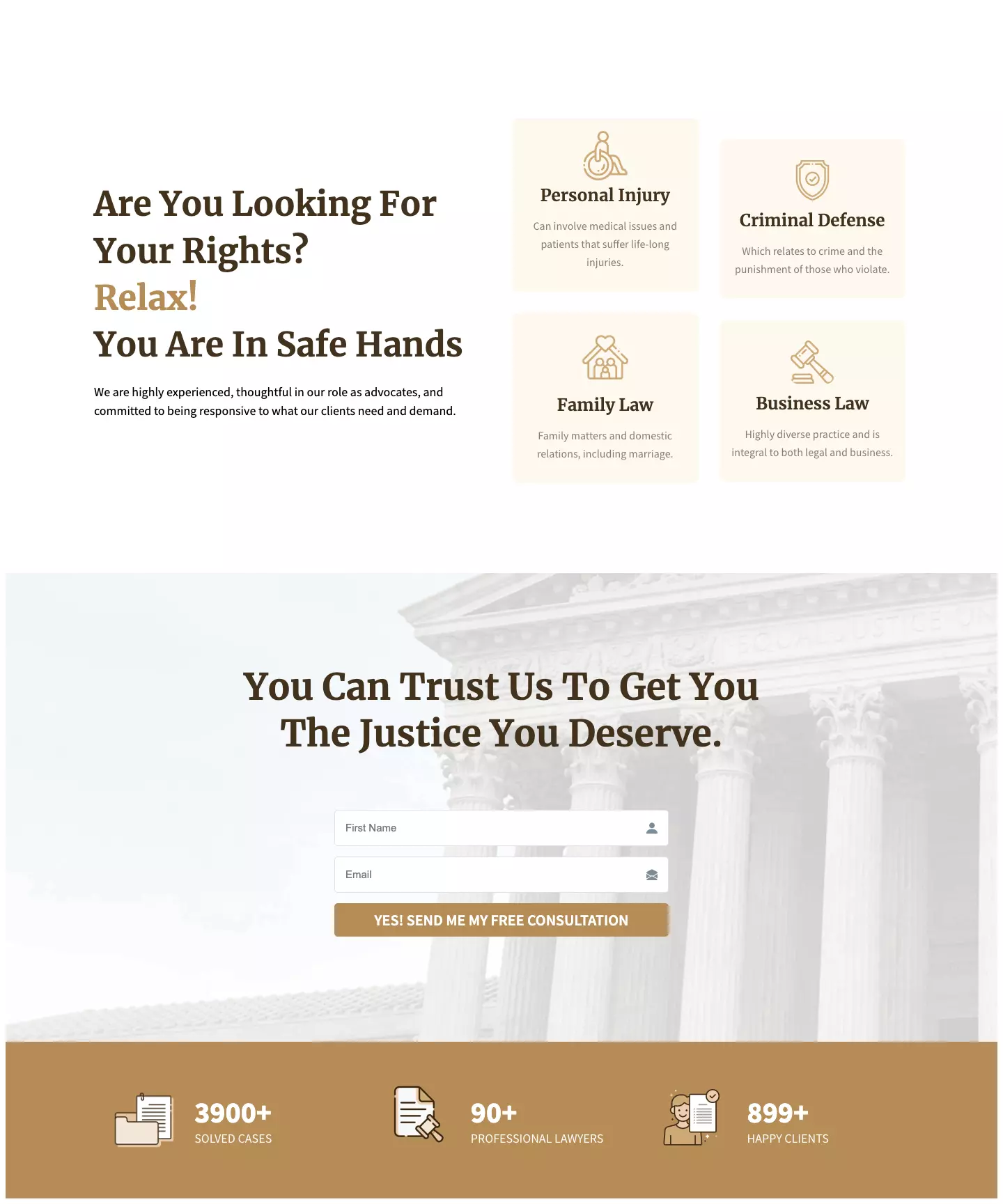 Similarly, this is a sample Squeeze page for a quick law consultation before hiring a lawyer.
2. The 'Trust Factor' Lead Funnel
This is a special opt in approach where, you are collecting leads, but more importantly, you are establishing trust and authority.
Here, what you do is, create a sales funnel for your core services, but somewhere on the Landing page, you still offer something free in exchange for email and name.
The psychology behind this is that not everyone will be convinced to take your service right away, even if your Landing copy is amazing. At this point, you have to make sure you grab the attention of as many prospects as possible either with the benefits they will get, or your expertise.
So what you do is, whether they choose to take your core offer or not, you are giving them something for free, that highlights your expertise.
For example, if you are a life coach, you can offer a free handbook to "Increase Day-to-day motivation within 1 week."
Now, even if the visitor doesn't take your coaching service, if they take the handbook, you know they are interested in getting help to have a better life.
More importantly, if the handbook is actually helpful, they might consider taking your service later.
And obviously, since you have the leads, you can run email campaigns, later on, to get them back into your funnel and hopefully take your core offer.
Plus, anything new you have in the future, maybe a book you write, or a webinar you host, you have leads you can reach out to, that are partially interested in your service, to get instant exposure.
After collecting leads through the lead magnet optin form, you send nurturing emails and segment them. Depending on their response and needs, you send them through different sales funnels to convert them.
3. Product Offer Optin Funnel (for eCommerce)
If you run an eCommerce store where you allow guest checkouts, then this optin funnel can be a great way to increase sales.
In this tactic, what you do is, you set up a promotional campaign where you offer a set up of random products at discount for a limited time, from time to time.
For example, on your website home page or shop page, you can announce that every week there will be 10 new random products available at a 30-50% discount.
You can then set up a separate landing page for this campaign where, you will display the offer products for the week, and their respective discounted prices.
Now, on this landing page, you can leave a quick optin form where potential buyers can signup to get an email every week when the offers are renewed.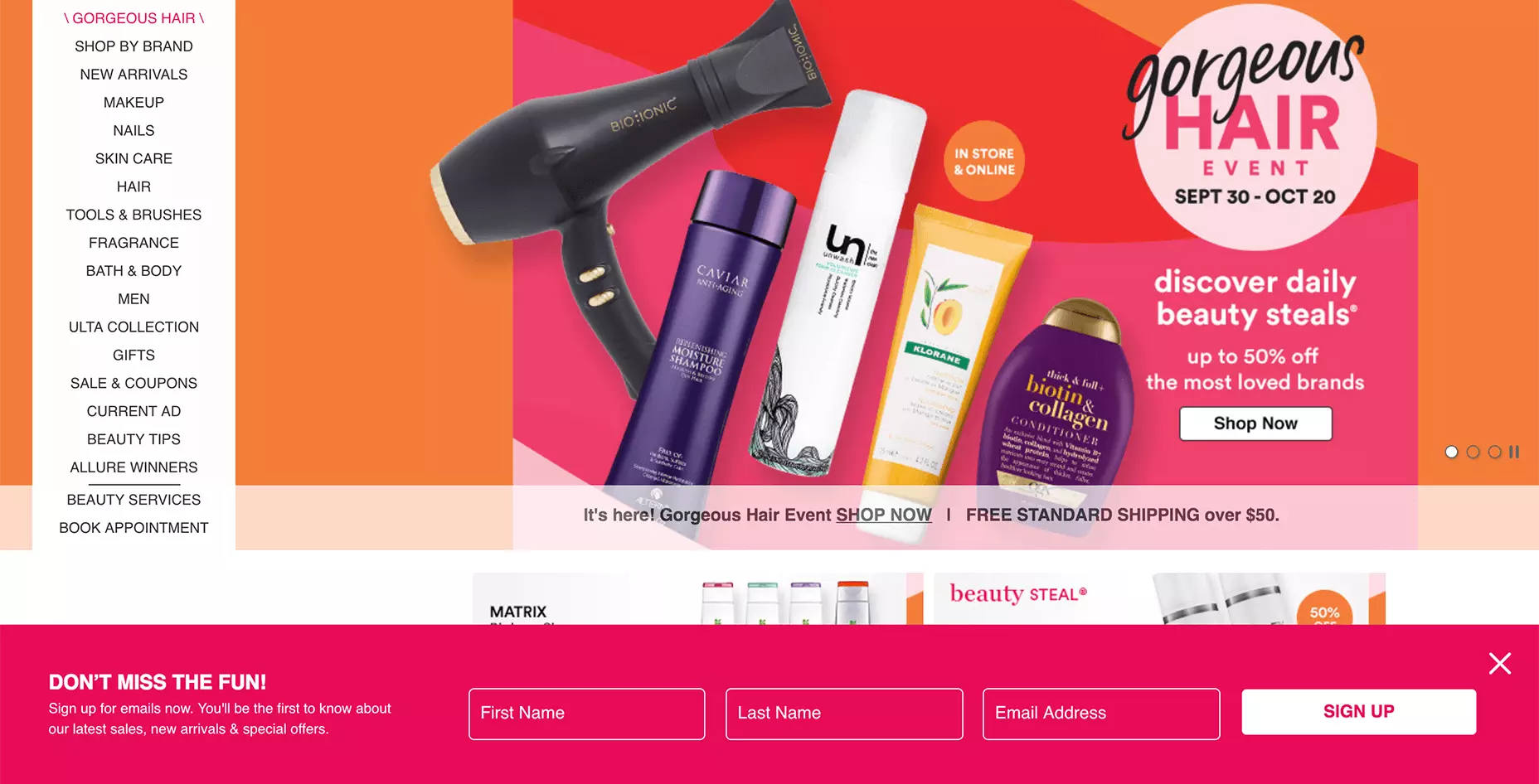 Most people love discounts and they will signup without any second thought. But you can then use these leads to run other promotional campaigns that you may have in the future.
4. Optin Funnel For A Demo
For online software firms (or SAAS tools), it is often difficult to sell their products simply by video demonstrations. So offering a free demo is a great approach to convince the buyer that this tool is the right investment.
However, many tend to offer instant access to the demo of their product, which adds no value. Rather, you can set up an optin funnel where the prospects have to submit their emails and names to get a demo. And once signed up, you can send them a link to your demo environment.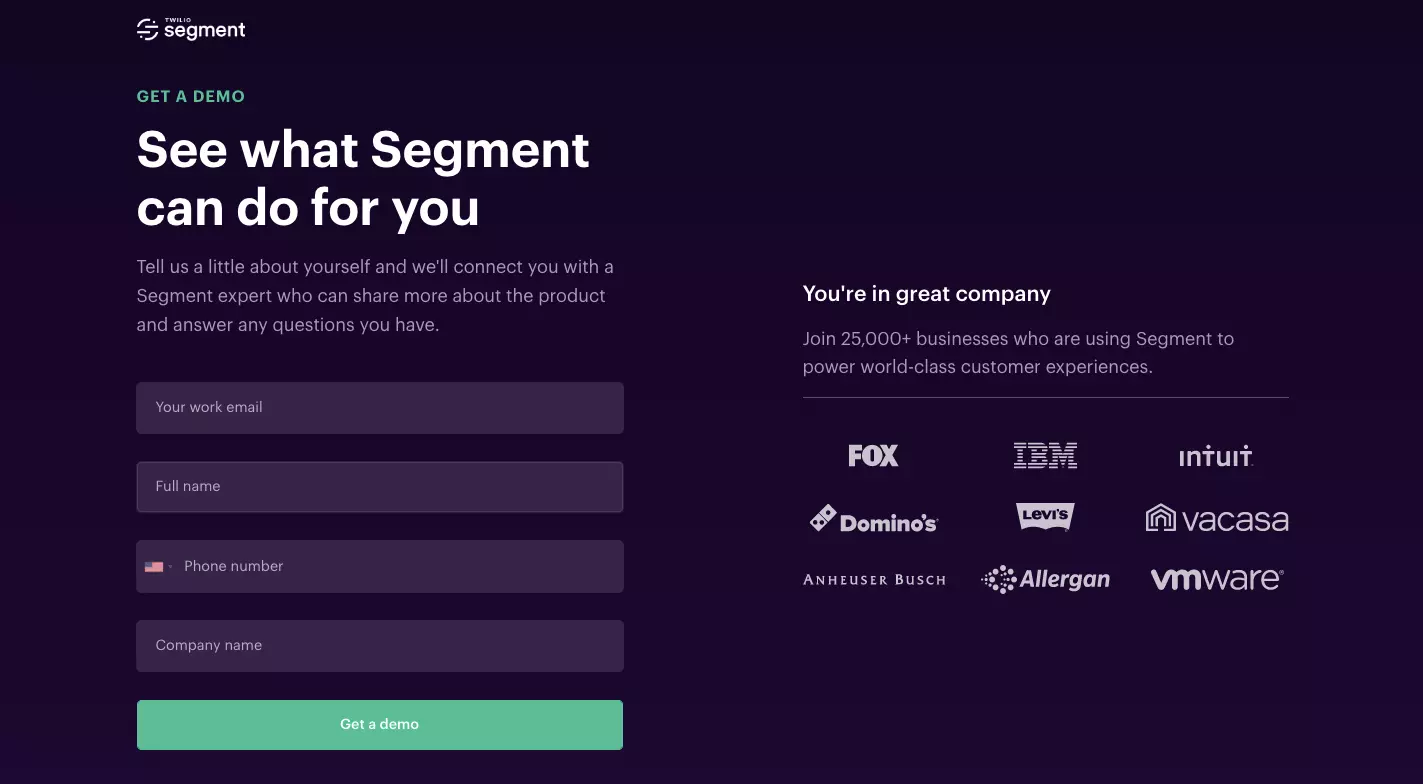 So here, you are collecting leads even when giving a demo. This will help you in two ways:
You can follow up later to ask them to purchase the product.
If one doesn't purchase, you can run email campaigns to get feedback on what to improve.
If one didn't purchase due to a missing feature, you can reach back to them when you develop that feature in the future.
You can even run promotional discount campaigns in the future to convert.
5. Newsletter Subscription Optin
This is rather a common optin approach that almost all websites use nowadays for increasing the opt-in rate.
Basically, this is a simple opt-in form on your landing page, or other pages on your website, where a prospect can choose to sign up to get notified of future updates.
Let's say you run a podcast where you bring in influential guests every week. A listener may want to get notified of your next show.
So you can leave an opt-in form where your audience can signup to get notified via email prior to your next episode.
The advantage here is, that with every new content you have, you can get a chunk of instant visits with just an email campaign. But, you can also run occasional promotional campaigns to these subscribers in the future, such as informing them of your Black Friday discount on the core product/service.
Normally, people tend to send weekly emails, which act as nurturing content to the reader and help to gain trust. And then a sudden promotional email doesn't feel annoying once in a while.

These are just 5 uses of optin funnels. There could be many other ways you can use opt-ins and you can rather be creative with it and decide how you want to collect leads for your business.
So far you can tell, an optin can be part of a larger sales funnel campaign, or simply a funnel itself that you promote to collect leads.
**P.S. Quiz Funnels or Survey Funnels are not types of Optin funnels. They require users to answer questions. And depending on the answers, the next funnel steps may vary. They are great ways to collect leads as well though.
Now, let us look at how you can create a simple optin funnel in WordPress.
How To Create An Optin Funnel In WordPress
In WordPress, you will find several tools to set up opt-in forms for your site.
Many will refer you to form builders to collect leads, or maybe external CRMs. But if you do plan on running sales funnels for your core products or services, it's best to stick with a tool that can help you plan a whole funnel process easily.
You can use WPFunnels – one of the best tools to create any lead generation funnels or sales funnels in WordPress.
WPFunnels has several advanced features which allow you to design complete funnel journeys including landing page, checkout, upsell, downsell, and thank you steps. You will be able to use its own opt-in form to collect leads on the landing pages.
Plus, WPFunnels has direct integration with FluentCRM where you can store these collected leads upon form submission. Then, you can run automation campaigns via FluentCRM to further convert your leads.
**WPFunnels also has integration with MailPoet, MailChimp, ActiveCampaign, ConstantContact, and Aweber, (and more to come), or you can use webhooks to send data elsewhere.
All the optin funnel ideas mentioned above can be created using WPFunnels without any complications.
In the next section, we will create a quick Optin Funnel using WPFunnels so that you can see how easy it is to collect leads in WordPress.
Following is the funnel we will be creating:
Step 1: A Landing Page with a lead magnet
Step 2: A Thank you page to tell prospects to check their email
Step 3: Set up automation to send Lead Magnet access via email
Then the prospect will be redirected to an offer page immediately (optional).
Let us look at the simple steps required to create this funnel
Step By Step Guide To Create A Quick Optin Funnel In WordPress
Before you start, make sure you have WPFunnels and FluentCRM installed and activated on your site.
Then, go ahead and follow the steps below.
Step 1 – Use A Two-Step Funnel Template
Use WPFunnels to build a funnel from scratch or import pre-made funnel templates.[Guide]
For this case, we will create a funnel from scratch and then add two steps, Landing & Thank you.

Step 2 – Edit The Landing Page To Promote Your Lead Magnet
1. Edit the landing step to open it in the editor mode.

Use the WPFunnels Opt-in form widget on this page to gather leads from visitors who are interested [Guide]

(You will get dedicated blocks/widgets for Elementor, Gutenberg, Divi, and Oxygen for the optin form. for all other builders, use the shortcode.)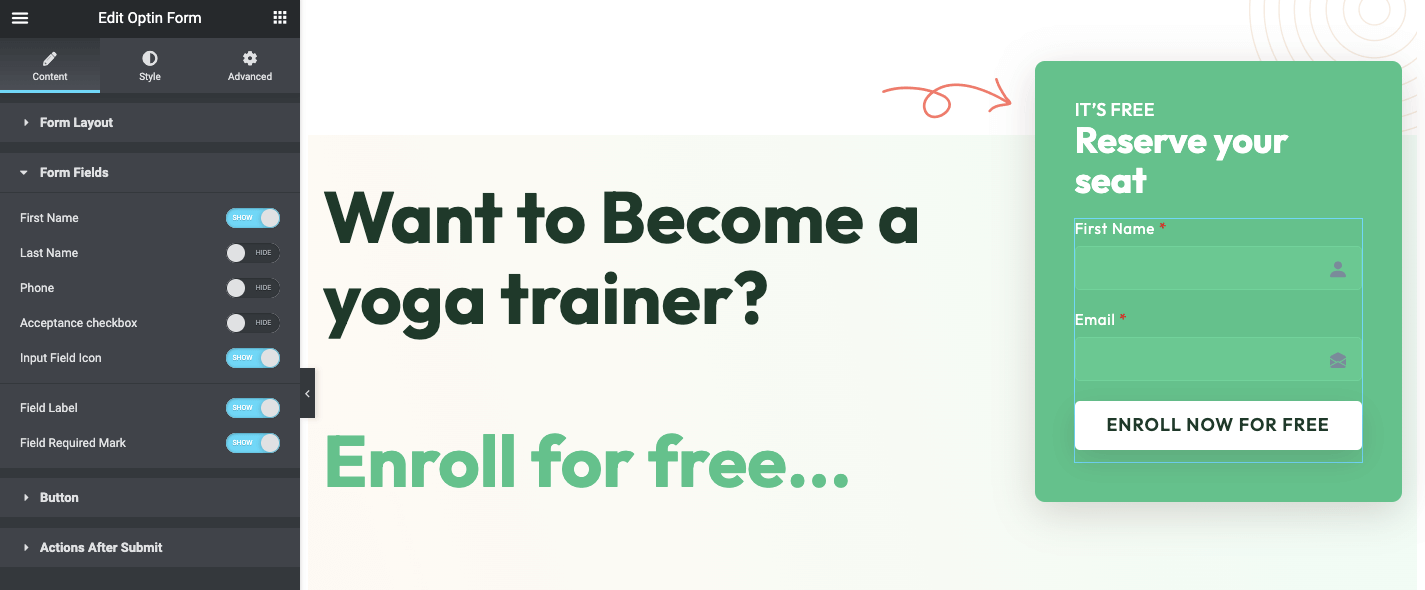 Step 3 – Set Up A Thank Page For Confirmation
On the funnel canvas, edit the Thank you step.

Update the design and copy of your thank you page.

Step 4 – Setup Email Automation To Send Lead Magnet Access
Go to FluentCRM first and create a list, let's say, "Lead Gen" and a tag "lead_yes." [Guide]
Next, go back to the funnel canvas and set up an integration event, [Guide]

When the Event Is "After Opt-in Form Submission", List is "Lead Gen" and tag is "lead_yes."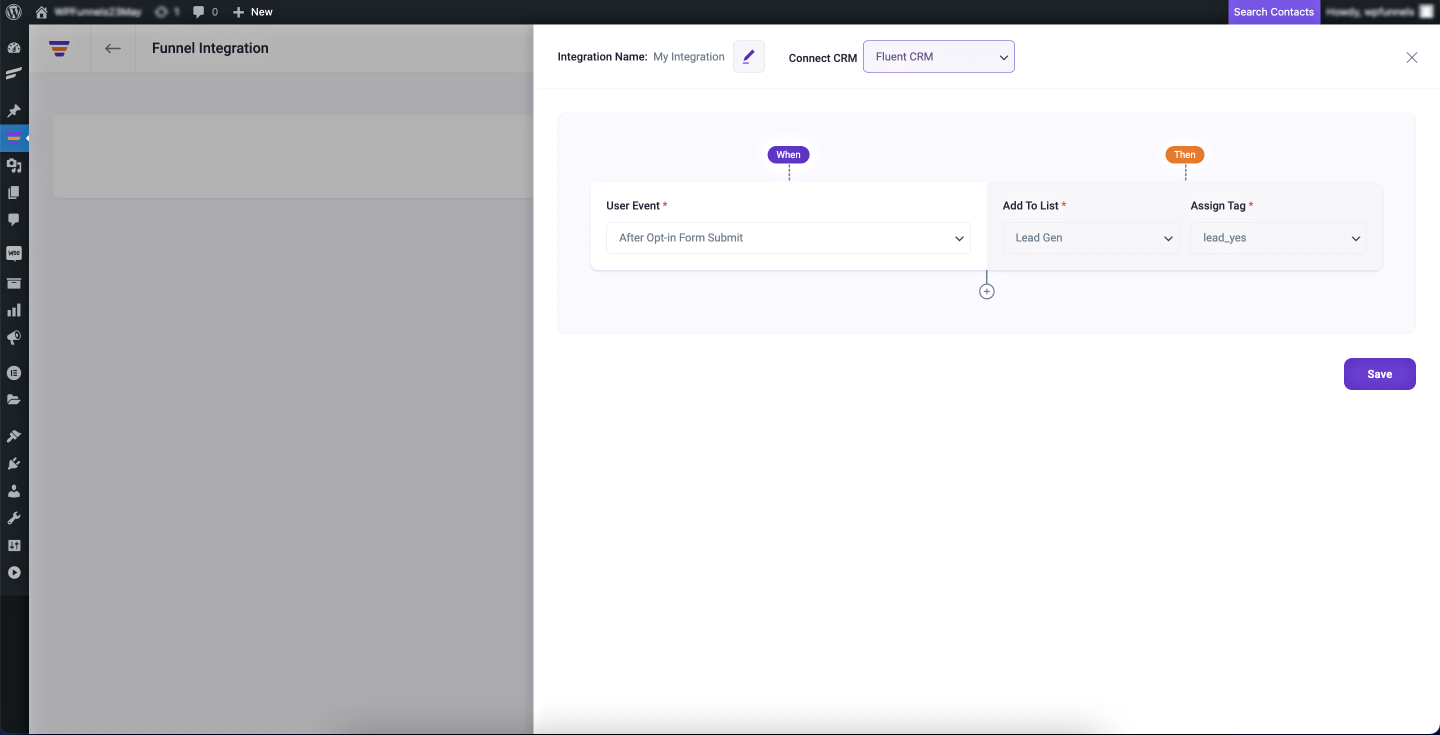 This means, when someone will opt in, their details will be added to FluentCRM.
Go to FluentCRM and create an email automation campaign, to be triggered when the user is added to the list "Lead Gen" with the tag "lead_yes." [Guide]
On the email body, include the link and details of where they can access the free resource. [Guide]
And that's it, your Optin Funnel is ready. You can then start driving traffic to the landing page and start collecting leads.
== Bonus Tips: Make An Instant Offer After Opting In ==
After the Thank You step, you can redirect your prospects to a new funnel where you can make an instant offer to filter the hyperactive buyers. (this is optional)
1. Craft Another Funnel For an Immediate Offer
You may go for a 2 step funnel for this – a Checkout and a Thank you step.

Design your checkout page in a way so that you make a complete offer and then at the end of the page you have a checkout form to take the offer immediately.
2. Redirect Your Optin Thank you Page
After setting up the 2nd funnel, go to the Thank you step settings of your initial Optin funnel.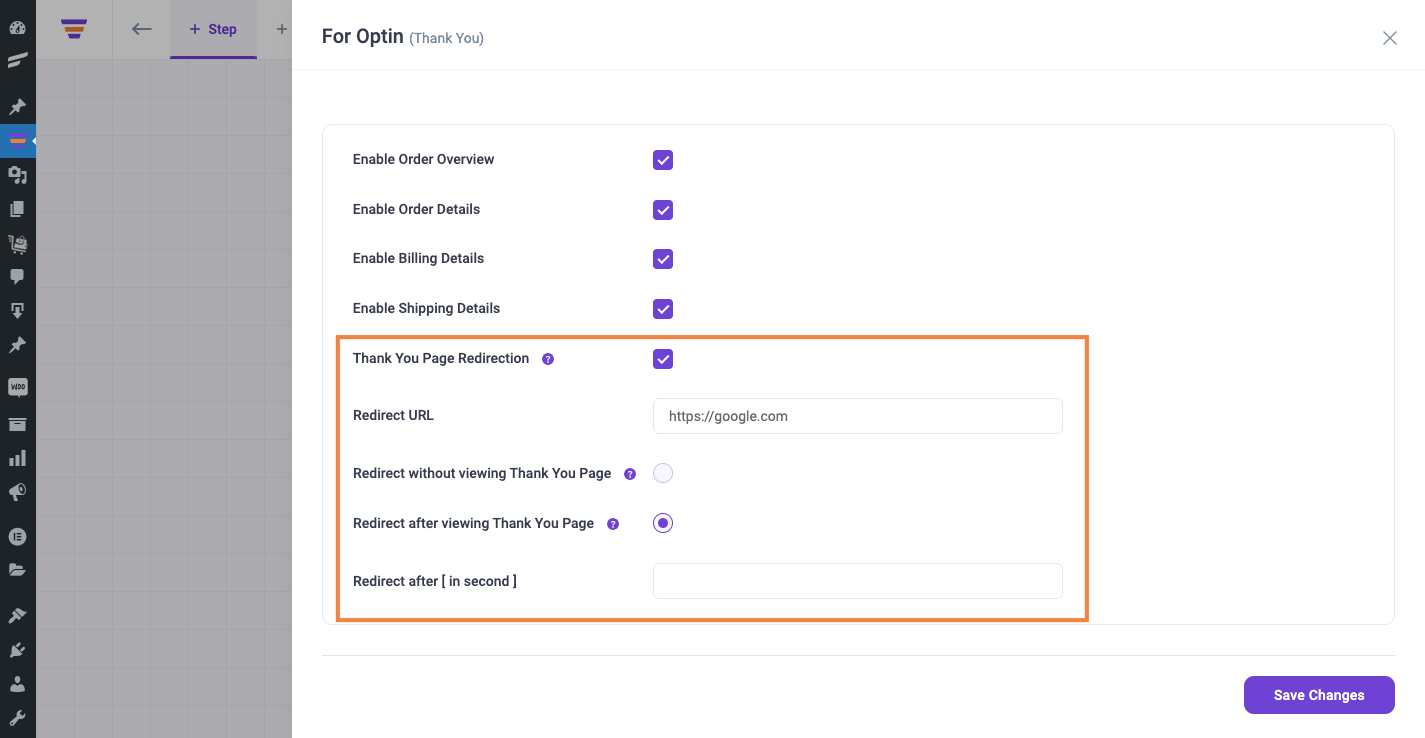 Here, set the 2nd funnel checkout step URL as the redirect URL of the Thank you step with a 3-second interval. [Guide]
This additional step will help to land a few instant sales without the need to put extra effort into converting them.
But make sure to set up Integration triggers so that anyone who purchases will be assigned a unique tag in your CRM. Then when running automation, you can exclude people with this tag from the email campaigns you run later on to close the deal.
Collecting leads is just the beginning of your customer's journey. After that, you may nurture your leads for weeks or months until they are ready to become your loyal customers.
Final Thoughts
As you saw above, collecting leads in WordPress for your sales funnels is quite easy if you have the right tools and you know the right approach. And once you've got leads, you can easily run successful marketing campaigns and get instant results.
So go ahead and create your own optin funnel and start collecting more qualified leads.
Get WPFunnels Now.