Are you an affiliate of WPFunnels? Then we have something special for you that you will love!
🔥 Increased commissions until 31st March 2023! 🔥
As you know, we are running a launch deal for Mail Mint with a huge 60% discount. And the deal is about to end on the 31st of March, 2023.
But before it ends, we decided to line up something amazing for our beloved affiliates!
The Special Commission Structure Until Deal Ends
From the 24th to 31st of March, you have an opportunity to earn more from every customer you refer!
Plus, you have an opportunity to get up to 50% commission!
1. Increased Base Commission To 30%
If you are on a 20% commission rate, then during this special commission period, you will get 10% more, i.e., 30% commission instead for every sale you refer!
2. Introducing Recurring Commissions
You might wonder, what's the benefit of promoting only once? Is there any long-term earning opportunity?
The answer is YES.
You now have the chance to earn recurring commissions on our annual plans for three years!
For every annual sale you refer to, you will get the initial commission as per your tier. And then, get 20% commissions if the customer renews the license in the next two years!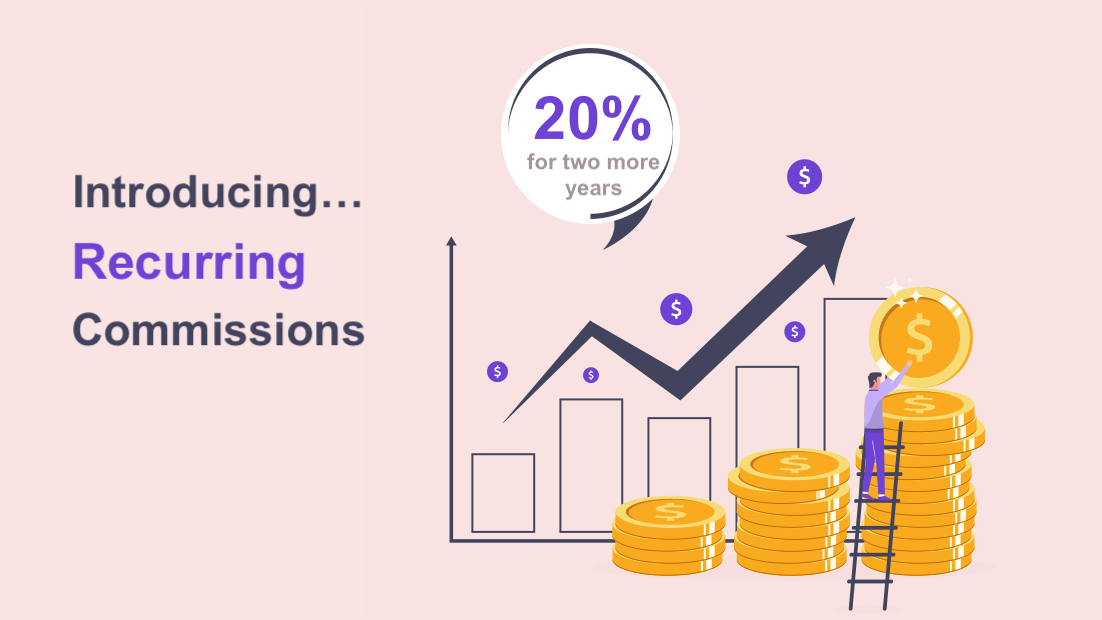 This is the perfect opportunity to set up future earnings!
3. Target-based Tiers To Get More Commission
If you think 30% is not enough, don't worry.
We have lined up a target-based tier to allow you to get more commissions if you refer more than others!
Tier 1
Target sales: 1 – 30
Commission: 20% 30% until the deal ends.
Tier 2
Target sales: 31 – 50
Commission: 30%
Tier 3
Target sales: 51-100
Commission: 40%
Tier 4
Target sales: 101 and above
Commission: 50%
**If you climb up the tiers during the deal period, you will remain in that tier even after the deal ends.
The deal will give you the added advantage of getting extra sales and climbing up the tiers quite easily.
4. Last Chance To Promote The Unlimited Lifetime Bundle
After the deal period, the unlimited lifetime bundle plan will not be available for public purchase anymore (other than in special cases).
But that is the highest plan we have at $1600 (after 60% discount), and even at a 30% commission, you have the opportunity to earn $480 from a single customer!
Take advantage of this opportunity to get yourself a good amount of commission before the deal ends.
5. Get Access To Our Pro License To Start Promoting Immediately
We understand that you need the plugin to be able to promote it. So we decided to make it easy for you to get access to our Pro plugins.
Here's how you can get access to our plugin(s) to start promoting immediately:
Join the WPFunnels affilaite program.
Reach us at [email protected] and request a temporary license by sharing your promotional plan and which of our plugins you will promote.
We will create a temporary license for you which will be valid for the next 10 business days (i.e. 2 weeks).
Once you have published your content and it is live for a week, let us know, and we will assign you a Pro license for the respective plugin.
That's how easily you can get access to our plugins and become a long-term affiliate.
Take Advantage Of This Special Commission Structure Now!
As you can see, the new commission structure is designed to help you earn way more commissions than you usually can.
So go ahead and start promoting our Mail Mint Launch Deal!
And if you haven't already, join our Affiliate Program now!