Are you an affiliate of WPFunnels? If not, then join soon!
On the 1st of November, we are launching the WPFunnels Anniversary campaign where buyers will get a huge 50% discount on all our plans.
But what's in it for you as an affiliate?
Well, just for this campaign, you have the opportunity to 👉 earn up to 50% commission!
That's right. So, let's say, if you refer sales worth $20000, then you have the chance to get a straight 50%, i.e., $10000!
The Special Commission Structure
Following is the increased affiliate commissions structure during the anniversary campaign:
All affiliates that are entitled to a 20% commission will get 10% more during the campaign, i.e., a 30% commission.
If you refer over $3000, then you will be entitled to a 40% commission instead of 30.
If you refer over $5000, then you will be entitled to a flat 50% commission.
Example:
Let's say, for the Medium annual plan that's worth $147, at a 50% offer, a buyer will pay about $73.5.
So, to reach the 1st threshold, you will only need to refer 41 new buyers.
But, you can also take advantage of the commission by focusing more on lifetime plans.
The unlimited plan is valued at $747. At 50% off, this totals $373.5.
This means you will need less than 10 new referrals to hit the 1st threshold.
The WPFunnels Anniversary Campaign Is Live!
The WPFunnels anniversary campaign is live and will last from the 1st of November till the 15th of November 2022 and buyers are entitled to get a 50% discount on all plans.
So, this gives you a chance to pitch a good price to your audience and convert more.
Why Your Audience Will Love WPFunnels?
Unlike other tools, the sole purpose of WPFunnels is to make the funnel-building process easy and affordable.
Rather than using one tool to plan, another tool to design, and yet another tool to develop your sales funnels, what if you could do all that within your WordPress dashboard?
WPFunnels lets you do just that.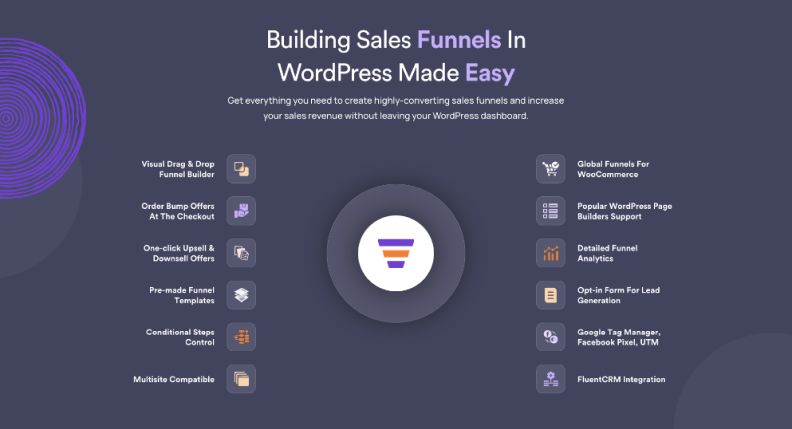 You get the visual drag and drop canvas to plan your funnel journey, popular page builder support to design all your funnel pages within WordPress, custom checkout page layouts and designs, and performance analytics for every funnel to make data-driven changes.
Along with these, you get the core features that make a sales funnel special – order bump offers at the checkout, one-click upsell & downsell offers after checkout, and funnel-specific discounts.
But these are only the core features.
In the last 12 years, we've released tons of other crucial features that you can use to craft a compelling sales funnel that brings results.
These include,

Integration with Major Automation & CRM Tools
Send buyer's data to your automation tool based on their actions in the funnels, and then run email campaigns for more conversion.
Dedicated sales funnels for Courses – LMS Funnels Addon
Create sales funnels for LearnDash courses without using WooCommerce. Make discount offers, use order bumps at the checkout, or run upsell offers to sell more courses.
Dynamic Sales Funnel For WooCommerce – Global Funnels Addon
Create conditional sales funnels for your entire WooCommerce store based on cart total, category, tag, etc, and make dynamic upsell offers to make every offer meaningful to your buyers. You may even run time-based funnel campaigns for your WooCommerce store.
Distraction-free checkout layouts
Get the Express checkout, multistep checkout, and 2-step checkout form layouts to make the payment process distraction-free.
Opt-in Form for Lead Generation
Use the built-in opt-tin form in your funnel pages and collect more leads easily. No external form builder is needed.
Custom Step For Hybrid Funnels
Use additional steps after the landing page to craft a hybrid funnel with both lead generation and sales campaigns while staying in full control of the journey.
These are just the tools you need to devise a sales funnel that can help you double your revenue if done right.
Plus the UI is super easy to understand without any help from an expert.
Summary
Promote WPFunnels to your audience and get a minimum 30% commission
Refer over $3000 worth of sales and bump your commission to 40%
Refer over $5000 worth of sales and claim a flat 50% commission!