Email marketing is a great way to increase sales in WooCommerce. However, promotional emails aren't the only way you can get more sales. You should look for various creative tactics with any type of email to try and make buyers place more orders.
Whether it's an order confirmation email or maybe an email newsletter, you can still find a way to make it a medium to generate sales. One of the ways you can make a buyer curious about more products is by using product recommendations in emails.
And today, you will learn about 8 unique product recommendation email ideas that can help you generate some additional sales that you wouldn't normally expect from your email campaigns.
In this article, we will discuss how you can choose the right products to recommend in different types of email campaigns. And eventually, you will be able to actively start using product suggestions in your emails and increase your revenue.
So, let's begin.
Why Use Product Recommendation Emails?
Product recommendation emails will help you make your buyers interested in more products, and on the process, make them comeback to your site and place more orders.
This can be done as an exclusive product recommendation email campaign or as part of any other email campaigns you have.
For example, you can suggest a few products below the CTA button of a basic discount email. Here, the main goal may not be product recommendation, but it will create a possibility where the buyer may want to use the discount right away on a product he liked from the suggested ones.
Overall, there are 3 main benefits of using product recommendation emails.
i. Increased Average Orders per Customer
Every time a customer buys from your store, there's an opportunity to introduce them to more in emails afterward.
For example, based on the buyer's last order, include a few product previews below the confirmation email. If any of them catch the attention of the buyer, he may come back and place another order.
**Of course, you won't just place any random products as suggestions. They need to have some connection with the buyer or the product purchased. We will learn how to make the right product suggestion later in this article.
Eventually, this will help to increase tour average orders per customer.
ii. Personalized Connection With Buyers
One of the tactics of product recommendations is suggesting products that buyers have browsed previously. Similarly, there are other ways to choose products to suggest in emails.
If you can showcase the right products, people will feel more connected and feel you genuinely understand their needs.
iii. Easy Promotion With No Additional Costs
Since you can connect product recommendations to any email, you really don't have to invest extra. It will deliver sales without any additional costs.
And since it is a product suggestion we are talking about, you may even present them without any discounts or deals involved, i.e., additional sales without cutting down on profit.
Now, let us look at a few product recommendation email ideas that have delivered good results for many e-commerce stores out there.
7 Product Recommendation Email Ideas With Examples
Crafting the perfect email is basically about making that product resonate with the reader. So, what kind of recommendation emails should you be sending?
Let's explore some tried and tested ideas with examples.
1. Product Suggestion On Welcome Emails
A welcome email is that friendly greeting you send when someone first interacts with your brand. It sets the tone for your relationship.
Here's an interesting fact:
Welcome emails boast an open rate of approximately 86%. That's not a number to scoff at. Even better, around 25% of those people will engage further by clicking on content inside the email.
So, rather than making it just a welcome note, you can make it more optimized for extra sales by adding a few relevant product recommendations.
Here's an example.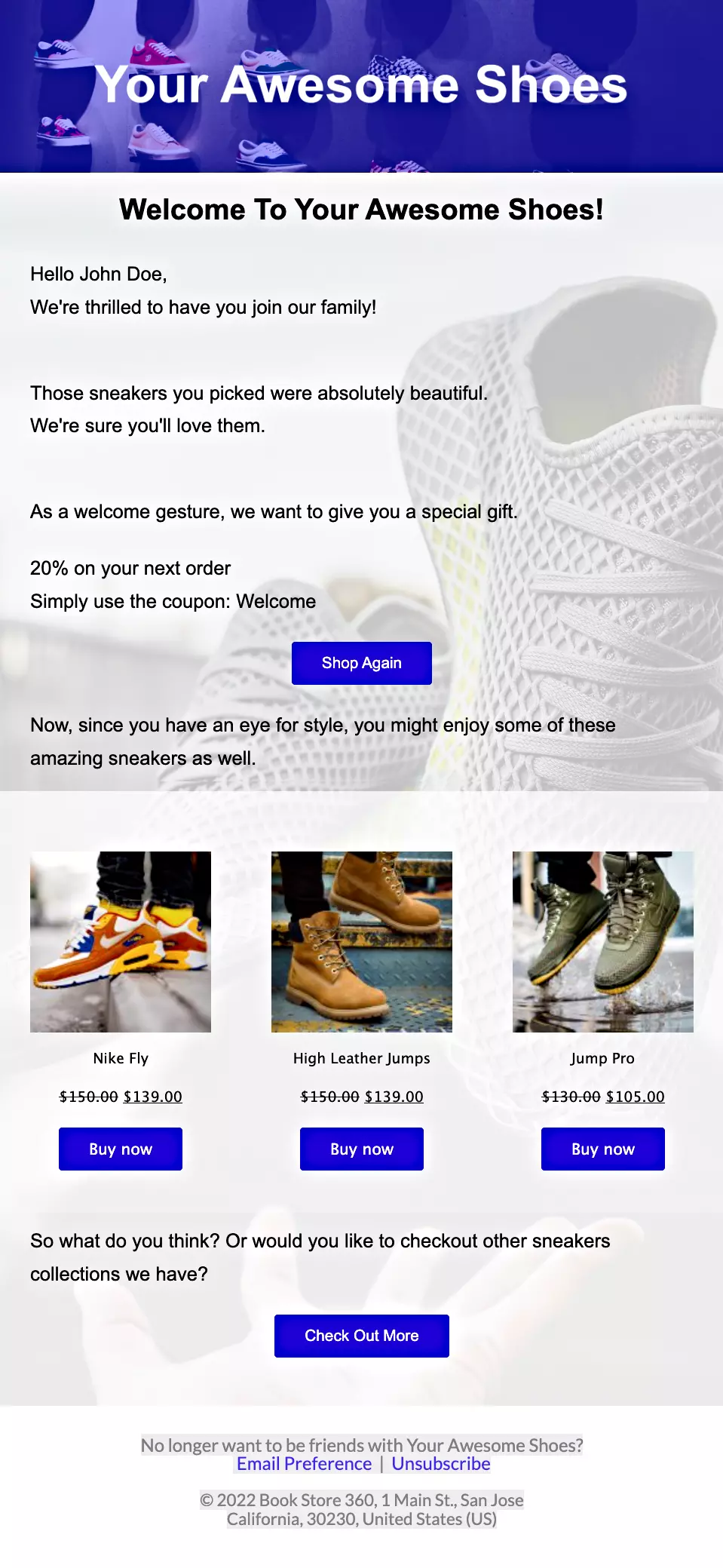 After you welcome the person, you may offer a coupon for the next order.
And then, you may suggest products from the same category as what the customer already bought. This will help to give a push to the customer to use the coupon again immediately.
This will also work if this is a welcome email after joining a reward program or maybe subscribed to a newsletter with a little adjustment to the copy.
2. Recommendations On Order Confirmation Emails
When someone places an order, they usually expect a confirmation email with an order summary.
But, what if you could turn that into a setup for the next order?
For example, suppose a person ordered a couple of books from your online bookstore. Based on what type of books he ordered, you could suggest a few more just below the order summary.
If the person is passionate about the genre of the books, he may decide, "Hey, why not get this one as well?" and go on to purchase one of the books you suggested.
Here's an example.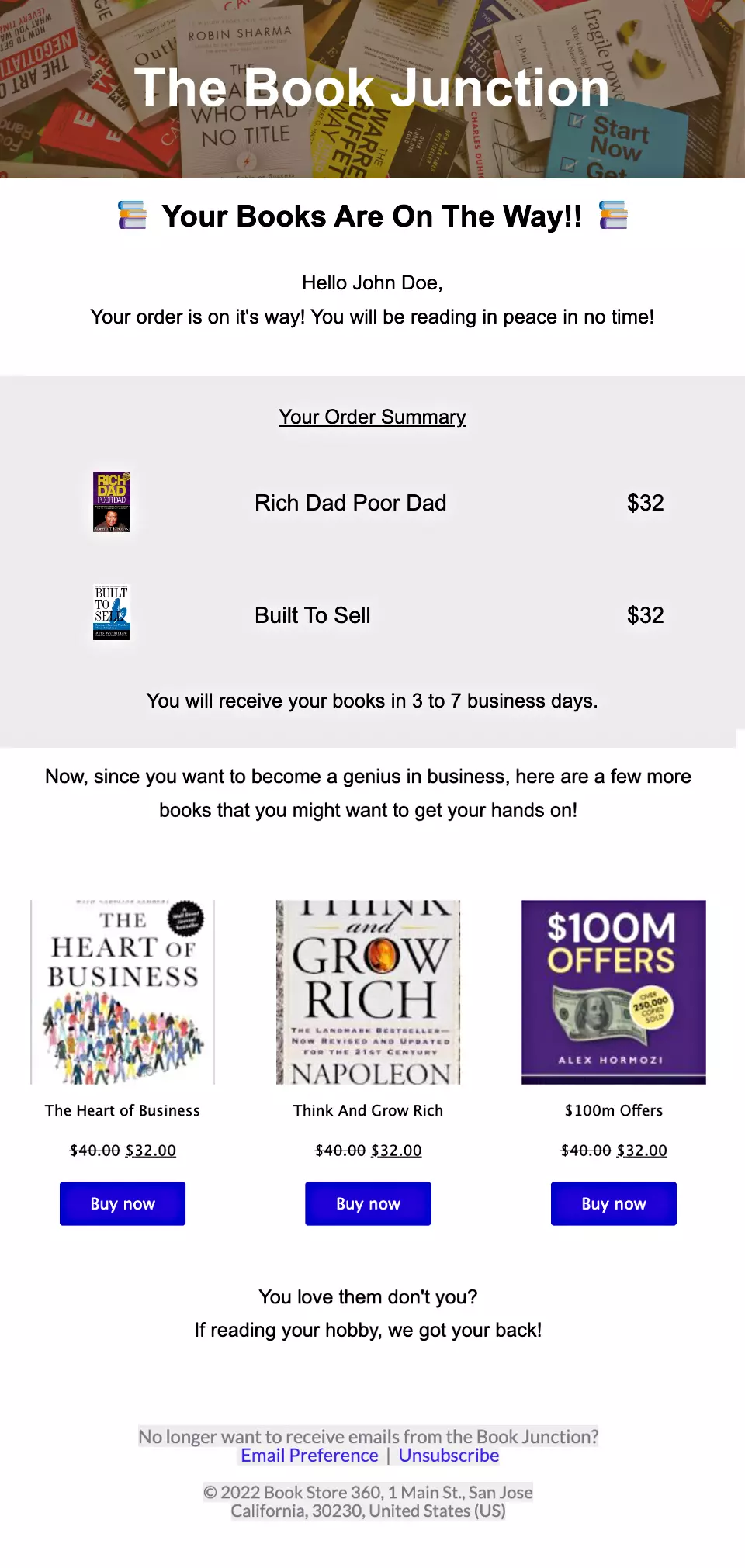 The idea is to relate the product recommendations with what was ordered. Here, you are taking advantage of the current mindset of the customer who is still interested in similar products.
3. Personalized Newsletters Based On Browse History
Sometimes, tracking the customer's browsing history could be a good approach when looking to sell products.
Let's say you sell beautiful dresses and noticed a prospect looking at a few products a few times but never ordered. In this case, you can offer a discount to try and convince the person to make the decision and purchase one of the dresses.
Let us look at an example.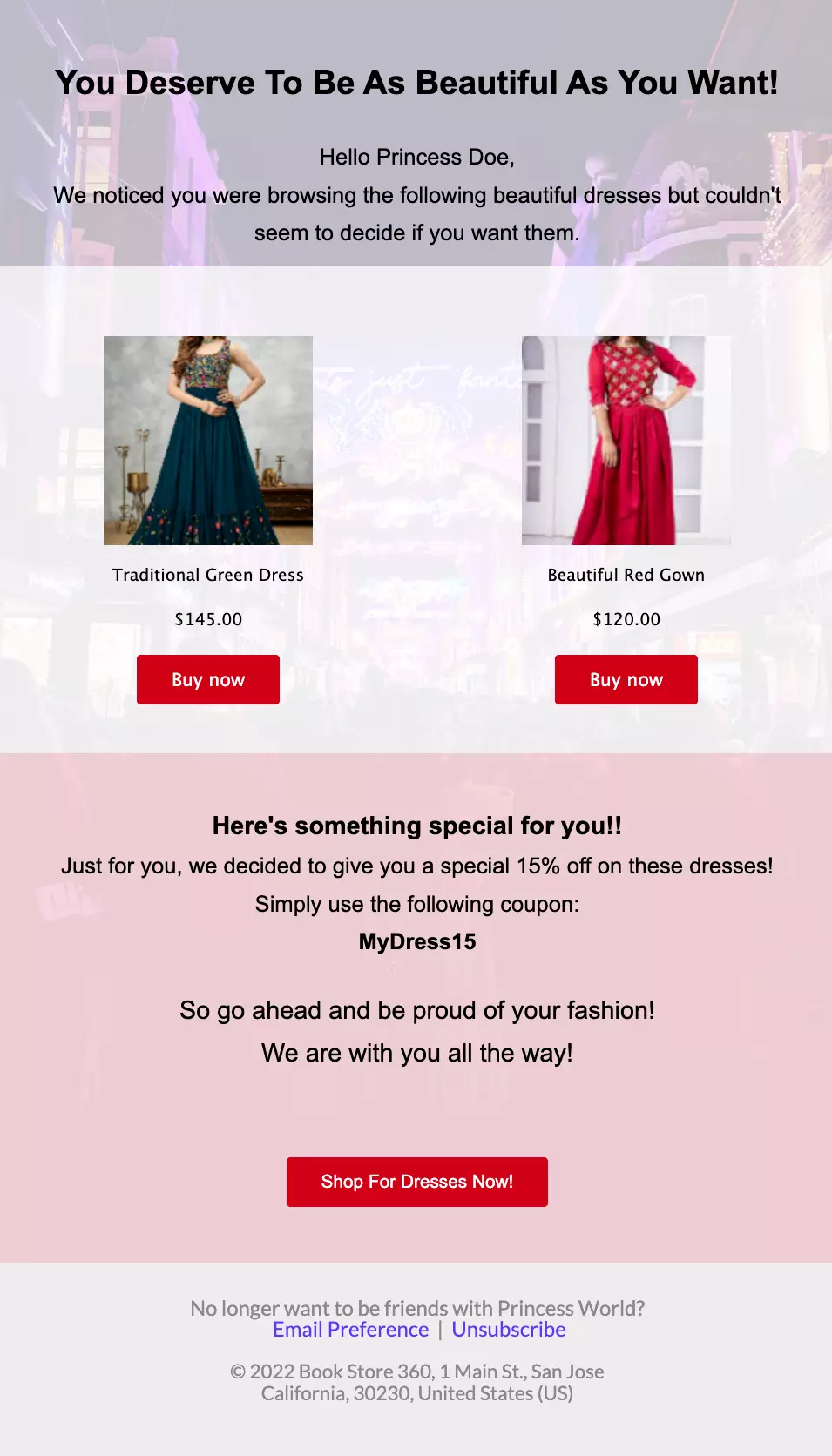 You can see that the email copy is focused on valuing what the customer wants to achieve with the product. Connecting the coupon to this and showing that you care will help make the prospect consider purchasing.
4. Special Recommendations Based On Purchase History
This is a product recommendation email strategy where you use discounts and promotions based on the buyer's purchase history to trigger sales.
You may run a special campaign where you request buyers to purchase similar products or the same products again based on what he/she purchased in the past.
Here's an example.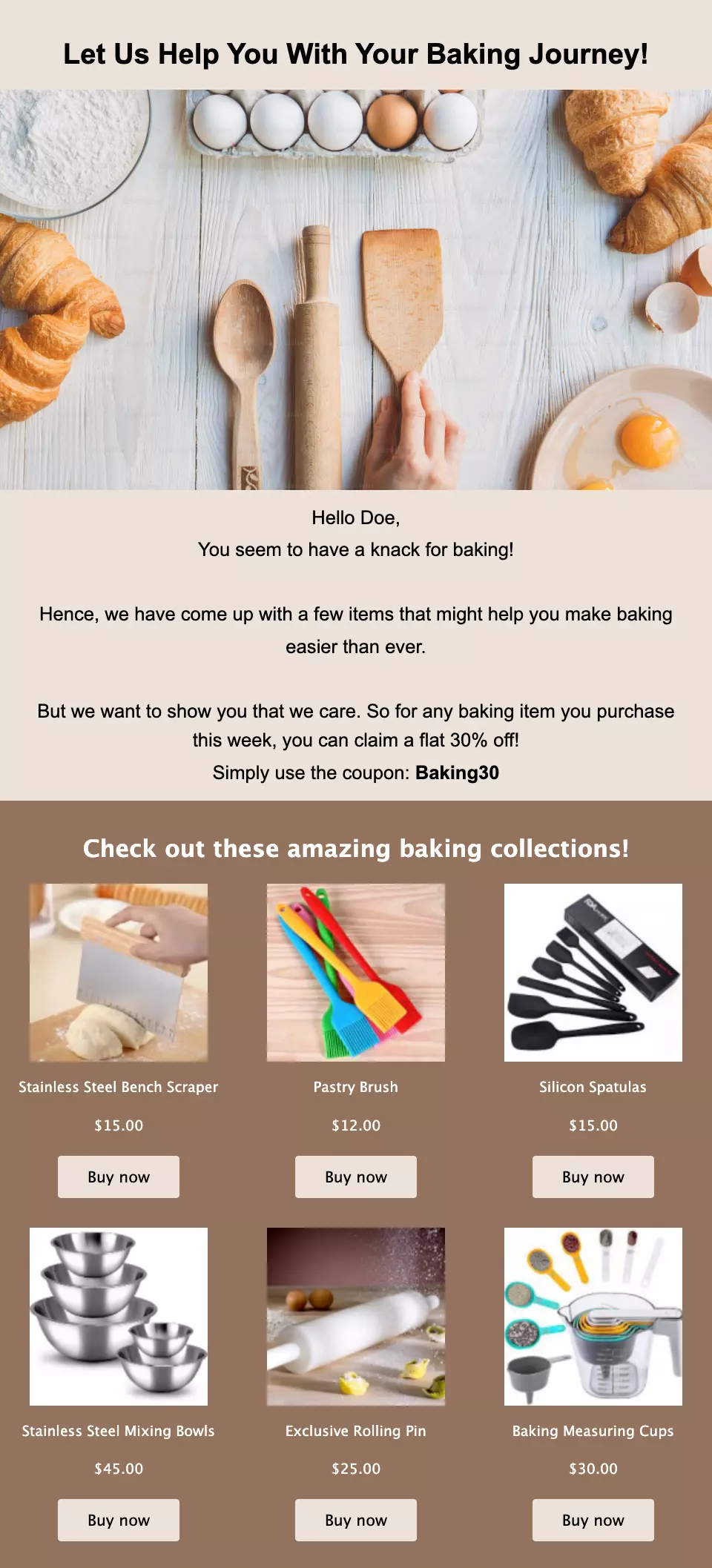 This works really well if your online store is aimed at a particular niche. The email copy should be encouraging and create excitement.
And the products suggested must be relevant to what the buyer purchased in the past.
5. Recommend Products On Sale Or Discount
This one is obvious. When you have a discount or a sale, you should send out a product recommendation email with some of the popular products on sale.
Here's an example.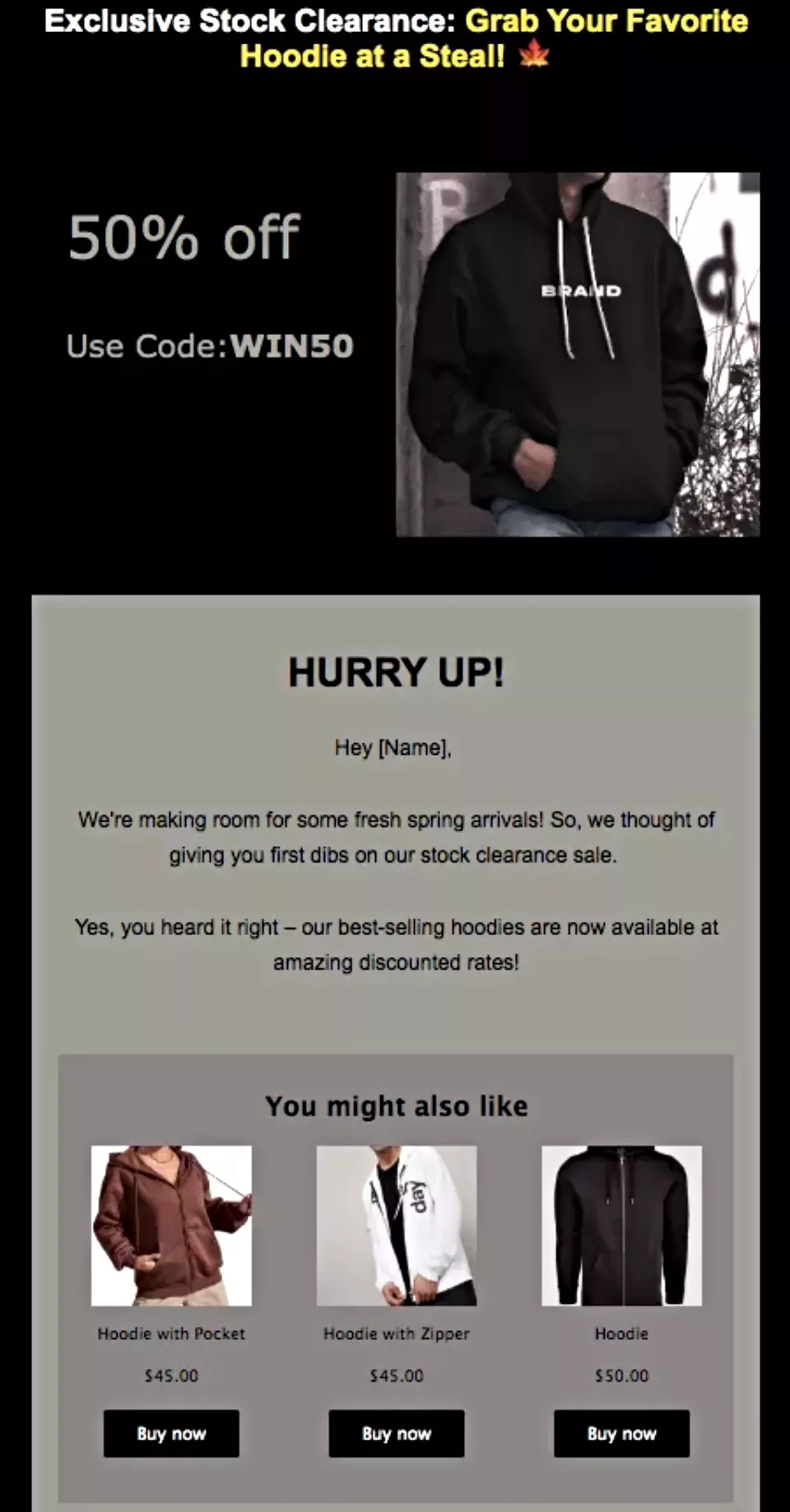 Make sure you highlight the discount over anything. And then suggest a few products that are on sale.
In the example above, the most popular product is highlighted beside the message about the discount. And then, there are product suggestions below that the buyers may like.
6. Seasonal & Holiday Emails With Suggested Products
Holidays and seasonal themes are the best when it comes to running promotions.
A product recommendation email at this time may work quite well as long as you highlight the products that complement the occasion.
Here's an example of an email you may create during Christmas.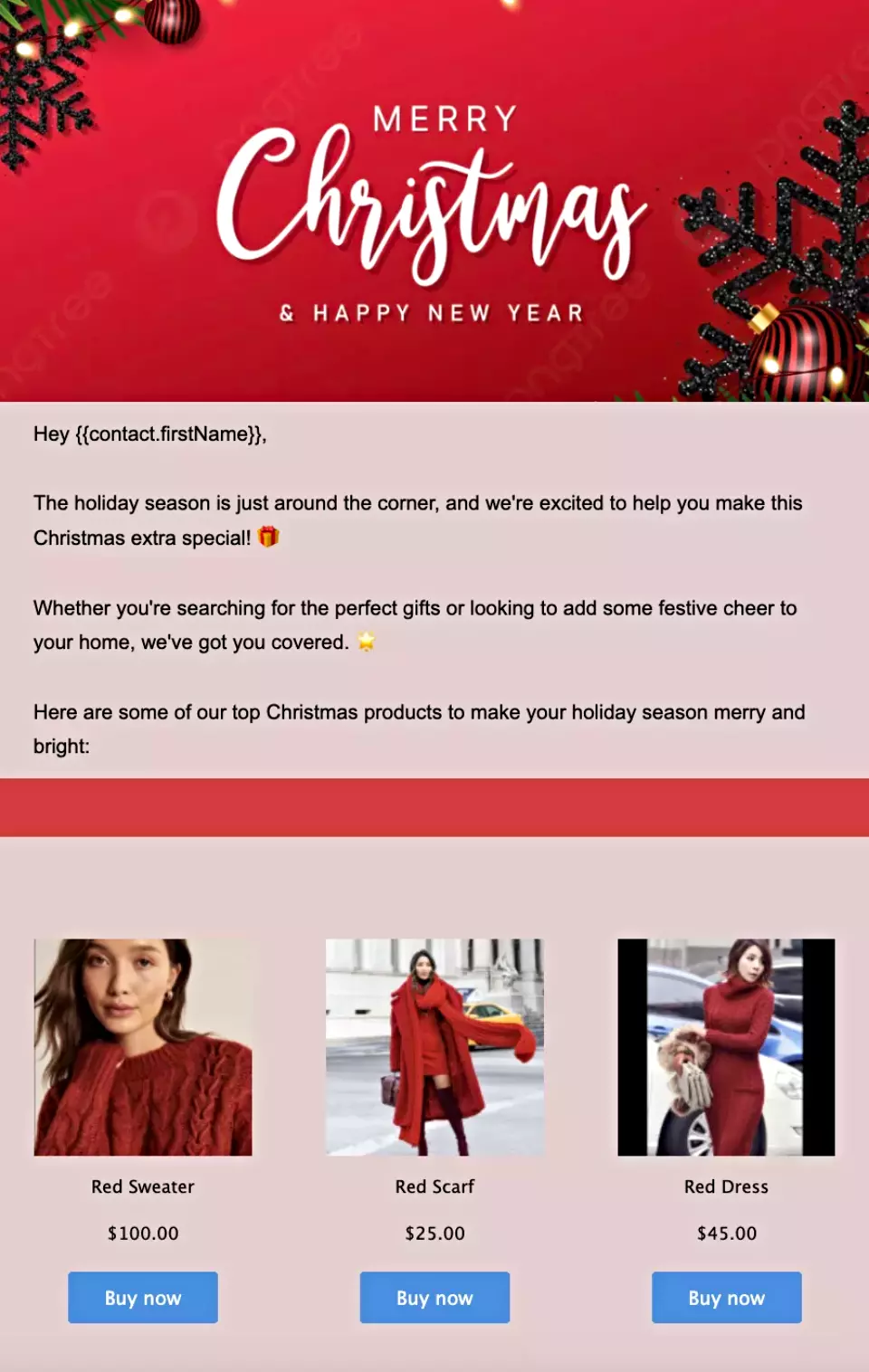 As you can see in the example above, the email is designed to match Christmas, and the products referred to are the ones that people usually buy during this occasion. Plus, the email copy is focused on excitement.
If you have discounts planned, then you can combine it with this email to make it more effective in converting customers.
7. New Products Collection In Preferred Category
When you have regular buyers, you can easily track people who like a particular category more than others.
In this case, it is quite possible that they are looking forward to any new collection that you may bring in in the future. Hence, you can use this to your advantage.
Whenever you have new stocks coming in, set up email campaigns for the people who usually buy products related to the category of these products. On the emails, you may simply let them know what new you have to offer, or even issue a limited-time discount to get some instant sales.
Here's a simple example.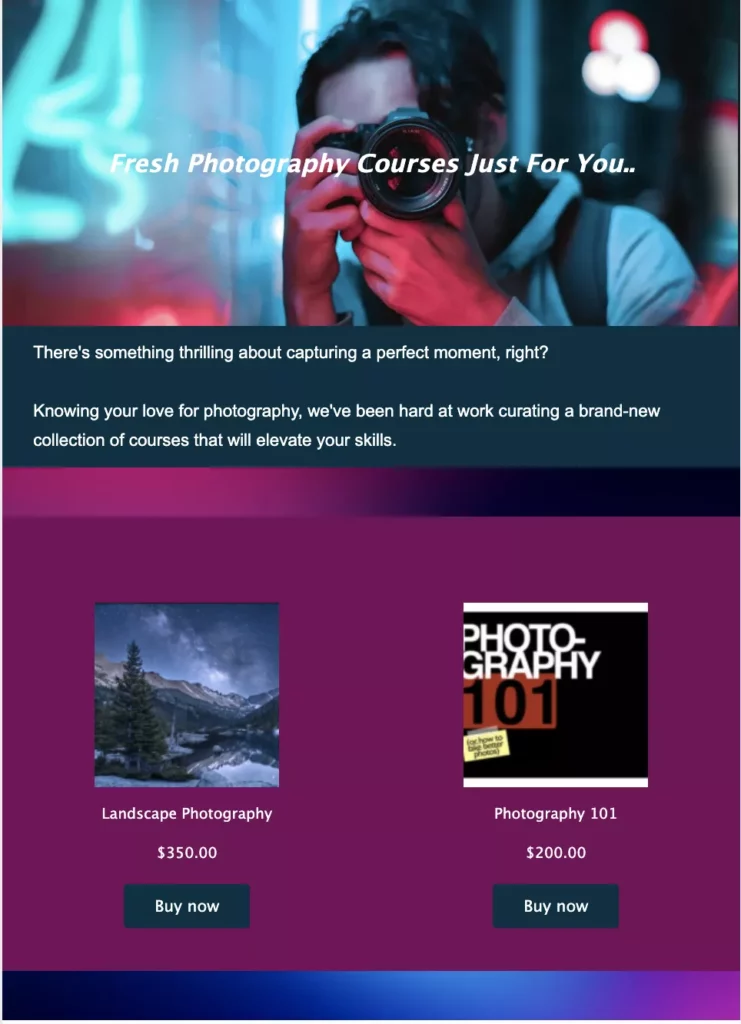 You can see the message is clear – you know what the customer loves, and you have something new that they might like. This is more than enough to get the right customers excited to check out the new collection.
8. Alternative Product Recommendations For Abandoned Carts
Abandoned cart recovery emails are now quite popular in any online store.
However, you could take an extra step and recommend related products or alternatives in the same email in case the person no longer wants to complete the purchase.
Here's an example.

The idea is, you do your best to convince them to recover the cart. But you also give them more options to look into.
Often, people may buy those suggested products instead of recovering the carts they abandoned.
How To Recommend The Right Products?
Product recommendation emails will only give you good results if you are able to suggest products that make sense. People would want to look at relevant products they are interested in rather than random products they may not need at all.
So, the following are some ways you can choose what products to suggest when creating a product recommendation email.
1. Recommended Products From The Same Category
When suggesting products in a promotional email, try to showcase more products from the category from which people have purchased in the past.
In abandoned cart recovery emails, suggest products that are in the same category of the products that were abandoned.
This will help stay relevant to what the customer is interested in.
2. Relevant Or Complimentary Product Suggestions
In case you have multiple categories of products that go well with each other or people use them together, then you could suggest complementary products instead.
For example, if someone orders a phone, you could suggest products from phone accessories such as headphones, back cover, screen protector, etc.
3. Frequently Purchased Products By The Customer
When you have detailed information about what people purchase, you can identify a person's most frequently purchased products in your store.
In that regard, you could set up a campaign with a special discount on these products.
4. Frequently Bought Together Products
Observe your store and find out which products are mostly bought together by most customers.
If a person orders a certain product, you may suggest the "bought together" product in the confirmation email.
5. Products Frequently Browsed By The Customer
This one we already covered in the email strategies. If a person has browsed a few products a number of times, you should try to send him an email with a discount on those products.
Obviously,, you can't suggest all the products he browsed. So, recommend the top three that the customer hasn't ordered yet and has browsed the highest number of times.
6. Bundles With Relevant Products
Selling bundles is beneficial for both you and the customers.
So, you may suggest bundles where there are relevant products to what the customers have already ordered or browsed in the past.
These can be sent in welcome emails, confirmation emails, or even as separate email campaigns.
7. Based On The Customer's Wishlist Or Favorites
You may allow customers to mark products as favorites or you could allow buyers to keep out-of-stock products in their wishlist.
So, when you re-stock these products, you could prepare a product recommendation email to send out to the respective customers.
How To Send Product Recommendation Emails In WooCommerce?
You will need to have an email marketing automation tool to create product recommendation emails in WooCommerce.
And right now, one of the easiest solutions to this is Mail Mint.
Mail Mint allows you to set up automation based on buyers' purchase decisions in the WooCommerce store. So you will be able to send out custom product recommendation emails once people order or abandon carts.
Let us look at how you can use Mail Mint with an example use case.
Suppose you have a store that sells men's products. You know a lot of your customers like to check out the 'Accessories' section. Sending them an email that focuses on these accessories would be a good way to show them the best stuff they could order next.
So, let's get started & walk through the basic journey step by step:
1. Install and activate Mail Mint Pro.
2. Go to Mail Mint > Campaign > + New Campaign.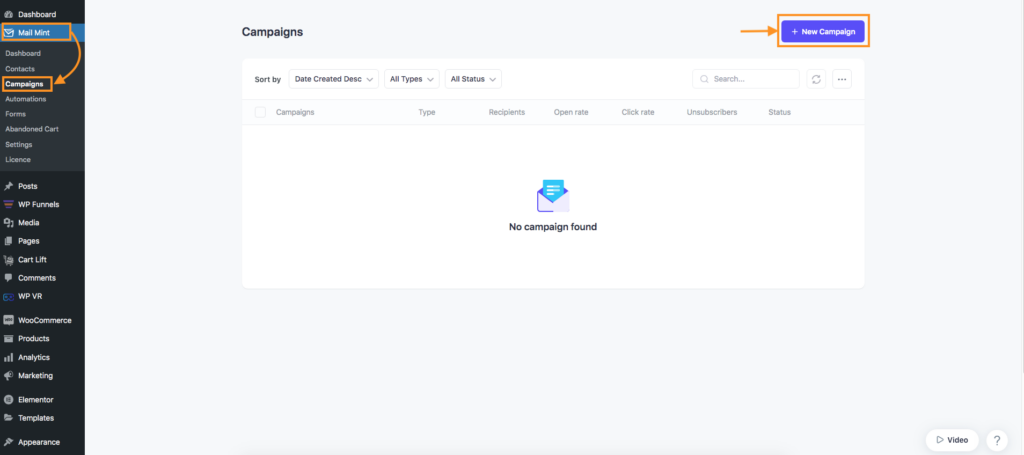 3. Now, choose 'Regular Email Campaign'

4. Click on 'Design Your Email'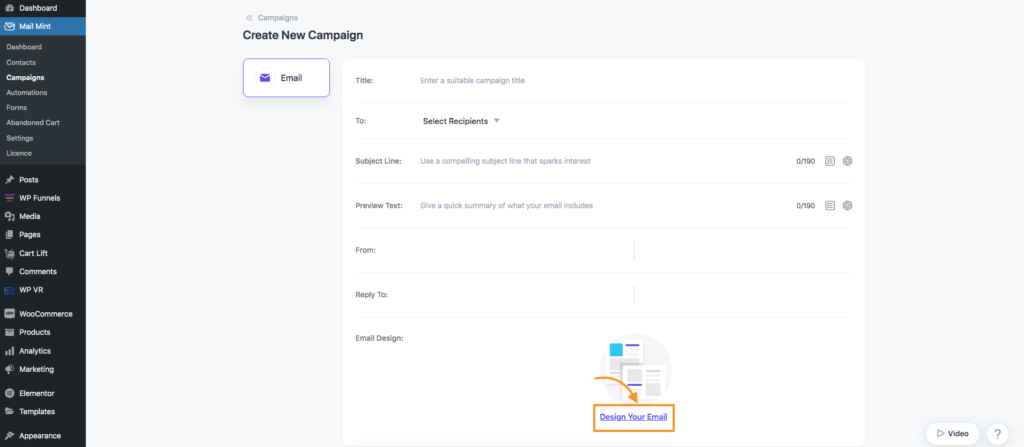 You can then choose a pre-built email template or just start from scratch. Here we will choose 'Start From Scratch'.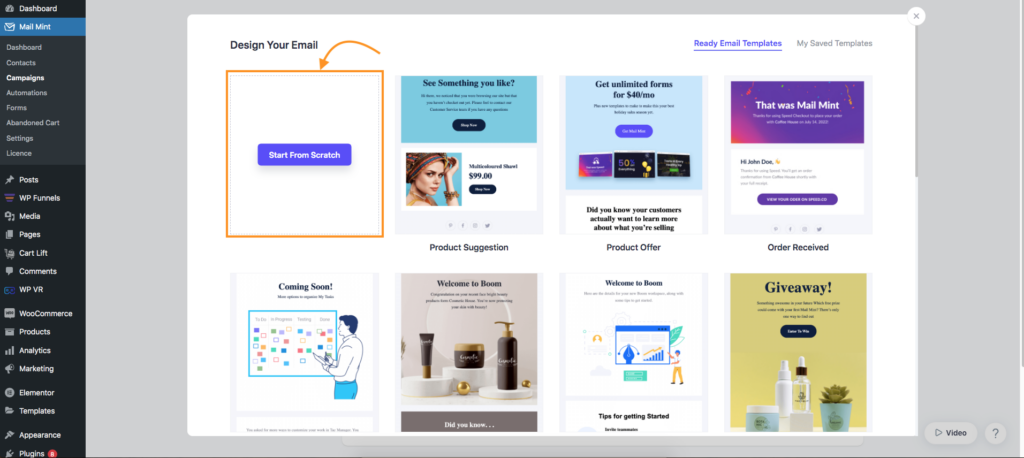 6. Then, you can see multiple blocks to design your email. Now, drag the 'Product' block & drop it into the header portion.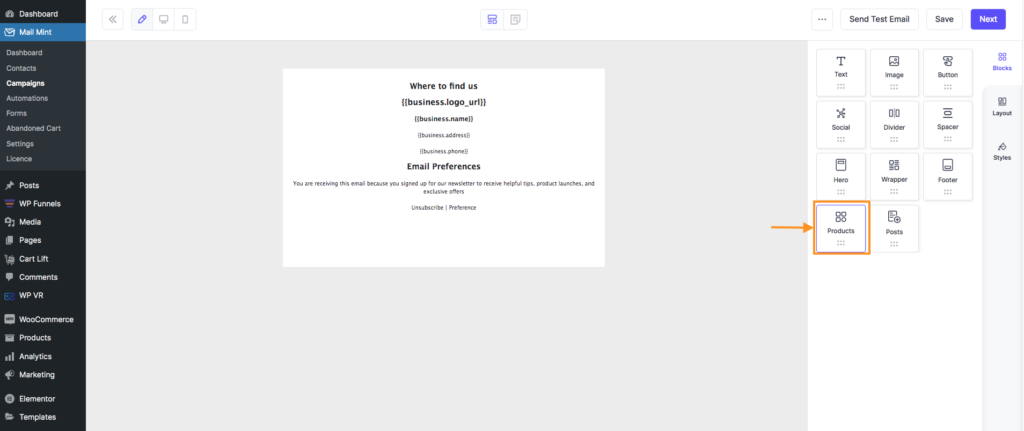 7. Here, choose the category "of your product "Accessories" to suggest the products in the email.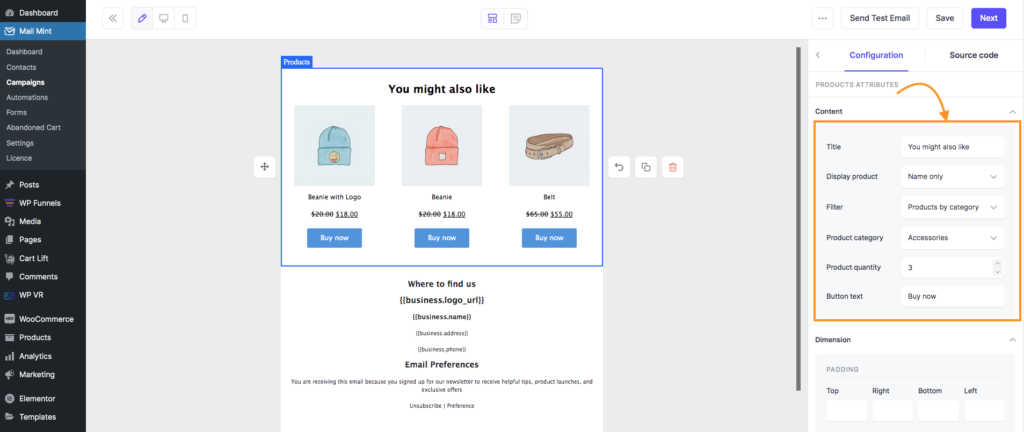 8. Finally, you change the button text to make it match the brand.
9. Save this and configure the email subject line and preview text.
10. Schedule the email in the hour when you get the highest number of traffic.
And that's it. Your product recommendation email is ready.
Similarly, you can set up automation based on the order confirmation, purchase complete, abandoned cart, etc., where you can customize the emails and suggest products using the product block.
Final Thoughts
As you saw, product recommendation emails are quite easy to create and execute. As long as you know how to suggest the right products, you have a chance to trigger additional out of your customers.
Obviously, this will largely depend on the tool you use to set up your email marketing campaigns for your WooCommerce store.
Hence, we recommend you use Mail Mint as it already has the necessary features to pull off most of the product recommendation strategies you learned here.
So go ahead and start using product recommendations and grow your revenue.