Email marketing is still the most popular marketing strategy out there for any online business.
According to Snov, 29% of marketers rate email marketing as the most effective marketing channel.
However, a big challenge here is to find a suitable email marketing tool that is affordable, easy to use, and has all the features you need to make your email marketing efforts successful.
Today, we will look at the 5 best WordPress email plugins that are designed to make your email marketing efforts much easier.
So let's begin.
Core Features To Look For When Choosing Your WordPress Email Marketing Plugin
Before we look into the amazing plugins that we would like to recommend, first, you need to understand what features a good email marketing plugin should have.
1. Easy Leads & Contacts Management
One of the common challenges of using an email marketing tool is managing the leads. You collect emails and other information from prospects and add it to your email marketing tool to prepare for future email campaigns. But then, it can often get complicated when trying to organize these leads in lists or tags and trying to run specific campaigns.
In fact, in most tools, it's quite difficult to make changes to any contact without going through a huge documentation, let alone importing contacts successfully.
So it is very important to choose a tool where you will have full control over how you manage leads without getting too confused about the options.
2. Easy To Run Email Campaigns
As hilarious as it sounds, you will be surprised by how confusing it can get with some email marketing tools out there when trying to create simple email campaigns.
It's important to find a plugin that will allow you to create email campaigns without spending hours understanding the UI.
3. Contact Segmentation & Personalization
Nowadays, running random cold email campaigns doesn't work very well. Rather you need to work smart and run targeted email campaigns for specific user segments with personalized content. Since people get flooded with tons of emails every day, they will only respond to your campaigns if they find them relevant and useful.
So, your WordPress email plugin should allow you to create custom segments based on user data such as location, age group, interests, etc, for which you may run specific email campaigns with personalized email copies.
4. Control Over Email Content & Design
One important feature you should also look for is the ability to design and format your email content without any hassle. You should have full control over the layout and typography of the email you are creating.
5. Available AI Assistance
Since it's 2023, you no longer need to bother with scratching your head for hours to write your email copies. You will find tons of AI tools out there that can help you generate email subject lines and email copies.
However, it will be even better if you find a plugin that is somehow integrated with AI so that you can generate and use email content on the go.
6. Other Good To-Have Features
Apart from these 5 crucial aspects, you may also look for the following features to be able to use email marketing in an advanced manner.
i. Email Sequence Campaigns
If you are willing to use email marketing for lead nurturing, then you will need a plugin that offers to create email sequences.
This means you should be able to create a series of emails to be sent out within specific time intervals between each email sent.
ii. Email Marketing Automation
Today, automation has become a prime feature that most marketers use. If you want to run specific email campaigns based on user actions on your site, then having the ability to set up triggers and then send automation emails will be quite handy.
iii. Form To Collect Leads
Most people using email marketing tools also use a form builder to collect leads. So why not have a built-in form to collect leads instead? Most good tools already have this feature, and it's good to have this feature to reduce your efforts.
Top 5 WordPress Email Marketing Plugins
Following are 5 WordPress email marketing plugins that you can start using right away without having to spend hours learning their UIs.
All the plugins listed here have a couple of things in common:
Easy to use compared to other mainframe email marketing tools.
Come with all the core crucial features that are expected in an email marketing tool.
Affordable and reliable both in terms of cost and ROI.
And for each, we will highlight their best features. Then you may decide which one suits you.
1. Mail Mint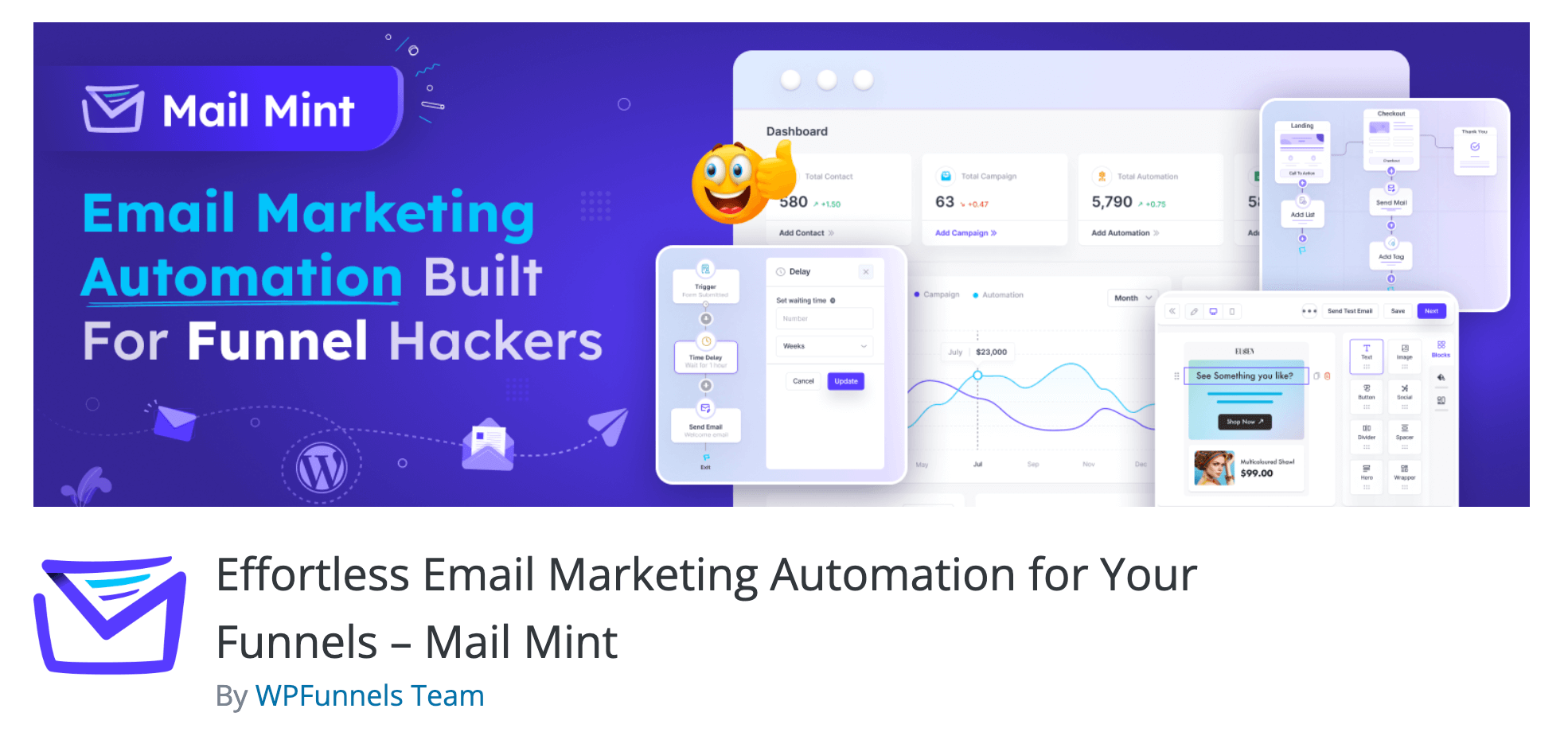 Mail Mint is an Email Marketing Automation plugin that specializes in email marketing campaigns and automating them.
It is one of the easiest tools you will find in WordPress that will let you manage leads and send targeted email campaigns in a clutter-free UI.
Exclusive Features
Upload unlimited contacts in both Free & Pro Version
Email Campaign and Sequence In One Place
Built-In Form Builder
Advanced Drag and Drop Email Builder
Dynamic Segmentation
Visual Email Automation Workflow
Special Integration with WPFunnels
GDPR Compliant
Special Integrations
ChatGPT – OpenAI Integration
JetFormBuilder
Gravity Forms
WooCommerce
Easy Digital Downloads
Elementor Forms
Why Use Mail Mint
Mail Mint has the easiest way for you to upload unlimited contacts and subscribers without any hidden cost. It's the most user-friendly interface you can ever get. Even without any documentation you can simply import your contact list and assign them to specific lists and tags within a few clicks only.
With its advanced email builder, you may create effective email marketing campaigns for your clients and customers. You may send from lead nurturing emails to promotional emails very easily with the drag-and-drop email builder.
Mail Mint also offers advanced analytics that allow you to track the performance of your campaigns. You can view detailed reports on open rates, click-through rates, and conversion rates, and use this data to optimize your campaigns for better results.
Also since it is a self-hosted tool, whichever email-sending service you use, Mail Mint will automatically connect with your preferred email-sending service.
Another great feature of Mail Mint is its dynamic segmentation capabilities. You can easily segment your subscribers based on specific criteria such as interests, behavior, and demographics, allowing you to create more targeted and personalized campaigns.
No matter what industry you're you may create custom fields based on your needs and segment your users according to your need for targeted email marketing.
Mail Mint also allows for the personalization of email content, subject lines, and sender information, helping you create emails that feel more personalized and relevant to your subscribers. And you can use Advanced integration with ChatGPT which will help you to do that.
One of the standout and additional features of Mail Mint is its email automation capabilities. With Mail Mint, you can set up automated email sequences such as welcome emails, post-purchase-based emails, and follow-up emails, saving you time and effort.
And the best part is, its deep integration with WPFunnels will let you create Funnels and set up Automation all in one single visual canvas!
Mail Mint is comparatively a new plugin, so it has many places for improvements, but this opens the opportunity to introduce amazing new features and integrations.
Pricing
Mail Mint Free – WordPress Repo Mail Mint Pro – Starting from $149.99/Annually
2. MailChimp For WordPress
Mailchimp for WordPress is an email marketing plugin that helps businesses connect their WordPress site with their Mailchimp account, allowing them to create and track effective email campaigns.
With its powerful features, Mailchimp for WordPress makes it easy to create, send, and track emails that drive engagement and conversion.
Exclusive Features
Deep Integration with MailChimp
Beautiful Sign-Up Forms
Free Email Marketing to Up To 500 Contacts
Custom integration
Special Integrations
Contact Form 7
WooCommerce
Gravity Forms
Ninja Forms 3
WPForms
BuddyPress
MemberPress
Events Manager
Easy Digital Downloads
UltimateMember
AffiliateWP
Why Use MailChimp For WordPress
The best part of this plugin is you can connect it to your MailChimp Account within seconds. Its advanced integrations with 200+ tools let you exchange data from different tools.
It also lets you create your own custom integration so that you can utilize it to integrate with your favorite tool.
Pricing
MailChimp For WordPress Free – WordPress Repo MailChimp For WordPress Pro – Starting from $20/Monthly
3. MailPoet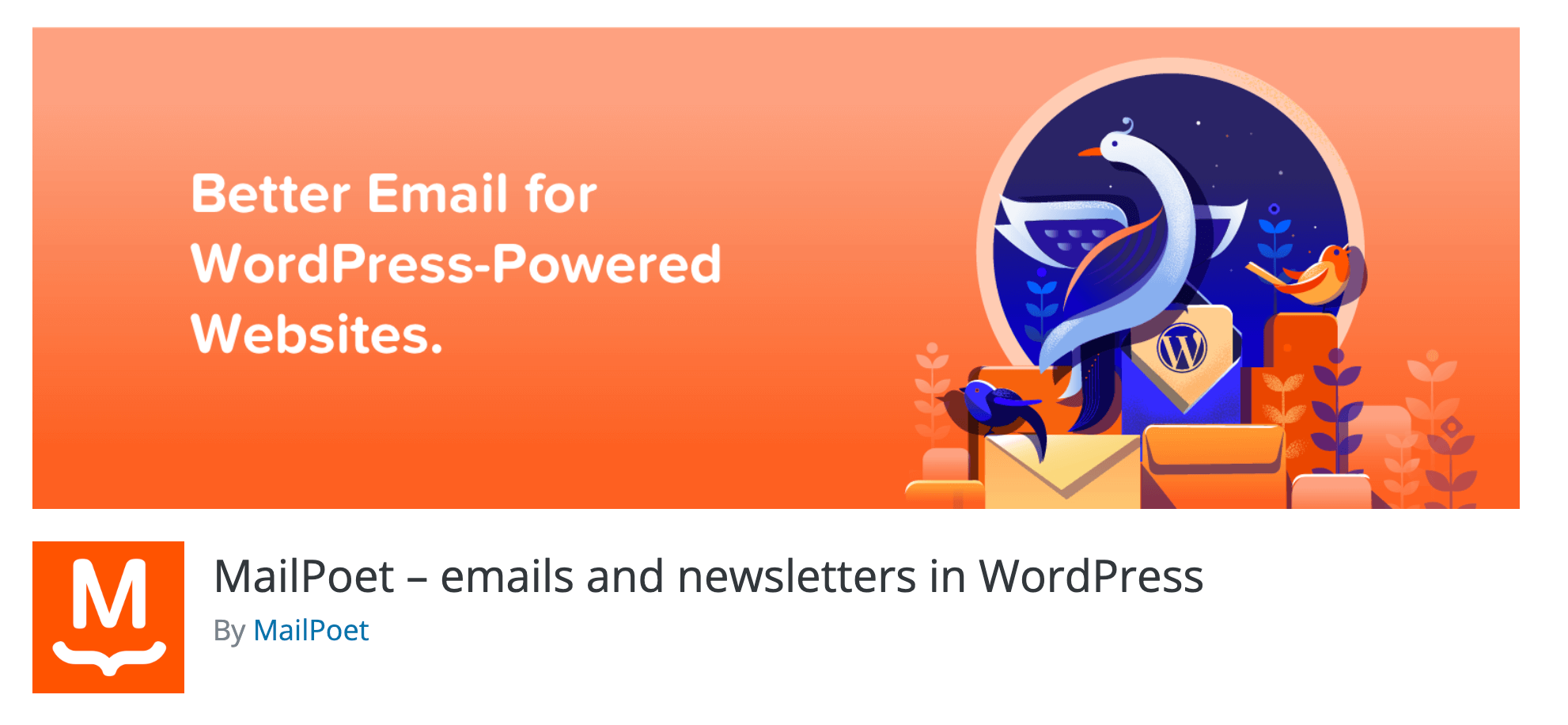 MailPoet is also one of the most popular plugins available on WordPress. With more than 600,000+ active installations, it is trusted by many users worldwide.
From building the email list to sending targeted emails to your prospects, you may turn your leads into regular clients easily.
Exclusive Features
Subscription forms and Newsletter on your WordPress website
Free Subscribers up to 1000
Benefit from reliable email delivery with MailPoet Sending Service (free with the pro plan)
View basic engagement stats for free, or detailed stats with a paid plan
Use multi-condition segmentation
Priority Customer Support with a paid plan.
Language Support
Pre-built form templates and customizable email templates.
Special Integrations
WooCommerce
Google Analytics
Why Use MailPoet
MailPoet's great special feature is their email-sending service they confirm that the deliverability rate is really high.
Also, you won't need to leave your WordPress dashboard to do anything. Also, it has another great feature that will let you notify your users when a post is automatically published. This is useful especially if you are a blogger or a content creator.
Since this supports up to 1000 subscribers, it's a good tool for startups.
Pricing
MailPoet Free – WordPress Repo MailPoet Pro – Starting from $10/Monthly
4. SendInBlue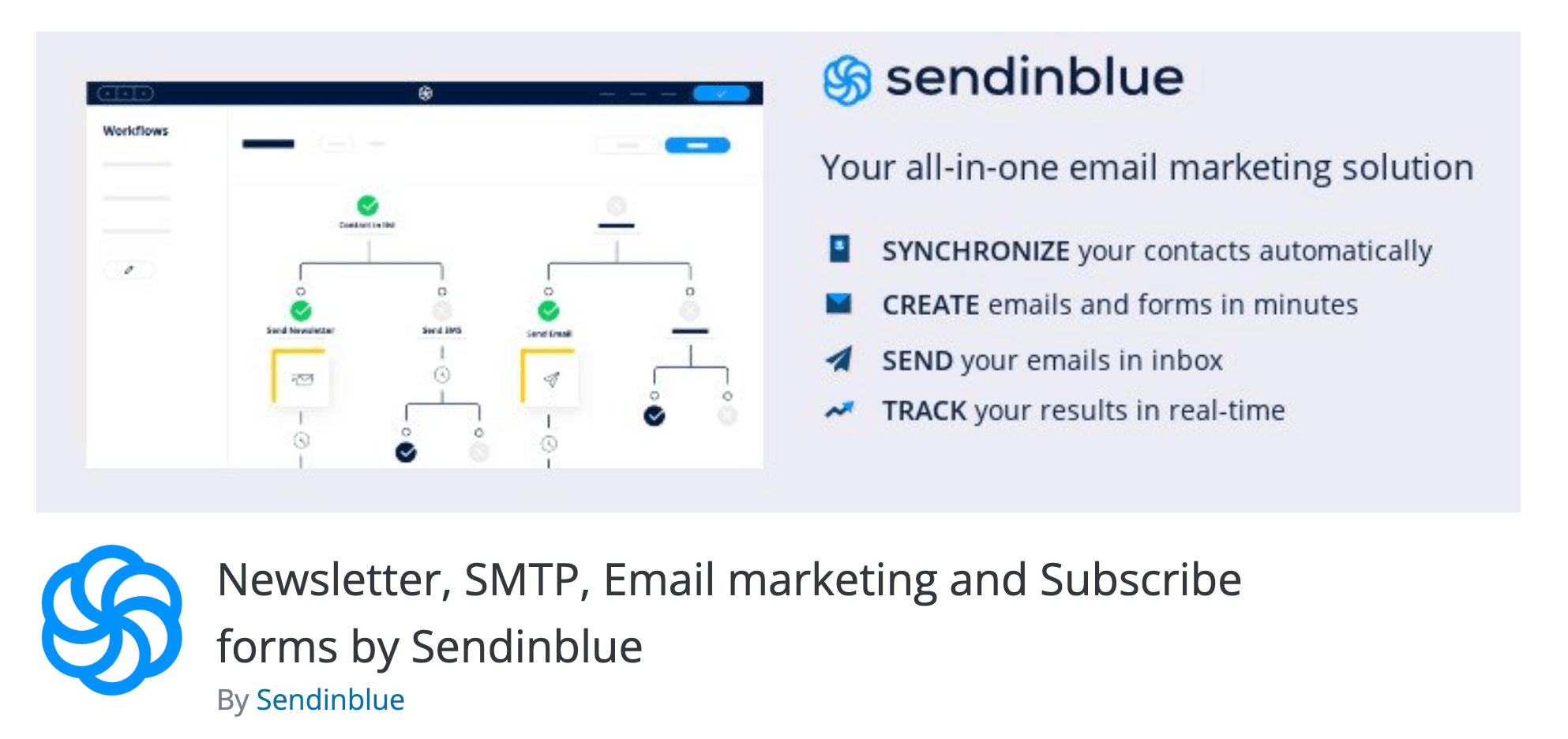 SendInBlue is another amazing tool that is a full-fledged CRM tool. It's a good tool because you can use it in your WordPress site explicitly since it has integration has many prominent tools.
Exclusive Feature:
Upto 2000 Contacts and 300 emails per day in Free Plan
Email Campaigns
Email Automation for automated campaigns
SMTP bulk email marketing service for WordPress
Special Integration
Sendinblue's inherent integration with numerous WordPress plugins is one of its strongest features. It also interfaces with the majority of platforms and apps, much like all other email marketing systems.
It also has integration with popular SMTP plugins, so if you have the SendInBlue tool, you may use that for sending emails as well.
Why Use SendInBlue
SendInBlue is a great tool for sending marketing and transactional emails. It's one of the most reliable tools out there.
Pricing
SendInBlue Free – WordPress Repo SendInBlue Pro – Starting from $25/Monthly
5. Hubspot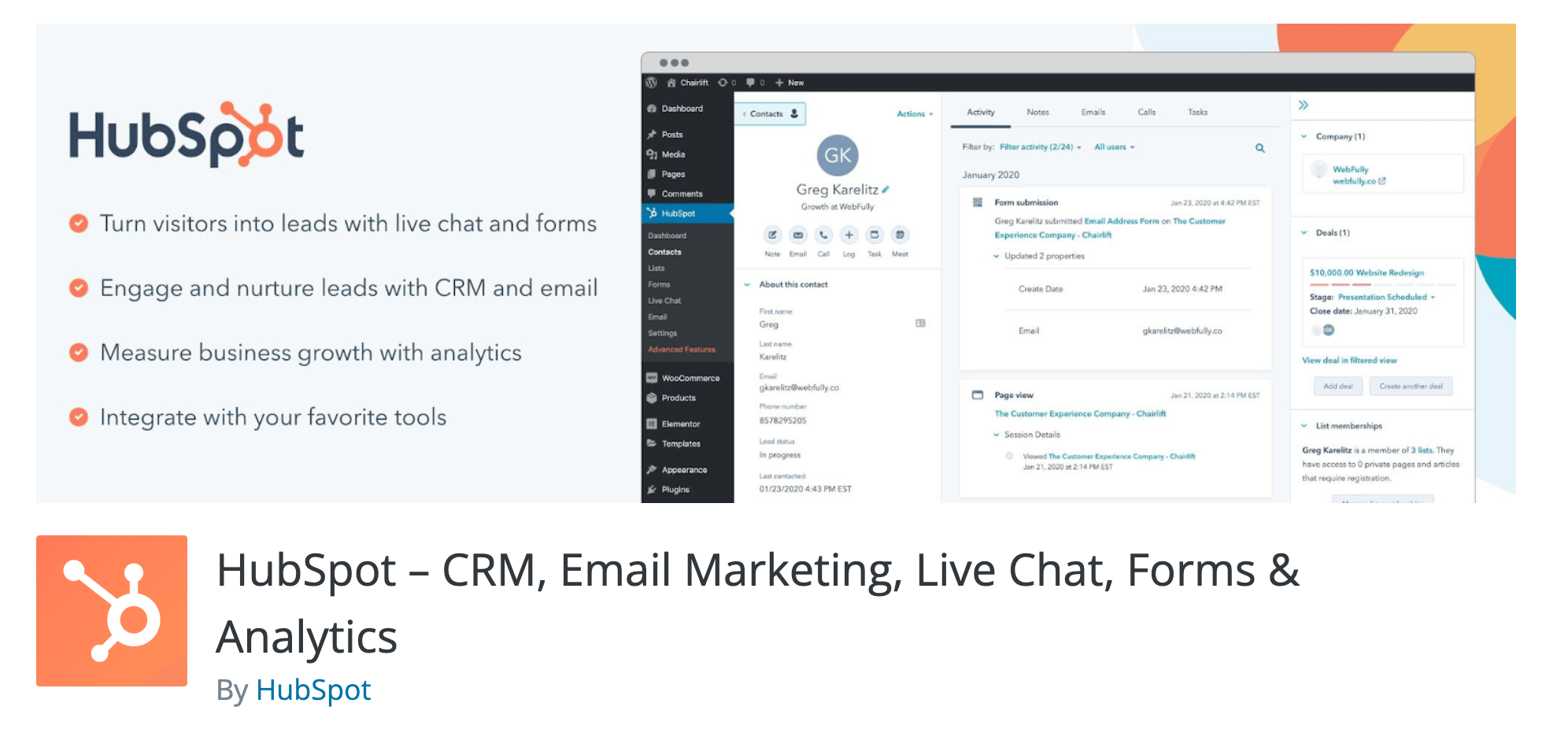 HubSpot is a well-known provider of marketing automation tools, offering a comprehensive suite of marketing, sales, and helpdesk software. Their WordPress email marketing plugin allows you to expand your lead generation efforts and interact with your audience more effectively.
Exclusive Feature:
Lead generation & lead management
Pipeline management
Email marketing
Reporting dashboard
Contact management
Lead tracking
Live Chat & Chatbot
Special Integration:
Facebook
Google Ads
Instagram
Canva
Slack
Zoom
WooCommerce
Calendly
Elementor, Formidable Forms, and many more Form Builders
Why Use HubSpot
This plugin enables integration between your WordPress website and HubSpot's marketing automation platform, providing you with a variety of options to engage with potential and existing customers.
HubSpot offers over 20 professionally-designed templates that you can choose from, or customize to suit your branding and messaging.
By using this plugin, you can enhance your business growth and take advantage of HubSpot's array of features, such as email marketing, CRM, live chat, forms, and analytics.
Pricing
HubSpot Free – WordPress Repo HubSpot Pro – Starting from $18/Monthly
Conclusion
In conclusion, email marketing is a powerful tool that can help businesses of all sizes to engage with their audience and drive sales.
By utilizing the right email marketing plugin for your WordPress site, you can streamline your email campaigns, increase open and click-through rates, and ultimately boost your return on investment.
In this article, we discussed the essential features to consider when selecting the best email marketing WordPress plugin, and we provided a personalized overview of some of the top plugins available in the market today.
We highlighted their exclusive features, pros, and cons so that you can make an informed decision based on your unique business requirements.
Take the time to evaluate your needs, compare the available options, and choose the best email marketing WordPress plugin that aligns with your business goals. With the right plugin, you can take your email marketing efforts to the next level and achieve success in your marketing campaigns.