Sending emails for your business can sometimes be a bit tricky. You will often face difficulty when it comes to sending emails such as having invalid emails, getting low deliverability rates, or having emails going into spam folders.
Did you know, in 2022, spam emails accounted for approximately 49% of the total email volume worldwide?
But here's the best part, there are some great email testing tools that can make your email campaigns much more effective and can ensure that they get delivered.
In this article, we'll introduce you to the 15 best email testing tools that can help you improve your email performance.
So, if you've been struggling to get your emails just right, you're in the right place to find some solutions that can make your email marketing journey a whole lot smoother.
So let's begin.
Why Should You Use Email Testing Tools?
Email testing tools are essential for improving your email marketing campaigns. They ensure your emails reach the inbox, look great on all devices, and help you deliver better emails. Ultimately boosting open rates, and enhancing customer engagement.
Following are some of the key metrics that an email should be tested for before going live.
Deliverability & Spam Score
Email testing tools help ensure your emails actually reach your recipients' inboxes. They check for common issues that may lead to emails being marked as spam or not delivered at all.
These tools analyze your email content, sender reputation, and domain authentication to provide a spam score and suggestions for improvement.
Email Client Preview
Emails can look different on various email clients and devices. Email testing tools offer a preview of how your email will appear on different platforms, such as Outlook, Gmail, mobile devices, and webmail services. This ensures a consistent and visually appealing presentation for all recipients.
HTML Preview of Emails
Email marketing often involves HTML coding. Email testing tools allow you to preview the HTML rendering of your emails.
So if you have any issues or corrections in the coding that might affect the email's appearance or functionality, you can identify that with HTML previewes.
Content Spam Score
When it comes to email deliverability, avoiding spam filters becomes absolutely crucial. Spam testing tools will check for anything that might raise a red flag with spam filters.
Testing tools assess your email content for elements that might trigger spam filters, such as excessive capitalization, suspicious keywords, or certain formatting issues.
This ensures your email lands in the primary inbox rather than the spam folder, where it's more likely to be seen and engaged with by your recipients.
Email Subject Line Checker
The subject line is the first thing recipients see, and it greatly influences open rates.
Email testing tools evaluate your subject lines for length, relevance, and spammy words. They provide recommendations to create compelling subject lines that encourage recipients to open your emails.
Email SMTP & Mail Server Testing
Before sending emails in bulk, it's crucial to test your SMTP (Simple Mail Transfer Protocol) settings and mail server configurations.
Email testing tools can simulate the sending process to check for any issues, ensuring that your emails are sent efficiently and reliably.
15 Best Email Testing Tools To Improve Email Performance
1. MailTrap – Email Deliverability & Spam Testing
Mailtrap's email preview function operates by scrutinizing your HTML and CSS code, meticulously pinpointing any potential issues it encounters.
MailTrap excels at identifying common problem areas that frequently arise when emails are viewed on popular clients such as Gmail and Outlook.
Best Features of MailTrap
MailTrap's standout feature is its ability to safely test and assess emails without the risk of sending them to real recipients.
Can be connected through an API or be used as an SMTP server.
Special BCC testing shows you all the email addresses that are BCC'ed, which are usually hidden from the main recipients.
500 to 10 million test emails per month
Weekly reports with valuable comparison metrics.
Pricing
MailTrap offers a bunch of pricing option both for Email Testing & Email Sending.
Email Sending: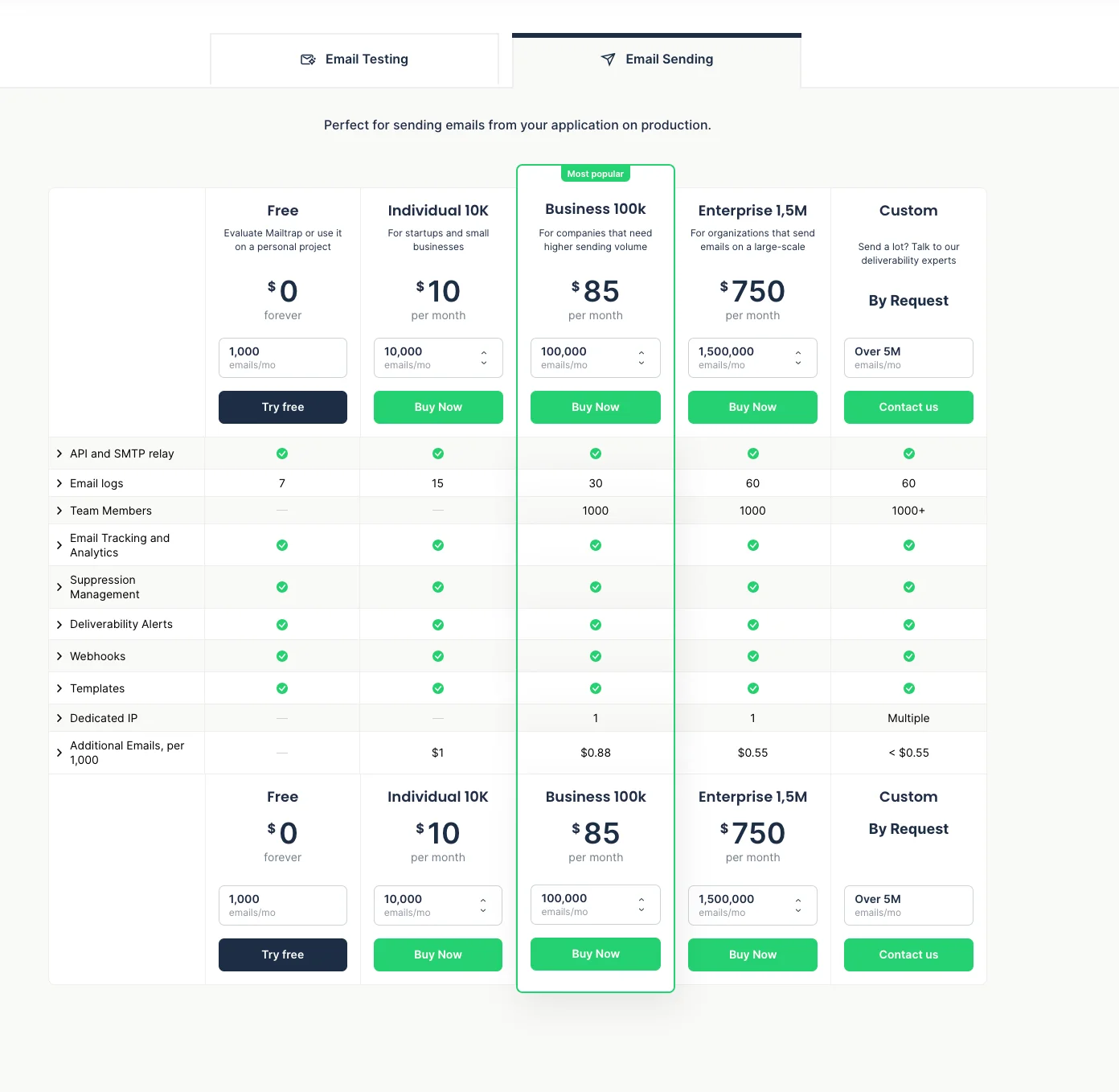 Email Testing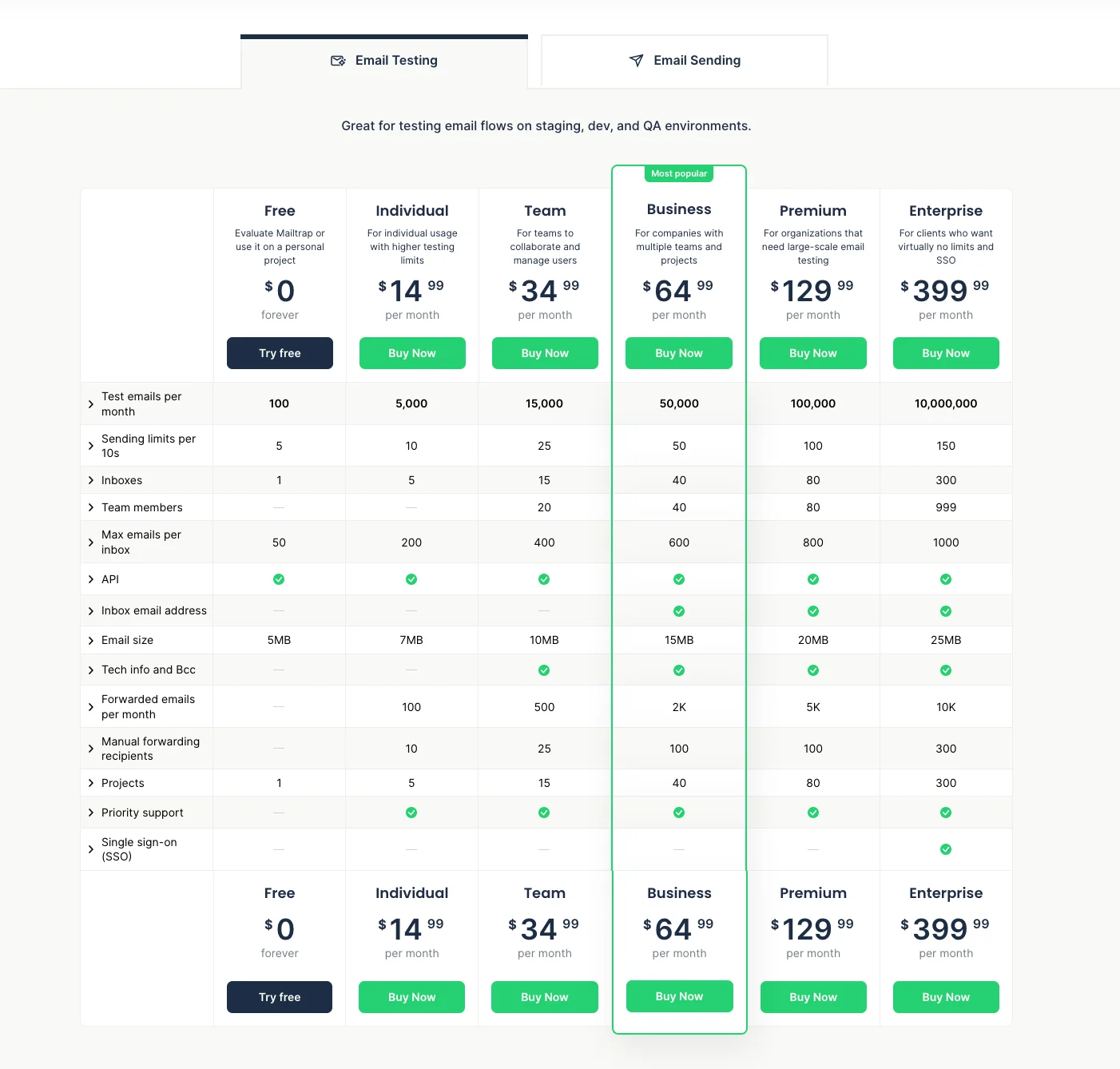 2. MailerCheck – Email Deliverability
MailerCheck is a professional email deliverability platform equipped with a range of tools to help businesses enhance their email performance.
MailerCheck helps you to analyze your email campaigns, identifies potential deliverability issues, and offers detailed reports on the health of your email list.
Best Features of MailerCheck
Bulk and single email verification, along with syntax checks, ensures an accurate email list is accurate.
Identifies potential spam traps and disposable email addresses to enhance email deliverability.
Gain insights into email campaigns through reporting and analytics features.
Verifies the legitimacy of mail servers, ensuring the emails reach their intended destinations.
Detect catch-all servers to improve email marketing precision.
Pricing
MailerCheck offers a pay as you go option for the Email verification feature starting from $10 per 1000 credits.
And the email deliverability is priced as below,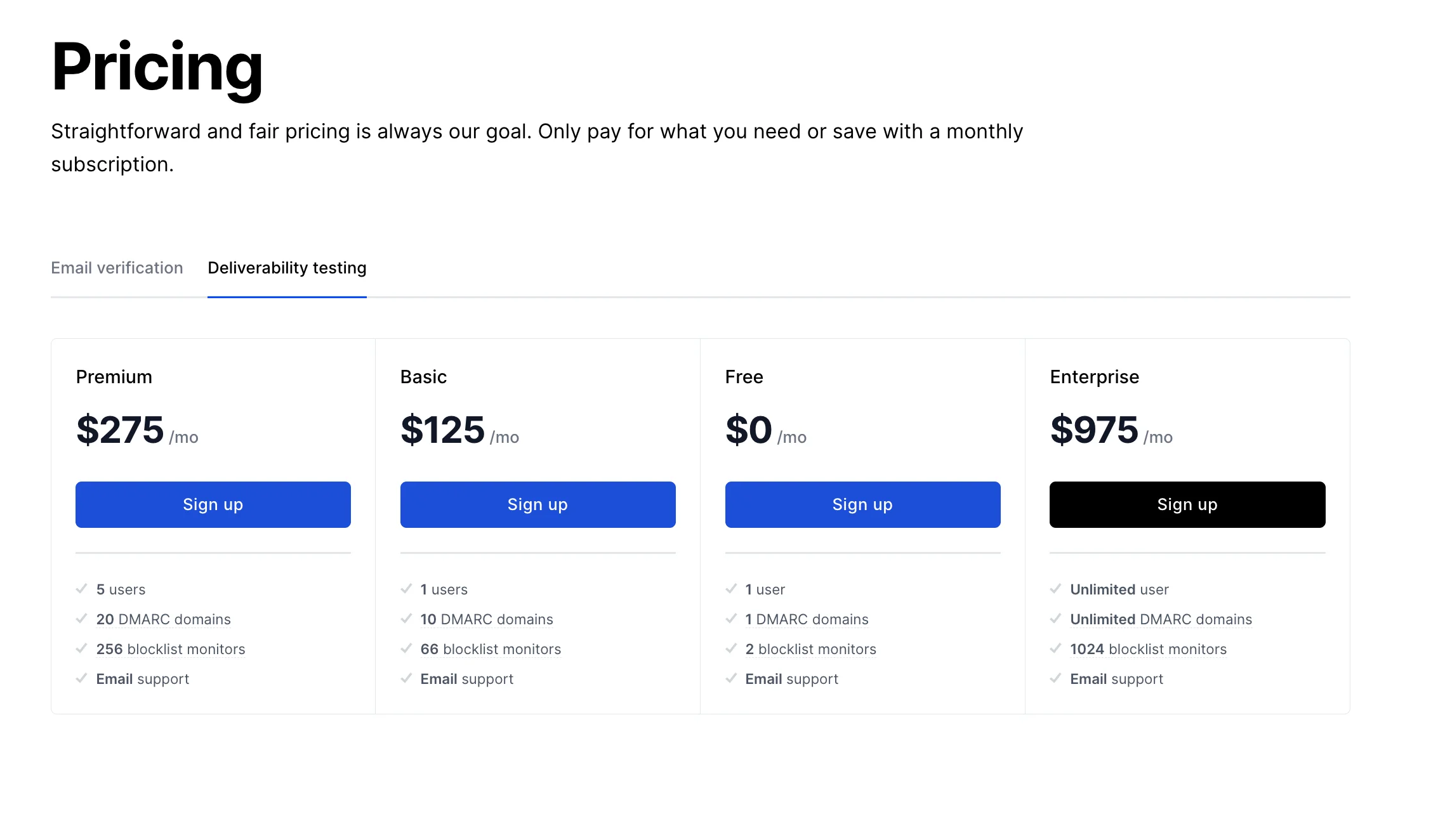 3. Email on Acid – Email Client Preview + Spam Testing
Email on Acid is a popular choice among marketers, developers, and big players like Toyota, Hilton, and IBM as their go-to email testing tool.
It is a pretty handy platform for email marketing. What it does is make sure your emails look good and work perfectly before you send them out.
Best Features of Email On Acid
Unlimited Email Previews for different devices and platforms.
Spelling checker & Image Optimization.
Validate URLs and UTM checks
Spam filters and IP address validation
Email template builder and team collaboration
Pricing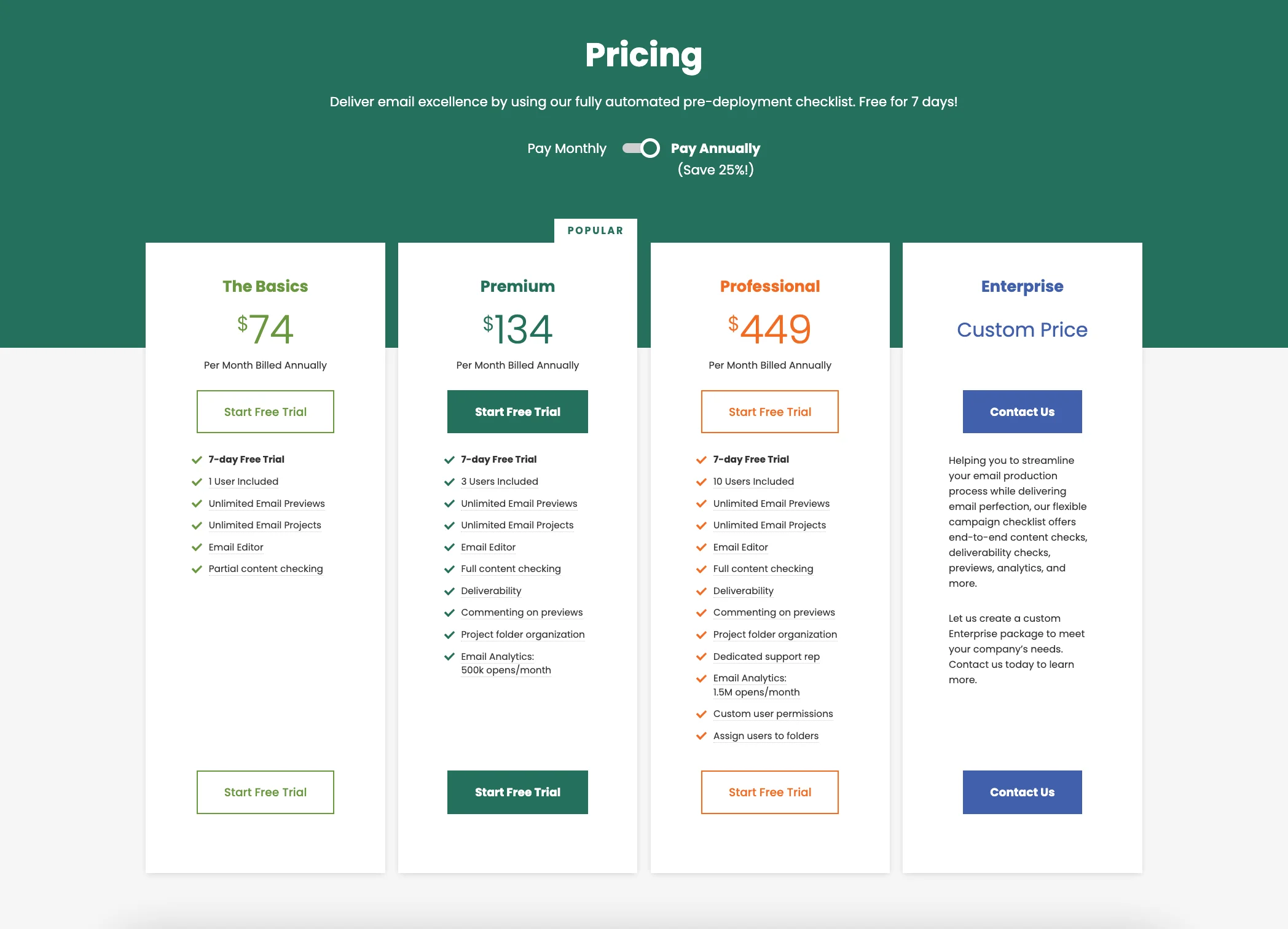 4. GlockApps – Email Deliverability & Content Spam Testing
GlockApps serves as a tool for testing inbox delivery and spam filters, giving users the freedom to resolve email deliverability issues before sending their emails.
It's great for spotting potential problems in your email platform, content, or domain/IP reputation early on.
What's even better, it provides a preview of how various email providers categorize your emails, so you can track improvements as you address identified issues.
Best Features of GlockApps
GlockApps offers DMARC analytics to effectively identify and address any malicious elements in your emails.
It serves as an all-in-one email delivery tool, featuring a Reputation Check that audits your IP address and sending domain against industry blacklists.
GlockApps provides in-depth bounce analytics to help you understand and manage bounce rate issues.
Ensure email security with authentication checks for SPF, DKIM, and reverse DNS.
Benefit from analysis tools that examine your emails for compatibility with Barracuda and SpamAssassin filters.
Pricing
They offer two different pricing options, the first one is for DMARC Analytics and the second one is for the Spam Test Credit Packs.
DMARC Analytics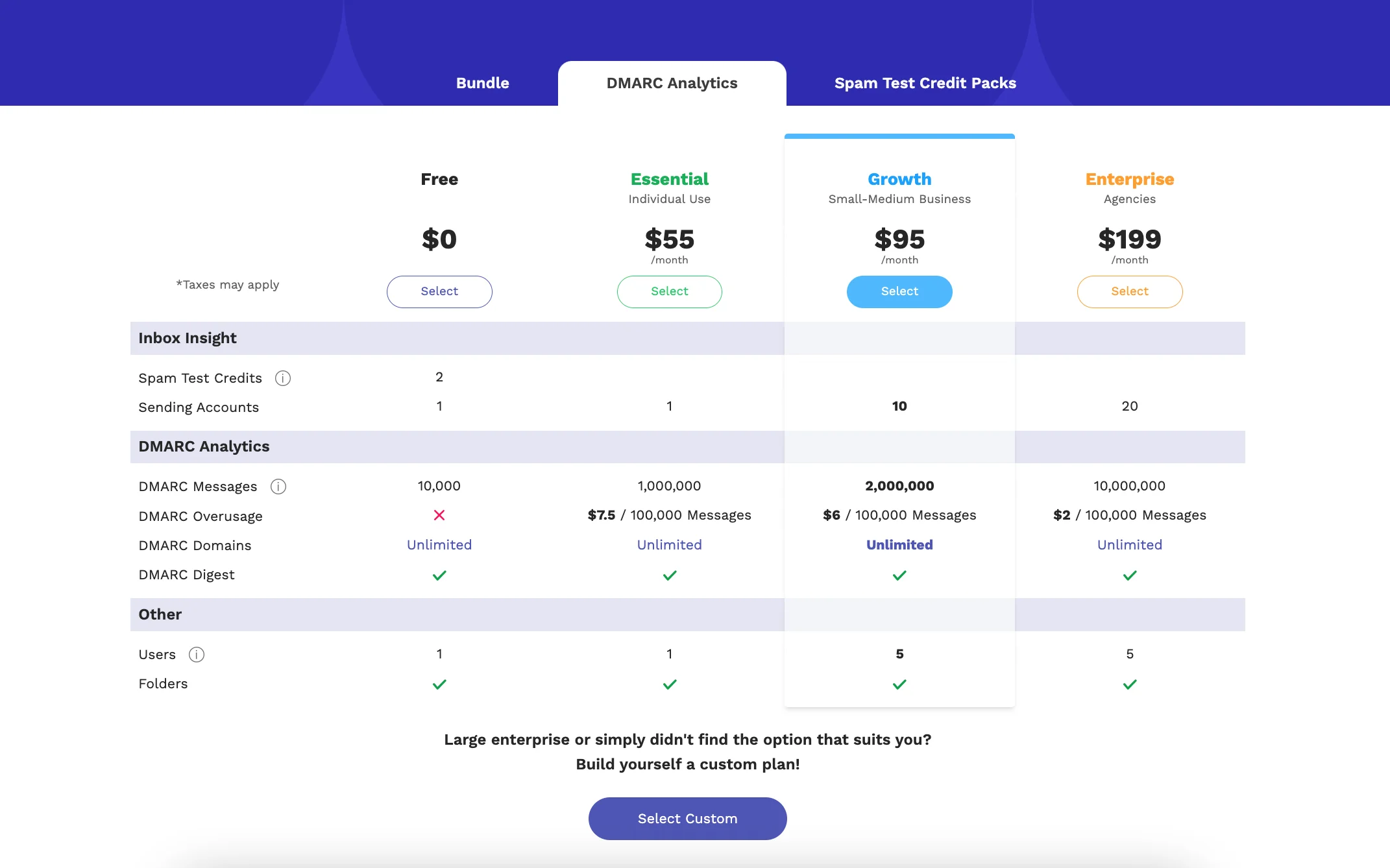 Spam Test Credit Packs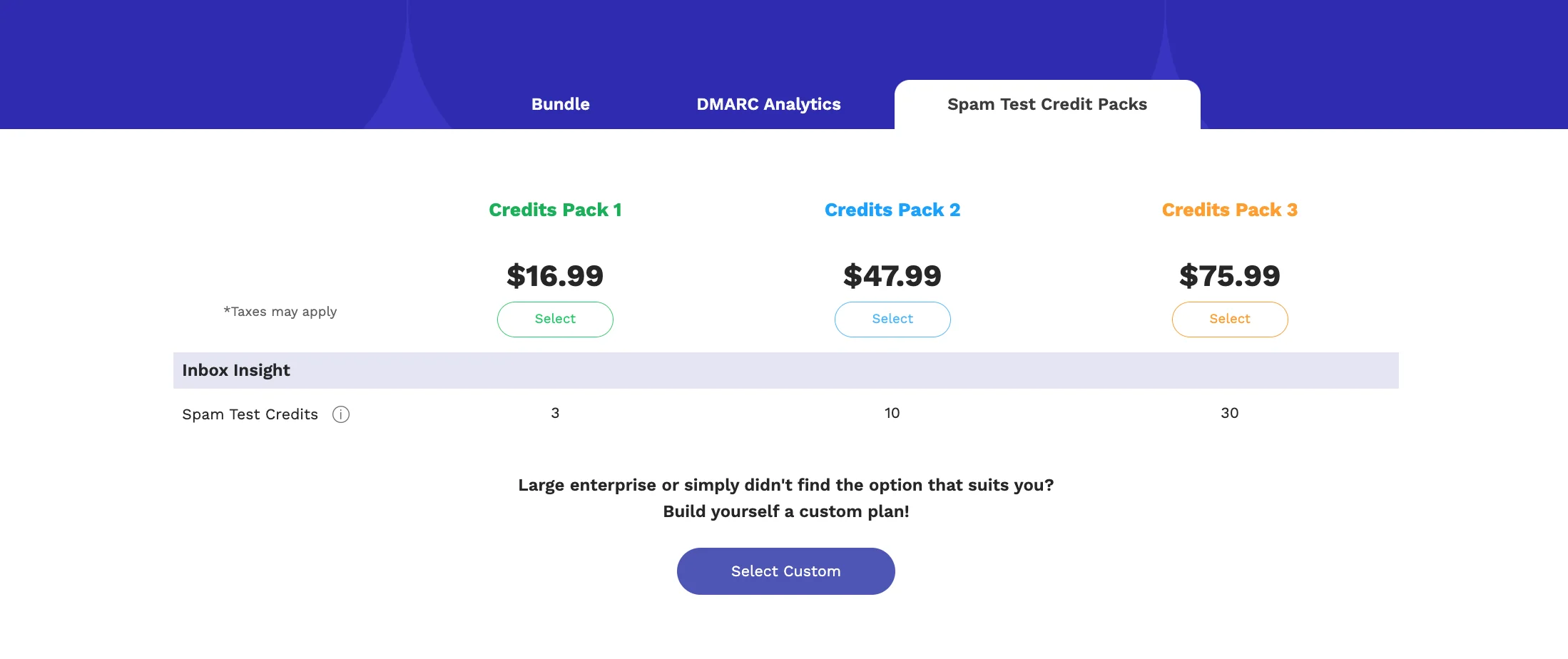 They offer another option to purchase both of them as a bundle starting from $59.
5. Litmus – Email Client Preview + Spam Testing
Litmus is the go-to platform for email marketing specialists, and it's got all the features to make your emails perform. Even top universities like MIT, and Harvard use Litmus to send email marketing campaigns to their prospective students.
From the moment you start crafting your email campaign to the post-send analysis, Litmus has your back. You can build, test, and collaborate on a ton of emails all at once with Litmus.
Plus, they make it super easy to create personalized email experiences that scale up. That means you can turn more of those email opens into conversions and revenue.
Best Features of Litmus
User-friendly interface for creating beautiful emails
Advanced email analytics to check how the emails are performing and whether they are reaching the right destination or not.
Email preview of 100+ email clients
Integration with ESPs and other services like Acoustic Campaign, Adobe Campaign Standard, HubSpot etc.
Pricing
Litmus offers monthly and annual pricing starting from $79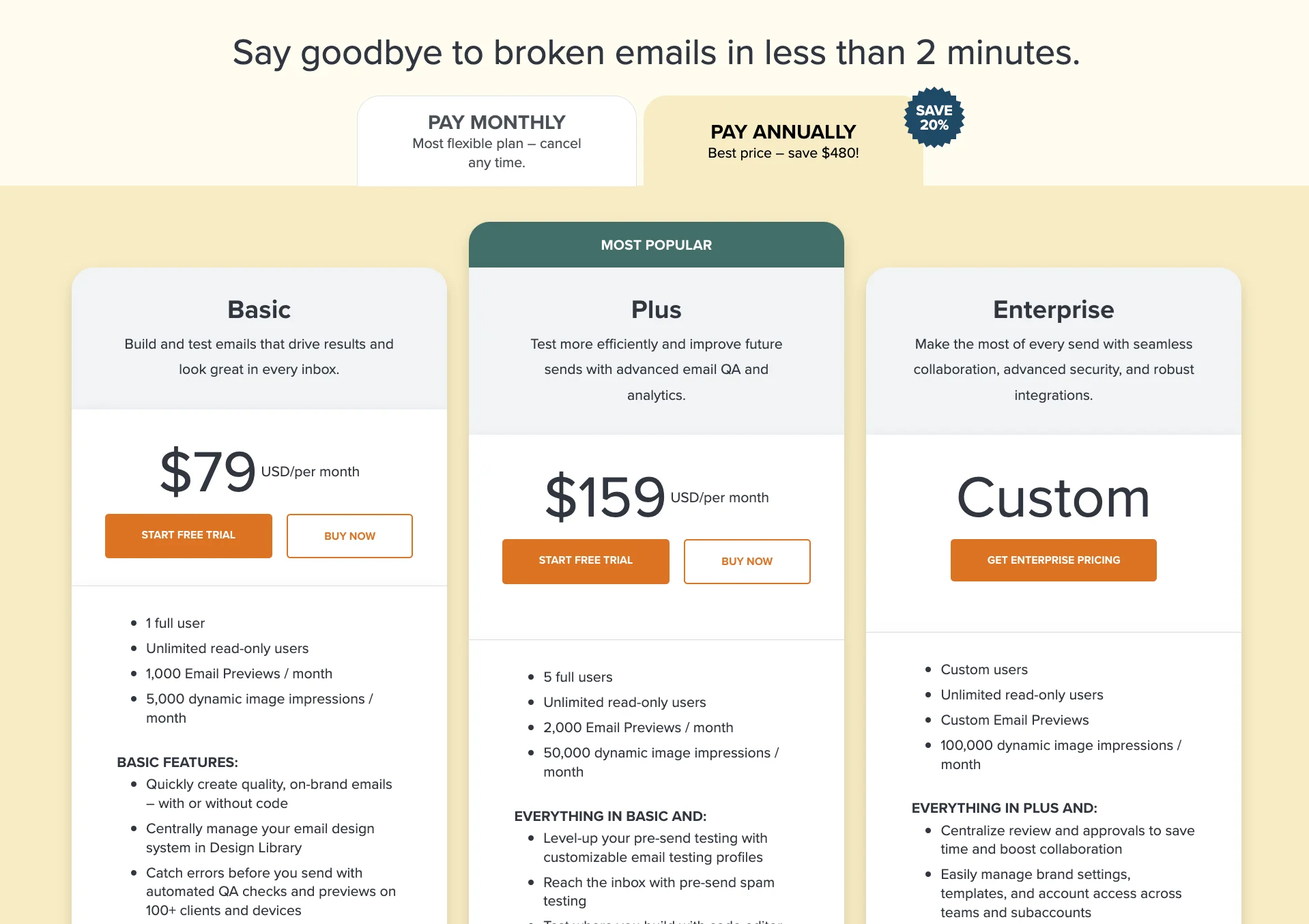 6. HTML Email Check – Email HTML Preview & Validation
HTML Email Check is your one-stop solution for developers, offering a complete set of tools to create, validate, and verify your HTML emails. It includes instant validation results, a built-in HTML editor, a layout viewer, and even allows you to send test emails directly.
Best Features of HTML Email Check
HTML & CSS validation for HTML markup, CSS formatting, client-specific tags, and styling.
Image, font, and link validation for better email performance
Spam validation of email overall content with a comparison against a database of over 500 keyword combinations known to heighten the risk of landing in the spam folder.
Visual tester to preview the emails across multiple platforms
Dark mode validation for users who prefer dark mode to be used.
Pricing
HTML Email Check offers a flexible pricing plan based on users and monthly plans.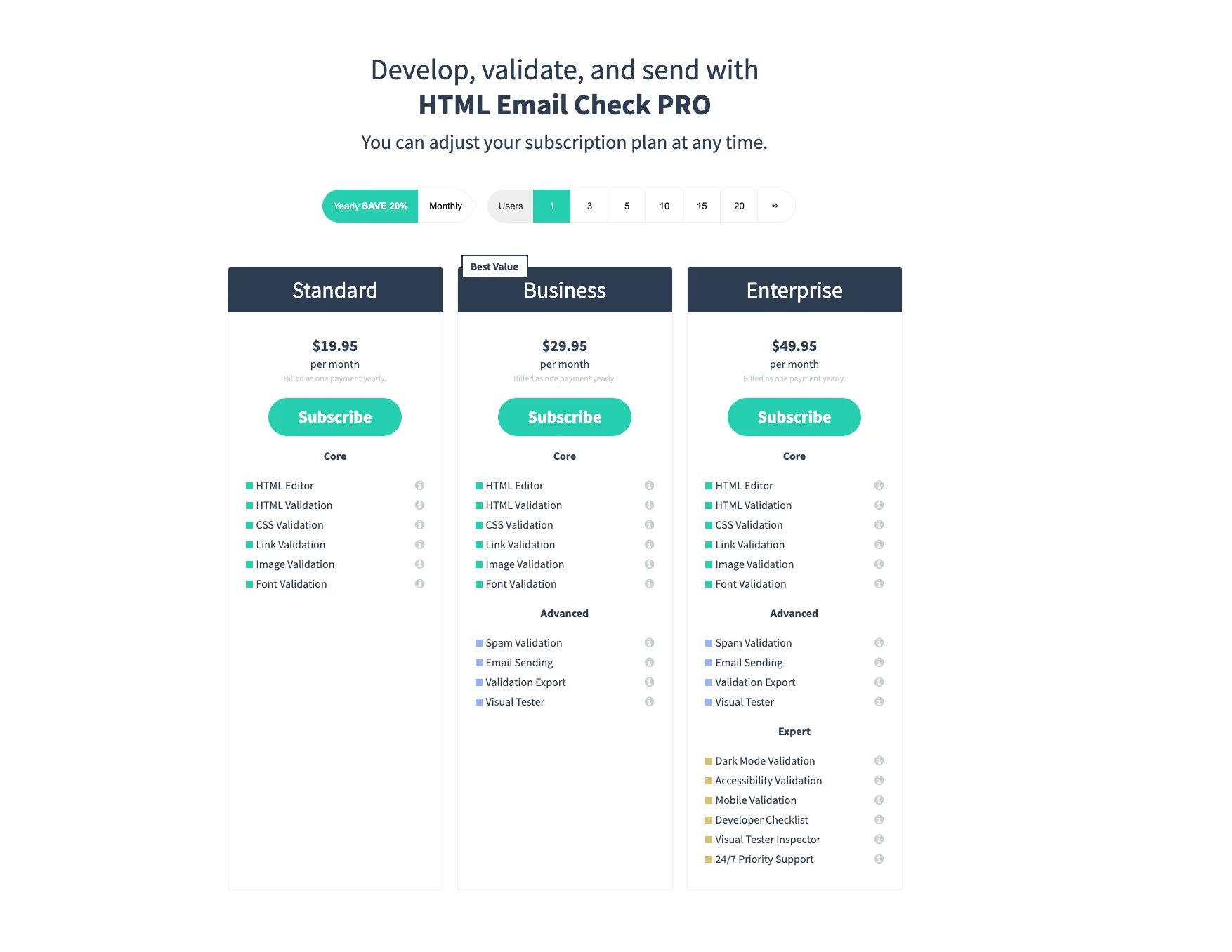 7. CoSchedule Headline Analyzer – Email subject line testing
The CoSchedule Headline Analyzer stands as a popular tool for enhancing your headline and subject line crafting skills. It evaluates your email subject lines based on four critical aspects: word balance, headline type, length, and sentiment.
What makes it effective is its use of various visual aids to grade your email subject lines and offer practical suggestions for improvement.
Best Features of CoSchedule Headline Analyzer
Scrutinizing your language to identify and flag words that might reduce email open rates.
Assessing the emotional impact of your subject line, whether it conveys a positive, negative, or neutral sentiment, and highlighting words that evoke strong emotional responses.
Providing you with previews of how your subject line will appear across different email clients and on mobile devices.
Pricing
The CoSchedule headline analyzer is a completely free tool for you to use.
8. Send Check It – Email subject line testing
Send Check It is a valuable and free email testing tool designed to ensure that your subject lines are on point and effective in capturing your recipients' attention.
It goes beyond a simple assessment by offering complete recommendations to enhance the performance of your subject lines.
Best Features of Send Check It
Asks you to make your subject line more scannable, making it easier for recipients to grasp the message at a glance.
Provides insights into the ideal subject line length, helping you strike a balance between being concise and informative.
Suggests improvements for better readability, which is crucial for engaging your audience.
Assesses the sentiment conveyed by your subject line, helping you fine-tune it to evoke the desired emotional response.
Helps you identify and eliminate words or phrases that might trigger spam filters, improving email deliverability.
Pricing
Send Check It is a completely free tool for you to use.
9. Omnisend Subject Line Tester – Email subject line testing
Omnisend offers an exceptional email subject line testing tool that allows you to prepare compelling subject lines. And it ensures that your emails stand out and avoid spam filters.
Best Features of Omnisend Subject Line Tester
Evaluates your subject lines based on industry best practices and benchmarks, providing insights to make them more effective.
Gives you immediate feedback and diverse subject line suggestions to enhance the impact of your emails.
Compare your subject lines with those of your competitors to gauge your performance and discover areas for improvement.
You can gain insights into subject line length, wording, scalability, and preview, allowing you to fine-tune your email subject lines for optimal results.
Pricing
Omnisend offers both free and premium versions of its subject line testing tool. With the free version, you can check up to 500 emails, and you have the flexibility to upgrade your package whenever your needs expand.
10. Mail-Tester – Email Content Spam Testing
Mail-Tester, a free email testing tool, can be your ally in gauging the spamminess of your emails and improving their deliverability. It offers a straightforward way to ensure your emails reach users' inboxes instead of their spam or junk folders.
Best Features of Mail-Tester
Gives a designated email address to send your emails. It then thoroughly scans your emails, assessing elements like your message content, mail server setup, and sending IP to determine their spamminess.
A detailed report outlining what's well-configured and where improvements are needed in your email setup, making it easier to enhance your email deliverability.
The user interface is designed for accessibility, ensuring that even users without extensive technical knowledge can navigate and benefit from the tool.
Spam Trap Removal helps identify spam trap emails in your lists, and Syntax Verifier, which detects and eliminates emails with invalid syntaxes.
Mail-Tester allows both manual and automatic email verification via API, making it adaptable to your specific needs.
Pricing
Mail-Tester offers pricing starting from $19 per month for a single user, with the option to explore its features through a free trial.
11. SendForensics – Email Spam Testing & Deliverability Tool
SendForensics stands as an advanced email deliverability solution, harnessing the power of multiple AI insights to assess your emails' ability to reach your recipient's inbox.
SendForensics reviews your emails really well and offers optimization suggestions to improve your email content's effectiveness.
With a focus on measuring email quality, this tool scans your emails against global filtering systems and ISPs. With this you can keep an eye on your email reputation by monitoring blacklists and whitelists, ultimately allowing you to maintain positive deliverability rates.
Best Features of SendForensics
Provides a preview of how your emails will appear across various email clients, ensuring a consistent and professional presentation.
Get a predictive score that offers insights into the likelihood of your emails being successfully delivered to the inbox.
Ensures that your email content aligns with DMARC compliance, enhancing your email security and trustworthiness.
Gain valuable insights into your sending infrastructure and receive recommendations for optimization.
Leverage AI-driven insights to improve your email content, sending infrastructure, and reputation.
Pricing
SendForensics gives you a 14-day free trial that allows you to explore the tool's capabilities. And following is the pricing plan for this,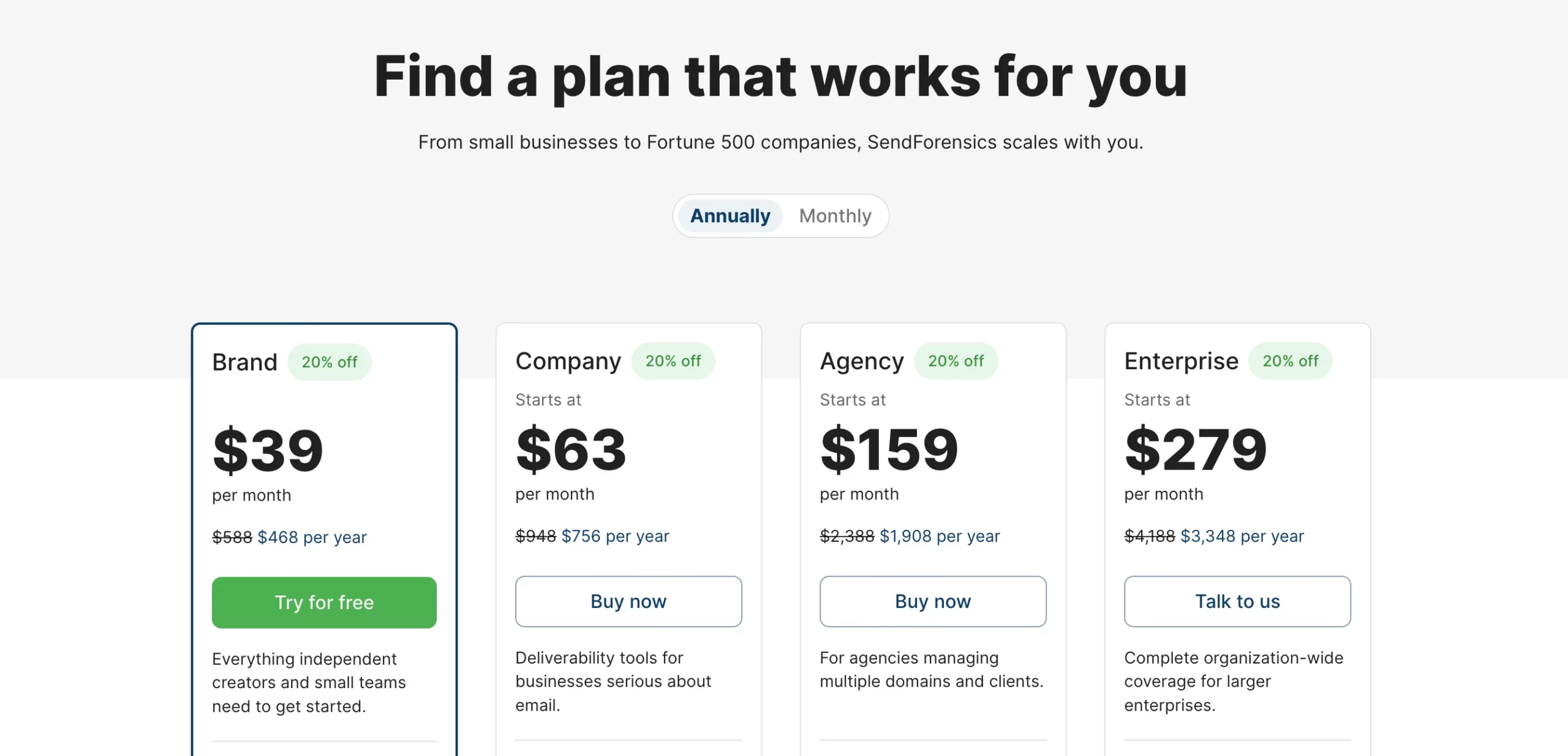 12. Socketlabs – Email SMTP & Mail Server Testing
SocketLabs is a cloud-based software that makes sending marketing and transactional emails easy and reliable. It has a user-friendly dashboard and is all about ensuring your messages get delivered.
Best Features of SocketLabs:
You can keep track of your incoming emails and get summaries of what's happening with them.
It provides a reliable way to send emails for both marketing and transactional purposes.
Create engaging email campaigns using templates, a drag-and-drop interface, custom branding, and fields.
Get clear visual reports on important metrics like bounce rates, complaints, opens, and clicks to see how your campaigns are performing.
SocketLabs offers a range of APIs like reporting, injection, suppression, and marketing to adapt the platform to your business needs. Plus, it has authentication tools, optimizer, ISP management, and whitelist options to enhance email deliverability, ensuring your emails reach their destinations.
Pricing
Socketlabs offers pricing plans for both people who are running simple email marketing campaigns and customizable plans for business agencies.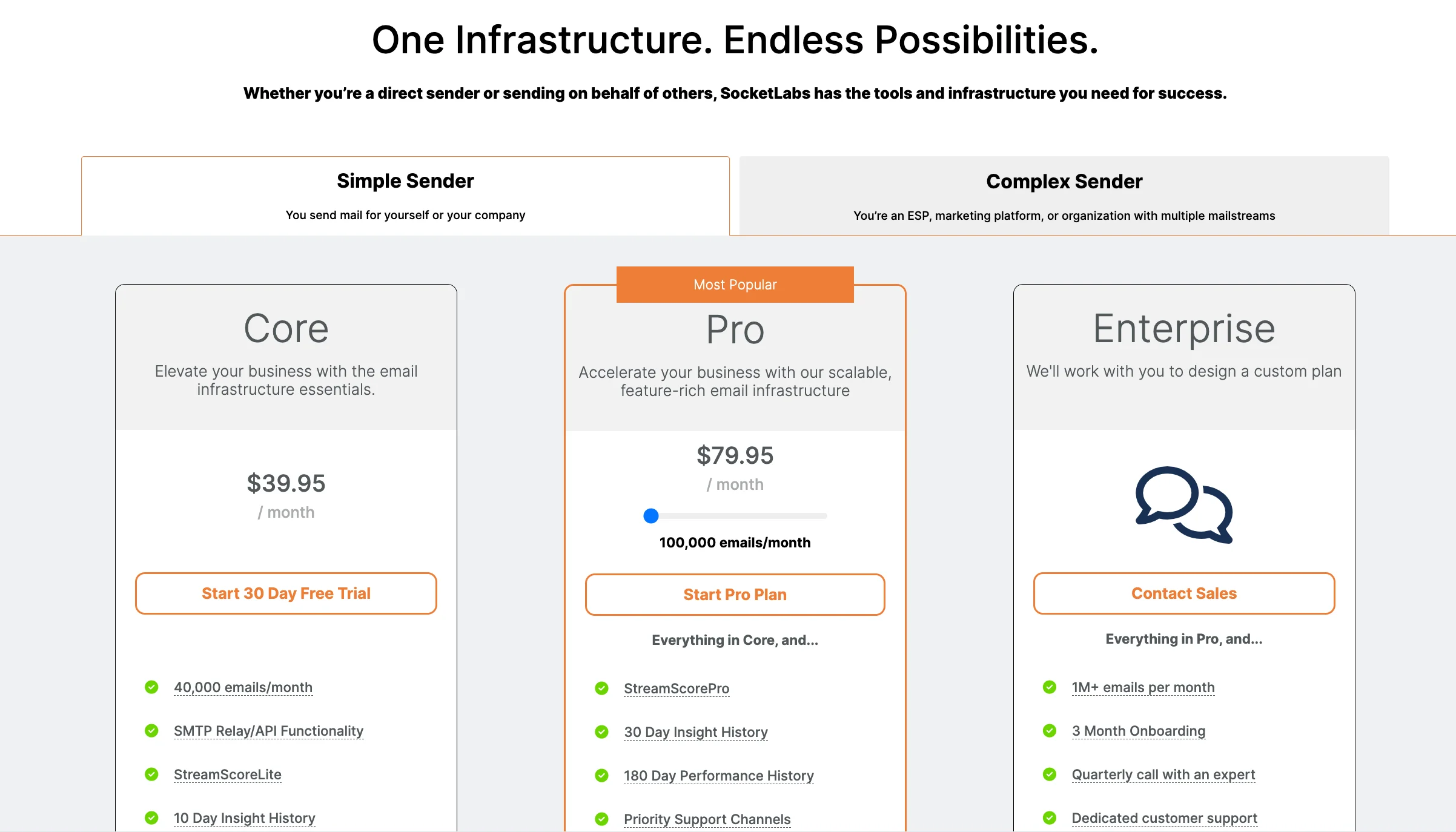 13. Mailosaur – Email & SMS Campaign Testing
Mailosaur is the go-to platform for businesses seeking to streamline communication testing. It simplifies the process of capturing, testing, designing, and analyzing email and SMS messages, ensuring that every message your business sends meets your precise expectations.
Best Features of Mailosaur:
Create automated tests swiftly, covering crucial communications like account notifications, alerts, promotional offers, and announcements.
Gain an accurate view of what your customers will experience by capturing real email client screenshots on various desktop and mobile devices.
Get a two-factor authentication, password resets, and personalization, guaranteeing service availability and user access remain uninterrupted.
Safeguard your staging and development environments from production, using Mailosaur email servers to capture data without the risk of test messages reaching real customers.
Easy to keep a close eye on message quality and consistency to ensure that offers, promo codes, and personalized content consistently perform as intended.
Pricing
Mailosaur offers a pretty straightforward pricing plan,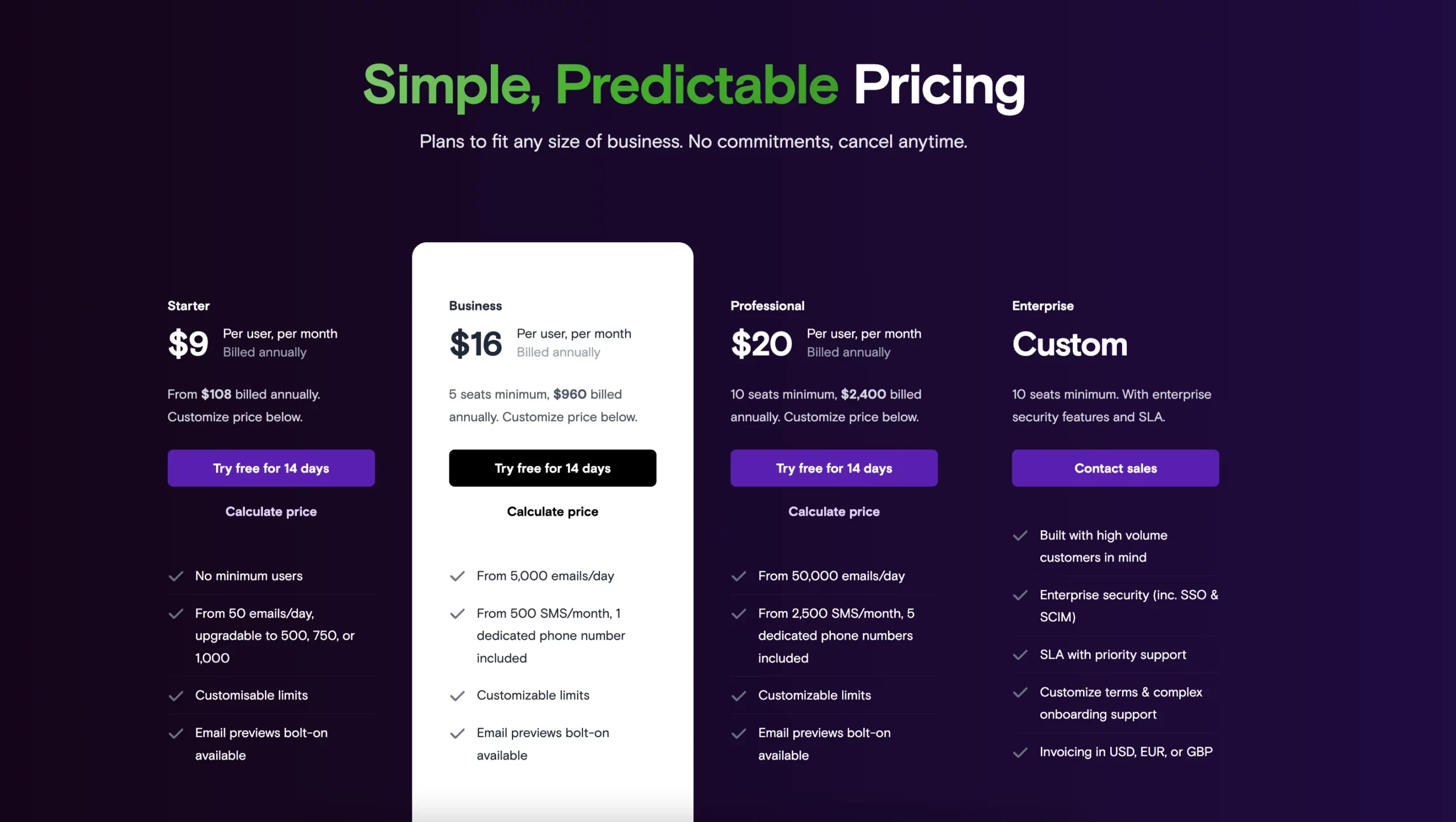 14. MailReach – Email Deliverability & Warm Up Tool
MailReach is a valuable email deliverability solution that enhances the effectiveness of your email campaigns. It achieves this by combining an effective email-warming tool with a spam checker to boost your sending reputation and overall deliverability.
Best Features of MailReach:
Email Spam Checker scans your email content and infrastructure to detect any elements that might trigger spam filters.
Offers an automated process to gradually increase your email sending volume, helping you establish a positive sending reputation.
Gain insights into sender scores and spam complaint rates across major email providers, allowing you to identify and address deliverability issues.
The intuitive dashboard provides real-time insights into your email warming status, allowing you to predict the destinations of your campaign emails.
Live blacklists and DNS checks keep you informed and proactive in maintaining a positive sender reputation.
Pricing
You get a first month discount if you sign up and further, you can scale up your plan accordingly.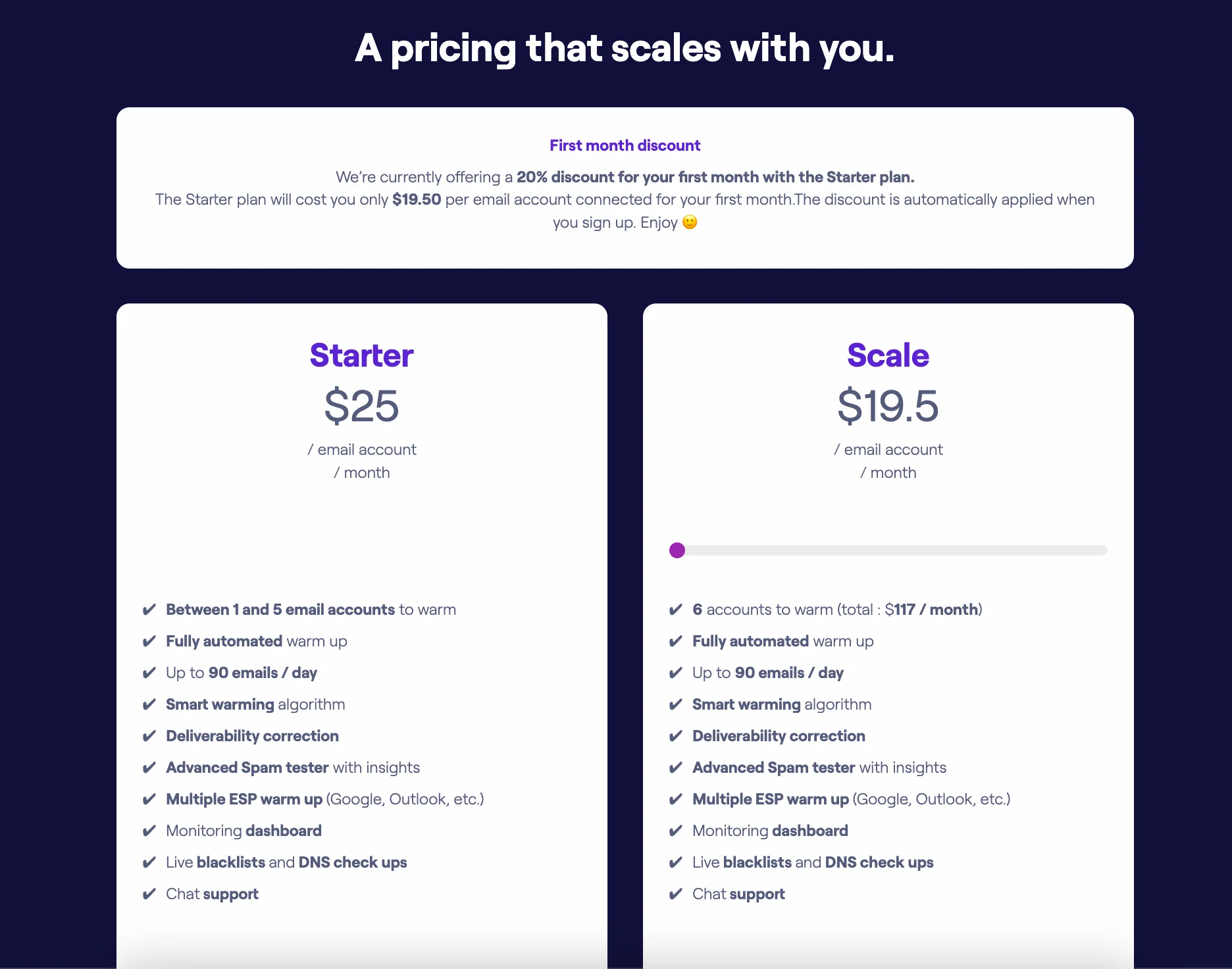 15. MailGenius – Email Deliverability & Spam Testing
Determine if your emails might set off spam filters with a quick and free spam and security test in under a minute using MailGenius.
MailGenius is a suitable choice for marketers and businesses dealing with the constant issue of their emails falling into the spam folder or worse not getting delivered at all. MailGenius is compatible with all major email providers, ensuring broad compatibility.
Best Features of MailGenius:
Receive personalized instructions to configure your domain correctly, preventing unauthorized use and boosting email security.
Check if your server or domain is listed on major blacklists, ensuring your emails reach their intended destinations.
Ensure that your email content and subject lines meet the necessary criteria to avoid getting caught in spam filters, enhancing deliverability and open rate.
Verify if your email message body adheres to HTML best practices, creating professional and error-free emails.
Identify any broken links in your emails, offering a seamless user experience for recipients.
Pricing
MailGenius is a completely free tool for you to use for your email testing purposes.
Conclusion
The 15 email testing tools featured in this article can be very useful for you if you want the emails to be delivered to the right place.
With their diverse range of capabilities, they will help you to overcome deliverability challenges, fine-tune email content, and safeguard your sender reputation.
From the battle against spam filters to crafting compelling subject lines, these tools offer indispensable features that cater to marketers, developers, and businesses of all sizes.