As business owners, we often need to create funnels (whether to get more leads or increase sales). However, if you run a business through a WordPress site, you already know how difficult it is to create sales funnels.
Last year, I was thinking of using a sales funnel to promote some of our other Plugins. But I couldn't find a reasonable solution to building sales funnels in WordPress.
I searched the internet and tried a few funnel plugins available in the market. After spending hours, I couldn't find a solution that I could pick and get started quickly. I wondered – if a pro user like me gets this much trouble, how a user with little or no knowledge can start building Sales funnels on WordPress?
The options I had were as follows:
Use an external tool like Funnelytics ( I admire the guys behind Funnelytics for building such a great tool) or Marketplan to plan the funnel steps. And then use a WordPress funnel creation plugin.
Use a sales funnel builder like ClickFunnels or Kartra, outside WordPress, which will cost tons of money and require going back and forth between two platforms.
But managing multiple tools to map & create funnels is not easy – rather time-consuming & expensive. So definitely, that is not what I wanted, and I'm sure you would not either.
The Struggle For A Better Solution
During the last quarter of 2020, I challenged my team to come up with a better solution that could help avoid using so many tools, especially for WordPress, where funnel creation is always a challenge.
Initially, I challenged my Design team to come up with a 3 step funnel-building solution. The closest they could get was the following: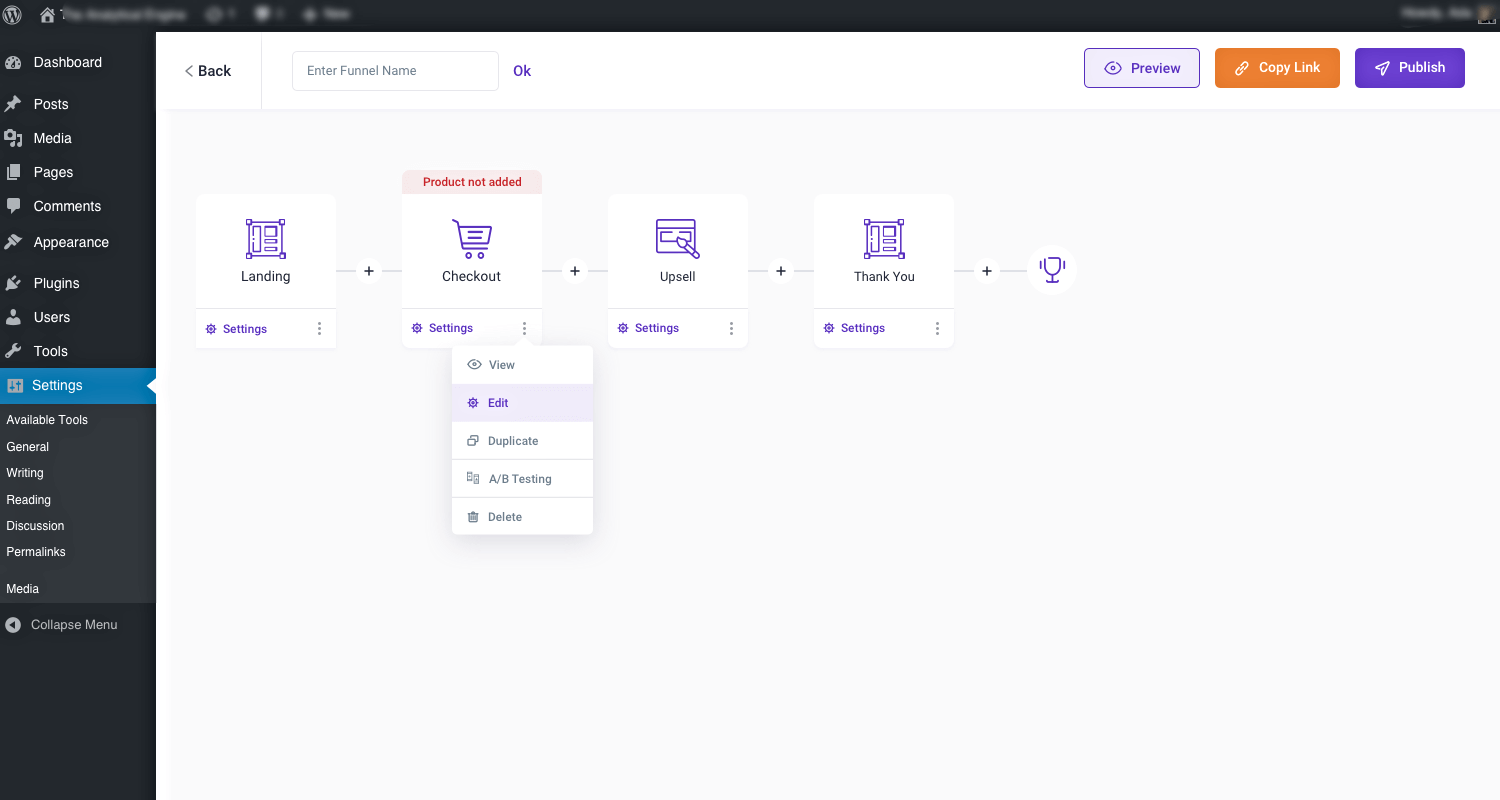 We spent about 2 months developing this design, but still, I felt something was missing.
It just didn't have enough control. I could see the steps in order, but it didn't feel like I was in full control.
A Unique Solution Came To Life
Now we have come to a point where we want a Sales Funnel builder within WordPress, but with more control and versatility.
So, we went back to square one and struggled for an even better solution.
Finally, in February 2021, we came up with a solution to take it to the next level. The idea was so diverse that it got twice as exciting as before.
Then, after six months of coding and breaking stuff, we managed to build a perfect solution. We created a WordPress Sales Funnel Builder that is bound to be the complete funnel building solution for WordPress.
No, it's not just a typical funnel builder that allows you to create funnel steps only. We ensured the plugin gives you complete control in planning, designing, and building your funnels without leaving your WordPress dashboard – with a unique feature, Visual Funnel Building.
The Visual Sales Funnel Builder – WPFunnels
WPFunnels is a sales funnel builder that comes with a visual funnel mapping concept.
You will get a visual drag and drop canvas where you can plan, organize, and configure your sales funnel however you want – you are in full control!
Add funnel steps, drag and organize them on the canvas, and connect them to the correct order.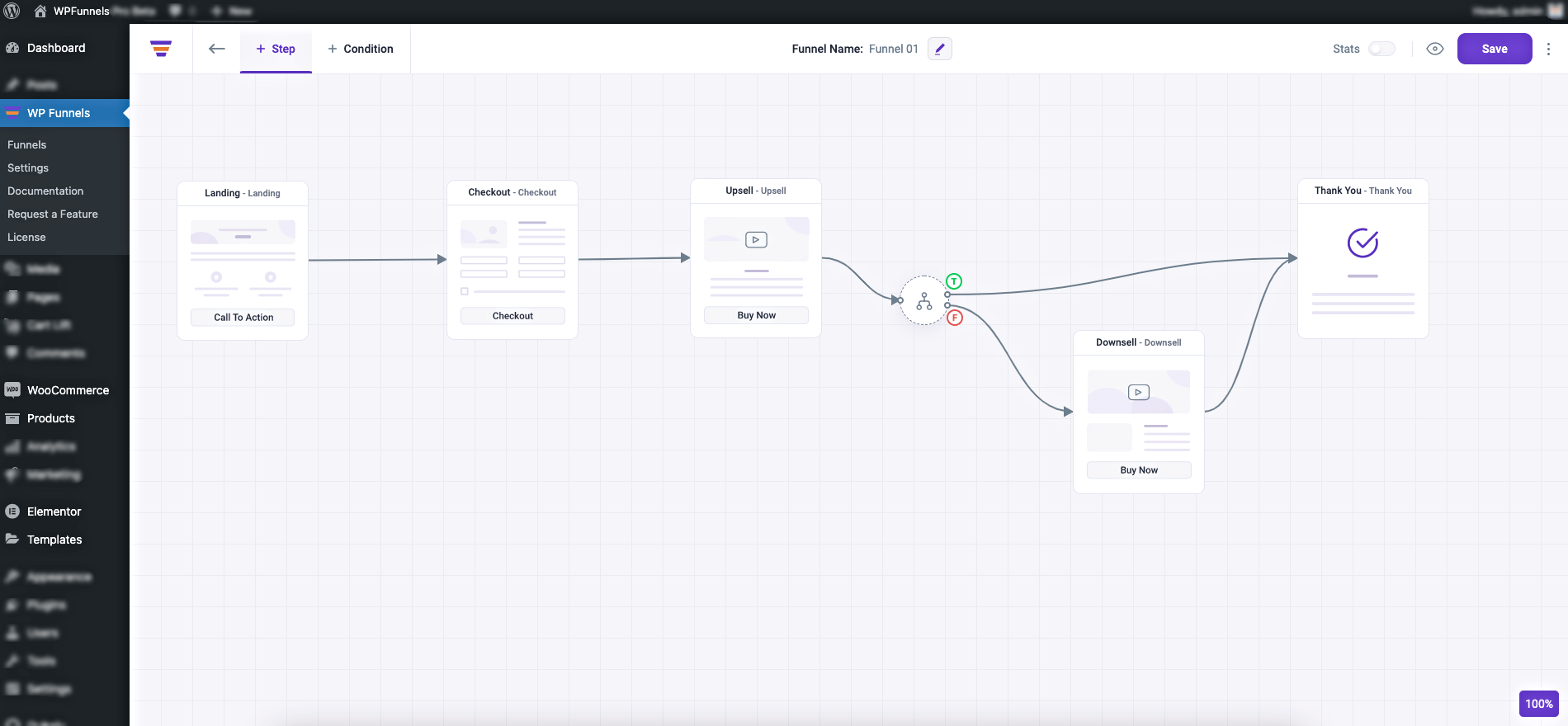 On top of that, we made sure you do not have to use any external tools. The canvas acts as the main funnel dashboard where it is possible to configure the funnel steps and then design each page using a WordPress page builder.
And I have to give credit to my whole team – I couldn't imagine a better solution. This indeed solves every issue I faced when I first tried to create a sales funnel in WordPress.
Complete funnel mapping and designing within WordPress
No more using multiple tools to create funnels
No more external tools
Not expensive for me (It won't be for you either)
On top of that, the plugin is super easy, and I don't think it will take more than 15 mins to start using it to its full potential.
Core Features Of WPFunnels
WPFunnels includes many useful features, making it easy and perfect for creating high converting sales funnels.
1. Visual Drag And Drop Canvas
As I mentioned earlier, the drag and drop canvas allows you to plan and organize your funnel steps visually, and then you can control and configure your funnel right from the canvas.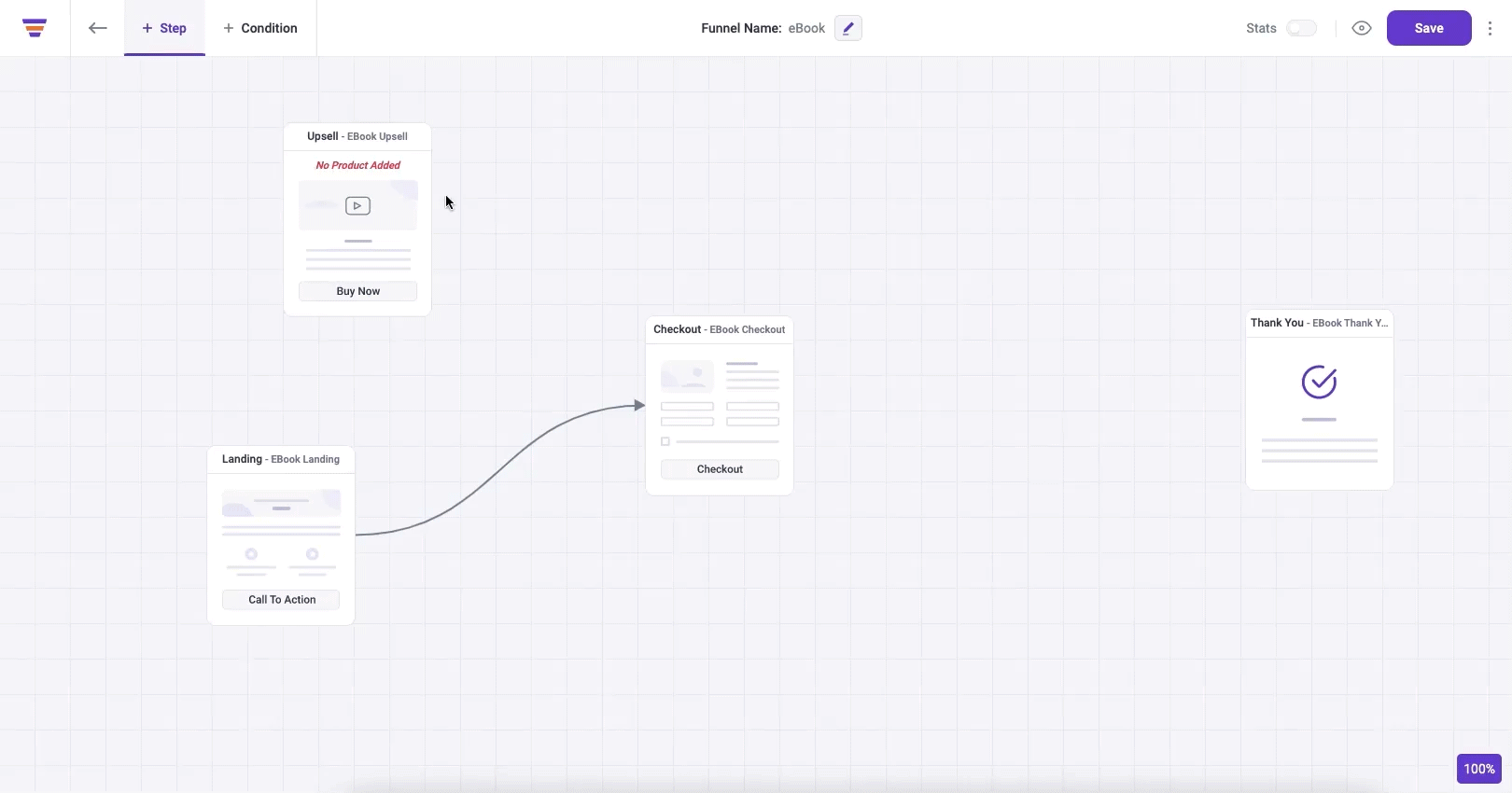 2. Pre-made Templates To Start Immediately
We figured that not everyone is an expert in designing, and it should not be necessary to create sales funnels. So we came up with several conversion-optimized and niche-specific funnel templates that you can import and create funnels on the go.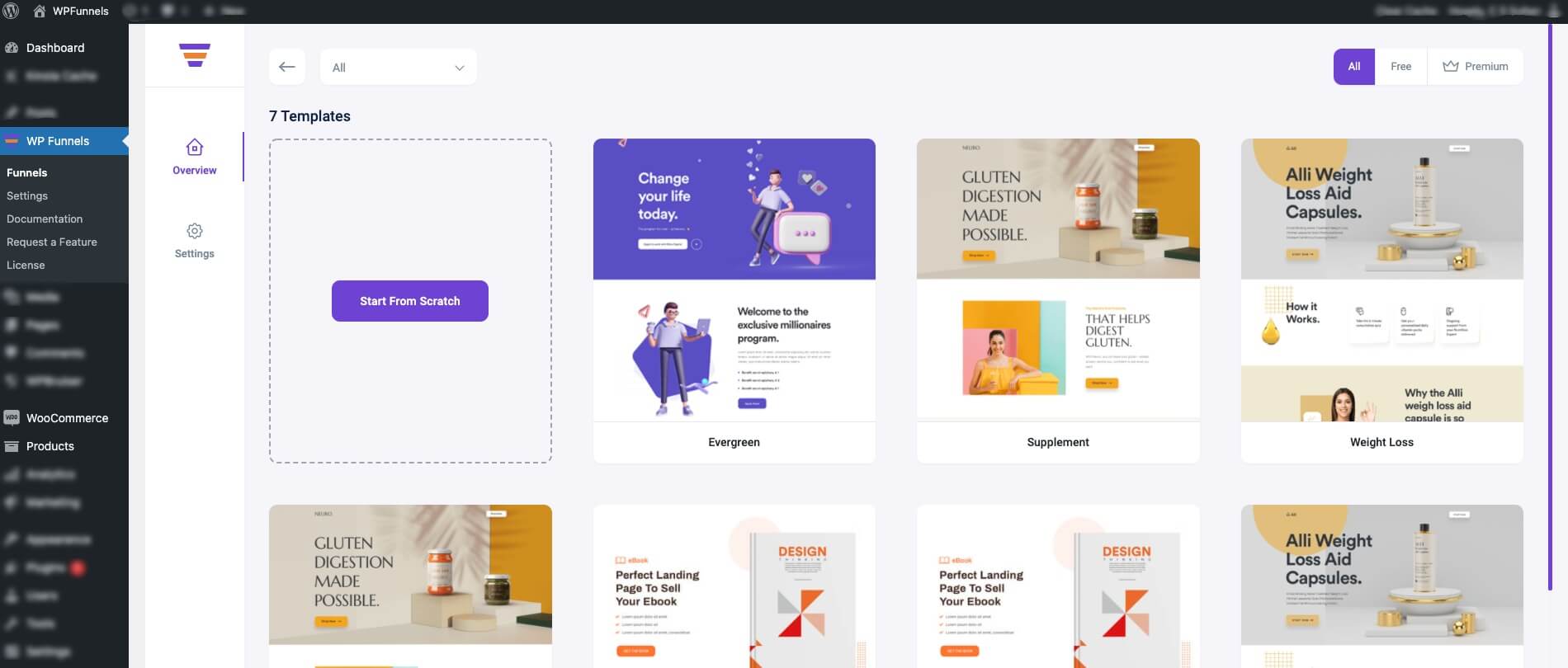 3. Fully Compatible With Elementor And Gutenberg
Again, we figured not everyone wants templates, and most prefer using page builders. So we made WPFunnels exclusively compatible with Elementor (the most popular page builder used) and Gutenberg (the native page editor for WordPress).
4. Order Bump At The Checkout To Increase Sales Revenue
You can include a small order bump offer at the checkout page that buyers can purchase along with their selected products with just a click; a convenient way to make buyers spend more.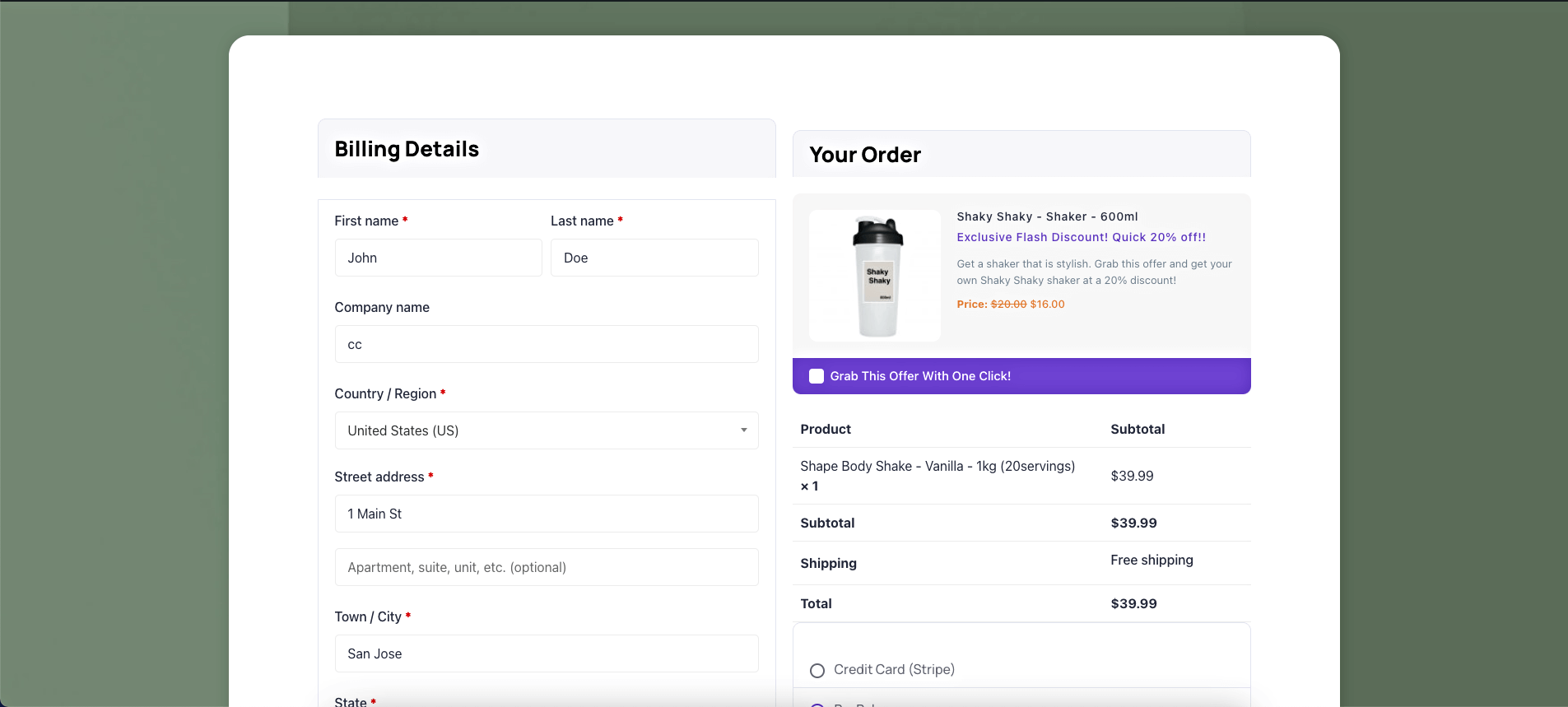 5. One-click Upsell & Downsell Offers After Checkout
This is one of the features I needed for my business, and it works like a charm now.
After someone completes a checkout, you can make smart upsell & downsell offers to try and sell more products or a higher value product. This is also a great way to make one-time offers.
6. Conditional Steps Control
What good is a funnel if you cannot control what offers your buyers should get? With WPFunnels, you can add conditional steps so that a buyer will get specific offers based on their actions. For example, if the buyer spends over $100 at the checkout, you may offer him an upsell for a related product with an attractive discount.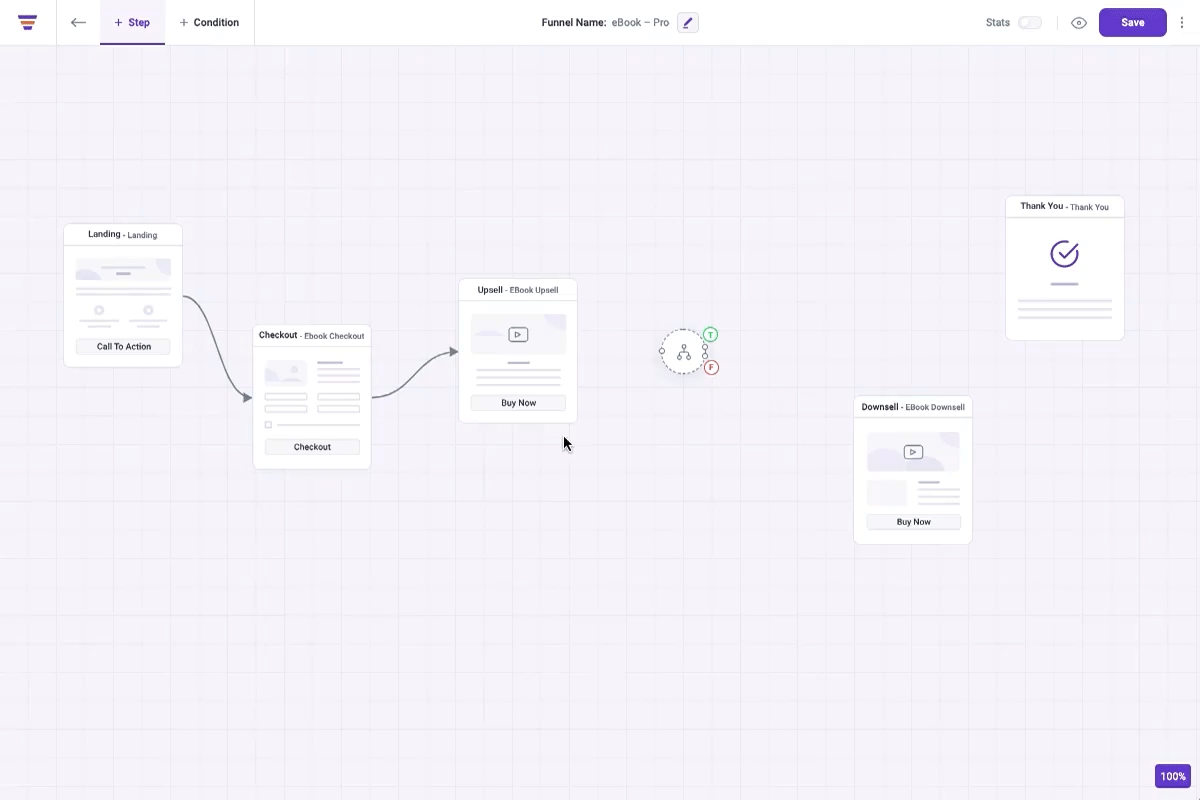 7. Insightful Analytics On Every Funnel
I wouldn't say I like the idea of using external tools to track the performance of the funnel. So we include detailed analytics for each funnel where you can track the performance of every step, including total visits, conversion, revenue earned, and many more.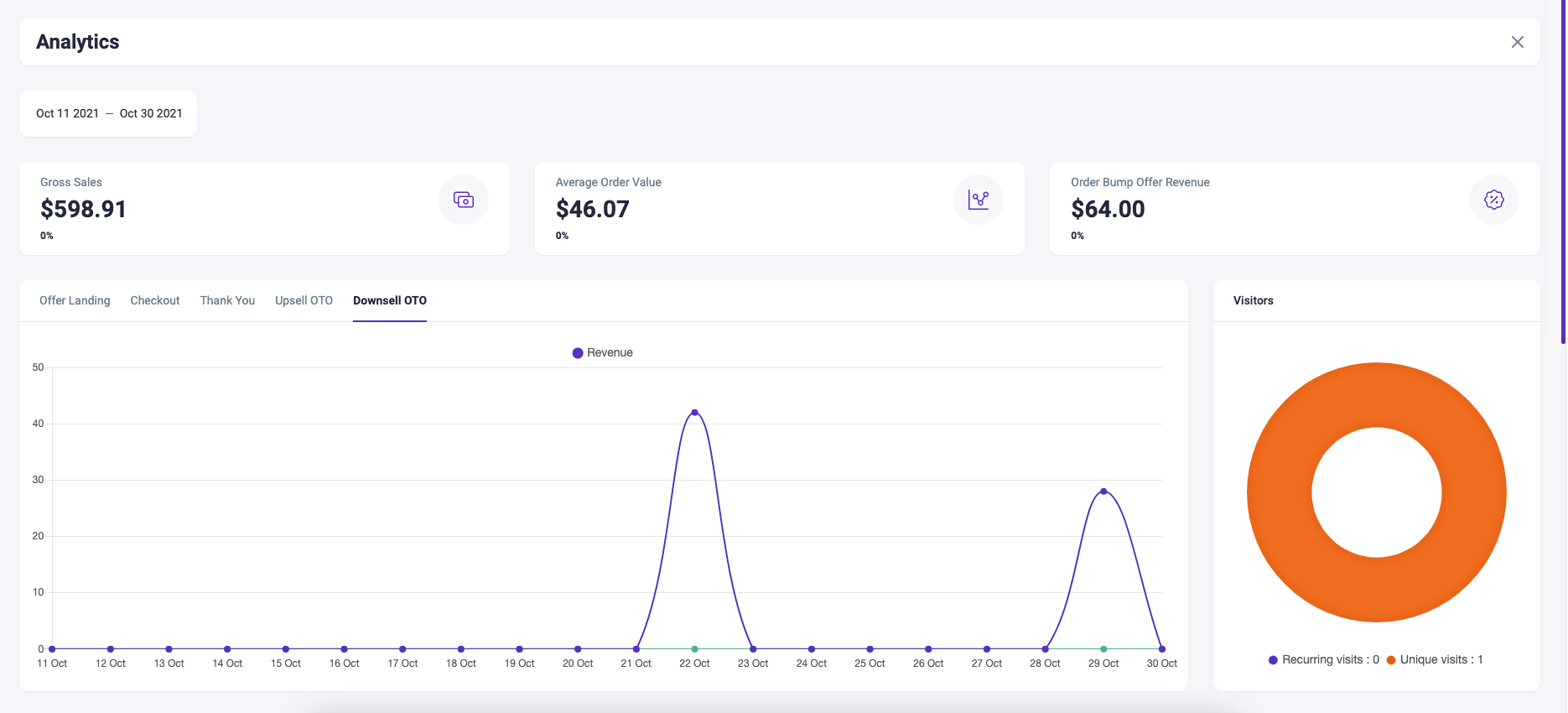 8. Custom Checkout Page For Every Funnel
One special request I made to my team was to be able to create a custom checkout page for every funnel. This will help to personalize the checkout process for the buyer. WPFunnels allows you to customize the checkout page design and customize the fields you want to show in the checkout form.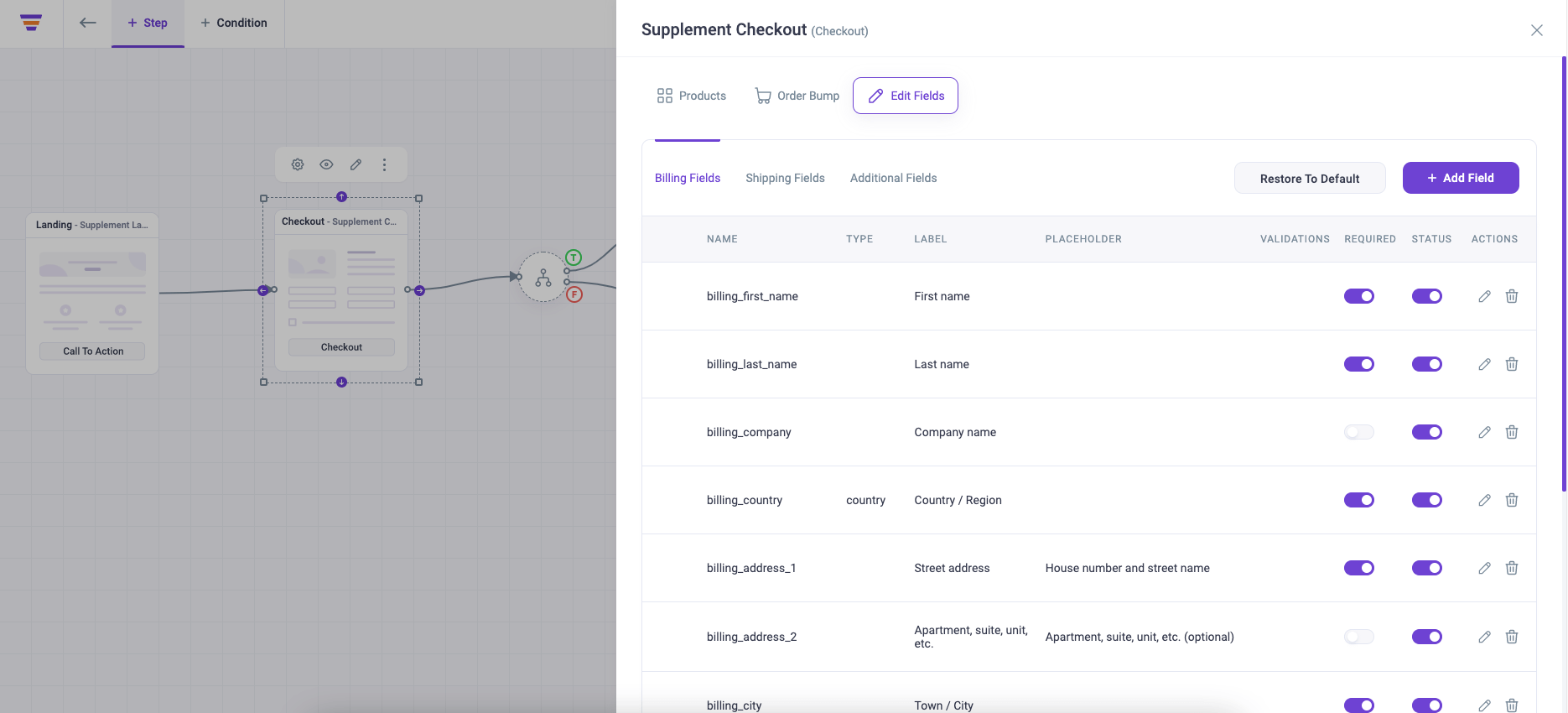 Who Should Use WPFunnels?
One of the best parts of WPFunnels is that it is a plugin for anyone in any niche to craft optimized sales funnels and increase sales.
Let me give an example of how I'm using WPFunnels on the WPFunnels website 😉 .
We have four plans: 1 Site Annual, 5 Sites Annual, 1 Site Lifetime, and 5 Sites Lifetime.
Here's how the funnel works for the 1 Site Annual plan.
Let's say you are on the Pricing page for WPFunnels, and you want to purchase the 1 Site Annual plan. Once you click on 'Buy Now,' you will enter the funnel checkout page.
On the checkout page, you will get an order bump offer to go for the 5 Sites Annual plan.
Then we used a conditional step control based on if you accepted the order bump offer or not.
If you do not take the order bump offer (5 Sites Annual) and proceed to checkout, after payment, you will get a Downsell offer to go for a 1 Site Lifetime pan with a 10% discount; followed by the Thank You page.
If you accept the order bump offer (5 Sites Annual) and proceed to checkout, after payment, you will rather get an Upsell offer to go for the 5 Sites Lifetime plan with a 20% discount. If you accept the offer, you will proceed to the Thank you page.
We set another condition so that if you reject the Upsell offer, you will get the Downsell offer to go for the 1 Site Lifetime plan if you want to. And then follow through to the Thank You page.
Let me share another funnel example.
I had a direct chat with one of our early adopters.
He is a Mathematics Teacher, and he wants to offer his online classes to his students.
Initially, he created a landing page where a person can book a call with him. After the call, he sends out an email with a link to his funnel.
The funnel consists of the following steps:
A Landing page for his offered course on Mathematics.
During checkout, he offers an Order Bump with Notes
After checkout, he offers another one of his courses for Advanced Mathematics as upsell.
This is a pretty straightforward funnel.
Is WPFunnels Available For You?
Well, even though we created it as a solution to our problems, the good news is, WPFunnels is now available for you as well.
It's fascinating to announce that WPFunnels Pro is launching today! We hope you will look into this new tool for your funnel-building needs.
Right now, you can purchase WPFunnels with 60% a discount(only during the launch days).
Go to the following link and check it out:
What's Next With WPFunnels?
WPFunnels is undoubtedly a sales funnel builder that you haven't seen in WordPress before.
And I'm proud of my team, who managed to make this plugin a reality.
We will continue working on making the plugin even better every day.
Speaking of improvement, my team has already started working on Conditional Funnel for WooCommerce Shop owners who might be selling hundreds or thousands of products.
Normally, you would have to create a separate funnel for every product in your store, which is pretty hectic for any eCommerce site. But Conditional Funnel will allow you to create one single funnel and make conditional offers in your WooCommerce store based on conditions such as category, tags, cart total, etc.
Also, integration with CRM and Automation is coming soon. You can keep an eye on our Changelog here, and if you have suggestions, feel free to drop us some ideas here.
We want to answer all of your questions, so please reach out to us with any questions at [email protected].