Sales funnels are currently the best way to increase online sales and one of the best sales funnel tactics is to make one-click upsell offers right after checkout.
The concept here is that the buyer has already purchased a product from your store. So you can then offer a relevant product or a better alternative as an upsell offer after checkout, and if it's within budget, the buyer may end up accepting it, i.e., more revenue for you.
Over the years, post-purchase offers have proven to be very effective when it comes to increasing sales in your WooCommerce store, and today, you will learn how you can easily set up WooCommerce upsell offers after checkout to increase your revenue.
After reading this article you will learn,
exactly why upsell offers work.
about a reliable tool to run upsell campaigns in your store.
how to set up upsell offers for your WooCommerce products easily.
So let's begin.
Why Use One-Click Upsell Offers After Checkout?
One of the main reasons why post-purchase upsells is considered a reliable revenue booster is because you have a chance to earn more from every buyer.
The idea is since a buyer has already paid for a product, you have already made money. Now, when you make another offer, if the buyer accepts it, it's more revenue for you, but if the offer is rejected, it's totally fine – you have already made money.
This means that if someone accepts the upsell offer, then you will earn more from a buyer without spending any extra effort or acquisition cost. So it's not just more revenue in terms of order value, but also less spending in finding more buyers for the extra product you just sold or the extra amount you just earned.
Another reason why you should use upsell offers AFTER checkout is to create a distraction-free shopping experience for your buyers prior to spending money.
Normally, if you make offers before the checkout process, you risk losing your buyers to cart abandonment, which, on average, amounts to 30% of all your potential buyers.
So making offers after you have received a payment helps to avoid losing buyers due to unwanted interruptions.
Post-Purchase WooCommerce Upsell Examples
Let us look at a couple of examples to help you understand how one-click upsells after checkout work.
Example 1 – Offer More Quantity / Volume As Upsell
Suppose you have a WooCommerce store where you sell Baby Formula. And you decide to sell 10 Fl oz Formula Milk as your initial offer at $9.
After checkout, you offer an Upsell – which is to buy 15 Fl oz Formula Milk instead at only $12 (which normally costs $15) at a special discount.
So parents who visit your store may grab this offer as they are getting 50% more of the Formula Milk for only $3 more.
And since they have already paid for the 10 FL oz Formula Milk, even if they reject the upsell offer, you won't lose the initial sale of $9.
---
Example 2 – Offer A Better Alternative
Let's say you sell Phone accessories and you created a funnel for a pair of Sony headphones that costs $50.
After a person purchases it, you can then offer him to purchase a better pair of headphones instead, maybe the Ultra Bass Sony HeadPhones, which costs $100, but at a 20% discount. So the offer price will be $80.
In this case, the buyer will be able to take a better pair of headphones by only paying $30 more while saving $20.
If this is within budget, the buyer will surely accept the offer.
---
Example 3 – Make An Affordable Bundle Offer Instead
Let's say you have an online Beauty store and you are creating a funnel for Serums. And suppose a buyer purchased the Vitamin C Serum, which costs $9.
Right after checkout, you can ask the buyer to rather go for the 3-in-1 Face Nurturing Serum bundle for $21, which includes the Vitamin C Serum, the Hyaluronic Acid Serum, and the Niacinamide Serum in one bundle.
In this case, the buyer will be getting 3 serums by paying $6 dollars less. And at the same time, the bundle is aimed at helping to improve the beauty of the face.
So if a buyer is concerned about the skin of his/her face and wants to save money, they will rather go for this bundle.
---
The examples above are some of the tactics you can use when making upsell offers, but you can incorporate more amazing tactics such as offering a related product, the highest sold product in a category, the most popular product in your store, etc.
At the end of the day, it will help you persuade more buyers to spend more than what they initially intended to.
Read the following guide to learn more genius one-click upsell tactics:
How To Set Up WooCommerce Upsell After Checkout
Now that you understand how upsell offers can help you increase sales in your WooCommerce store, let's learn how you can set up these offers after checkout easily.
You will find several WooCommerce upsell plugins out there, but one of the easiest tools that you can consider using is WPFunnels. In this guide, I will show you how you can create a funnel that includes upsell offers for your WooCommerce products.
So, before planning and creating your funnels, first install and activate WPFunnels & WPFunnels Pro in your WooCommerce store. And then follow the steps below.
Step 1 – Decide Your Funnel Products & Offers
The first thing you need to do is to plan your sales funnels. You have to decide which products you want to create sales funnels for and what upsell offers you want to make for them.
Choosing the right product is crucial for your upsell to succeed. As you learned in the examples above, you have to make sensible offers that the buyers will be able to relate to after purchasing the initial product.
Let's say you sell beauty & health products and you want to create a sales funnel to sell Tresemme Shampoo, Hair Conditioners, and Hair masks.
Following may be the planned funnel steps for these products:
A Landing page to offer the initial product – in this case, a Tresemme Shampoo.

A Checkout page for the buyer to pay for the Shampoo.

An upsell offer right after the checkout process, where you may offer the Tresemme Hair Conditioner.

A second upsell offer where you may offer a Combo bundle, that includes the same Tresemme Conditioner And A Hair Mask pack, which the buyer can accept instead of the 1st upsell product.

Finally, a Thank You page to summarize the purchase.
You can see that in this funnel, there is a combination of two upsell techniques.
The 1st upsell offer is a relevant product to the initial product and can be used together (i.e., the Shampoo and Conditioner).

The 2nd upsell offer is rather a bundle that includes the Conditioner along with a Hair Mask. A buyer can take this bundle instead of just the conditioner as upsell.
Both the upsells will help increase the order value, and rejecting the upsell offers will still mean you have made money from the buyer upon selling just the Shampoo.
Now, let us look at how you can create this funnel using WPFunnels.
Let's jump into the step-by-step process of how you can configure multiple Upsells after checkout with WooCommerce & WPFunnels.
. . .
Step 2 – Visualize Your Plan with the Right Funnel Steps
With WPFunnels, import a pre-made funnel template or create a funnel from scratch.
– Learn how
Once you have added the steps and connected them in order, it should look like this: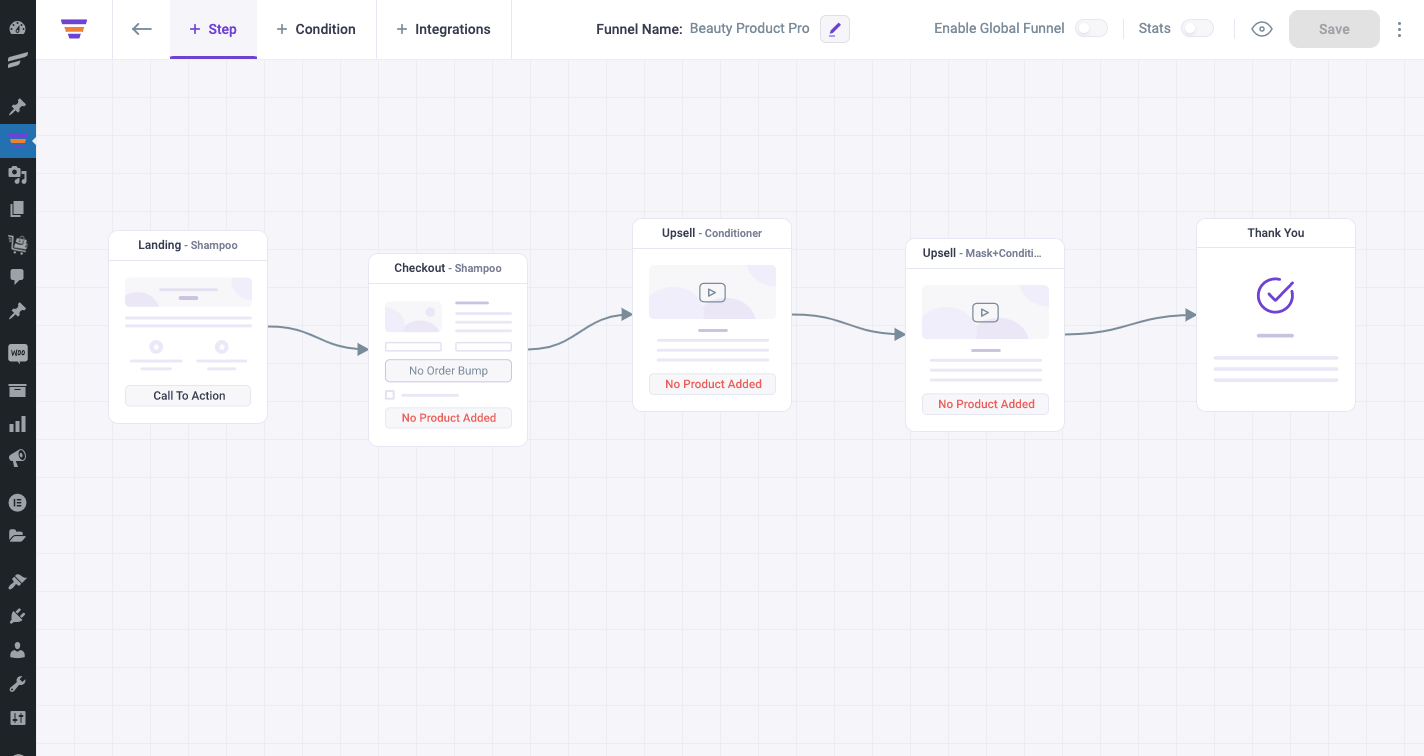 . . .
Step 3 – Assign Your Initial Offer Product
To assign the initial offer product in your funnel, go to the settings drawer of your checkout step.
There, search and add your product – in this case, the Tresemme Shampoo.
– Learn How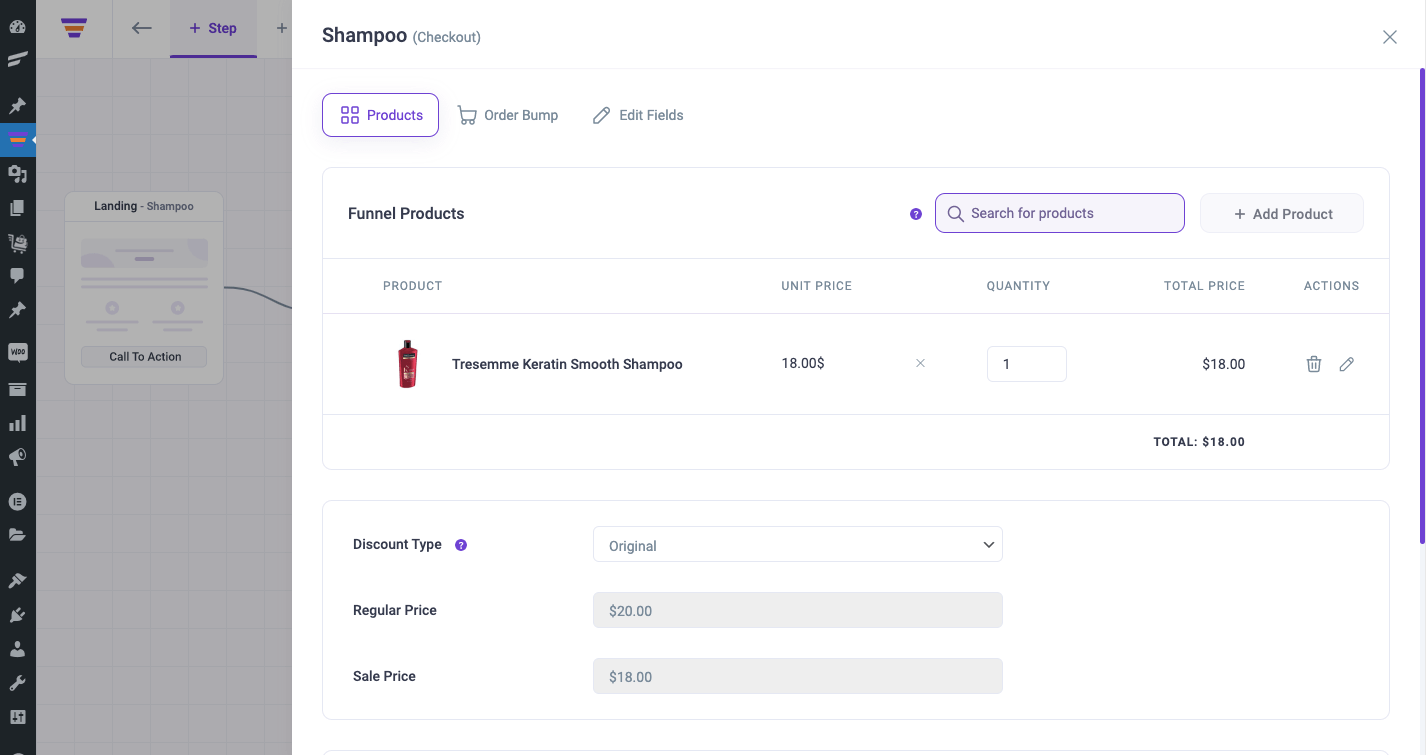 . . .
Step 4 – Design the Landing Page and the Checkout Page of Your Funnel
Now that you have assigned the main funnel product, edit the Landing step and the checkout step to design them for conversion.
. . .
Step 5 – Configure Your First WooCommerce Upsell Offer
Assign the Tresseme Hair Conditioner as the Upsell offer product for your first upsell.
– Learn How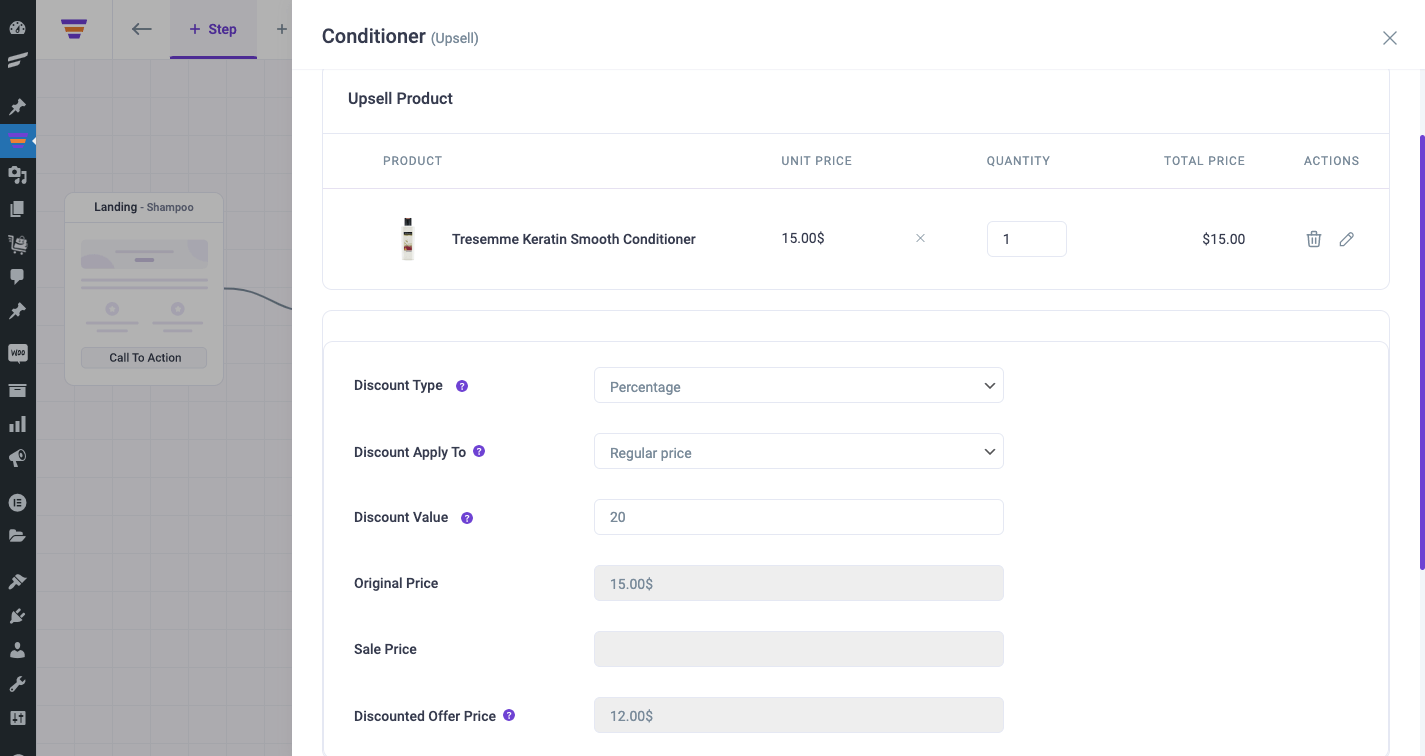 Here, I am using the Percentage Discount on the regular price of the product.
After 20% discount, my product price is now $12 for this funnel. While the original price of this product is $15 in store.
Then design and update the upsell offer content to make it relevant to your offer.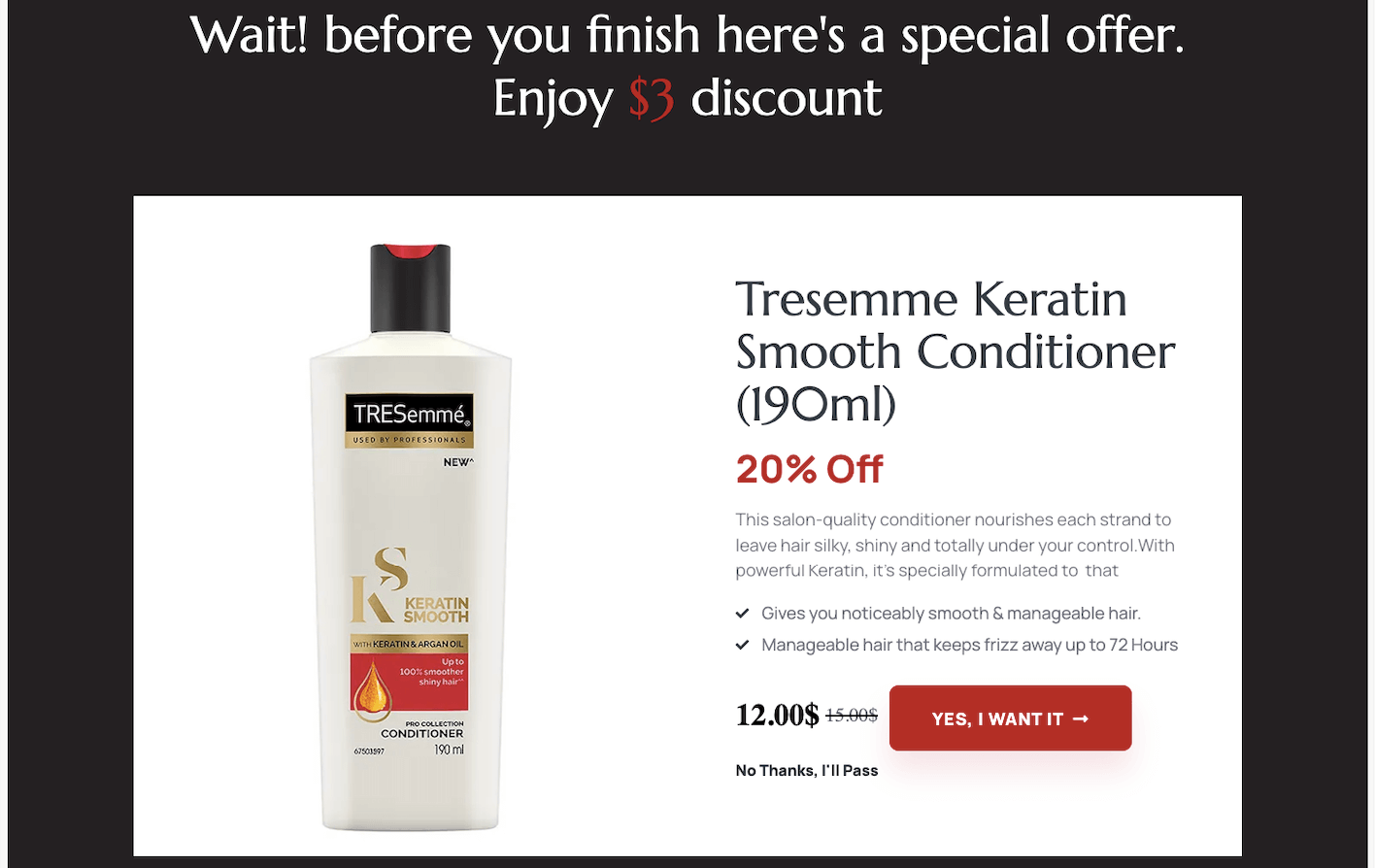 Enable 'Show Price' for the Offer button (WPFunnels widget) to display the offer price.
. . .
Step 6 – Configure Your Second WooCommerce Upsell Offer
It's the same process. First assign the offer product, which is the bundle of Conditioner and Hair Mask in this case. And then design the Offer page.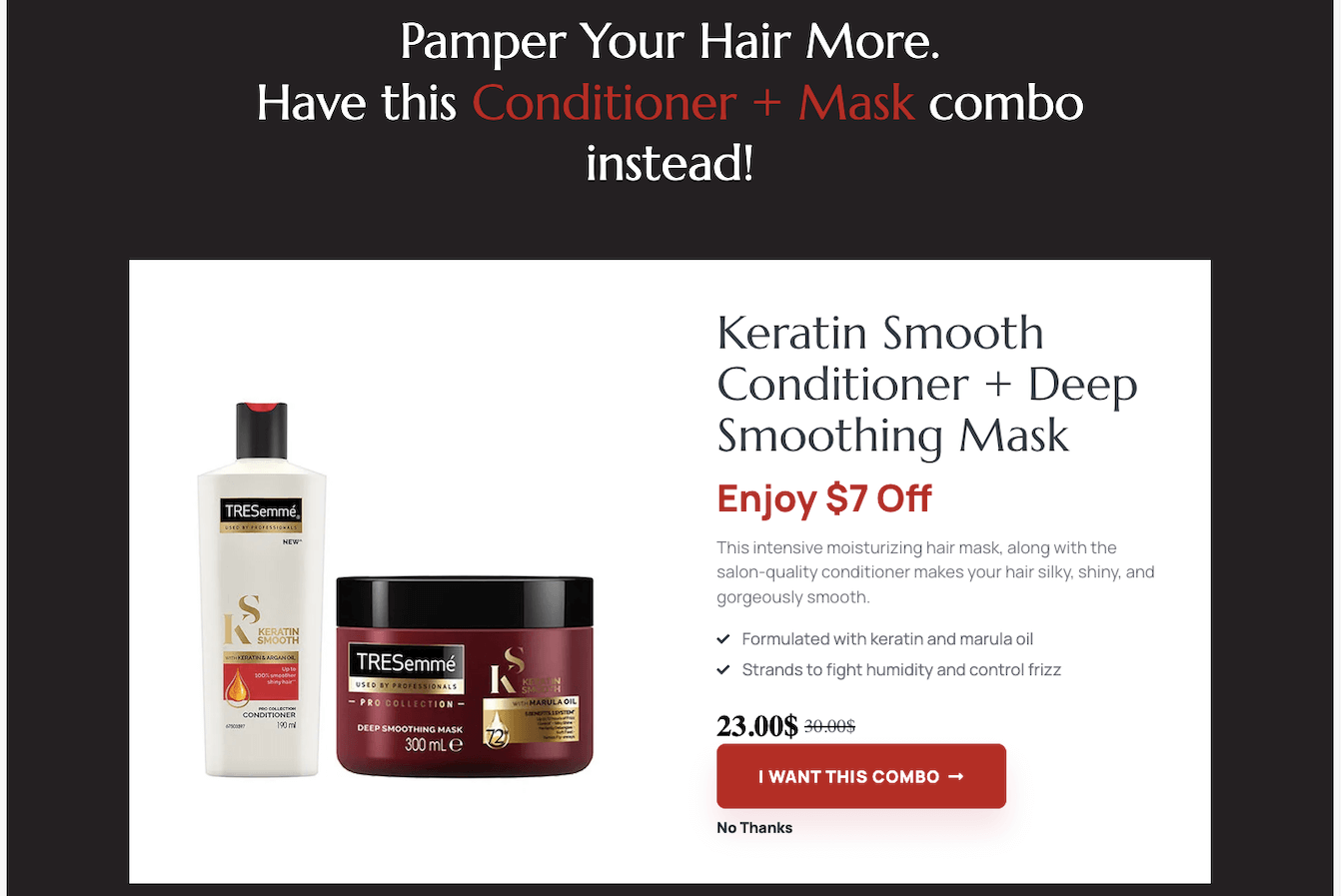 Here I am using the Flat Amount Discount on the original price.
After $7 discount, my product price is now $23 for this funnel, while the original price is $30.
. . .
Step 7 – Enable 'Replace Order In Previous Step' For the Second Upsell
Go to the settings drawer of your second upsell step.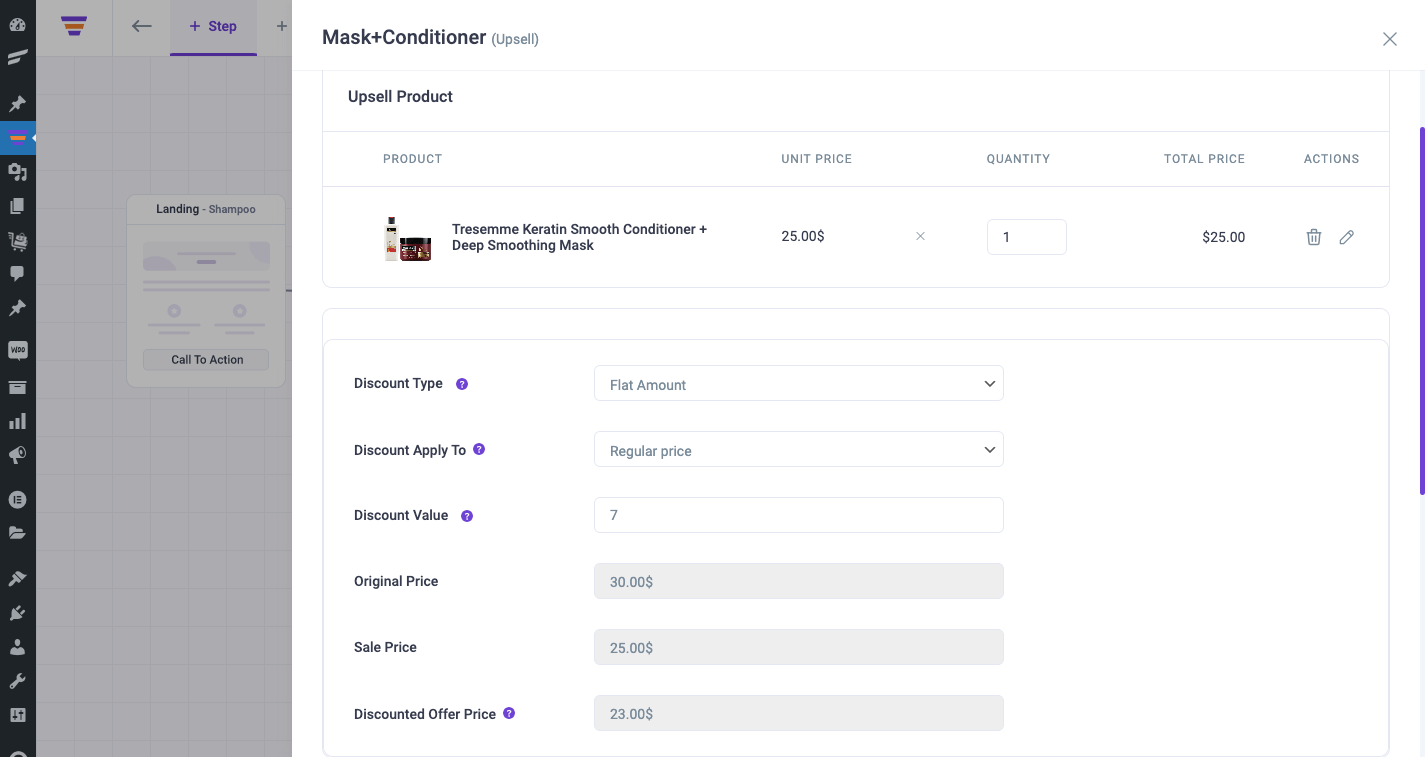 Scroll down to Additional Options and Enable Replace Settings. Then choose the option, 'Replace Order in Previous Step'.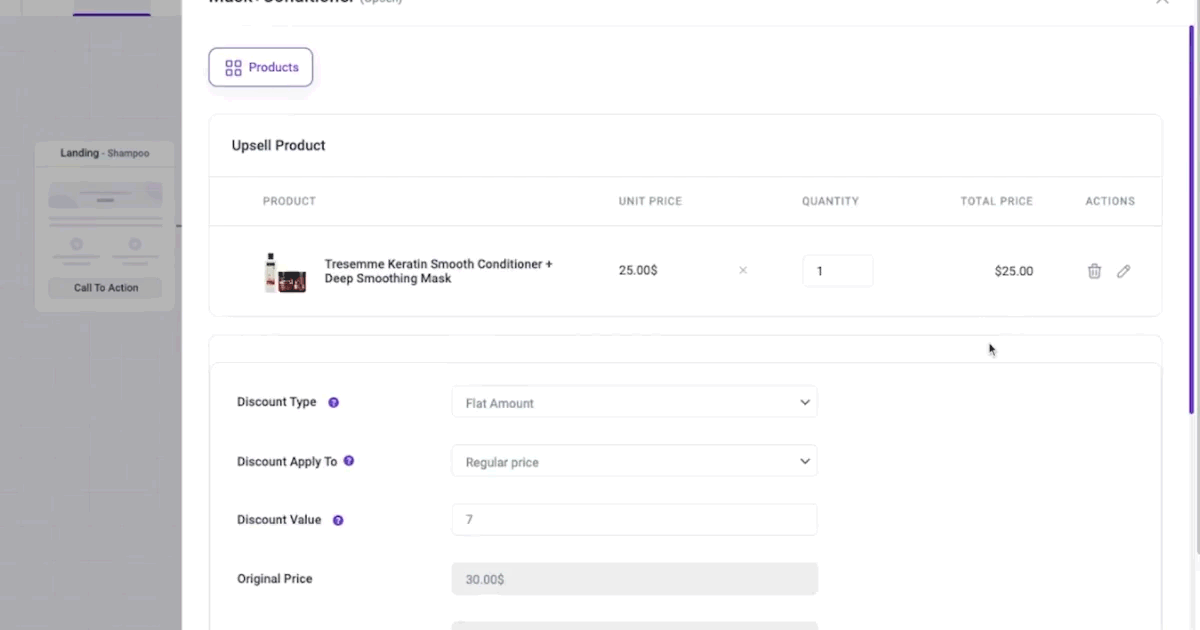 This allows your buyers to replace the first upsell offer upon accepting the combo offer in the second upsell.
. . .
Step 8 – Finally, Design Your Thank You Page and Start Promoting Your Funnel
Simply edit the thank you step and update the design & content to match your brand, and your funnel is ready to deploy.
You can then start promoting your funnel via Social Media, Paid Ads, or Email Marketing and start getting potential customers to visit your funnel, who will end up purchasing your products.
That's it! That's how easy it is to set up WooCommerce upsell offers using WPFunnels.
Author's Note
As mentioned above, upsell offers are a great way to increase your revenue. And if you can make the right upsell offers after checkout, it can be the gamechanger for your business.
With WPFunnels, you can easily set up such high-converting sales funnels for your WooCommerce products. You just saw how easy it is to visually plan a whole funnel journey, create multiple WooCommerce upsell offers, strategically replace offers, use discounts on your upsell offers, and easily design the funnel pages without any complications.
P.S. You can also set up dynamic upsell offers for groups of products, where buyers can enter a funnel right from your WooCommerce store based on conditions such as product category, cart total, product popularity, etc, using the Global Funnels Addon by WPFunnels. Check it out here.
Get WPFunnels now and start increasing your WooCommerce sales using post-purchase upsell offers easily.