Health supplements are quite demandable in the fitness industry, and if you own a company that sells health supplements, you probably already know how competitive the market is. There are tons of suppliers out there, and online marketing expenses are getting quite high.
As a result, you need to find a strategy that can ensure high conversions and increased AOV (Average Order Value).
Today, we will look at how you can create a supplement funnel that is designed to collect more leads and sell more to every potential buyer.
After reading this article, you will be able to
Collect quality leads to whom you may market your supplements from time to time,
Set up well-planned sales funnels that are designed to increase AOV,
Nurture your customers for continuous promotions in the future.
And eventually, you will be ahead of the competition, whether it is for customer acquisition or terms of sales.
So let's begin.
The Supplement Funnel – A Well-Planned Marketing Strategy For Supplement Business Growth
The main concept of a supplement funnel is to create a complete funnel journey that will automatically qualify your prospects from one stage to another and eventually convert them into high-paying customers.
A typical supplement funnel is actually a combination of 2 different funnels & and lead nurturing –
Lead Generation Funnel
Product Sales Funnel
Lead Nurturing Emails for future sales
Let us look at how you can plan each of them.
1. Generating Quality Leads To Promote Your Supplement Products
One wrong concept that most online supplement businesses have is that they do not consider running lead-generation campaigns. They are more focused on developing an e-commerce website and setting up product sales funnels.
Now, while the e-commerce website is necessary to run a product sales funnel, running a lead generation funnel can be an added layer that may help you double your sales.
Let me explain.
Suppose you already have your e-commerce site up and running. What if you had a list of 500 people that are likely to purchase your health supplements in a month or two? Then, let's say when you go some new supplies in, you send them all an email and SMS about the new products and offer them a discount. This will not convert all of them, but even at 20% conversion, you can expect 100 new customers without even running any Ads or spending on online promotion.

**20% conversion can be expected from qualified leads for your products. Cold leads won't have such high conversion rates.
As you can tell, having qualified leads can be a great advantage.
Now, running a lead generation funnel can give you another added benefit. Since it's possible that you may have multiple products, you may also segment your leads with added details such as their fitness goals, product preferences, or supplement requirements.
It will totally depend on how you collect the leads.
Let's look at how you can create a Lead Generation Funnel for your supplement business with an example.
Example:
Let's say you sell a variety of supplements, including bodybuilding supplements, powerlifting supplements, dietary supplements, and vitamins.
Now, you already know that bodybuilders have specific supplement needs that may not be the same for powerlifters. But they both may require daily dietary vitamins.
In this case, you will need to create a lead generation funnel that will collect the data if the person is a Bodybuilder or a Powerlifter.

This will involve 4 steps:
Step 1 – A Reverse Squeeze Page
On this page, you will offer something for free. This could be a tutorial on exercise best practices or maybe a coupon to purchase supplements.
Step 2 – The Survey Page
If a person wishes to collect the free resource, he will be directed to this page, where he will have to fill out a simple form. On the form, you may collect information such as the person's name, email address, whether he is a bodybuilder or a powerlifter, what supplements he uses at the moment and current dietary restrictions.
Step 3 – A Thank You Page
After filling out the form, direct the prospect to a thank you page, asking him to check his email with instructions to collect the free resource.
Step 4 – The Free Resource Email
You will send an email with links to claim the free resource and insist he checks out your products.
Here, you have to decide on what free resource or reward you can give. Any random resource or reward will not work. It has to be something that your target audience will find useful.
The survey form should be short and less cluttered. Avoid asking for details you do not need.
The email you send can be customized to include previews of your popular products.
Creating A Lead Generation Funnel For A Supplement Bussines
To create this funnel, you will need a simple funnel builder and an email marketing automation tool.
Here, I will be using WPFunnels & Mail Mint (as they are super easy to use) on a WordPress site.
Create a 3-step funnel on WPFunnels

Landing Step
Custom Step
Thank You Step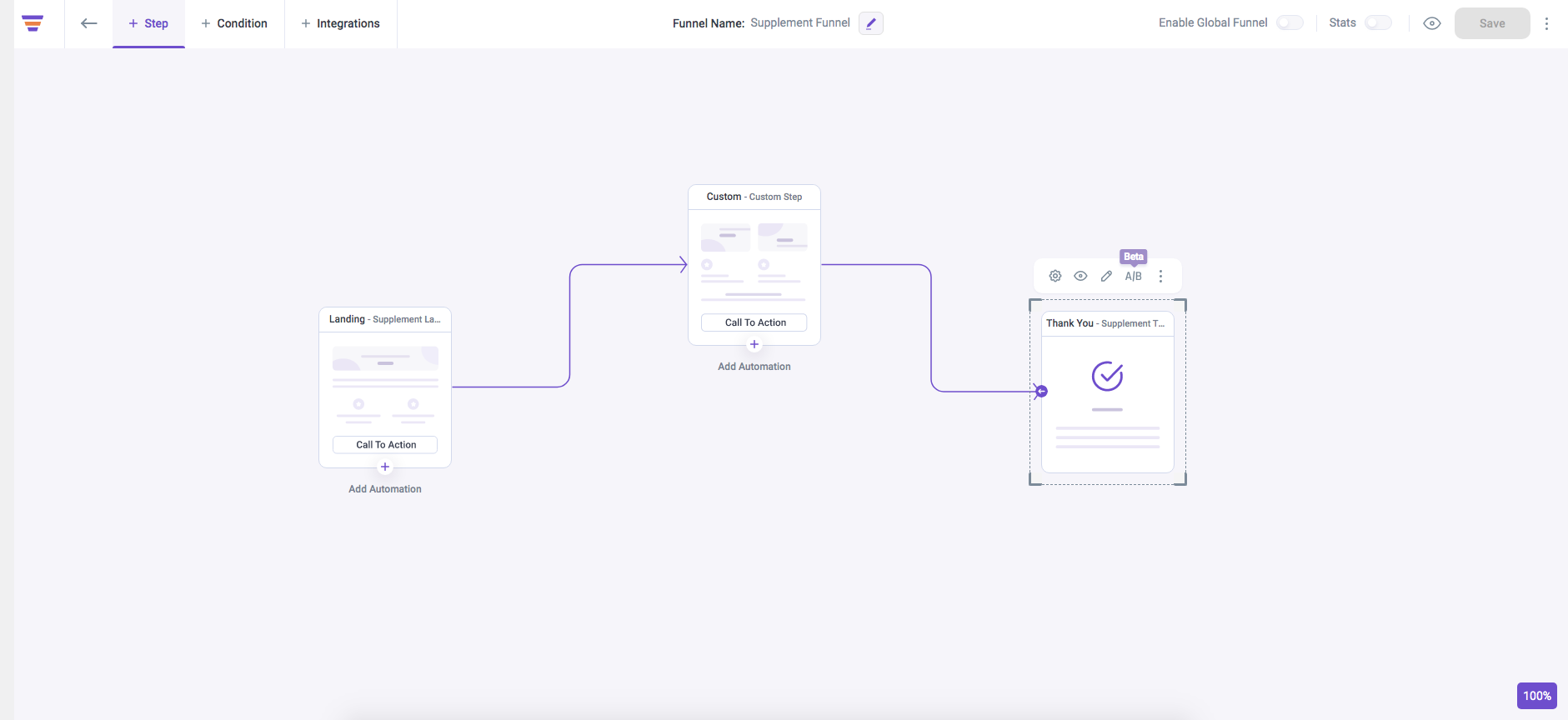 Create a form in Mail Mint with the necessary fields

Create a Lead Form.
Use the fields – First Name, Last Name, & Email.
Use the Mail Mint Custom Field to collect the rest of the details.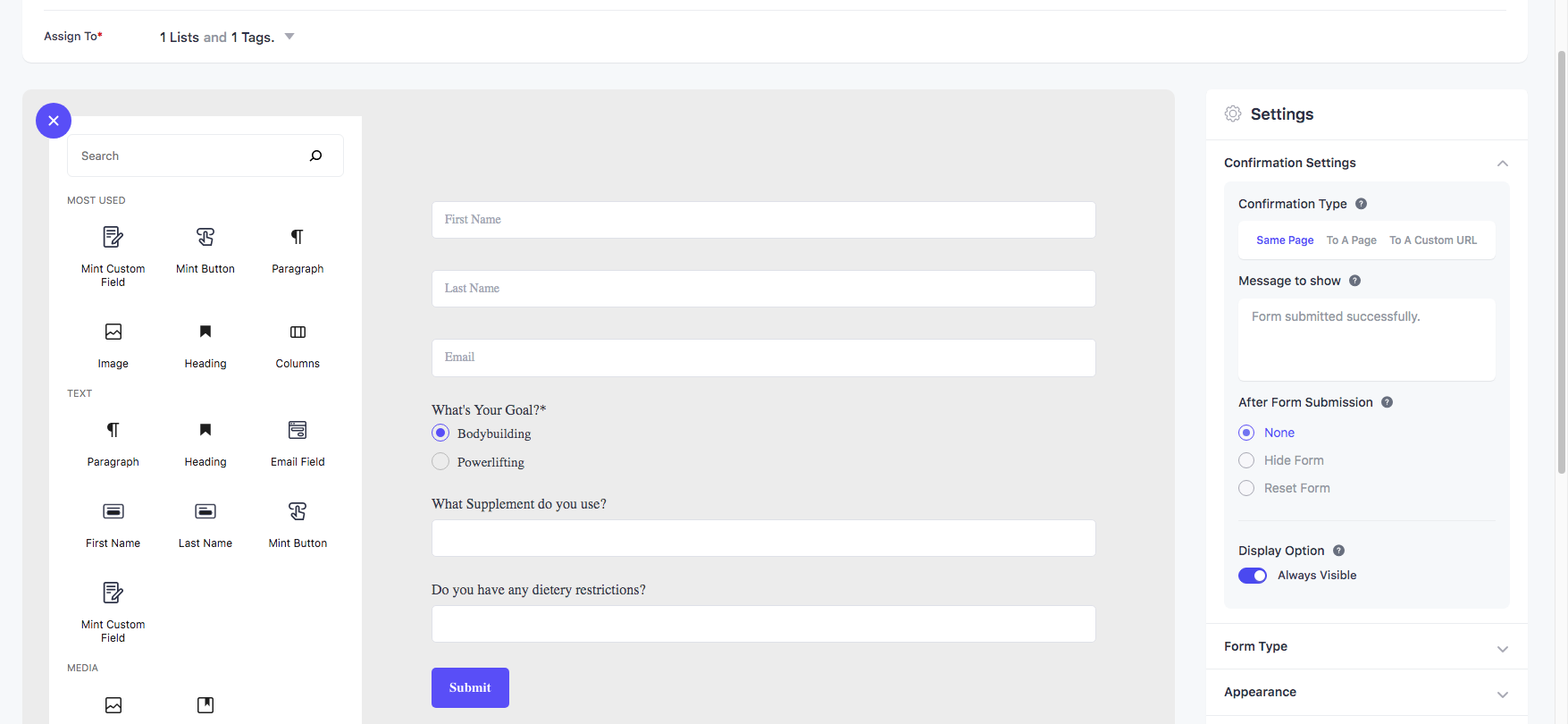 Design each of your pages with your preferred page builder.
Create email automation on Mail Mint

Create an automation workflow with Trigger – Form submitted and assign the form used.
Set a Delay action after it is triggered for 1 minute.
Add a "Send An Email" action and design it with the link to the resource.
Use the product block to display 3 of your popular products in the email.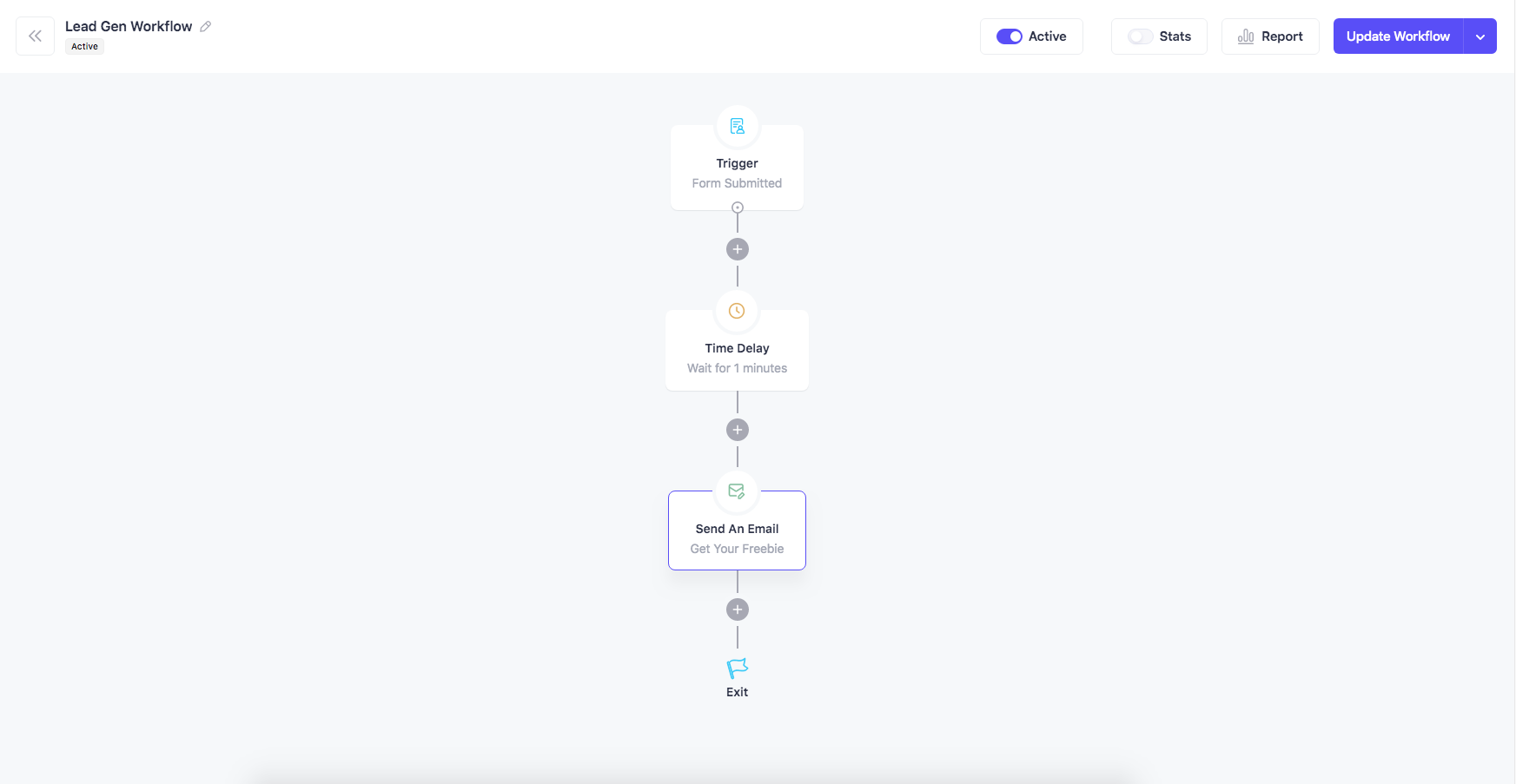 Create a segment in Mail Mint

Set a new segment based on whether he is a bodybuilder or a powerlifter.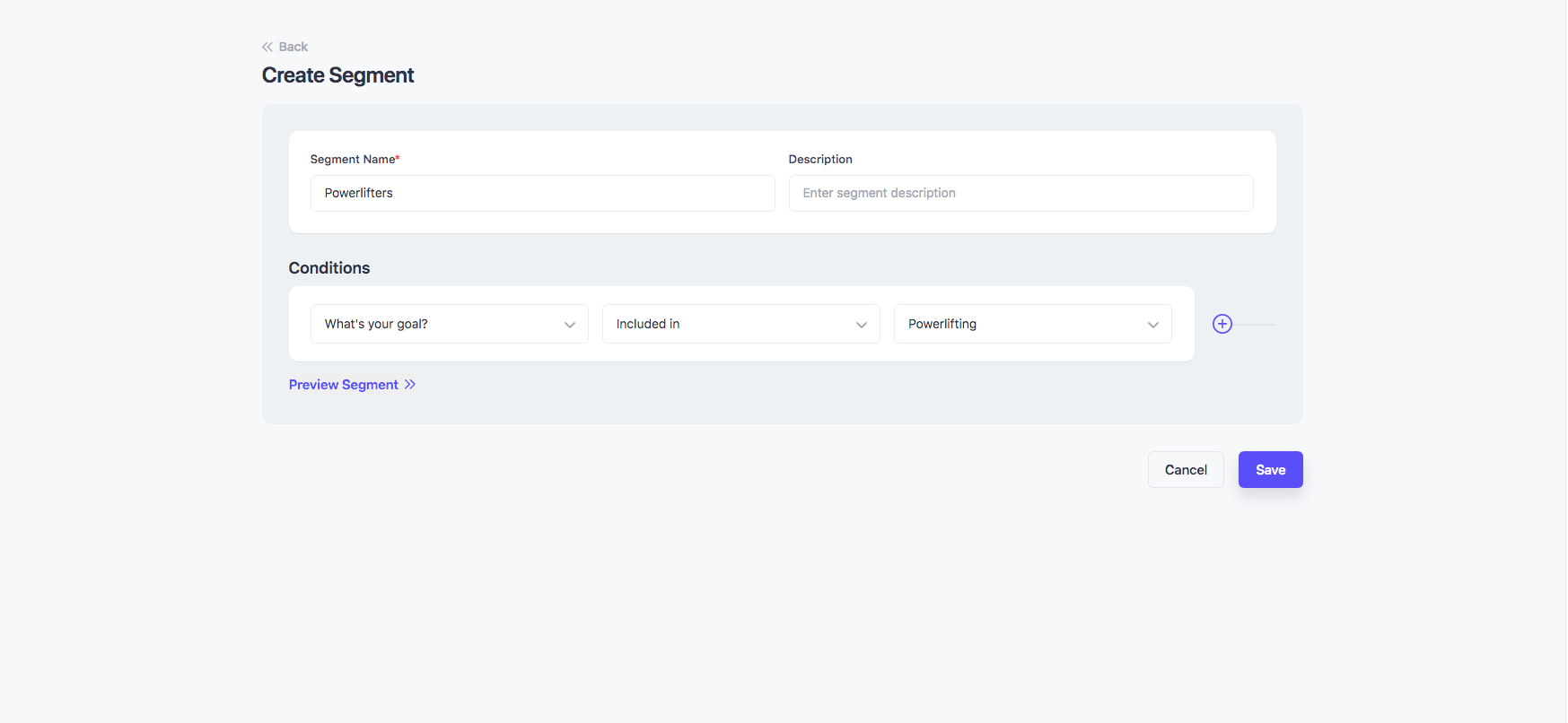 And that's it. Your lead generation funnel is ready.
You may then promote it on social media or via Paid Ads and start getting more leads.
2. Targetted Sales Funnels For Your Supplement Products
The next part of your supplement funnel is to create sales funnels for specific target groups.
Taking the previous example, you may create two sales funnels – one for bodybuilders and one for powerlifters.
Since they both have different needs in terms of nutrition & basic supplements and have different fitness goals, it is only wise to create personalized funnels for each of them.
And in each of the funnels, we will use core sales funnels tactics which include order bumps, upsell, and downsell offers.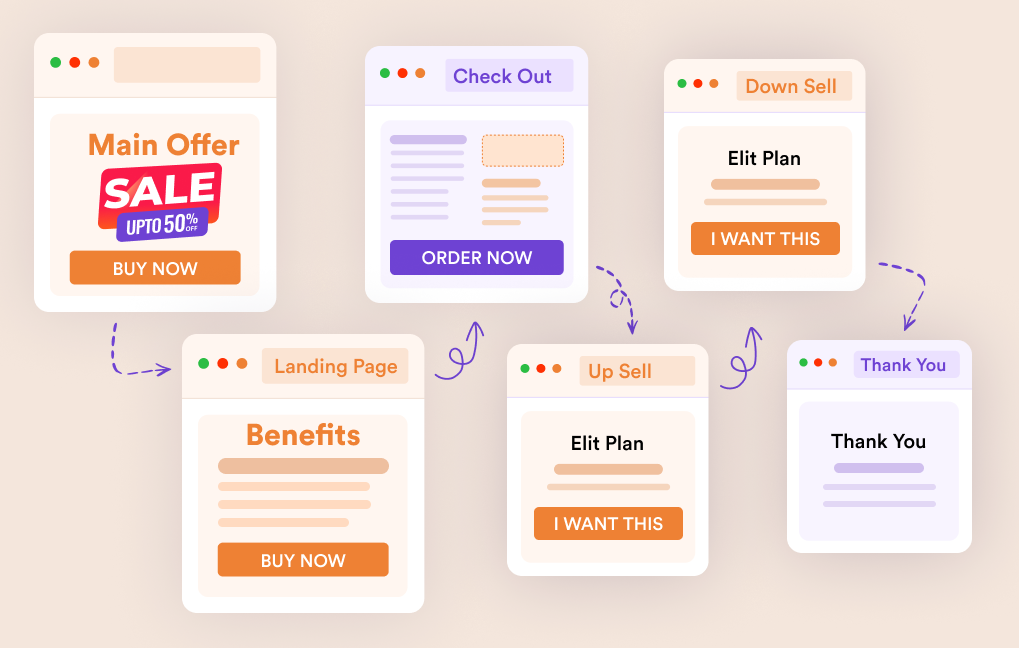 The funnel will include the following steps:
Step 1 – Decide On The Main Offer
You may put together a bundle of core essentials. For example, you may include Creatine, Caffeine, Carbohydrate Powder, Protein Powder, and Betaine Anhydrous supplements into a bundle for powerlifters. You may then offer this at a discount.
Step 2 – A Landing Page To Highlight The Main Supplement Offer
On the landing page, you may highlight the benefits of these supplements, the discount they will get, and testimonials from real users of the supplement brands that are included in the bundle.
Step 3 – Checkout Page To Complete The Purchase + Order bump offers
Design a checkout page to place the order while making a small offer at the checkout, which the buyer can add to the order bump with a click before paying. This could be a low-priced product that the person may need such as a shaker flask.
Step 4 – An Upsell Step With An Exclusive Offer
Now that the person has purchased your initial offer, you may offer additional products at a discount after checkout. In this case, offering dietary supplements would be a good option.
Step 5 – A Downsell Offer As A Second Option
If someone rejects the upsell offer, you may then make a downsell offer with a lower volume of vitamins or other items.
Step 6 – Thank You Step
Here, you will give a summary of the order.
The main offer acts as the main attraction, while discounts may give an added push to closing the sale.
The order bump will add some dollars to the order.
Upsell and downsells are post-purchase offers that the buyer may accept or reject. The concept here is the main offer was already purchased, i.e., you have already made money out of this buyer. And these steps will give a chance to get more from the same buyer without any extra acquisition cost.
Creating Sales Funnels To Power Up Your Supplement Funnel
To create this, again I will use WPFunnels & Mail Mint.
Create a 5-step funnel on WPFunnels

Landing Step
Checkout Step
Upsell Step
Downsell Step
Thank You Step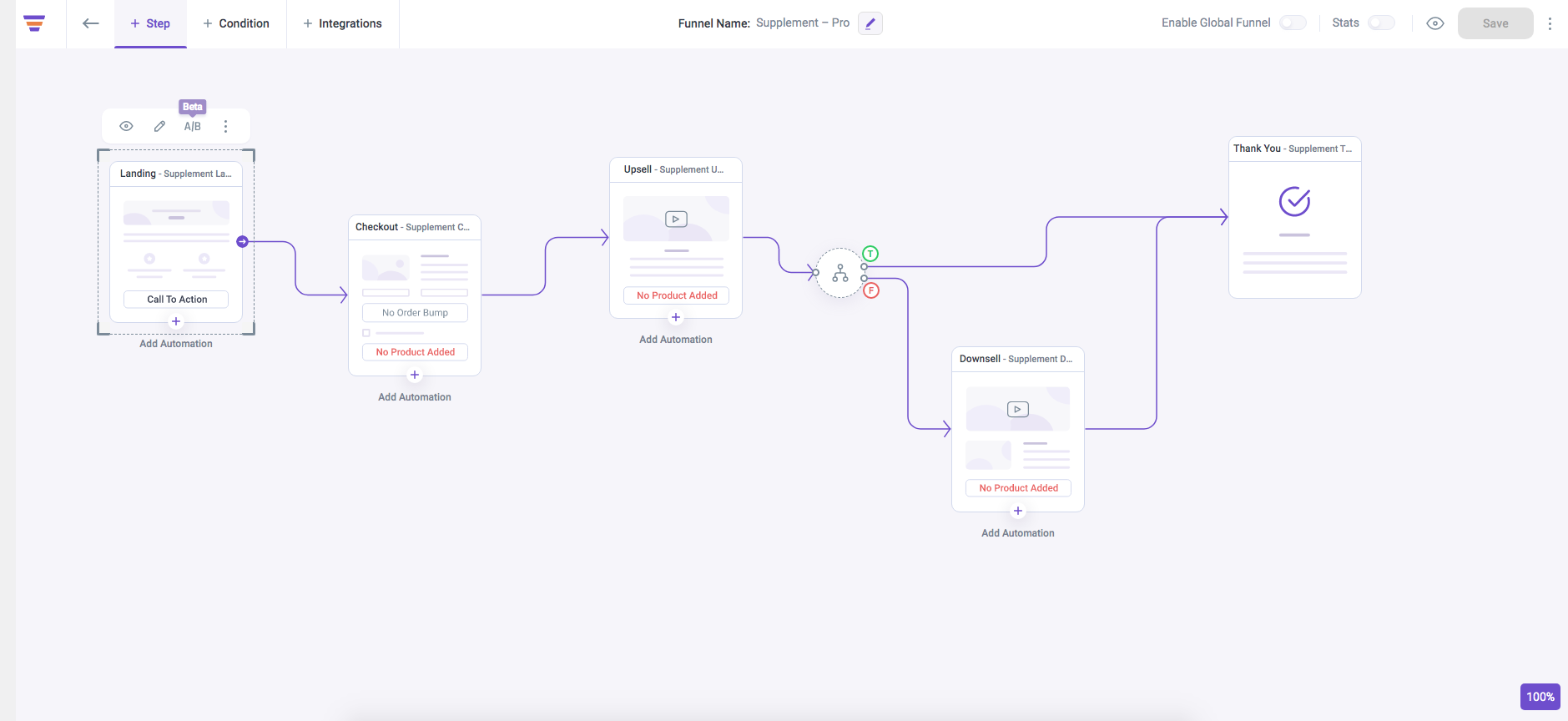 Assign the offer products to the right steps

Assign the main offer product under the checkout step
Set the dietary vitamins larger pack as the upsell offer
Offer a lower pack of vitamins as the downsell offer
Decide on attractive discounts that you normally don't offer
Design each of your pages with your preferred page builder.

Use the Next step button widget as the CTA on the Landing Step.
Use the Checkout widget on the checkout page.
Add two Offer buttons – one for accepting and another for rejecting the offer – on the Upsell and Downsell page.
Include the Order details widget to view the summary of the purchase.
That's it. You have a supplement sales funnel ready. Once you have created these sales funnels, it's time to market them using Paid Ads, social media marketing, or by sending them to targeted segments from the leads you collected using the lead generation funnel.
**These are not funnels for organic growth. People that naturally visit your store won't have access to these offers. So you need to make sure you promote it to the right target audience for maximum results.
If you combine this funnel with the previous lead generation funnel, you now have a powerful Supplement funnel in place.
3. Lead Nurturing Emails For Future Sales
Now, you don't just want to sell to each customer once. You want to make sure the same buyer orders from you over and over again in the future. As a result, some brand promotion and lead nurturing are necessary.
The concept here is to keep the leads warm whether they purchase or not. This you can easily do using email sequences.
Creating Lead Nurturing Journey For Your Initial Leads
Since you already have an automation set for your leads to send them an email for collecting the reward, you may further extend that automation for lead nurturing.
Follow the steps below:
On Mail Mint, create a campaign and choose the Email sequence for automation.
Here, create a 3-email series with 2-day delays between them and save it.
Edit the automation flow you created earlier for the lead generation funnel.
Below the initial email, add a delay of 1-day
Add an action – Email Sequence and choose the sequence you just created.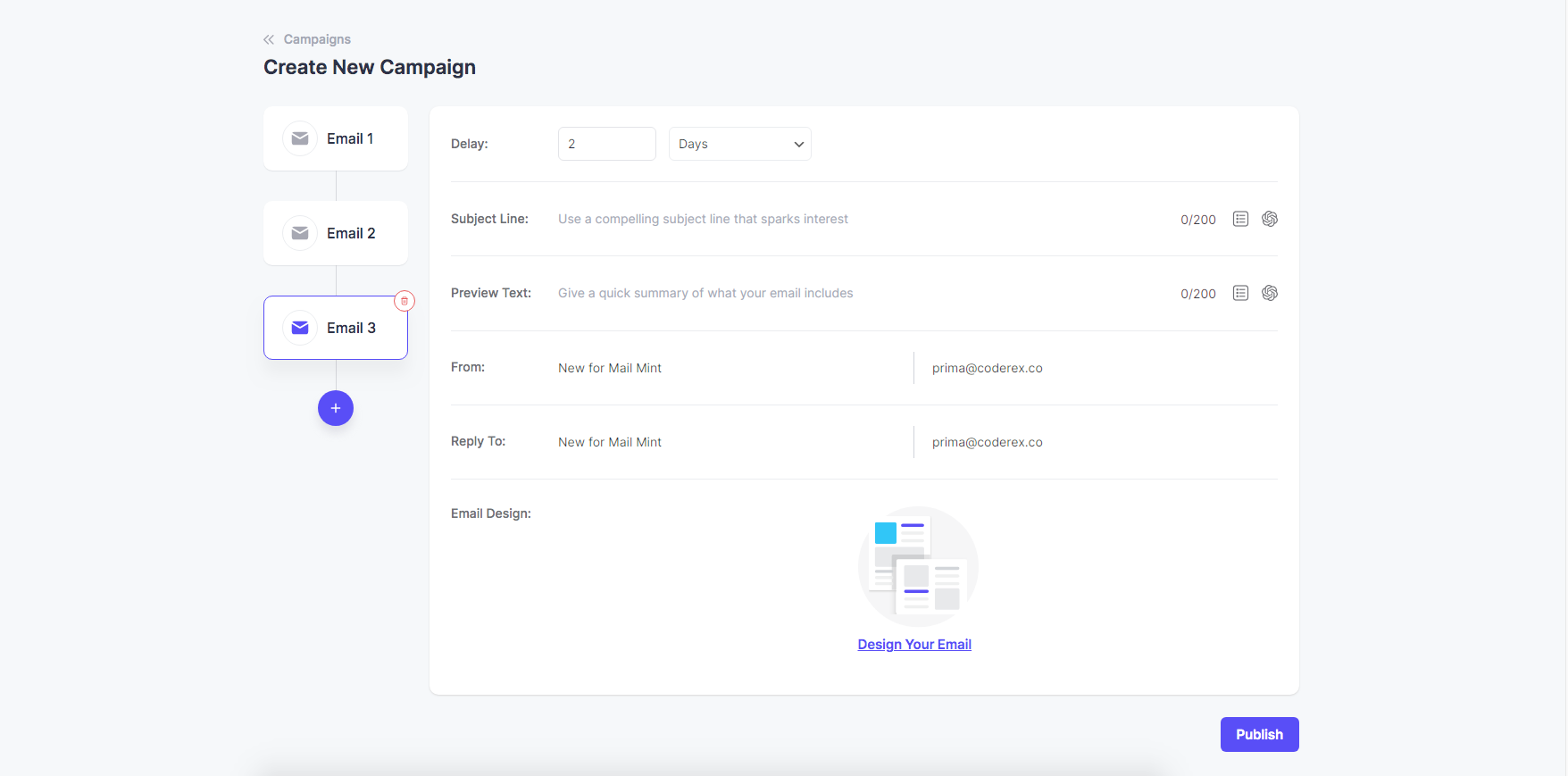 The emails in the sequence should have value-added content. It could be tips, checklists, facts about various supplements, and other free advice that your prospects may find useful. This will help to create a sense of credibility in you as you are giving free advice without offering anything.
It will act as both a brand awareness and lead nurturing process before you actually send them an offer – i.e. your supplement sales funnel.
Creating Lead Nurturing Journey For Your Buyers
You have nurtured your leads, but what about your paid customers? Well, you also need to warm them up for your future funnel plans.
Once you have the initial sales funnels in place, you should already start planning for your next funnel campaign.
For instance, you may decide that 1-month after you promote your initial sales funnel for your supplement products, you want to host a free boot camp where you will demonstrate when to use which supplements and what supplements to avoid in different scenarios. And on the process, you want to promote a monthly subscription service to get automatic orders every month.
This boot camp will definitely interest people that buy from you, especially the ones that purchased the bundle you offered in your sales funnel.
For this, you may set up email automation for your sales funnels to warm up your paid customers.
Now, here's the fun part when using WPFunnels and Mail Mint. They have a special integration so that you can set up Sales funnels and automation workflows on the same visual canvas.
That's what we will use for this step of your supplement funnel.
Follow the steps below:
Edit one of the sales funnels you created earlier on WPFunnels.
Below the Checkout Step, add an action – Add To List(s) and assign a unique list.
Set the trigger condition as "Checkout order is accepted"
Add a delay of 1-day.
Add an action "Send An Email" and design it.
Add another delay of 2 days, followed by another email.
And finally, a third delay of 2 days followed by a third email.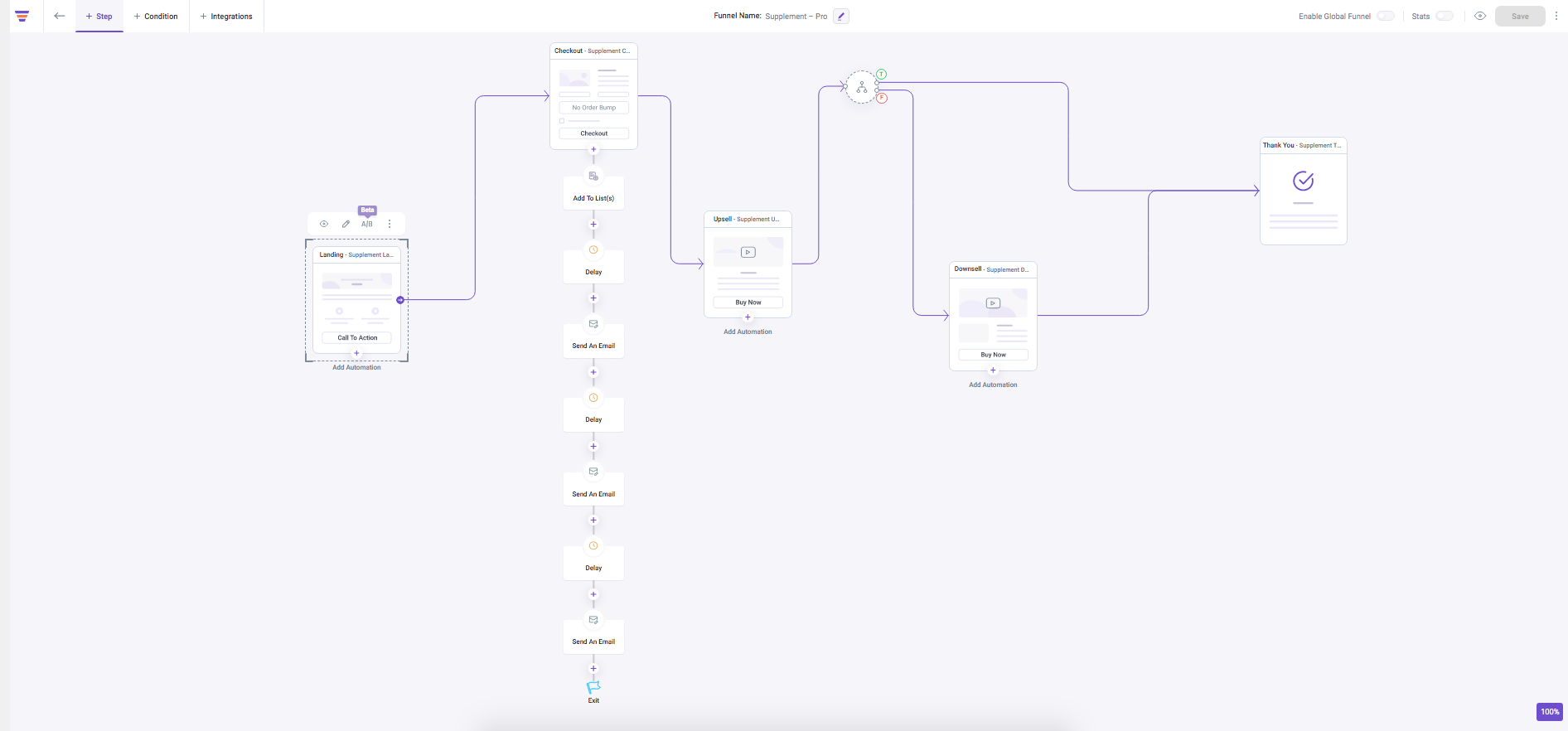 In these three emails, on the first, offer a coupon to purchase again in the next 10 days. It will often motivate many to come back and get more supplements.
In the second email, talk about problems people may face with the wrong supplements used.
And in the third email, give hints that they need to know more about supplements to hit their goals and mention you are preparing something that will help them gain this knowledge.
This sequence will warm up your prospect and build up their excitement before you ask them to sign-up for your boot camp shortly afterward.
Together, all three of these tactics will make up a powerful supplement funnel that will keep you ahead of the competition. More importantly, you may use this whole process over and over again every 6-months.
Final Thoughts
As you can see, a supplement funnel is a complete process that is designed to get you more and more sales over time, without worrying about significant organic growth or extensive competition. The combination of lead generation funnels, sales funnels, and lead nurturing ensures you have continuous orders placed with high conversion rates and limited resources used.
Yes, it requires some extra effort, but the output you will get will surely make it worth your time.
But a key aspect of the success of this strategy is using the right tools.
In this guide, I used WPFunnels & Mail Mint, which are designed to create funnel strategies for any business. If you own a WordPress site, then these are the tools you should consider looking into.
So go ahead and start creating your own Supplement Funnel and grow your business.
And if you haven't already, get WPFunnels & Mail Mint Now!