Sales funnels are a must for all online businesses to increase sales. However, it is important to choose the right type of sales funnels to get the maximum results.
Today we will look at the Quiz Funnel, a unique funnel approach that businesses often use to run targeted sales campaigns.
A quiz funnel helps to devise a funnel journey where you can collect useful data from prospects and then devise a meaningful funnel journey for every buyer based on their answers.
Any niche that offers a variety of services can leverage this approach to make the most relevant offers to the prospects.
In this article, you will learn what a quiz funnel is, when to use it, and how you can plan and create one for your business.
So let's begin.
Concept Of A Quiz Funnel
The basic concept of the quiz funnel is segmenting users by interest and then making them an offer they will be more attracted to.
Participants in the quiz are divided into groups based on their responses to a series of multiple-choice questions. These questions will help to qualify them for the different services you provide. Then you can make tailored offers based on their responses to the quiz.
Let's look at an example.
Suppose you are a yoga instructor and you provide Vinyasa, Ashtanga & Iyengar instructions online.
You may create a form to ask questions to find out the age, height, weight, preferred yoga type, etc. (Do collect the name and email of the prospect as well.)
But instead of giving a general text box, offer options in dropdown menus or radio buttons so that you have fixed answers.
Now, for all the information in the form, the main factor you need to worry about is the yoga type. You can set up individual offer pages based on each yoga type and take the prospect to the respective offer page based on his/her choice.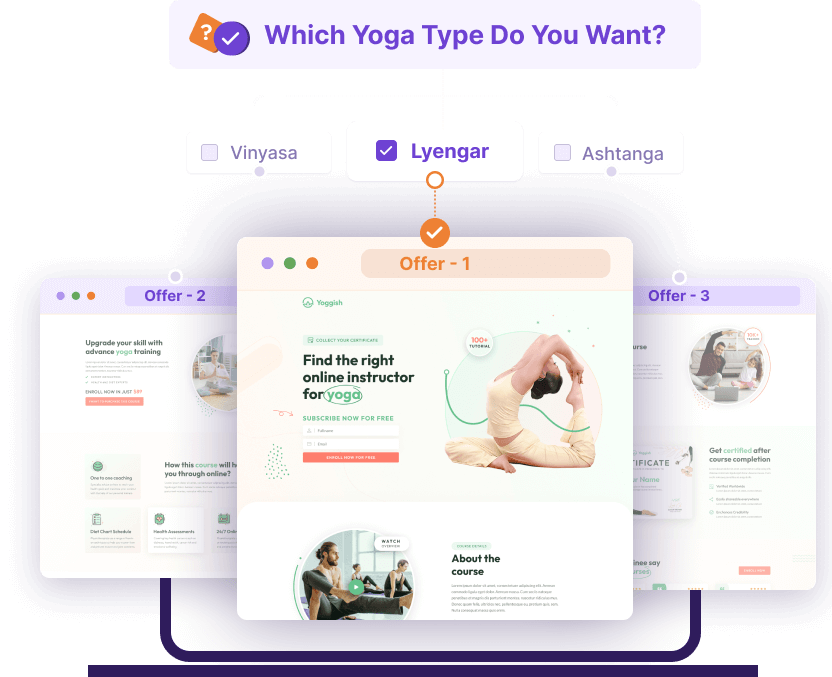 And weight is another qualifying question since overweight people may not perform all yoga types.
So, you may set up the next offers based on the answers to these questions. If someone falls under the overweight category, you may inform them they should choose a different type of Yoga.
For others, based on the Yoga type they selected, offer them the service with special landing pages for each.
Now, the reason this will help to get more sales is that the prospects will get personalized offers based on their choices in the quiz.
This will make them feel important, and the offers will feel more special since that's exactly what they wanted.
Once they are hooked, you can easily close the deal. For the ones who don't take your offer right away, you still have their contact from the quiz form they submitted earlier. So you can further run sales campaigns via email later on.
5 Niches That Can Benefit From Using A Quiz Funnel
This funnel is a way of making conditional offers to prospects so that you can offer the right services to the right potential clients.
And some businesses can benefit a lot more from quiz funnels than others. Following are 5 niches that should use quiz funnels.
1. Fitness Coach
If you are a fitness instructor, then a quiz funnel is the best way to collect leads and run sales funnels with personalized offers.
For example, you may ask questions like their age, weight, preferred fitness campaign (weight-loss, weight gain, cardio, etc.), whether they take alcohol or not, favorite food, etc. You may then make a personalized offer for each fitness campaign you have while also offering personalized diets based on their other answers to make your offer more convincing.
2. Realtors
The real estate industry is quite versatile. You may use countless types of sales funnels to close more deals. A quiz funnel is among the proven tactics that can help you convert more.
Since the choice of a house depends a lot on the location, budget, and a few other specific details such as preferred features in the neighborhood, roofing type, furnished/not furnished, etc.
You may devise a form to see if the buyer has the right budget and what location they are looking to purchase at, and then you may display a list of houses available for them that meet the budget and the location.
For the rest of the details, you may leave them on the details of your listings. This will certainly speed up the buyers' purchase process.
You may also look to use survey funnels to book appointments rather than waiting for them to choose from a listing. We will discuss survey funnels in another article.
3. Financial Advisors
Much like realtors, financial advisors can use a quiz funnel to get qualified clients into taking their services.
You may include questions such as monthly spending, income source, monthly income, credit score, etc. This will help not only to collect highly qualified leads, but you may also offer specialized consultation programs for prospects in different financial situations.
4. Business Coaches
Business coaches mostly prefer to use webinar funnels or book funnels to offer their services. But a third potential way to offer services is the quiz funnel.
As a business coach, you may ask the prospects about their business type, if they use any specific strategies, how much they earn a year, what is their yearly goal, etc. Make sure only to include options that you offer service for.
Then, for each case, you can devise a well-crafted sales funnel to offer them your service. This can be based on the business type, the goal type, etc.
5. Consultants
If you are a consultant who offers multiple consultation services, then a quiz funnel is the best approach to land more qualified clients.
Ask vital questions to identify which service your prospects qualify for and make separate offer pages to convince prospects to book a consultation session with you.
Planning A Quiz Funnel For Your Business
While planning a quiz funnel, it's important to choose the right qualifying questions that will help to make the right offer.
The secret here is that you should choose 1 particular question that can set apart your prospects.

You need to find one particular factor, the USP, that differentiates each of your services, based on which you may have different target audiences.

This question should be the main condition to take them to the right offer.
For example, let's say you are a fitness trainer and you offer weight loss, muscle gain, and stamina improvement programs.
This itself could be the main question, "What is your fitness goal?"
So, for each of these programs, you can devise separate sales pages. And then, based on the choice, present the respective sales page to the right prospect.
However, this one question is not enough to qualify the right prospect.
For example, if someone is underweight, offering him a weight loss program wouldn't make sense. So, in this case, weight can be another qualifying factor. Suppose, if someone is less than 70lbs, then even if he chooses weight loss as the preferred program, you may inform him that he should rather try the weight gain program.
There could be more qualifying factors. For instance, the location would be a factor if you provide live training. The time zone will be a factor if you offer live online training.
This means you should consider all possible outcomes and note down the main qualifying factors that decide what services you can or cannot offer.
As a fitness trainer, you will need the following questions:
Your Name
Your Email
Weight
Height
Gender
What is your fitness goal?
Do you work?
If you work, how long do you work a day?
How long do you sleep a day?
Are you allergic to any of the following food?
Now, you are seeing a few extra questions that may not have any impact on qualifying them for your program.
But they can be valuable data to collect for future campaigns, and these questions will make the prospect feel you value his requirements.
Now that you understand how to plan the questions for your quiz let's go ahead and look at how you can plan a complete quiz funnel.
General Steps For Creating A Meaningful Quiz Funnel
Once you know what questions you want to ask, first, you will need to set up the quiz on a landing page.
Next, you need to create separate sales funnels with dedicated sales pages for each of the personalized offers. These funnels will have 3 steps each – a Landing page, a Checkout page, and a Thank you page.
And, you will need email campaigns to reach prospects afterward.
Here's what the funnel journey looks like:
Run targeted ads to drive visitors to your quiz landing page.
After taking the quiz, direct the potential customer to a personalized sales funnel.
In case they do not take the offer, you may set up automation campaigns to reach them back to convert them later.
There are many other quiz funnel examples, but the fundamental procedure remains the same.
How To Create A Quiz Funnel In WordPress
Today, we will see how you can create this quiz funnel in WordPress.
To do so, you will need the following:
A form builder that allows conditional redirection based on answers.

We recommend you try using Forminator, a great form builder with which you can create any type of form.
A funnel builder that allows you to track user actions and plan visual funnels.

WPFunnels is the easiest WordPress funnel builder right now and the only one that offers an interactive visual funnel planner.
Once you have the tools ready, follow the steps below to craft a simple quiz funnel.
Step 1 – Create A Separate Funnel for Each of Your Services
In WPFunnels, you may create a sales funnel easily with just a few clicks. For each service, you have, create a separate funnel. As per the example, you will need three funnels that all have their own Landing, Checkout, and Thank you pages.
Make sure to make the Landing page copies dedicated to the service you created them for. Make the copy as personalized as possible and highlight the benefit of taking this offer.
**A personalized video in the first section often works really well.
Offer a discount on your service to make it more attractive.
**Here is a guide you can follow to learn how to create a sales funnel with WPFunnels.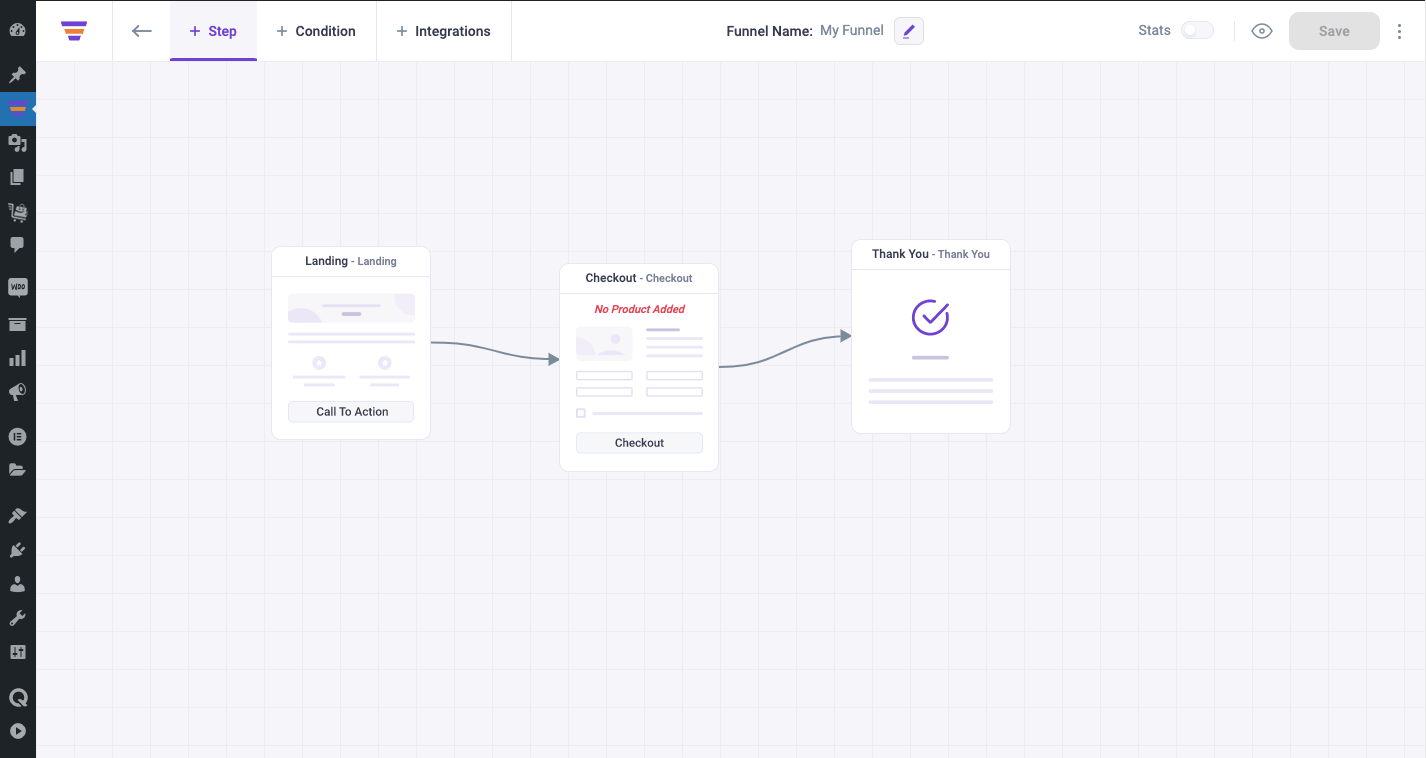 Step 2 – Create Quiz in Forminator and Set Up Conditions
Create a form with questions that has radio button answers or drop-down answers.
Once you have the form ready, set the conditions to redirect to the respective funnels based on the answers using its conditional behavior after the submission feature.
**Using Forminator you can set up conditional actions after form submission based on answers.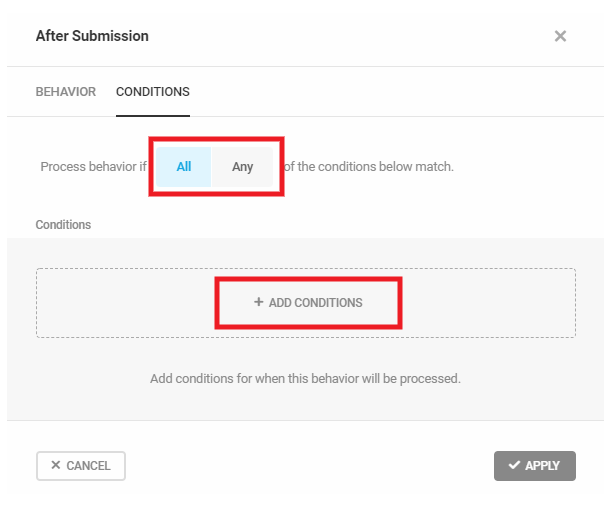 So, let's say you set the question, "What's your goal?" Then set up conditional redirection after form submission according to the answer:
Weight Loss > To the weight loss offer page
Muscle Gain > To the sales page for muscle gain
Stamina Improvement > To the funnel for stamina improvement
Step 3 – Prepare the Landing Page for the Quiz
You may devise another single-step funnel in WPFunnels, i.e., just a landing page. Use a good copy to convince the prospect to take the quiz.
Embed the quiz you created earlier on this page.
Step 4 – Setup Event Triggers and Send Data to the Automation Tool
In Forminator, you can easily set up the form data to be sent to your preferred automation tool using webhooks via Zapier. So whenever a form is submitted, make sure to trigger the data to be sent to Zapier, and then send this data to your preferred tool.
**Here's a guide to sending data to Zapier via webhooks.
In our case, we will send the data to FluentCRM while adding them to specific lists.
**And here's how you can send data to FluentCRM from Zapier.
In this funnel, we will add people to specific lists based on the offer they will get, "WLoss" list for the Weight Loss program, "WGain" list for the Weight Gain program, and "Stamina" list for the Stamina Improvement program.
Set up event triggers so that anyone who enters your offer pages and takes your offer, he/she will be added to a specific list and assigned a specific tag in your automation tool.
For example, anyone who enters your Weight loss funnel and takes your offer, add them to the list "WLoss" and assign them the tag "wloss_yes." For the Weight gain funnel, whoever takes the offer will be added to the list "WGain" and assigned the "wgain_yes" tag. And finally, for the Stamina funnel, add them to the list "Stamina" and assign them the tag "stamina_yes."
**You can easily set this up in WPFunnels as it has direct integration with FluentCRM. Here's how.

Step 5 – Schedule Email Automation Campaigns
Now that you have the funnel pages ready, the quiz is embedded, and you have set event triggers to assign lists and tags, it's time to set email campaigns.
In FluentCRM, for those who do not have a tag in the three lists you created, set up an email campaign to reach them with your offer again in a series of 3 emails. In the emails, use persuasive copy and a CTA to get to your offer page again.
**Here's a guide to setting up automated email campaigns in FluentCRM. You can also use Mail Mint for email automation campaigns
And that's it. Your funnel is ready.
The next thing to do is to start promoting your quiz funnel via Ads, social media, or any other marketing campaigns and reach targetted individuals. And the rest of the funnel will work on its own to deliver more qualified leads and more clients.
Wrapping Up
As you saw, a quiz funnel, unlike most other funnels, makes your offers more personalized and goal-oriented. You precisely know what to offer to your prospect and plan future sales campaigns for them as well.
Plus, it's super easy to devise a quiz funnel in WordPress. So go ahead successfully with your quiz funnel builder WPFunnels and form builder Forminator.