We just launched Mail Mint Pro a week ago, and we already have something special for you!
Today, we have launched the most unique feature ever. And it's something you have never seen before!
That's right! Since we announced Mail Mint, there was one special feature that we promised – a feature that will take your funnel-building experience to the next level!
A Single Visual Canvas to craft both your funnel pages and email marketing automation flows.
And the exciting news is, it's live now!
The Ultimate Funnel Building Experience – WPFunnels + Mail Mint
Back when we launched WPFunnels, we managed to deliver a new way to make funnel building easier for you. We introduced the visual canvas to let you plan your funnel journey and control its design & configuration in a single place within WordPress.
Definitely, it was the easiest solution you could find when planning a highly-converting funnel with custom pages, order bump offers, upsell & downsell offers, and special discounts.
However, one important factor that was missing from the funnel journey was email automation. You would need WPFunnels for your funnel pages, and then you had to send the buyer's data to another tool and run email marketing campaigns there.
But guess what? This is about to change.
The Special Integration You Will Love
We have created a special integration between WPFunnels And Mail Mint so that you can now create a complete funnel journey including funnel pages and email automation flows, right on the WPFunnels' visual canvas.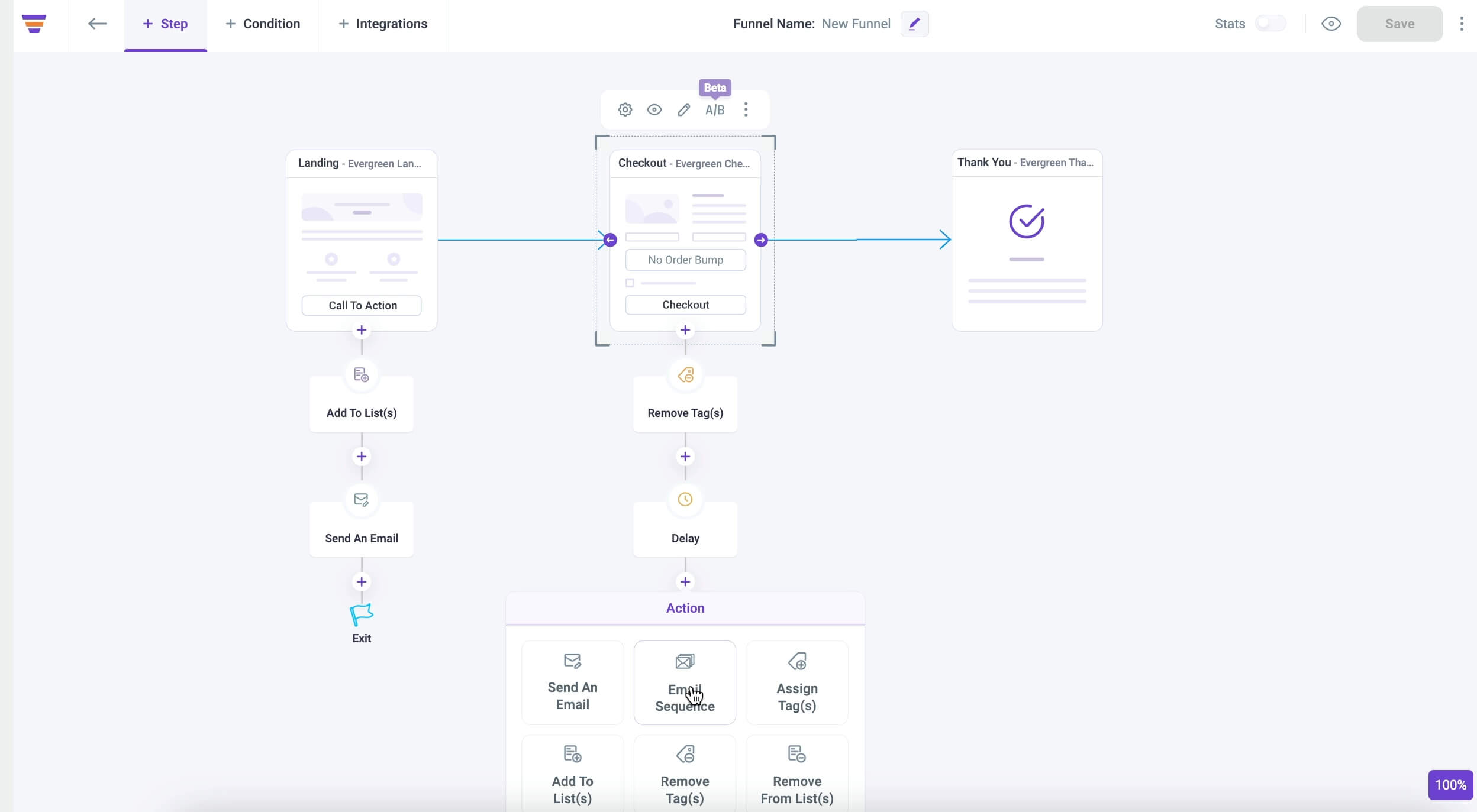 This means,
No more jumping between multiple tools to set up email campaigns for your funnels.
Stop getting confused when setting up your funnel automation flows.
Get higher conversion rates with well-planned funnel journeys and boost your revenue.
And it's easier than ever to use.
1. Add Automation For Your Funnel Steps With A Few Clicks
When you have WPFunnels Pro and Mail Mint Pro activated on the canvas, you will find the option to add your automation flows below every step.
Simply click on the "+" icon and choose the action you want to trigger.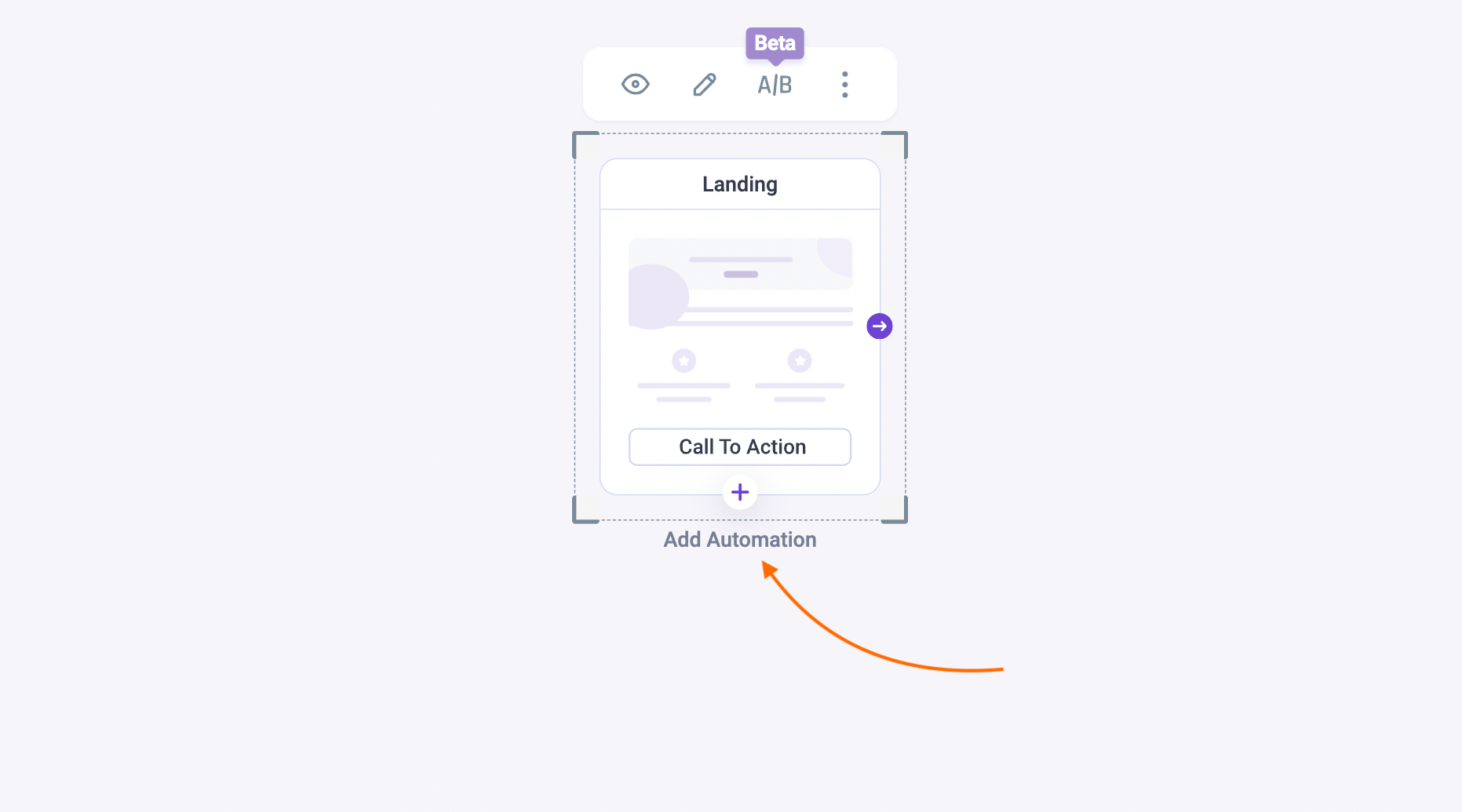 2. Specific Triggers Based On The Buyer's Actions In Every Step
Once you add your actions, you need to define the condition to trigger the automation flows. You will find it in the settings of the first action you add.
And the best part, you will find specific conditions depending on which funnel step you are setting up the automation flows for.
Events to Trigger Automation as per Step
Landing or Custom Step
CTA Triggered – run automation when a person clicks on the next step button.
Opt-in form submitted – trigger after a person submits the WPFunnels opt-in form.
Checkout Step
Order bump order – run automation upon accepting or rejecting an order bump offer on the checkout page.
Checkout order completed – trigger automation when a person goes through checkout.
Upsell Step
Upsell is accepted/rejected – run automation when an upsell offer s accepted or rejected.
Downsell Step
Downsell is accepted/rejected – run automation when a downsell offer is accepted or rejected.
3. Choose from seven different actions to trigger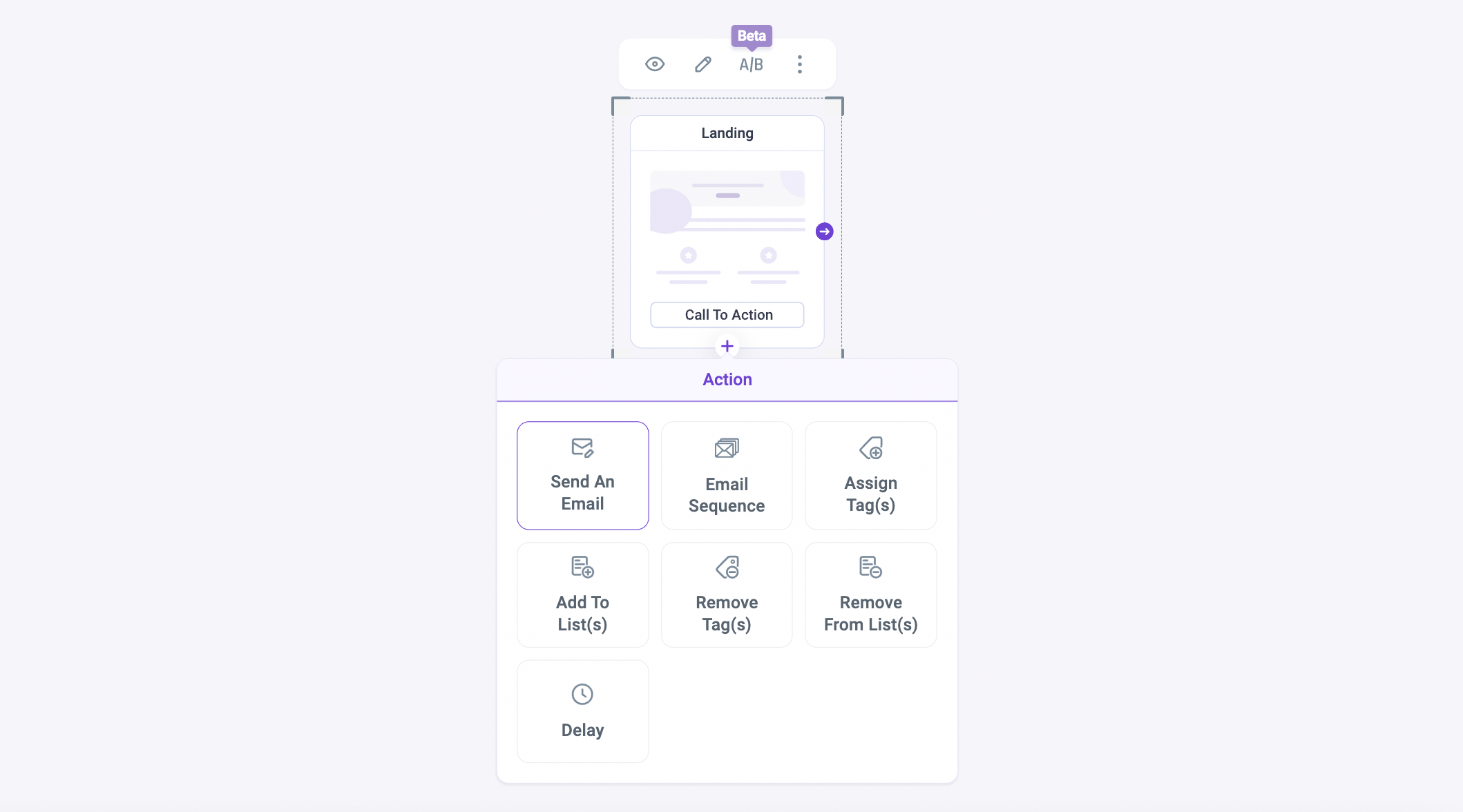 For each step, you can choose from seven different types of actions to trigger when conditions are met.
Send An Email
Email Sequence
Add To List(s)
Assign Tag(s)
Remove From List(s)
Remove Tag(s)
Delay
More are on the way!
4. Use The Advanced Email Builder Without Leaving The Canvas
Mail Mint offers an advanced drag-and-drop email builder that you can use to design your emails. And you may even choose from several pre-built email templates.
You will be able to access this email builder and the templates for your funnel emails without leaving the canvas.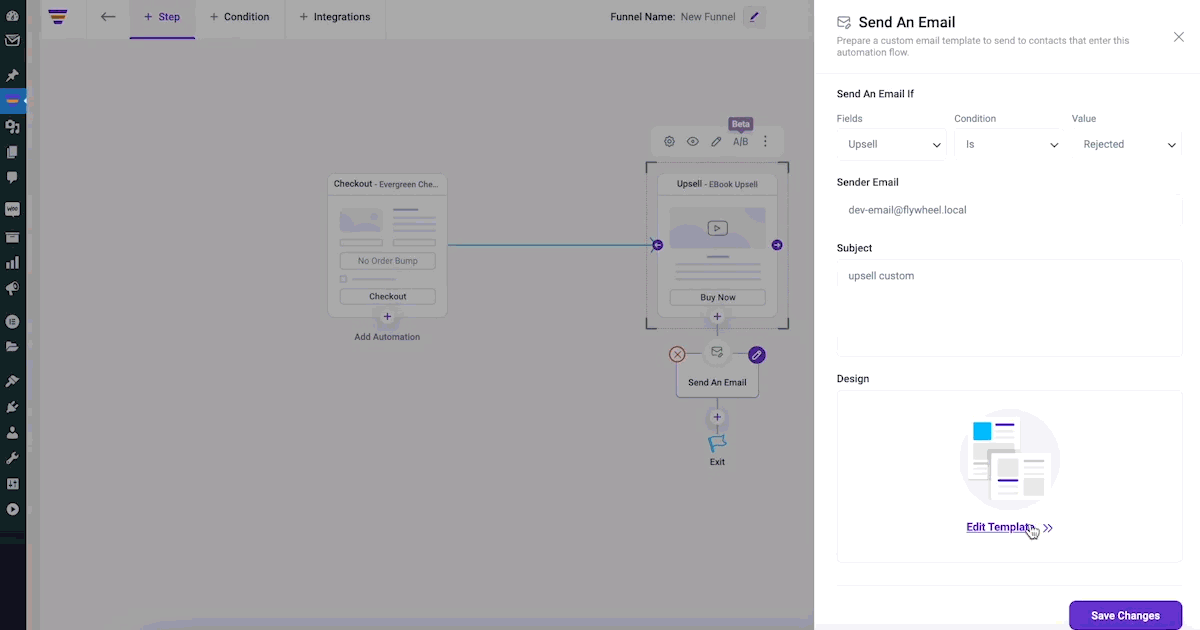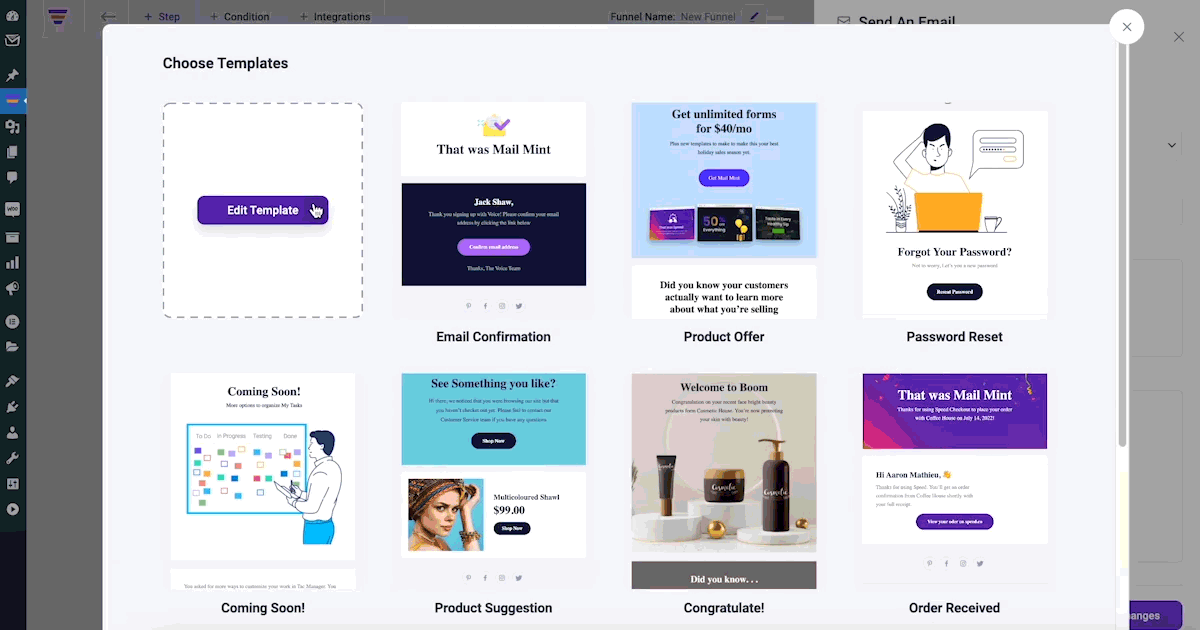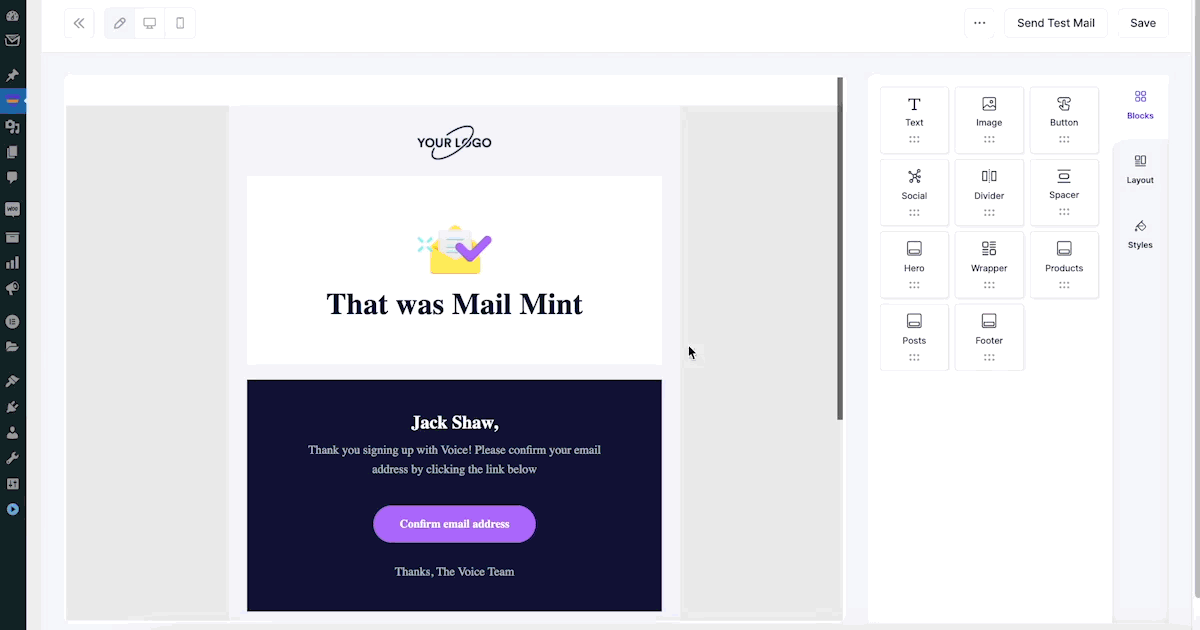 5. Add Unlimited Automation Flows For Every Funnel Step
There is no limit to how many actions you want to trigger for your funnel automation flows.
What's Next?
This is a start of a new chapter in funnel building. Over the next few months, we will add more amazing features, which will include
Conditional Actions
Abandoned Cart Recovery
Automation Recipes
Funnel Templates, including funnel pages & email automation flows
and many more.