Running a restaurant business involves focusing on many marketing and business growth areas. And one of the best ways to increase your revenue is by using email marketing.
However, the success of using email marketing for restaurants will vary depending on how well you manage to implement the right strategies. But you do not have to reinvent the wheel.
Today, we will look at some amazing restaurant email examples that have been successfully used by prominent restaurants out there.
You have to understand the strategy behind them and replicate these emails.
In this article, we will highlight 10 good restaurant email examples and explain why they work.
So, let's begin.
Is Email Marketing Effective for Restaurants?
Believe it or not, email marketing is actually one of the best marketing tactics for restaurants today.
According to Litmus, email marketing for restaurants can generate a very high ROI – $42 for every $1 spent.
If you can put the right email strategies in place, you can expect to make a good profit just from email marketing.
But it's not about just running discount campaigns.
Try to remember, did you ever get an email from a restaurant wishing you a "Happy Birthday" and inviting you to celebrate it with them? If you did, then you know that this makes you feel more valued and you start to trust the restaurant more.
Similarly, there are several email marketing strategies that you should be using, besides sending promotional emails & deals.
Restaurant Email Marketing Best Practices
Email marketing is not quite the same for restaurants as it is for most other businesses. It is more about increasing customer retention and average order value than getting new customers.
For example, if you send a promotional email about your cuisine to some random guy who has never been to your restaurant, he will probably put you in spam.
Let us look at a few best practices you should follow when planning to use emails for your restaurant business.
Do Not Send Cold Emails
As explained a couple of lines above, people do not appreciate getting cold emails from restaurants they have never been to. So avoid using one restaurant's email list for another, and certainly, do not purchase email lists.
Refrain From Demeaning Your Competitors
In many niches, people tend to compare their products and services to that of a competitor. In the restaurant business, this is frowned upon. You should rather strive to be the best on your own terms rather than be better than others. And the same should resonate in your emails. Avoid mentioning competitors or demeaning any of their food. Focus on why your food is good.
Appreciate Your Customers
Make sure your emails sound like you are excited to connect and be appreciative of them ordering from you. Remember, they are not bound to order from you. There are other restaurants they could go to. Since they chose you, you should be grateful and express your appreciation when you communicate with your customers.
Do Not Send Too Many Emails In A Short Time
This is probably applicable to any niche. Avoid sending frequent emails in a short span of time. A person would hate to get 3 emails in a day. Rather, you should try to send a maximum of two emails per week with unique purposes for each.
Do Make Discounts A Habit
Many restaurants keep on offering discounts every week. Do not make this a practice. Try to keep variations in your emails. This will keep customers curious about your emails.
Try To Personalize Based On Locality Or Food Preference
You have to make sure you connect with your customers. The best way to personalize emails as a restaurant is either to show how you maintain local heritage or by conveying how good your food is, specifically food that the customers prefer. (This can be done by segmenting your email list based on location and food preferences.)
Automate The Redundant Emails
Some emails are usually the same for every customer or sent every week in the same pattern. For example, the welcome email series will probably always be the same. Again, weekly newsletters or product showcases will probably have the same email anatomy. You may automate such email campaigns using the right tools to avoid spending hours on redundant email campaigns every week.
Now, let us look at a few restaurant email examples that have worked well for other restaurants. Focus on learning their best elements and improve your email marketing efforts as much as possible.
10 Great Restaurant Email Examples To Improve Your Email Marketing Efforts
Following are a few restaurant examples that we believe have been well-written and properly designed.
Let us learn why they work so well.
1. Restaurant Welcome Email (by Goop Kitchen)
Goop Kitchen has used a great welcome email with is perfect for connecting with new customers.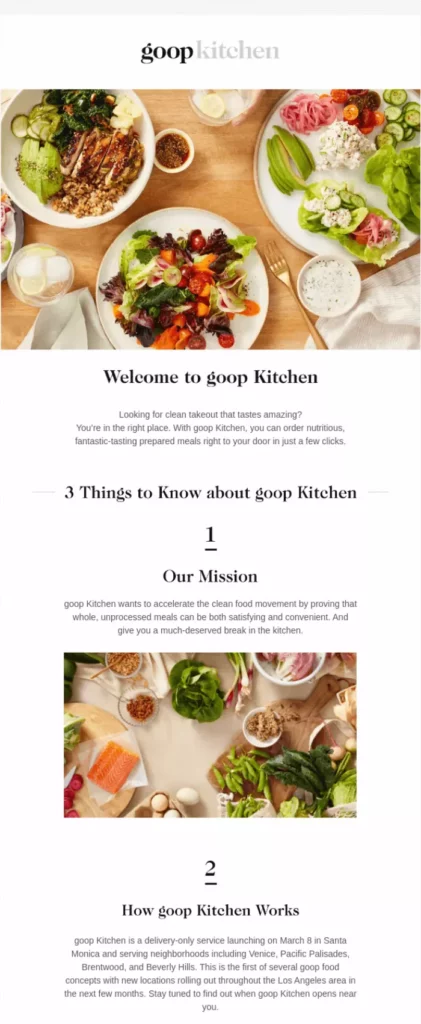 This email is good because
The whole email is a step-by-step section that people will enjoy reading.
Email copy is neutral, with no promotions in mind.
Customer feels welcomed genuinely.
The purpose of welcoming the customer seems genuine, just what customers like about their favorite restaurants.
2. Discount On New Dish (by PizzaExpress)
Pizza Express is a great pizza joint, and they used the following email to offer a discount on a returning dish that people demanded in the past.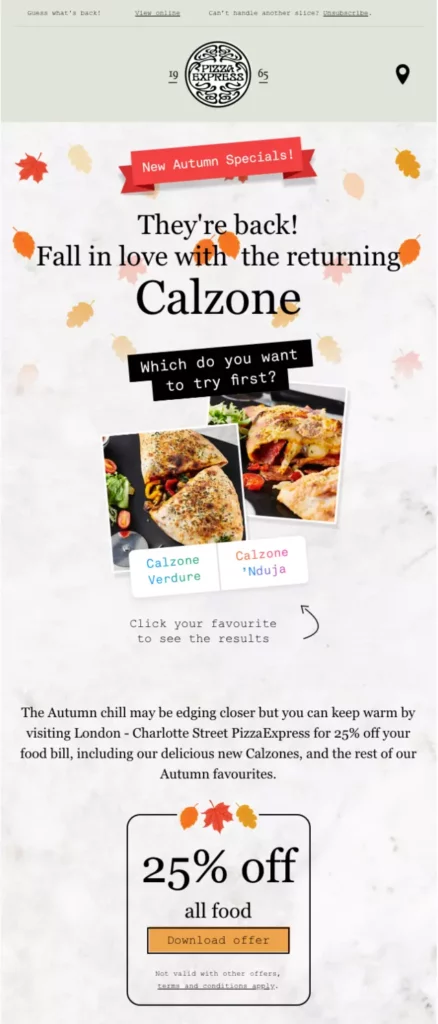 This email is good because
Highlighting a dish that was in high demand.
Offered a good 25% off.
A clear message that this is a customer-favored decision.
3. Holiday Food Promotion (by Cracker Barrel)
Cracker Barrel is a popular restaurant in Tennessee, and before Christmas, they boosted their sales via emails.
Here's the email they used:

This email is good because
It's referring to an upcoming festival, Christmas, which people will be able to relate to.
States the emotional connection involved in buying the dish highlighted.
A bonus is offered to give a push for orders.
Clear instructions on placing orders and deadlines.
The email design resonates with Christmas.
4. "Meet the Chef" Email (by PosterMyWall)
PosterMyWall planned this amazing email template to introduce the Chef and the next special of the week.
This email is good because
Introducing the Chef who will be cooking in the next event.
Connected the theme beautifully with Halloween.
In the next few sections, the chef's special is also highlighted.
Made the whole thing transparent, i.e., more personalized for the customer.
5. New Menu Update Email (by Gusto)
Gusto is a great Italian cuisine, and they used a beautiful email template to inform people about the change in their menu.
It is one of the cleanest restaurant email examples in this list.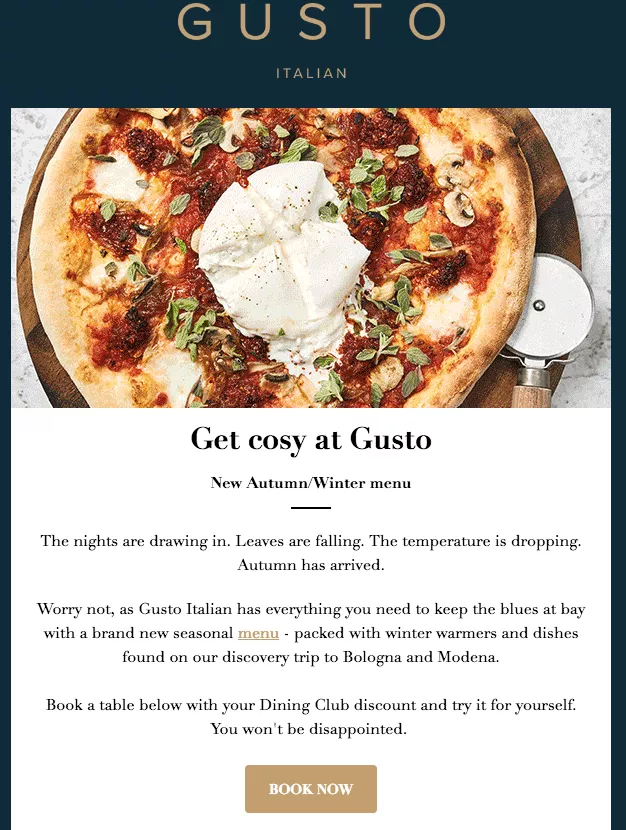 This email is good because
The email is a good mix of showing how positive the new menu is and inviting customers to try it out.
Cleary states that they have a new menu, which they are confident about.
Kept it simple with no distractions or promotions.
6. Birthday Celebration Email (by Jefferson's)
Jefferson's is famous for chicken wings and is usually very creative with their marketing activities. Their approach to birthday emails is super effective.
Here's the email.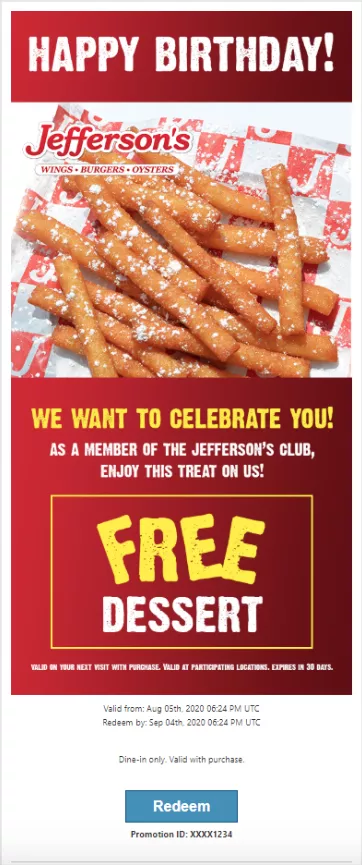 This email is good because
The "HAPPY BIRTHDAY!" header immediately resonates with the occasion, making the customer feel special.
Design, color, and image are just about perfect to highlight the brand and create excitement.
Highlighted "FREE DESSERT" to grab the attention of the customer.
The overall email is well-planned and is designed to make the customer feel that they really care. This is definitely one of the best restaurant email marketing examples you will get online.
7. The "Ask for Review" Email (by Jack's Backyard Bar-B-Que)
Jack's Backyard Bar-b-que did a great job in designing a good email to ask for people's feedback and reviews.
Here's an email from Jack's Backyard Bar-b-Que :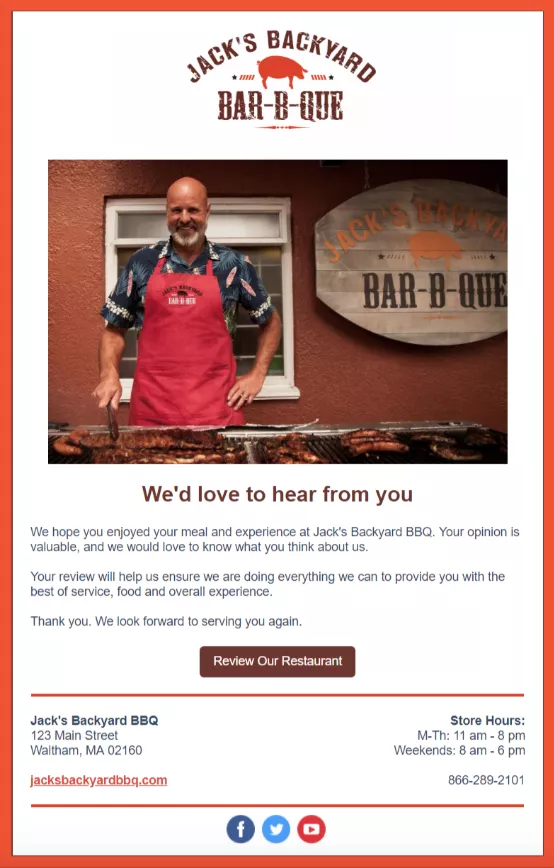 This email is good because
The image of the chef shows that this email is not about promotion.
A humble email copy indicates there is no additional intention other than asking for a review.
It shows how confident the restaurant is about its food quality while still caring about what people think.
This approach will help get more reviews for your restaurant on public review sites.
8. Increase App Downloads via Email (by McDonald's)
McDonald's is pretty famous all over the world for fast food and takeaways. They have used a brilliant email to increase their app downloads.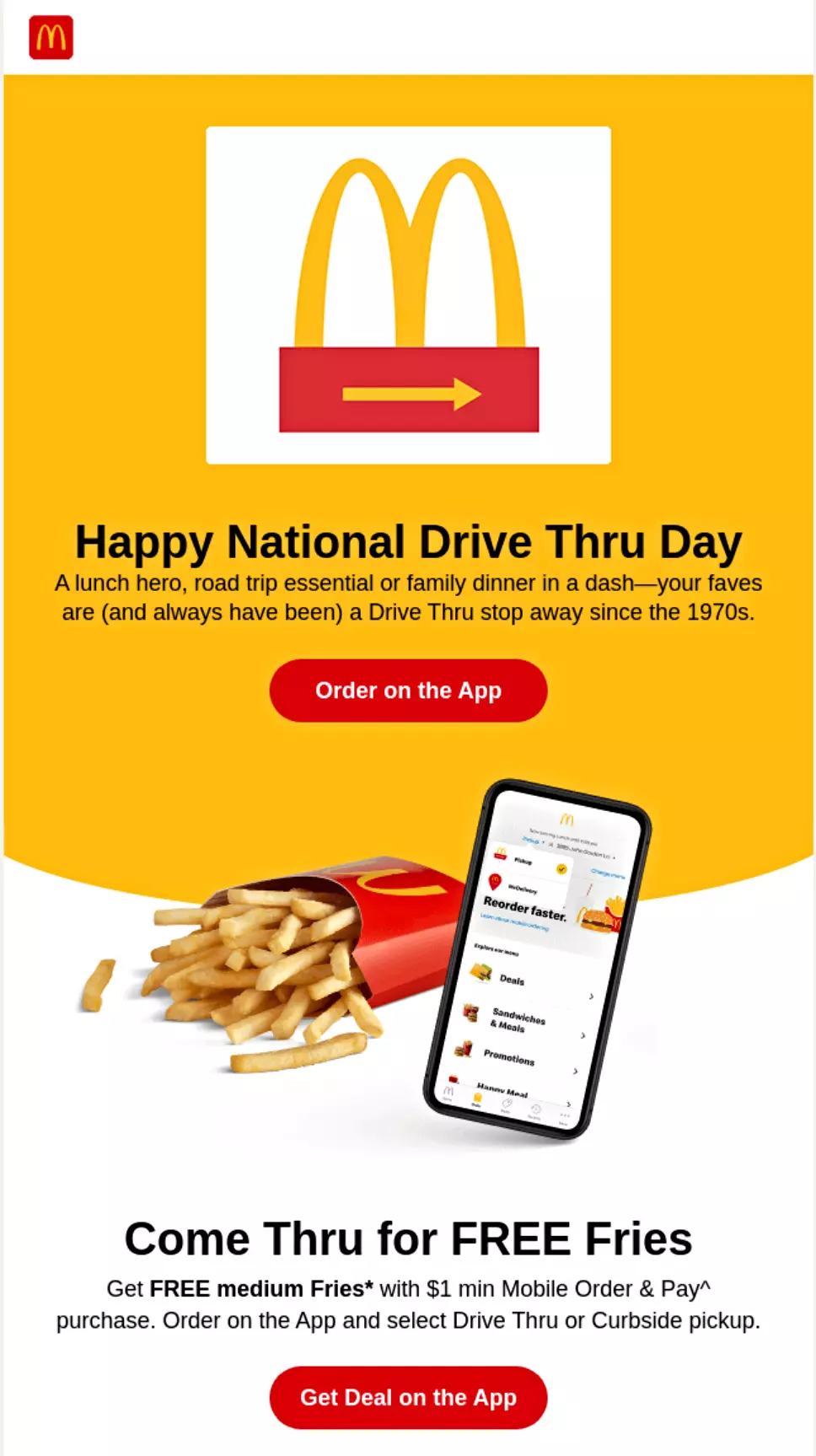 This email is good because
First, it made sure people knew what brand it was. (This is important to do for large restaurant brands.)
The message is clear – they want people to order via the app.
A clear offer stated – free fries – if an order is placed using the app.
It just shows how large brands know their customers really well. This email got their app downloads to millions in no time.
9. Weekly Feast Offers To Keep a Constant Engagement
Regular deals keep customers coming back! But you could also plan a deal on a weekly basis.
Here's an email that was used by Chiptle to highlight their Monday special free delivery. This is a weekly promotion they use for more orders on Mondays.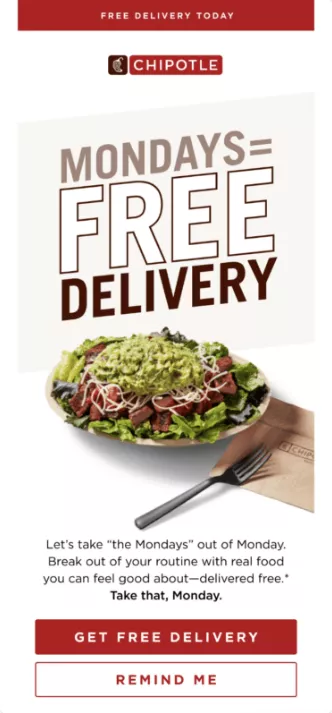 This email is good because
Using "the Mondays" cleverly addresses the typical Monday blues, making it relatable.
The email directly highlights the "FREE DELIVERY" benefit, drawing attention immediately.
The "REMIND ME" allows users to avail it another week if not the next Monday.
Having a weekly special deal on a particular day will help keep your restaurant in mind if people are to place orders on that day.
10. The Urgency Trigger On Special Offer (by Doughp)
Doughp has taken its cookie selling to the next level with email marketing. Here is an example where they used urgency to get more people to sign up in their rewards club.
This email is good because
The highlighted text is perfect for creating hype.
Email is clearly indicates people are missing something important and time is running out.
Clearly states the special offer they will miss if they do not take action.
It's a well-written email and a brilliant design.
Conclusion
These restaurant email marketing examples are some ways you can promote your restaurant and attract customers.
But there are several restaurant email marketing strategies that you need to understand before you can apply these ideas.
So, let's go ahead and learn how you can set up your restaurant for email marketing.
Read it now.