Planning is a crucial part of starting a sales funnel. You have to decide what steps you want to involve and the funnel journey you want to create for your prospects.
But, simply scribbling the plan on paper may not be the ideal way to go on about it. Instead, it's best to visualize and map out the steps so that the whole funnel journey is clear and concise.
Today, you will learn about the best funnel mapping tools out there that you can use to start planning your sales funnels immediately.
Funnel mapping refers to creating the flow of your funnel visually by connecting the steps of your funnel in the right direction.
If you have this visualized plan, you can then proceed to design your funnel steps more accurately without any confusion.
In this article, you will find 6 of the best funnel mapping tools that have proven to make planning sales funnels much easier.
So let's begin.
6 Best Funnel Mapping Tools To Plan Sales Funnels In WordPress
Funnel mapping tools are designed to visualize your customer journeys via diagrams, but they are not necessarily limited to mapping.
Some of these tools may have more use than just planning a funnel. So when choosing a funnel visualizer, first make sure it has all the features that serve your purpose.
For example, if you just need to map out a plan, then go for a tool that has nothing more than that, such as pretty funnels. But lets you want to visualize a funnel journey and create that journey as well, then you should go for a likewise tool such as WPFunnels. There could be more purposes there.
Let us look at the following tools and learn how they can help you with your business.
1. WPFunnels – Visualized Funnel Mapper & Builder In WordPress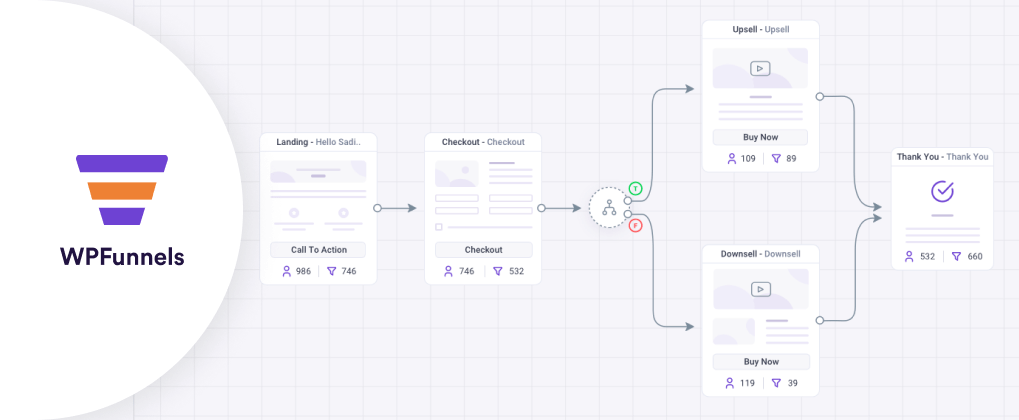 WPFunnels is currently the easiest sales funnel builder in WordPress.
This plugin comes with a visualized drag and drop canvas where you can plan your online sales funnel steps without leaving your WordPress dashboard.
But that's not all. This is, in fact, a sales funnel builder. So right after you plan the funnel steps, you can then edit each of the step page designs, assign the funnel & offer products, and launch a live funnel campaign right then and there.
As a funnel builder, it has all the features needed, such as order bumps, post-purchase upsell & downsell offers, exclusive funnel discounts, and many more, to create highly converting sales funnels.
It also comes with several niche-specific funnel templates that include complete funnel flows and page designs, which you can start using on-the-go.
So if you are looking for a visualized funnel planner and builder within WordPress, this is your best choice.
2. Funnelytics – Funnel Planning & Tracking Tool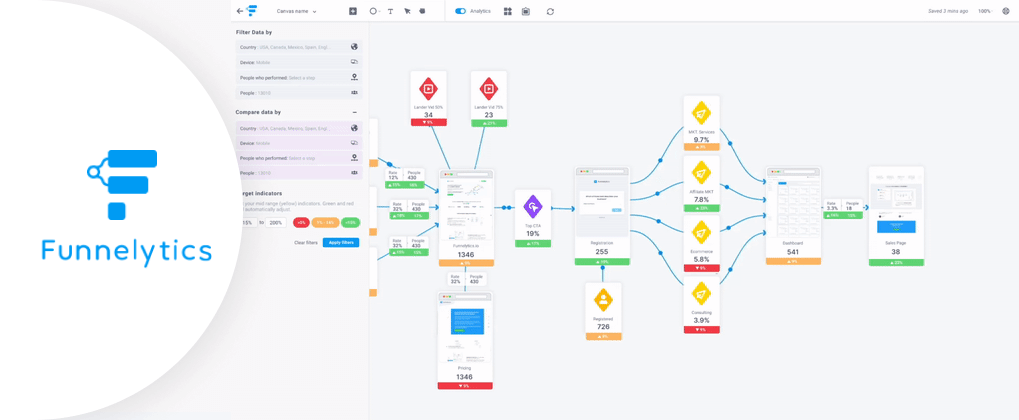 Funnelytics is the most popular funnel mapping tool out there where you can map out complete funnel journeys, including funnel pages, emails, and actions. Once you plan it out, you can then use it as a blueprint when creating your actual funnel on your website.
This tool comes with several funnel step templates which you can take ideas from. This is very useful if you are new to understanding sales funnels.
On top of funnel planning, Funnelytics also allows you to connect funnel steps to the links of your original funnel pages and track their performances. It acts as an analytics tool for your funnel.
If you want to use an external funnel mapper that can be used to track your funnel pages' performance, then this is a great tool for you.
3. Geru – Funnel Planner With Performance Forecasting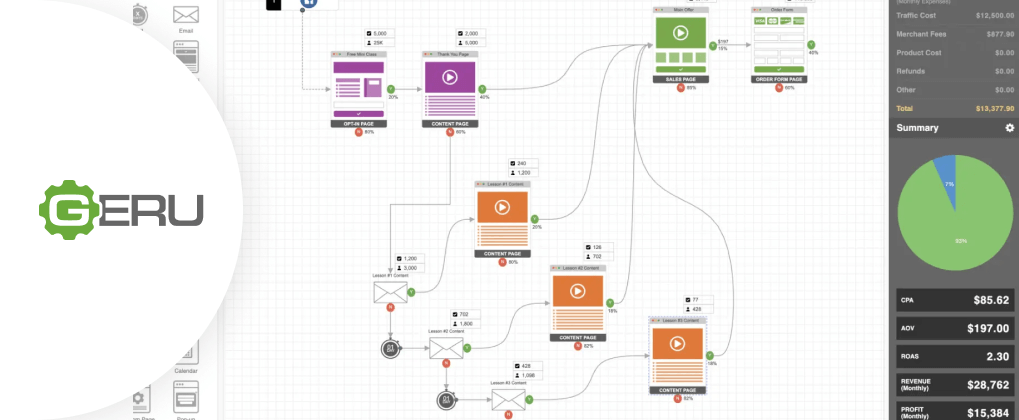 Geru is very similar to Funnelytics when it comes to funnel mapping and includes several ready funnel plans.
However, it has more use than that. This tool is more popular for being able to forecast reports for your funnel flows based on some of your provided data, with a super easy-to-use interface.
Geru doesn't track analytics, but it comes with a powerful Logic Engine that calculates your potential numbers instantly.
If you are looking for a funnel planner with which you want to try and estimate an outcome, then you may go for this tool.
4. Pretty Funnels – Free Funnel Visualizer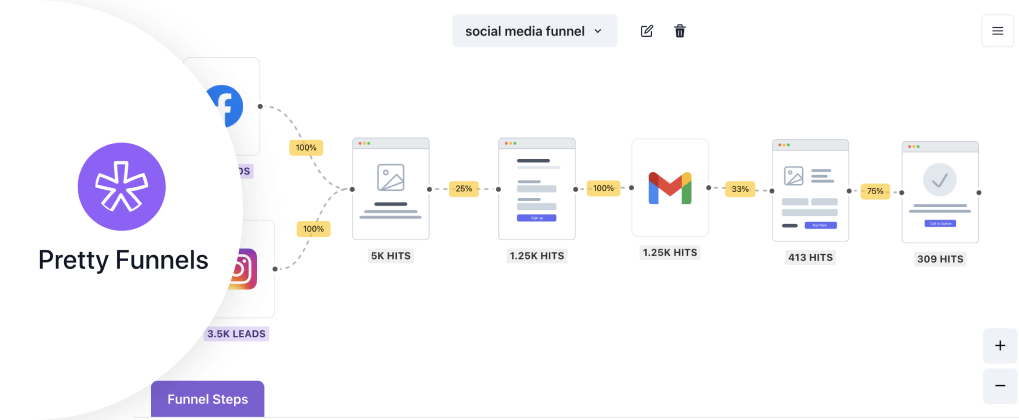 Pretty funnels is a completely free funnel visualizer to organize and optimize your funnel flows.
It's pretty straightforward – simply drag and drop steps to the canvas and connect them in order. Then assign traffic and conversion rate to each step and get an idea of how much turnover you may get from your funnel.
If you want a free funnel planning tool that is easy to use, then you may choose to use this tool
5. Funnel Flows – Visualizing Marketing Funnels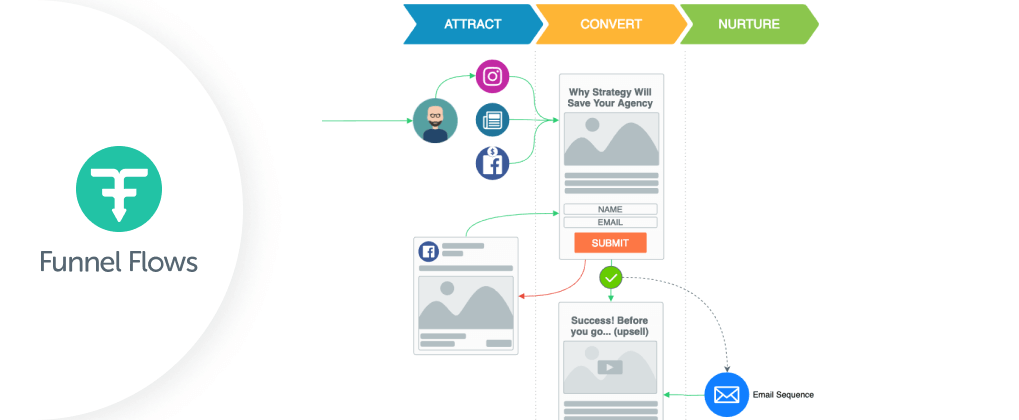 Funnel Flows, unlike other tools, helps you visualize a marketing funnel based on different funnel stages.
You can use it to map out your funnel journey in Attract stage, Convert stage, and Nurture stage for your prospects. It's super simple and a great tool to plan out the customer journey for every venture you explore.
If you want a simple mapping tool to plan a marketing funnel, you can try Funnel Flows.
6. MarketPlan – Funnel Planning Tool For Agencies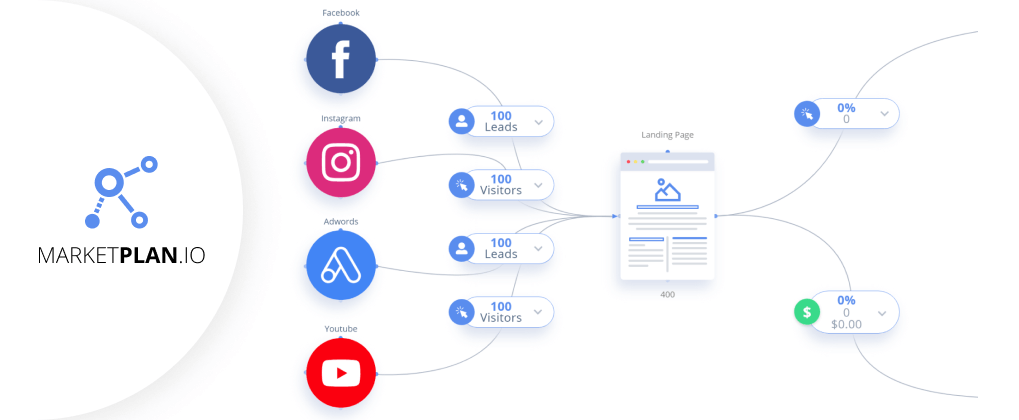 Market Plan is a unique funnel mapping tool that lets you plan the funnel flows of any stage of a marketing funnel for execution. It's mainly used by agencies to plan and demonstrate a complete funnel to a client before taking on a project.
For example, you can design a funnel flow for a promotion campaign that includes Ads, Social Media Marketing, and Email Marketing.
Next, you can input the current CPC and conversion rate (from research data) for each step to get a projection of possible outcomes.
You can then generate a preview of the whole plan to share it with clients when offering your services. Once approved, you may then share it with your team and assign the right people to design and execute each step of the plan.
So if you are an agency and want a tool to plan advanced marketing funnels for clients, then Market Plan might be the tool you are looking for.
Author's Note
Nowadays, it has become evident that sales funnels are a necessity for any online business, whether you sell products, courses, services, or solutions. But you need the right tools to plan and build your funnels.
You may choose any one of the tools in this list and visualize a complete funnel journey easily. What you rather need to do is judge them by what other benefits you can get out of them.
As per my recommendation, if you use a WordPress site to sell products via WooCommerce or sell courses, maybe via LearnDash, then you may choose WPFunnels since it includes the funnel mapping canvas to both plans and build sales funnels.
For funnels outside WordPress, any of the other tools will work just fine. If you want to track performance and get help with funnel ideas, go for Funnelytics, and if you want funnel flows with forecasted results, then Geru would be great, and so on.
Just make sure you are able to achieve your goal with the tool you are choosing.
If there are other similar tools you have used for funnel mapping, please share them with us in the comments.
Happy Funneling!