Creating sales funnels can be quite expensive and complicated at times. And in WordPress, it is even more difficult to craft highly converting sales funnels on your own.
But did you know, there are 4 amazing WordPress funnel builders that you can use completely free of cost?
These are plugins that you can directly download from the WordPress repository and start using immediately.
However, it is important for you to take time and decide which funnel builder is the best one for your niche. Each of these plugins has its own unique features that set them apart from one another.
In this article, we will list 4 Free WordPress funnel builder plugins that are user-friendly and will help you create highly converting sales funnels easily.
After reading this article, you will:
So let's begin.
What Is A Sales Funnel?
Before we look into the tools, let's get a basic idea of what a sales funnel is, and then we will look at an example of an effective sales funnel.
A sales funnel is a step-by-step process where you qualify your prospect for the next stage of your marketing agenda and the end result will earn you revenue.
For example, this could be getting people from a specific niche to sign-up for a free course, which will give you an email to reach them later with attractive offers for paid courses. Or this could be when you make special offers for people who are purchasing a certain product.
The idea is to nurture your prospects into paying customers that will purchase more than what they initially planned, and then make purchases again and again.
Now, don't confuse a marketing funnel with a sales funnel. A sales funnel is only a part of the whole marketing funnel.
This is the stage where you have leads who are willing to purchase your product or service, and you have to craft a good sales funnel that will convert these leads into buyers, and try to make them spend more on every purchase.
Let's look at a practical example.
Suppose you own an eCommerce website where you sell vintage shirts for people between the age of 15 to 30. This is an age group that is very active on Facebook.
Now, recently you brought a new t-shirt design to your shop that you are hoping will sell well.
So here's what you can do.
First, create an attractive landing page for the t-shirt.
Then devise a checkout page with an order bump offer that will give the buyer a 5% discount if he purchases 2 instead of 1.
Include a second-order bump offer for another related product that the buyer can choose to add to the checkout page on the go.
Then set up a Thank You page to appreciate the purchase by the buyer.
Once you have this ready, you can then run a paid Ad on Facebook targeting the age group 5-30.
Upon clicking the Ad, the prospect will be taken to your landing page.
This is a simple but great sales funnel.
Every prospect you are bringing in will be attracted by your landing page and will proceed to purchase.
But during purchase, they will get more options – either they will love your 5% discount offer for more quantity, or they may choose to purchase the other related product you have for him as an order bump.

The idea here is to try and persuade the buyer to accept one of these order bump offers and increase the amount he will be spending.
Likewise, many people also make upsell offers after the checkout step which works really well in making the same buyer spend even more.
All-in-all, a sales funnel will help you grow your revenue.
Now that you know what a sales funnel is, let us look at the best free WordPress funnel builder plugins that you can use to create such funnels.
Best Free WordPress Funnel Builders To Boost Your Revenue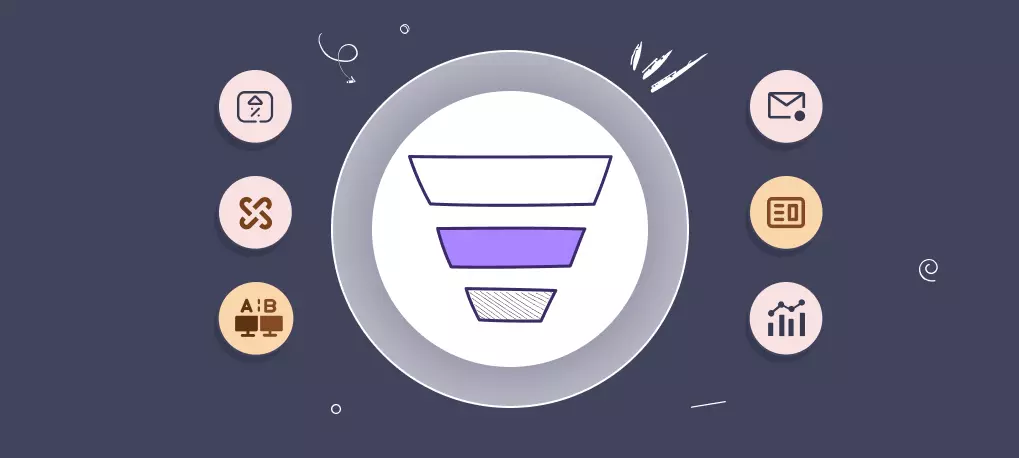 The 4 plugins that we will look at today are really good. We have tested each of these WordPress Funnel Builders to make sure they work fast and smooth through your sales process until they eventually convert into paying customers.
Let's dive into it.
1. Drag & Drop Sales Funnel Builder for WordPress – WPFunnels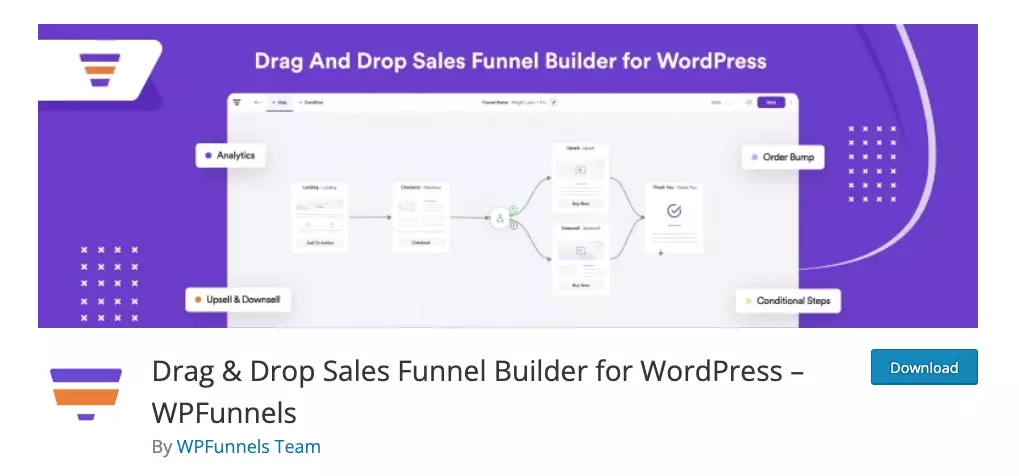 If you're looking for a funnel builder that's easy to use with a visualized funnel planner, then WPFunnels is the best choice.
This is the first WordPress funnel builder that comes with a visual funnel planner where you can plan your funnel steps on a drag and drop interface.
Once you have planned a journey, you can then easily design the funnel pages within your WordPress site using your preferred page builder.
The best part of WPFunnels is everything in the plugin is simplified. You do not have to go back and forth within every step page to define the journey. You control the whole funnel functionality from a single visualized dashboard including deciding the number of steps, choosing the offer product(s), configuring the offers, and so on.
Exclusive Features:
Drag-and-Drop Canvas To Build Funnels Easily.
Pre-made sales funnel templates.
Order bump offers at the checkout.
Dedicated discounts for funnel Products.
Opt-in Form To Collect Leads.
UTM Parameters support.
Compatible with major page builders.
WPFunnels Pros:
Planning a sales funnel visually is crucial. And WPFunnels certainly make it possible without any external tool.
It comes with pre-made templates for several niches.
It reduces the funnel building time to less than 15 minutes.
The plugin not only makes it easy to plan your funnels, but you also have full control over page designs.
WPFunnels Cons:
The plugin is relatively new and needs time to support other product types such as paid memberships, product bundles, groups, etc.
Who Should Use WPFunnels?
WPFunnels is great for medium-level online shops that sell somewhere around 50-500 different types of products in WooCommerce.
If you are an online coach or course creator, then WPFunnels Pro would be the most sensible choice.
Also, as an agency, you can offer sales funnel services in WordPress much more easily compared to several SAAS tools out there.
How To Get WPFunnels?
You can get WPFunnels from the WordPress repository.
However, WPFunnels also has a Pro version that comes with more amazing features such as one-click upsells after checkout, conditional global funnels for WooCommerce, detailed analysis, webhooks support, FluentCRM integration, etc. And you can get it at a very affordable price.
Plus, its latest beta launch includes a direct integration with LearnDash which will allow course creators to craft sales funnels for their courses without using the heavy WooCommerce.
2. CartFlows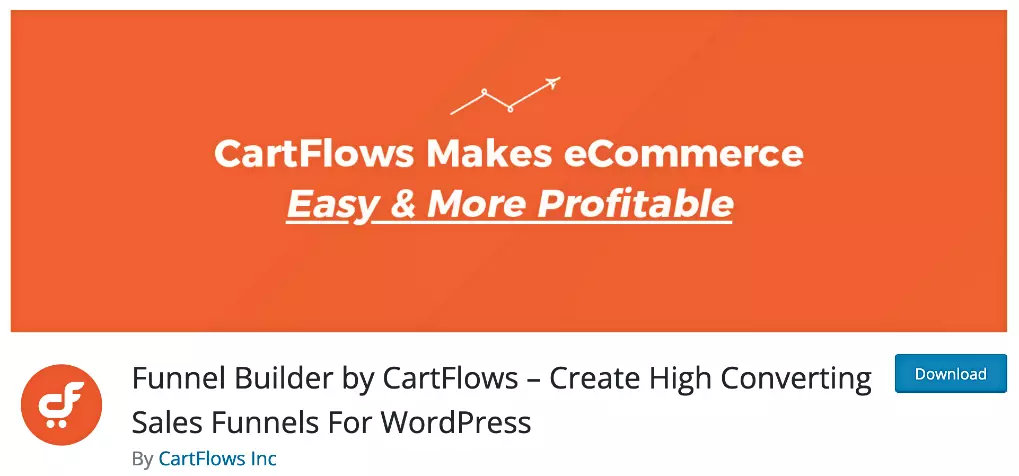 Cartflows is currently the most commonly used funnel builder in WordPress and probably the oldest one there.
This plugin has introduced the concept of sales funnels in WordPress, although a bit complicated to use. Nevertheless, it allows you to create customized sales pages and optimized checkout pages with order bump offer, and beautiful thank you pages.
The free version of CartFlows lets you create up to three sales funnels, which is perfect for most small businesses.
One of its major features is you can design your own custom order bump designs and reuse each order bump design in various funnels.
Exclusive Features:
Organized drag and drop funnel page steps.
Fully integrated with WooCommerce.
Custom order bump design.
Compatible with most WordPress page builders.
Facebook Pixel Integration.
CartFlows Pros:
Pre-built templates are really easy to customize.
More of a native WordPress UI to understand the plugin easily.
Detailed resources are available to learn the plugin.
CartFlows Cons:
Complicated UI and takes time to learn to use the tool.
Limited Analytics even in the Pro plugin.
Who Should Use CartFlows?
CartFlows is mostly used by marketers that create promotional sales pages and a relative sales funnel for these sales pages. The legacy plugin UI makes it easy for old-school marketers to know their way around the plugin and create funnels that bring in great results.
How To Get CartFlows:
You can get CartFlows from the WordPress repository.
CartFlows Pro comes with several crucial features such as one-click upsells after checkout, conditional rules for discounts, A/B testing, webhooks support, and many more.
3. FunnelKit (Formerly WooFunnels)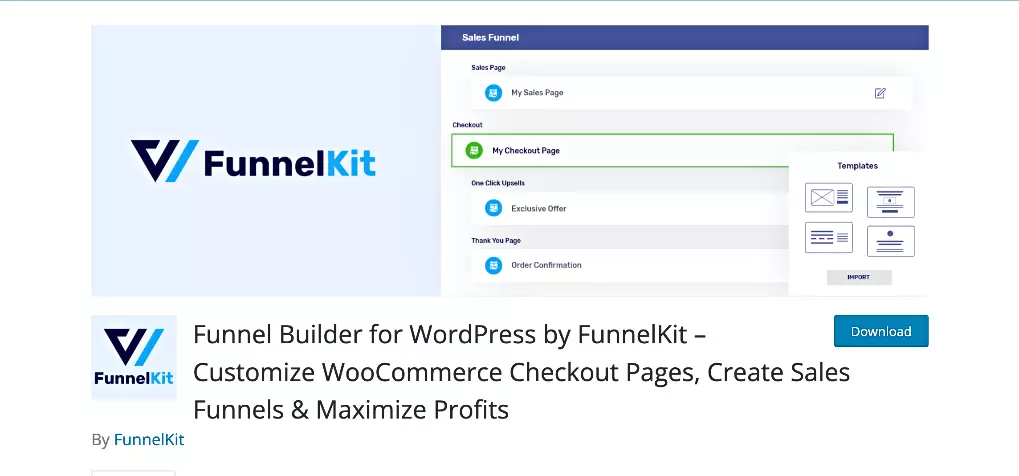 FunnelKit (formerly known as WooFunnels) is another one of those sales funnel builders in WordPress that are well-trusted by users.
Although it has some similarities to Cartflows, this plugin has removed a lot of complications and made the same funnel builder process much easier.
One specialty of this plugin is you can get an organized funnel canvas view for the steps you created (although making any changes there would require the Pro version).
WooFunnels comes with a variety of templates that you can use to create your sales funnel. You can also customize the templates to match your branding.
They recently added a new element called the Action Funnel, which allows you to add activities to your sales funnel, such as signing up for a mailing list or purchasing a product.
Exclusive Features:
Tons of pre-built templates.
Frictionless checkout.
Custom Gutenberg blocks.
Custom order bump design.
Abandoned cart tracking.
Funnel performance tracking with Pixel, Snap, & GTM.
Google Analytics integration.
FunnelKit/ WooFunnels Pros:
You can replace the default WooCommerce checkout with the plugin.
They have their own CRM plugin for Autonami which is brilliant for automation.
Supports split testing for funnels, email, and SMS broadcasts in the Pro plugin.
FunnekKit/ WooFunnels Cons:
Quite expensive compared to other similar solutions in WordPress.
Takes a bit of time to learn the tool properly.
Who Should Use FunnelKit?
FunnelKit is ideal for sites that sell a single product or less than 5 products.
It is also great for subscription-based products.
Small agencies can also use WooFunnels as you can purchase up to 30 site licenses at a time.
How To Get FunnelKit:
You can get FunnelKit from the WordPress repository.
FunnelKit Pro has useful features such as Canvas control, A/B testing & scoring, Autonami integration, etc.
4. One Click Upsell Funnel for WooCommerce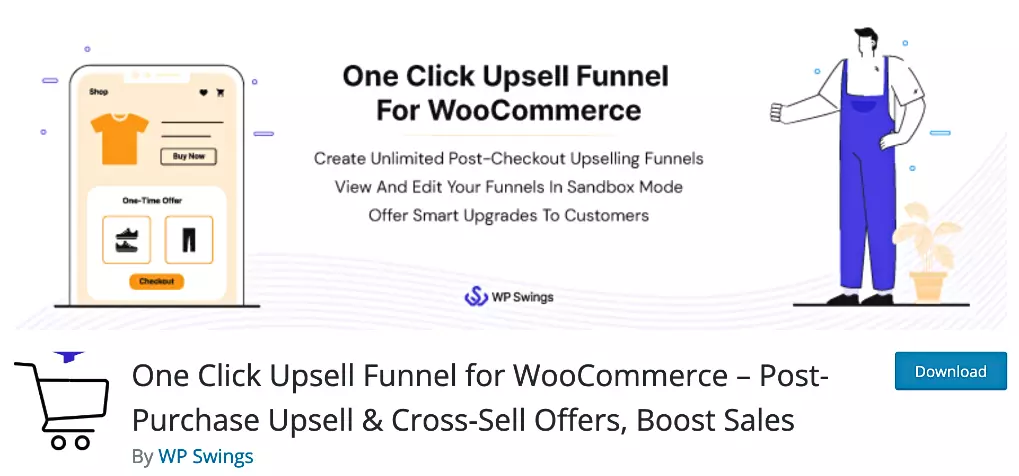 One Click Upsell Funnel for WooCommerce is a simplified funnel plugin that is specialized for WooCommerce.
This plugin is not for creating landing pages or for order bumps. It is mainly to offer one-click upsell offers for your WooCommerce products.
All you do is first, decide which product the funnel is for. Then decide on a suitable upsell offer after checkout and customize the page. And that's it.
Now, when a person purchases your main product from the WooCommerce shop, he will get the upsell offer you set up.
Exclusive Features:
One-click upsell offers for products in a WooCommerce shop.
Scheduled offer period.
Customized upsell page templates.
Funnel tracking and reporting.
One Click Upsell Funnel for WooCommerce Pros:
It takes very less amount of time to learn.
Works well with most supported WooCommerce payment gateways
Dedicated discount on upsell offers.
One Click Upsell Funnel for WooCommerce Cons:
The UI is not visualized and can often get confusing when setting up offers.
Who Should Use One Click Upsell For WooCommerce?
Small to medium WooCommerce shops with one or two shop managers can use this plugin.
Perfect for deciding specific offers for products for a WooCommerce store.
How To Get One Click Upsell for WooCommerce:
You can get One Click Upsell for WooCommerce from the WordPress repository.
Conclusion
To summarize, picking the best WordPress Funnel builder for your business depends on your specific demands, design skills, and financial constraints.
The more you know about your business's specific demands, the easier it is to pick the best software for them. If you're an experienced designer, go with funnel builders that give you full design control.
However, if your design talents are limited at best, go with builders with a lot of templates to get started quickly and painlessly.
Of course, if you have a big budget, you'll have a bigger selection of alternatives; whereas if you don't have much money, your options will be more limited.
Consider what the best solutions have to give and compare them against one another. Use the most affordable builders and weigh their offers on a similar basis to decide which one is better.
However, one thing is certain: a well-designed and optimized funnel drives exponential business growth.