Increasing revenue is the main goal of all businesses, and the best way to get a quick boost on the revenue is to run highly-converting sales funnels.
Now, planning and creating sales funnels do take some effort. Let's say you did create one for your business, but that's just half the task.
A large part of a funnel's success depends on how well you can promote your sales funnel to the right target audience.
Today, we will discuss several ways you can use to drive targeted traffic into your sales funnel so that you can convert more and boost your revenue.
These are ideas that are proven to reach more potential clients with the least effort.
So let's begin.
Proven Ways To Drive Traffic Into Your Sales Funnel
When you plan a sales funnel, the first step is to learn who your target audience is. You need to have deep knowledge on what are their needs, what are their pain points, and how you can offer solutions that make sense.
Your whole sales funnel plan, and the promotional campaign will depend on these. Your sales copies and contents will reflect your expertise so that people are confident to take your service/product.
Now, driving traffic is not a single task. For every funnel, you have to find multiple ways to bring in more relevant traffic. In fact, it is better to take time and qualify leads until they convert and then go for the close right away.
Smart marketers even take weeks to qualify and nurture their leads before expecting any results from their sales funnels.
Now, you need to plan at least one of the following 4 Golden Promotional Concepts to get more funnel traffic.
Paid Traffic Generation
Creative Lead Generation
Email Marketing, and
Social Media Influence
However, simply following the usual tactics for these concepts won't do the work. You need to ensure you are only using the tactics that will drive qualified prospects to your sales funnels.
In the next few sections, we will look at strategies that will help you execute the 4 golden promotional concepts in a way that will drive more potential prospects while avoiding irrelevant traffic.
So let's dive into it.
Paid Traffic Generation
The first and proven tactic to bring traffic to any page or website is to use Paid Ads.
If you can create proper content with the right CTA for Paid Ads, you can expect to get tons of traffic in no time.
Let us look at four types of Ad campaigns you may consider using, depending on your niche.
1. Google Search Ads
In Google AdWords, you may resort to the PPC campaign where you can bid for the top position for search results for certain search terms.
Here, you define the audience you want to target and find out the corresponding cost per click.
Once this is set up, you will be able to rank at the top for your desired relevant search terms.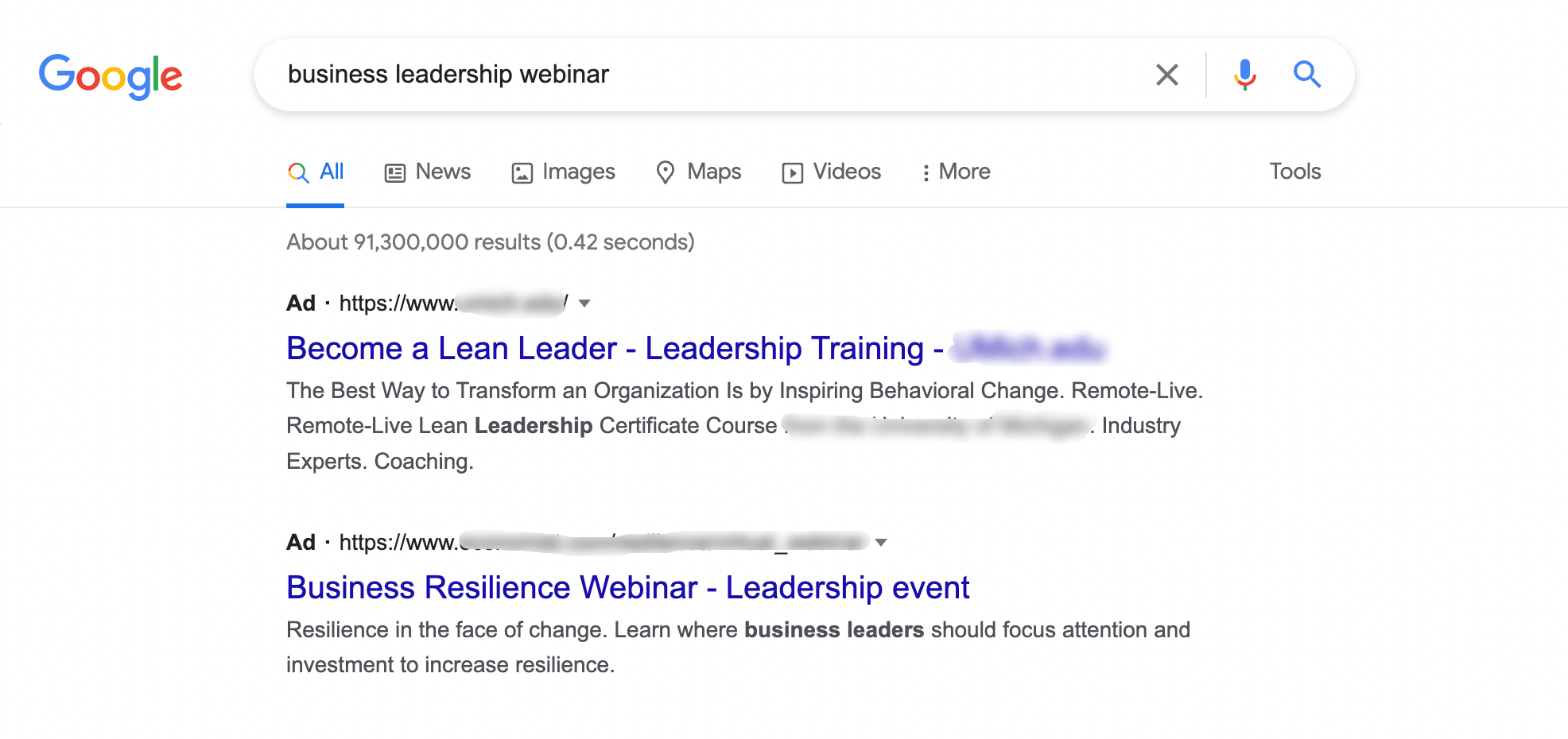 However, you need to ensure you have a good Title for your funnel along with a compelling meta description.
The best thing to do is to add a CTA for example,
"Become A Prominent Leader - 3 Days Workshop - Join Now!"
And the meta description should explain the most important end result your target audience can achieve by entering your offer page.
2. Paid Banner Ads On Relevant Sites
There are many websites out there that accept paid advertising on their sites.
You may find a few that has content and audience relevant to your niche and invest in taking their paid advertising campaigns.
Usually, such campaigns include a banner Ad on their home page or shop page (if any), an email to their mailing list, and a social post with your banner and offer.
**Make sure to check out the site's usual traffic via any online analytics tool to be sure you are investing in a potential site.
Apart from these, you may also find blog sites that write on topics related to your niche. You may reach them with an offer yourself, or inquire what it would take to place your Funnel Ad for a month in their popular articles and home page.
Most popular sites will probably disagree, but the ones that do, try to work out a deal because these sites are likely to give you more results than the sites that accept advertising.
When providing your link to the site you are collaborating with, remember to include UTM parameters to it so that you can track the performance from there.
Tip:
For every site you collaborate with, it's best to submit a unique banner Ad just by targeting a specific audience. If you have multiple user bases, then create multiple Ads for them and distribute them to sites that are most relevant.
Avoid targeting too many types of users with the same Ad.
Here's an example of an Ad banner you may create.
It is important to give a clear message of what to expect from your offer and a focused CTA.
3. Persuasive Video Ads
Videos tell a better story than images and create higher engagement with the viewer.
Study shows video ads have s 7.5 times higher click-through rate than typical display ads.
You can create a quick video to explain what your prospects can expect to get from you, specifically the benefits.
The challenge here is to write a video copy where you can mention the main USP of your offer or address the main pain point of the prospect you solve, within the first 5 seconds.
Here are the most common platforms where you may run video Ads:
YouTube Ads
Facebook Watch
Vimeo Ads
Twitter Video Ads
LinkedIn Promotional Ads
You may find many other platforms to promote, but these are the ones that can generate the highest results.
You may use InVideo or Flixier to record and edit the videos for ads.
4. Initiate Retargeting Ads
Retargeting Ads have been the go-to solution for most marketers these days.
Do you know Consumers are 70% more likely to convert with retargeting?
You see, when prospects look for ideas and solutions, they do not necessarily take a decision right away. In fact, most browse through a lot of available solutions and end up staying in a dilemma of which one to go for. And unless they desperately need it right now, most of these prospects end up forgetting about this research.
Here comes the retargeting ads. These Ads are used to remind the prospects about your solution via display Ads on various platforms they visit such as websites with Ads enabled, social media platforms, Youtube, etc.
However, for a sales funnel, you can take a different approach.
First, you can set up retargeting Ads for the people that visit your funnel landing page but leaves.
Second, you can set up retargeting Ads for visitors to your regular website, where you will rather invite them to your sales funnel landing page.
This second action is what will increase your chances of converting more prospects.
AdRoll is a great tool to help you manage retargeting ad campaigns.
Creative Lead Generation To Drive Traffic
Creative lead generation is the way to collect potential leads using smart lead generation funnel strategies.
This is a tactic where you usually offer something for your potential clients to provide you with their contact information.
Then you may nurture them and eventually make your sales funnel offer. The following are the best creative lead generation methods you can use.
1. Attract Prospects Using Lead Magnets
This is the most actionable traffic generator and a common practice for most marketers to collect leads. The idea is that you offer something valuable for free. And the prospect will provide his email address and name to claim the free resource.
For example, if you are a digital marketing trainer, you can offer a free eBook that explains the basic fundamentals of SEO.
Since your target audience is people who need to learn SEO, they will be interested in this free eBook. So whoever claims it, you have a qualified lead.
**This free resource is referred to as a lead magnet as it is attracting potential leads to opt-in.
If you are newly emerging in the industry, then this is a brilliant way to get leads and gain the trust of your prospects.
So how does this help you to drive traffic into your Sales Funnel?
Continuing with the example, once you collect the lead, you can send nurturing emails in the next 2-3 weeks. These could be around 3-5 emails where you send valuable content to them on digital marketing. But do not ask for anything in return.
Then, a few days after the nurturing email sequence has all been sent out, it's time to send them the link to your sales funnel.
Now, those who found your free resource useful, and loved your valuable content in the nurturing emails, will surely visit your funnel landing page, giving an instant traffic boost.
Since they are all part of your target audience, if your sale funnel offer is a good one, you can expect to get a high number of conversions.
Now, the challenge here is to bring the attention of these potential clients to your lead generation funnel.
Well, actually, it's quite easy. You can shoot a quick 2-3 mins video. In the video, explain the benefits of the free resource and emphasize the fact that this is a highly valuable resource that they are getting absolutely free.
Then, run paid video Ads on YouTube and Facebook. If you have a social profile, you can promote it there as well.
The squeeze page funnel is a great approach to start building leads when you are starting out, or even when you have been around for years.
2. Host Free Webinars or Live Workshops
If you are an individual who offers services, then hosting a free webinar can help you attract more potential leads.
In this case, you decide to take a free session on a valuable topic that your target audience would love. So those who attend are potential leads. And the webinar session is your chance to convince them that you know your stuff and they can rely on you for your service.
You can even pitch your core service during the webinar and a few will end up signing up right away.
However, the free webinar is not to convert. The goal of this webinar is to get qualified leads who you can nurture during the session.
It's perfect for demonstrating your expertise, helping people in your niche, and gaining trust. Once they are confident in your ability to solve their problems, they won't hesitate to grab your paid offers later on.
Let's look at an example.
Suppose you are a Life Coach and you plan on using a sales funnel for signing up for personalized coaching sessions.
Hosting a free Webinar on Personal Growth will attract a lot of people who are interested in improving themselves.
By showing your expertise on a live webinar you prove that you can guide them and you win their trust through positive interactions.
Now, once the webinar is over, launch a 3-email nurturing campaign where you may send more valuable content just to show them you care.
And then, go for the offer. Ask them to visit your offer page to get a deal on your services.
**Using smart discounts is a great way to hook your prospects immediately.
Hence, you are getting a few guaranteed qualified visits due to gaining authority among many via the free webinar.
Here's more on how you can plan & execute a webinar in WordPress.
Again, this is a tactic that works really well for newly-emerging individuals who are experts in their fields.
3. Drive Traffic Via Your Organic Website Audience
You may have a website to promote your services which will naturally get organic growth depending on your activities such as publishing blogs, improving content, and optimizing SEO.
Many curious prospects will visit your site from time to time but the conversion is limited.
It is estimated that the average conversion rate on a website is about 2 – 5%.
However, this can be taken to the next level by promoting a great offer, i.e., a planned sales funnel.
The idea is that you can have your website with your regular service plans, and then, you may host your sales funnel on a separate domain, where you may promote a special offer or a unique service.
For example, let's say you are a business coach and you offer several pieces of training such as Business Leadership, Management Enhancement, Revenue Goals, etc.
Normally, people can book a call with you and then choose what service they want. However, you can create a separate sales funnel where you offer a 3-day private BootCamp on Business Leadership at only $1.
This, you can actively promote on your site by using
A Site-wide Pop-up

Notification bar
A Promotional Blog
Banner Ads on relevant content
Since this Bootcamp is not something they can normally get on your site, and $1 is not much, many who visit your site will end up checking out your offer.
**Yes, you will promote your funnel via other channels as well. This is just one tactic to drive traffic.
So, how is this a good deal? Let me explain.
When it's a $1 BootCamp, it's obvious a bigger offer is coming next. This is a classic case of a Tripwire funnel where you offer something valuable at a low cost, and then offer your core services later on.
Your sessions with the attendees will help you to gain their trust in your service and allow you to pitch your core offer.
More importantly, since they paid $1, they have already made a partial commitment that they are willing to pay if they find value in what you offer.
So, even if you do not close any deals during the BootCamp, you can follow up a week later via emails and offer your core service, let's say complete training on Business Leadership at $700. But, since they are qualified leads, you can afford to give them some extra benefits. So give them a discount on it so that they can't refuse your offer, let's say $500 instead of $700.
Once you read this tactic, it feels like it's something you already knew. However, I'm sure, this is something you never thought of when you initially planned the sales funnel.
Simple approaches like this can often bring more results than several paid approaches out there.
4. Create High-Value Courses
Some services are more expensive than others and people need some way to believe in you before taking your service.
One way to offer high ticket services is by selling low or medium ticket products before making the core offer. And what's better than creating courses?
The idea is since you are an expert in your field, you can create quality courses on certain topics that will prove your prominence. You can then either give them for free or sell them.
In the courses, make sure to brand yourself really well. People should remember you when they hear your name or the name of your tactics in the future.
Wherever you host these courses, leave CTAs there to your Sales Funnel.
In this tactic, your main website will be your sales funnel and your courses will help to drive traffic there. You can publish your courses on other platforms like YouTube, Udemy, Skillshare, etc.
**Yes, you may host your courses on your own website as well. The CTAs there should lead to the landing page of your offer.
Let us look at an example.
Suppose you are a Social Media Marketing expert. So you create a Youtube Channel where you can upload short training videos on how to create proper Ad copies, how to increase followers, etc.
You can then create a website where you offer your services to run social media campaigns for businesses. The website landing copy should be focused on that one service only.
The rest can be mentioned as options during checkout to include via order bumps.
Here, the YouTube videos will drive traffic to your sales funnel landing page.
In a different scenario, selling the courses themselves will help you generate good revenue, and then you may drive them to your offer funnel to land the high-ticket clients.
**If you are using a WordPress site, you may use LearnDash to create courses and use WPFunnels to create sales funnels for those courses.
Here's how to plan & create a LearnDash course funnel.
Email Marketing For Instant Traffic
Emails will always be the most powerful medium in any sales process. And proper email marketing can help to drive a good amount of qualified traffic into your sales funnels.
P.S. In this section, we will focus on the stage where people have just gone through your lead generation process, and yet did not enter the core sales funnel.
Simply sending emails out to a mailing list won't bring results. You have to plan on the right copies or make the right offers to tempt prospects to click and visit your funnel landing.
Today, let us look at some vital points you should focus on when running email campaigns to drive traffic into your sales funnel.
1. Nurturing Campaign
The name is as it sounds. You prepare a few emails with valuable content that you send in a series for a couple of weeks right after the lead is collected.
Usually, these are emails that point out one small problem and its solution or link to good blog content.
These are sent just to keep the leads active and remember your brand. And then, in the last email, you invite him to your sales funnel, while copy will be focused on the problem you solve in your sales funnel offer.
2. The Sales Letter Approach
I am sure you have heard of a Sales Letter which is usually a long sales pitch that transitions a prospect from learning about his problem to understanding possible solutions and then getting a final solution that's better than the rest.
That's exactly what you will do in this approach. However, one single email with such a long copy will not work. Rather, break it down into 5 sections –
i. The introduction to the problem
In this email, you start discussing a problem with some sort of statistics, that your potential clients may be facing.
ii. The story of how you identified the issue
Here, you define how you too faced this issue, and at the end, promise to get back to them with possible solutions.
iii. The partial solutions
In the third email, you highlight a few solutions that you tried and the results you obtained. And then create suspense stating that you have discovered another solution that is far better than these and you intend to share it with them.
iv. The ultimate solution
Here, you explain this solution and then softly pitch how your offer is an option for this solution.
v. The sales pitch
In this email, you refer to your previous email and then pitched your service directly, with a special offer, maybe a discount.
In the 4th and the 5th email, your CTAs should bring them to your sales funnel for your core offer.
These five emails will help to both nurture and convince the prospects to consider checking out your offer. Plus, they will share the solution with their friends, thus driving more relevant traffic to your sales funnel.
3. Special Resources Giveaway Series
People love free stuff and you can leverage that to your benefit.
Prepare 3 to 5 downloadable resources that may be helpful and you are willing to giveaway to gain authority.
You can then set up a series of emails for a couple of weeks. In every email, you give away something for free to download. This will create a sense of authority and excitement among prospects.
After this series is over, in the last email, rather than giveaway a downloadable, you give away a discount on your core offer. In this email, the copy should emphasize why this offer is valuable and that the discount is a bargain.
This will cause several potential leads to visit your sales funnel. And if the offer is really good, then they may convert.
**However, remember, this approach will only work if your free resources are of real value. People should be able to use them actively and get results even without taking your core service.
4. The Humble Survey
This is a persuasive tactic where you send out an email to your leads and request them to take a survey.
In the survey, you add questions that will help you qualify the leads and separate the ones that you believe deserve your core offer.
Once you have the leads sorted out, you launch a nurturing emails series by sending them at least 3 emails with valuable content. And then reach them with your sales funnel offer.
This tactic works really well for tripwire funnels or product funnels with free trials.
5. Direct Email On The Funnel Offer
Well, how can you leave out the classic approach?
Simply reach out to your existing email list with the offer in your sales funnel.
In this email, focus on what they are getting and how much they are saving with this offer, and then add a CTA to your sales funnel. Obviously, the landing page of your funnel has to be really good for this approach to work.
6. Abandoned Recovery Funnel
In the case where you host your sales funnel in a different domain, or when your funnel offer is not visible to the general audience on your website, this approach may work really well.
This is not really a direct email approach per se. This tactic is a mixture of multiple marketing aspects.
The way it works is that a person visits your site and goes to the checkout page with one of your services or products, but ends up leaving without completing the purchase.
Now, you can run a traditional abandoned cart recovery email series to try and have them signup for the service they abandoned. And then, you can use an abandoned recovery funnel to bring them back into the game.
Let me explain. Maximum abandoned carts happen due to lack of time. In most cases, these people come back if you run an abandoned cart recovery email series for the next 3 days. The rest, it's possible that they left because they either didn't have it in the budget or were not sure if they want to now.
The next logical step is to make them an offer that will help them overcome this dilemma – a tripwire offer.
Here, you reach back with a 2-mail campaign where you pitch them a shorter version of your service that they can test out without losing a fortune.
For example, let's say someone abandoned the checkout form for taking your "Complete course on Paid Ads" that costs $200.

Immediately initiate a recovery campaign for 3 days at intervals 1 hr, 24 hrs, and 3 days since abandonment.

If they do not come back, initiate a second campaign with 2 emails to invite them to join your webinar on "Deciding your target audience on Facebook" at only $3.
The CTA on this email should take you to the tripwire funnel where your initial offer is the $3 webinar, followed by your core offer again.
Once they get proof from the webinar that your course is worth it, they will be less reluctant to spend on your main offer.
This is a lengthy, but proven approach to converting potential buyers while driving qualified traffic to your tripwire funnel.
7. E-Commerce Coupon Offer
Coupons are a common strategy to drive sales on any e-commerce site. In this case, you can generate coupons that prospects can use to get discounts on specific product categories.
This will help to get interested buyers to purchase more from specific categories and enter them into your dynamic sales funnel.
Social Media Influence To Get More Traffic
Today, social media has become a vital medium to get more potential traffic into your sales funnel. In fact, there are tons of marketers who rely solely on social media marketing to successfully drive traffic to their sales funnel landing pages.
Here are a few ways you can enhance your social media marketing to get more qualified traffic.
1. Post On Social Media To Get Discovered
First thing first, you must have a few social media accounts which include Facebook, Instagram, and Twitter. (You could have more)
Once you have your funnel ready, share the link to the landing page on your Facebook profile, or you may choose to open a business page and share it there.
If you have the right title that matches your prospects' interests, you may appear more in the search results.
2. Build A Facebook Community For Loyal Prospects
Running lead generation campaigns is great. But you can also run social community boost campaigns to build a loyal community on Facebook.
The idea is that you create a Facebook group, where you only allow people to join if they have similar interests, i.e., love your work.
You can do this easily in the following ways:
In your lead generation campaign, ask prospects to join your Facebook Group. How it works is once they opt-in, take them to a thank you page where you ask them to follow you on your social profiles and join your group. Many tend to join.
Send emails to your leads to join your Facebook Group.
Keep a CTA to join your group on your website, YouTube channel, and Social profile descriptions.
Run giveaway campaigns where prospects have to follow your social profiles and join your Group.
Once you have a few members in the group. Post engaging questions, or useful advice from time to time to nurture the members. And then, whenever you have a sales funnel campaign available, you can share it in the group as they are all relevant audiences.
This will result in a great deal of traffic generation instantly, and many, who haven't taken your service(s) yet, will take the offer.
3. Turn Your Facebook Profile Into A Truster Influencer
Rather than relying on search intents, convert your profile into a reliable source.
The idea is to regularly post some sort of valuable content on your profile from time to time so that people can get to know you from your posts.
Next, host free boot camps via Facebook live. This you have to promote separately by creating an event and running Ads to bring people to join this event.
Whoever attends the live session with start to trust you.
Then, once you have a good amount of followers, you can share your sales funnel landing page on your profile. Many of your followers will be curious about it and will check out your offer.
4. Stream Live While Discussing Interesting Topics
Similar to a podcast, you can routinely host Facebook live sessions every week while allowing anyone to join.
You can prepare topics to discuss on your own or invite people to join with you. This will help you grab the attention of your targeted audience who are interested in your topic.
5. Collaborate With Relevant Social Influencers
It's often wise to promote through someone that people already trust.
Hence, you can find people who have tons of followers and engagements in your niche, and try to collaborate with them to promote your sales funnel.
Influencers tend to have authority in a specific market or industry and a large audience. A short video from them requesting to take your offer can drive huge instant traffic with a higher conversion rate.
Many will ask for money, and some will look for affiliate programs. And a few from them will be awesome and do it for free, provided your offer really is of great value.
Final Thoughts
The tactics you learned here are not the only ways to drive traffic. There are tons of ways you can bring in qualified traffic and convert more prospects via your sales funnel.
The challenge here is to make sure you do not bring in a lot of irrelevant visitors to your site. You will notice that almost all the tactics in this guide have some way to target the ideal audience.
For a successful sales funnel, the more qualified leads you can generate or the more potential traffic you can draw, the higher you can convert with less effort.
If you use WordPress, then there are amazing funnel builders out there such as WPFunnels, CartFlows, etc. that can help you build both lead generation funnels and sales funnels. And you will find compatible automation tools such as FluentCRM, MailPoet, etc. to help you with the email campaigns. With WPFunnels, you can use its in-house email automation tool Mail Mint to get your email marketing activities done.
So go ahead and start driving traffic to your sales funnels now.