The WPFunnels settings menu has different options to configure the plugin properly (which you can initially set up through the setup wizard).
If you have completed the Setup wizard, you may have configured some of these as per your preferences. In case you skipped the setup wizard, you can set them
Under the Settings tab, you will find three more tabs:
General Settings
Permalink
Offer Settings [Pro]
Event Tracking [Pro]
Advanced Settings
Logs
Let's look at the options in detail.
1. General Settings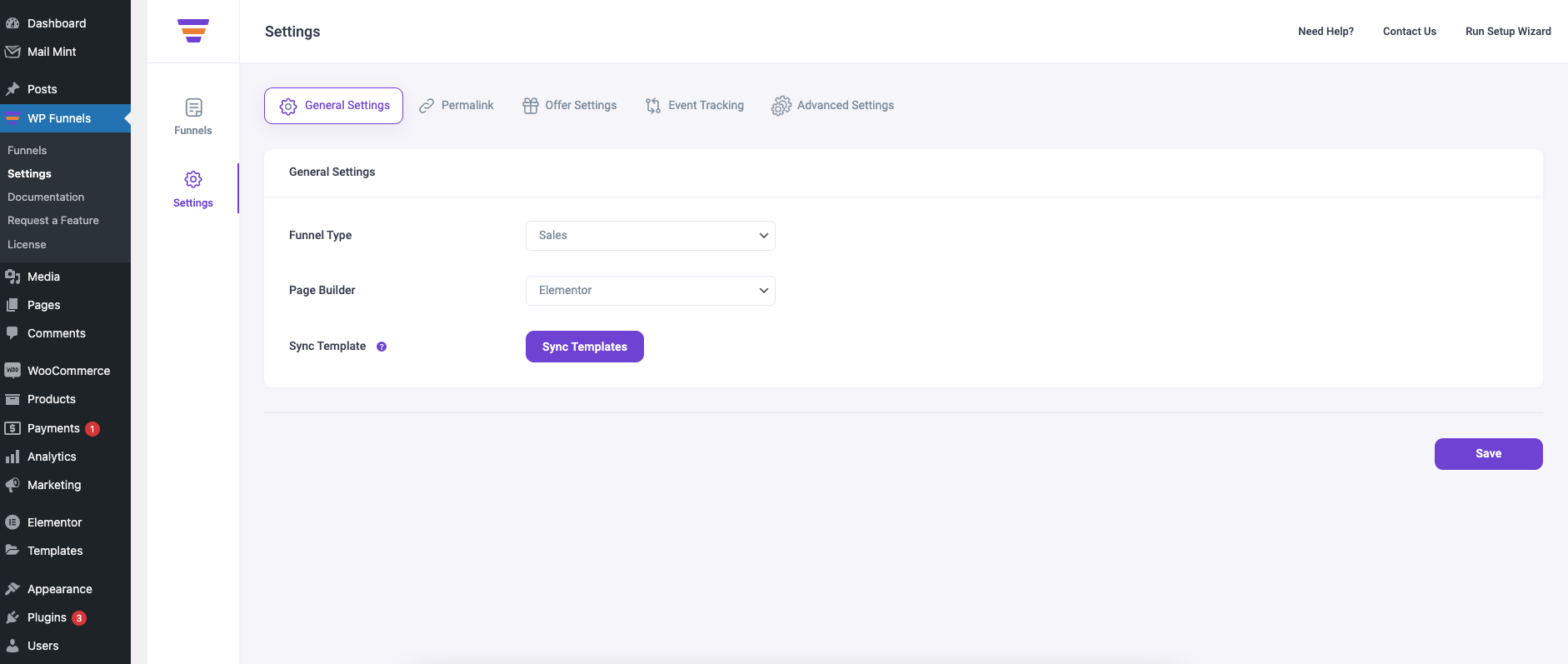 The General Settings menu has the following options:
Funnel Type
This will define what type of funnels you want to create using WPFunnels. Right now, we just have the Sales (WooCommerce) type. Soon you will have options to create Lead generation funnels or hybrid funnels. You will get those options here once they are released.

**Right now, we only have templates for Sales funnel which include Landing Page, Checkout Page, Order bump, Upsell (Pro) and downsell (Pro), and a Thank You page. But soon, we will come up with integration to form plugins and CRMs to allow lead generation and hybrid funnels as well.
Page Builder
Choose your preferred Page builder/editor to use when designing funnel steps. Right now, you will have the option to choose Elementor, Gutenberg, Divi, or Oxygen as your page builder.
Sync Template
You can see, there is a button called "Sync Template". Once you select your preferred page builder, you may click on this button to sync the pre-made funnel template collection for that particular page builder to your site. When you create a funnel, at that time, you will be able to import one of these funnel templates if you want to.
Once you have selected the required options, click on the Save button below.
2. Permalink
The permalink tab will give you the option to use the default permalink structure from WordPress, or you may use a custom slug structure from one of the three options there for your funnel steps.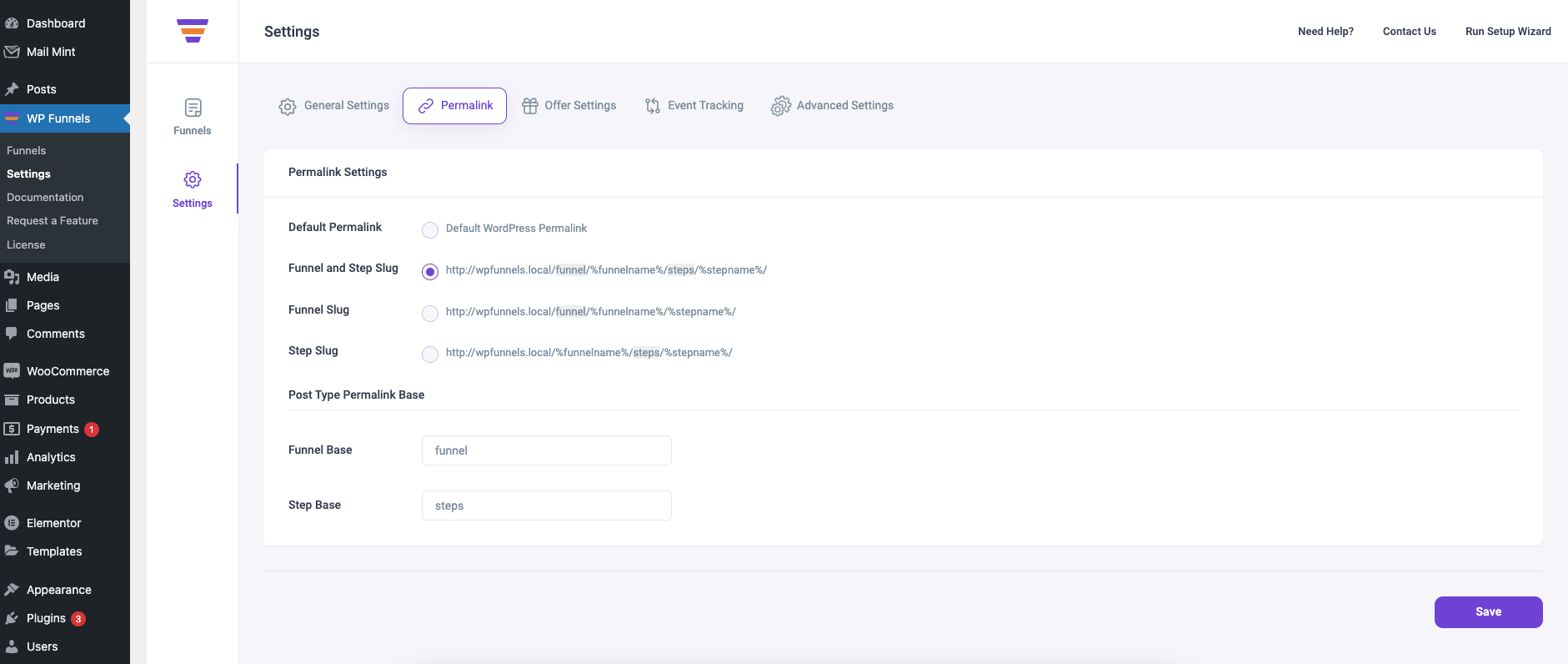 Permalink Settings
(i) Default Permalink
(ii) Funnel and Step Slug
(iii) Funnel Slug
(iv) Step Slug
Post Type Permalink Base
(i) Funnel Base
(ii) Step Base
For example, let's say you selected the Funnel and Steps slug. Then below on the input fields, the text you enter will be part of the slug in the previewed structure.
So, if I use the Funnel base as Offer and the Step base as OfferSteps, the permalink structure will be
https://www.yourwebsite.com/Offer/%funnelname%/OfferSteps/%stepname%/
FYI: The best practice for sales funnels is to use the Funnel and Step slug permalink structure.
Once you have made the required changes, click on the Save button.
3. Offer Settings [Pro]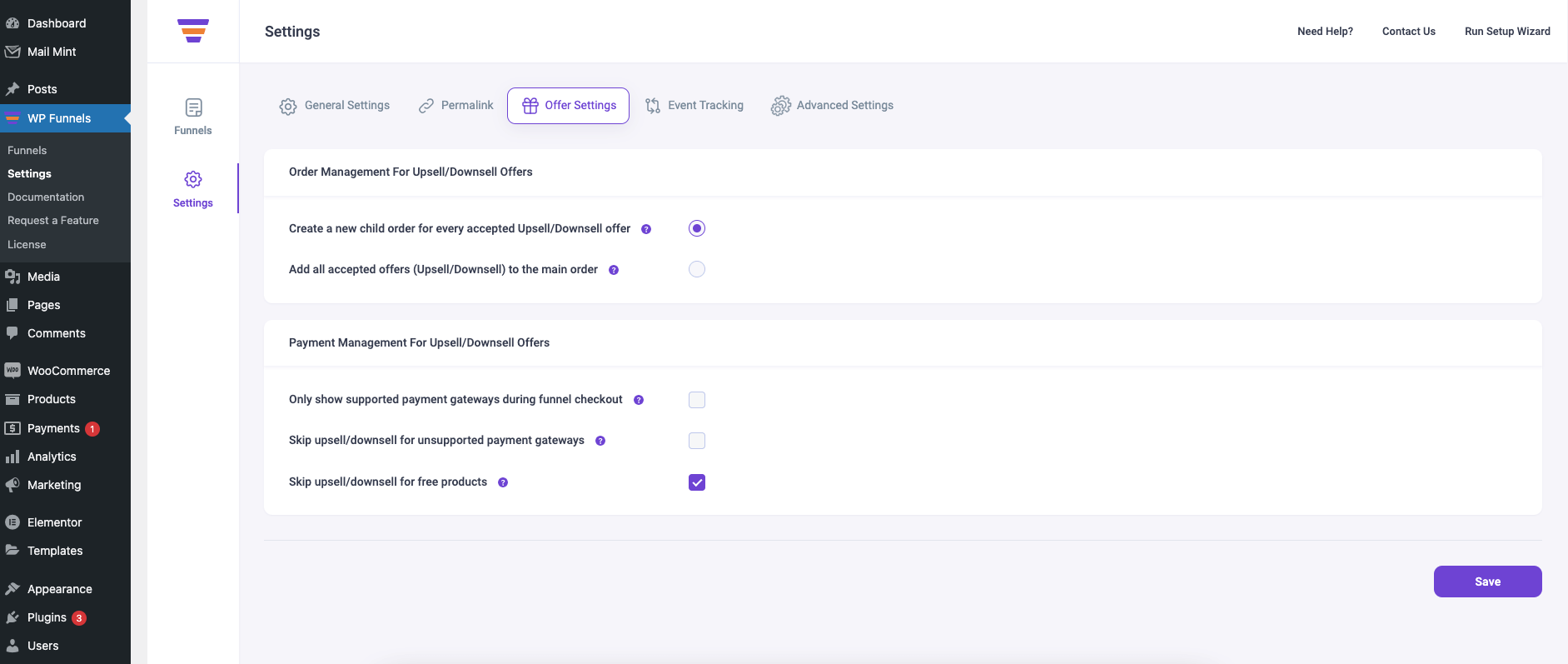 In the offer settings, you can choose if your funnel offers (i.e., upsell & downsell) will be considered as separate orders, or as part of the main order. You will have the following two options to choose from:
Order Management For Upsell/Downsell Offers
(i) Create a new child order for every accepted Upsell/Downsell offer
(ii) Add all accepted offers (Upsell/Downsell) to the main order
Payment Management For Upsell/Downsell Offers
(i) Only show supported payment gateways during funnel checkout
(ii) Skip upsell/downsell for unsupported payment gateways
(iii) Skip upsell/downsell for free products
4. Event Tracking [Pro]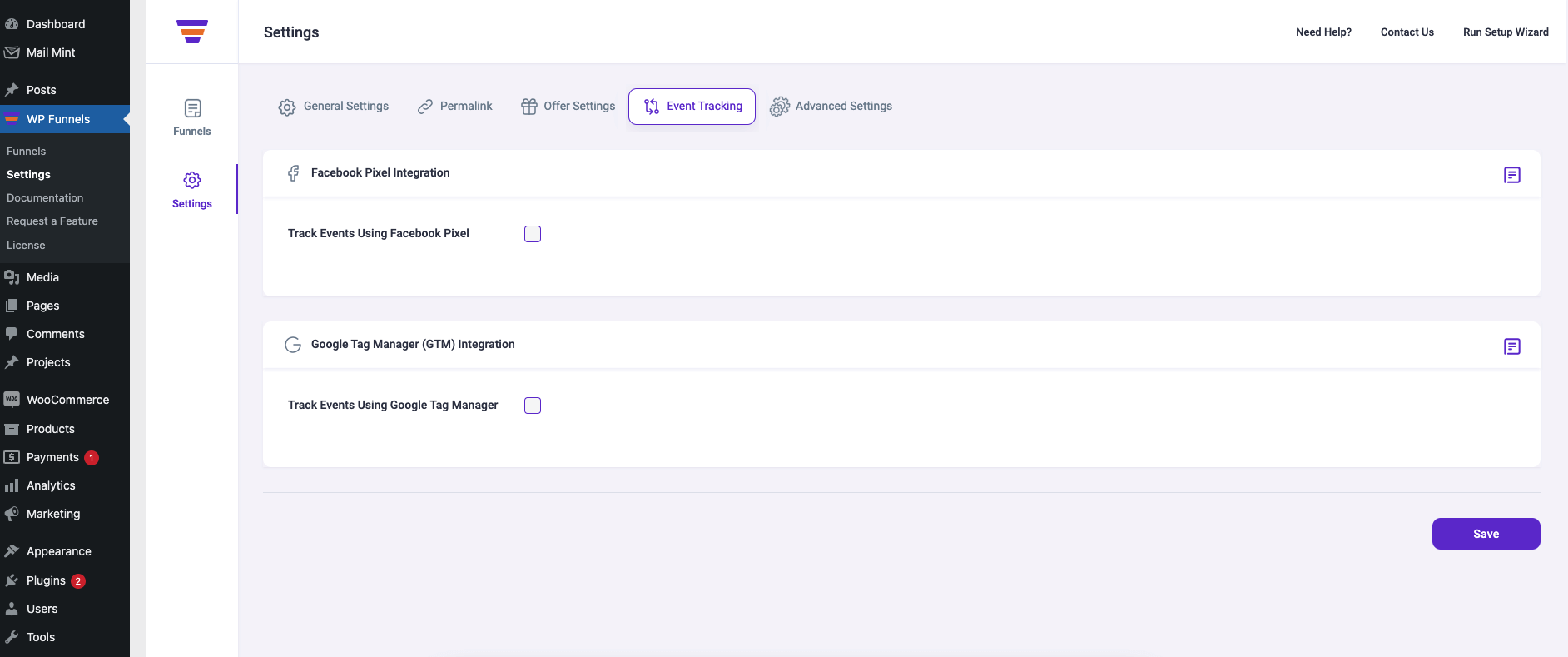 Facebook Pixel Integration
Google Tag Manager (GTM) Integration
5. Advanced Settings
Basic Tools
(i) Remove WPF Transient Cache
(ii) Disable Theme Styles in Funnel Pages
(iii) Enable log status – enabling this will add the "Logs" tab on your Settings dashboard
6. Logs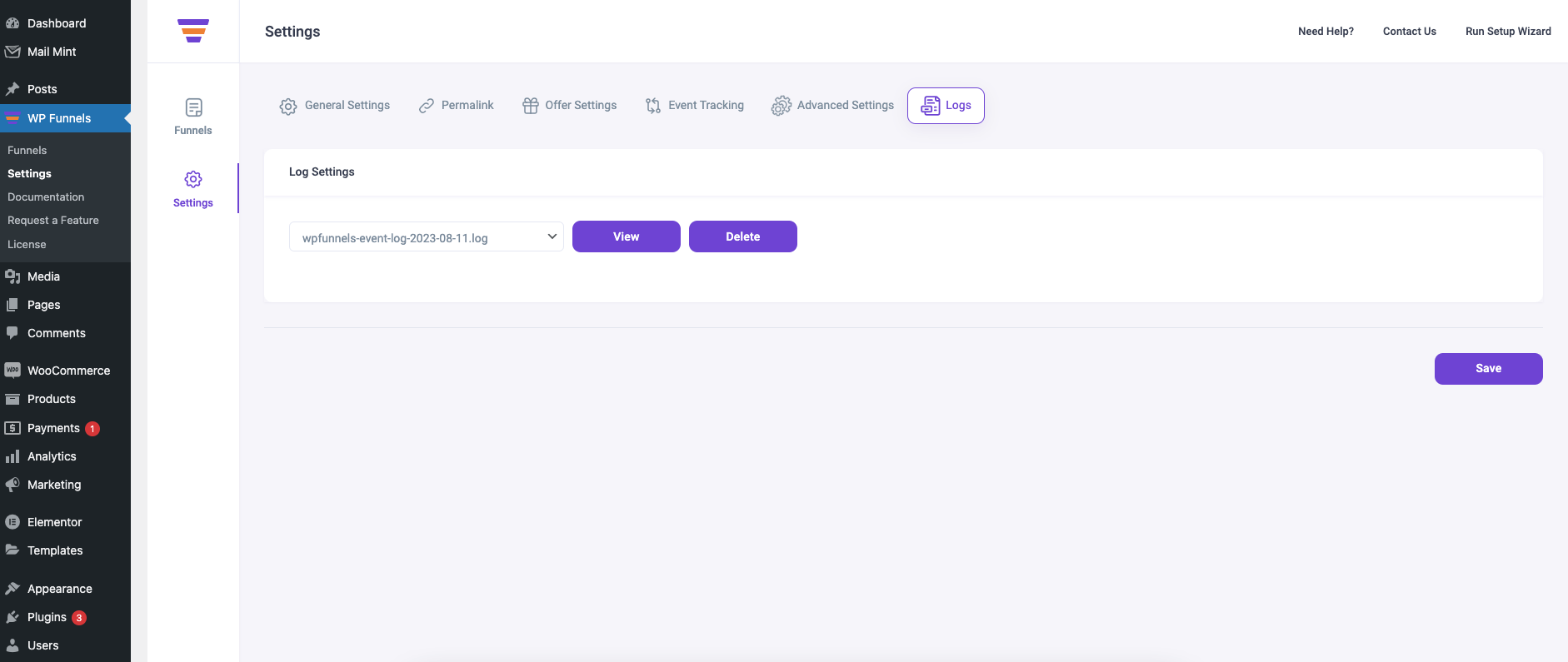 That's all for the WPFunnels Settings overview. You may need to change any of the settings later, just don't forget to hit "Save" after that.