You can import contacts to Mail Mint for automating your email campaigns.
In this guide, you'll learn how you can import your contacts using a CSV file.
Let's get started.
Import Contacts Using CSV Files in Mail Mint
Go to your Mail Mint Dashboard -> Contacts.
Now click on the Import option.
You'll find two options that you can use to import your contacts in Mail Mint:
Let's have a look at how you can import your contacts using each of these options.
i. Import Your Contact List using CSV File
You can import your entire existing contact list using the CSV file.
Step 1: Choose the Upload CSV File option and click on Click to Upload.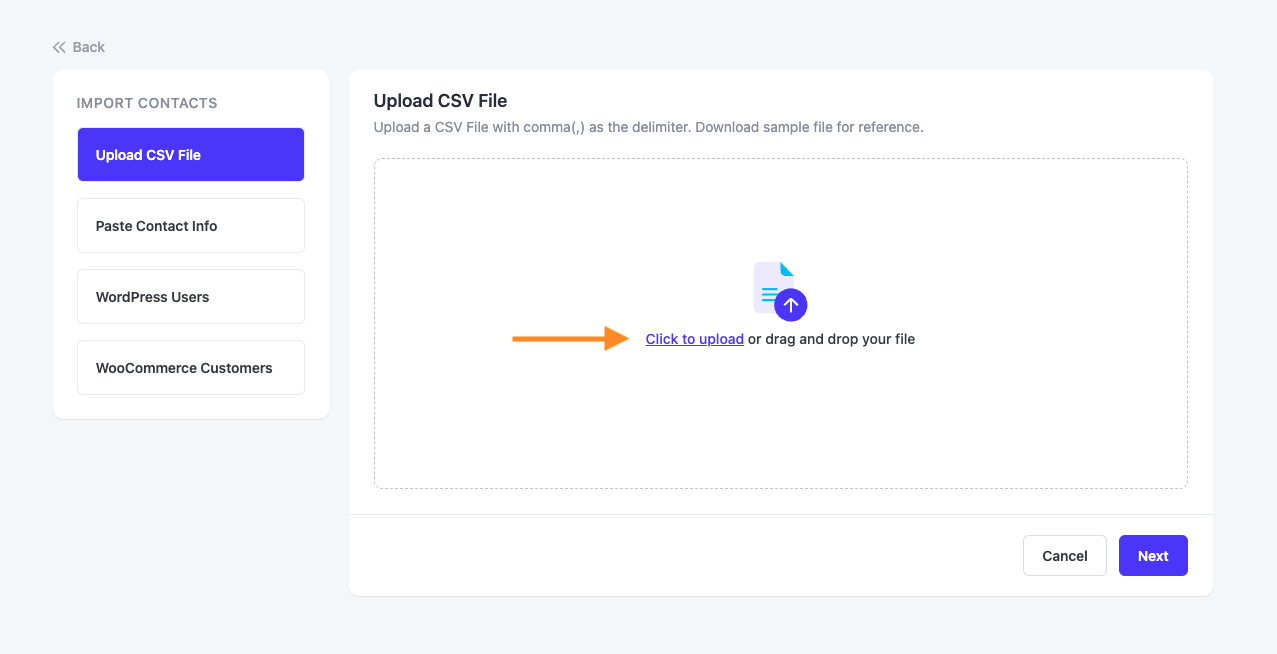 Choose the CSV file and it's uploaded.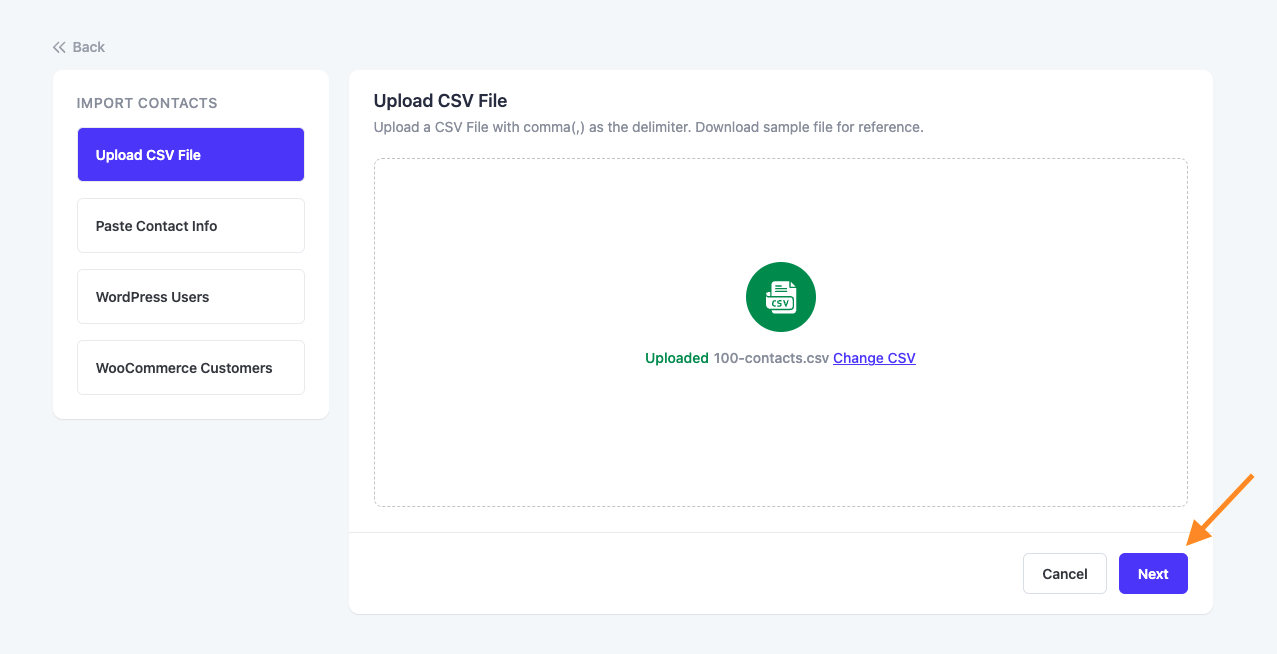 Now click on the Next button to choose some settings for your contact list.
Step 2: Here, you'll find the options for the fields or columns your want to import and keep them in the new contact on Mail Mint.
It's basically a mapping option for your Mail Mint contact list with the older list.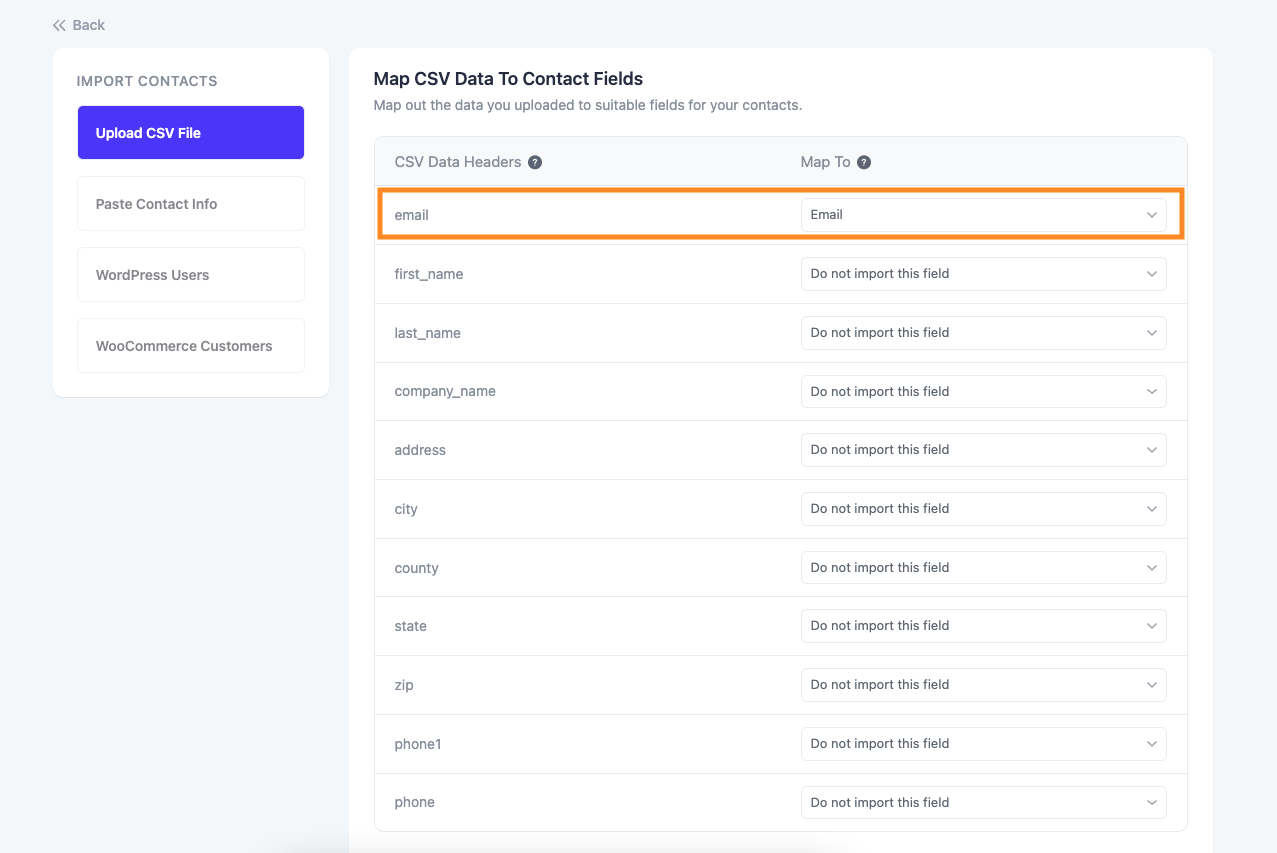 You can choose which column to import and what field you want to assign to that specific column.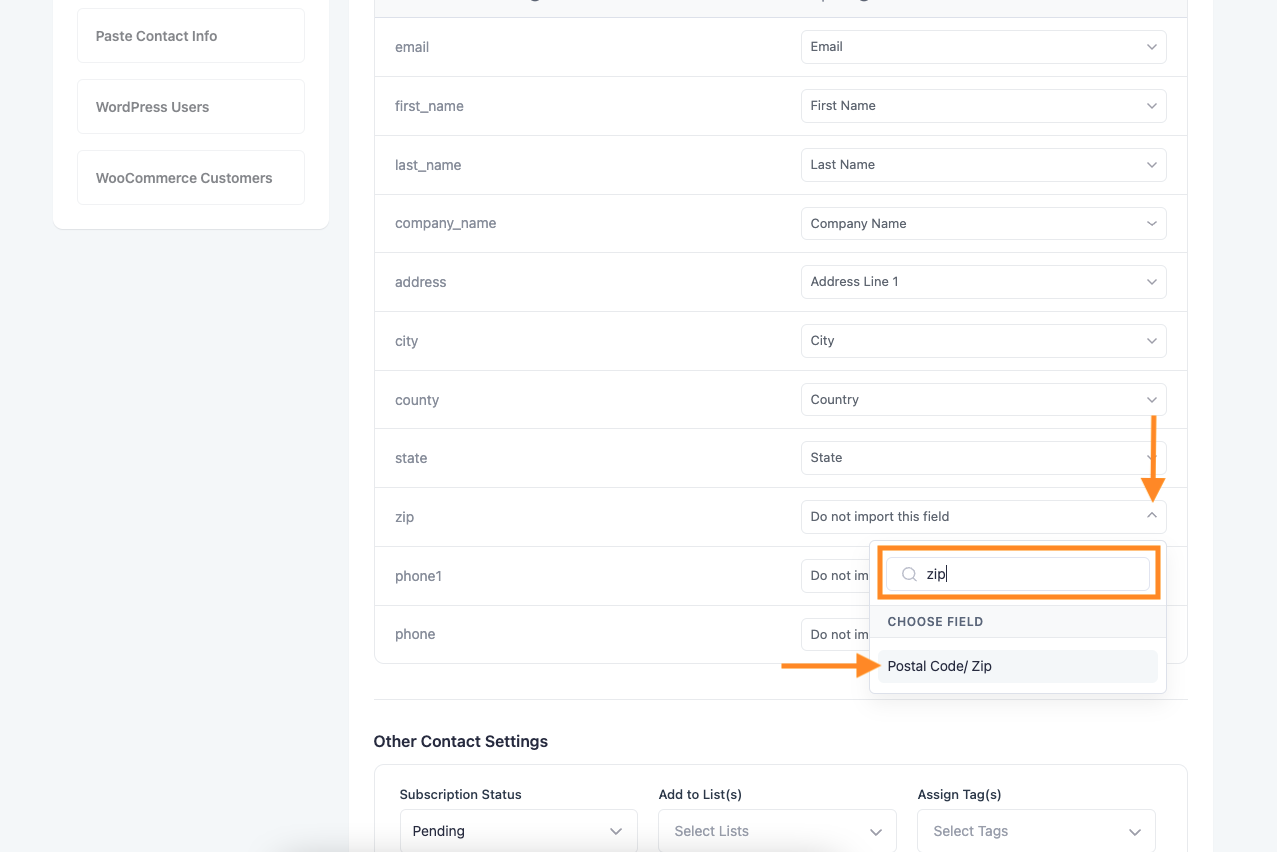 For example, you can assign the First Name column from your CSV file to the First Name field of Mail Mint's Contacts Module.
You can always skip a column from your CSV file if you don't want to import it.
Step 3: Now select the Status that you want to assign to all the contacts.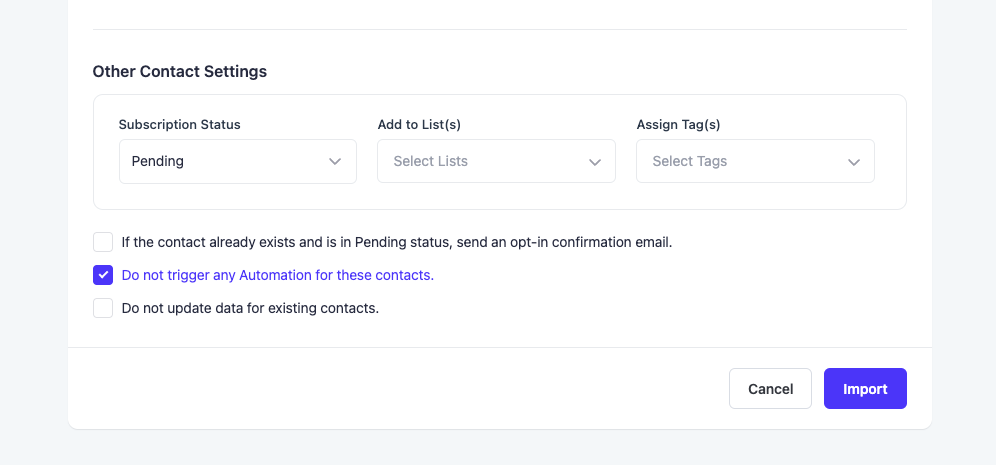 You can set them as Subscribed, Unsubscribed, or Pending.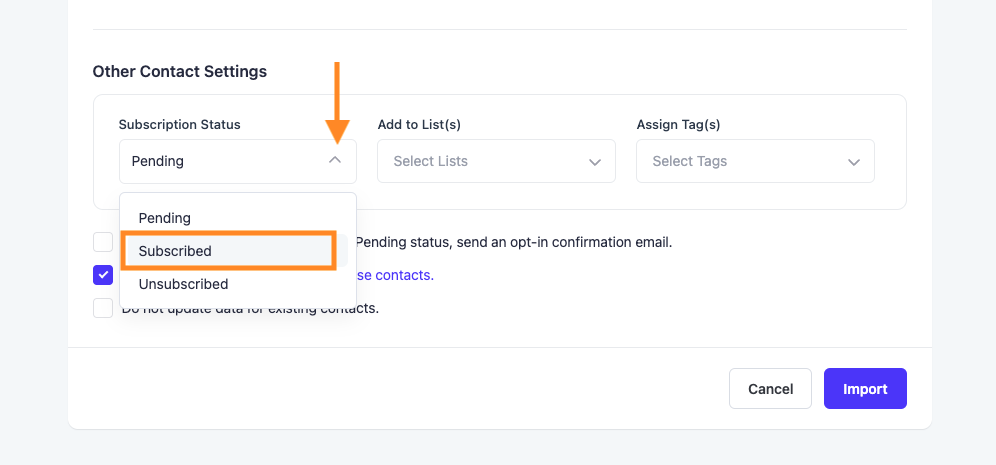 Step 4: You can now add all these users to one of your Lists.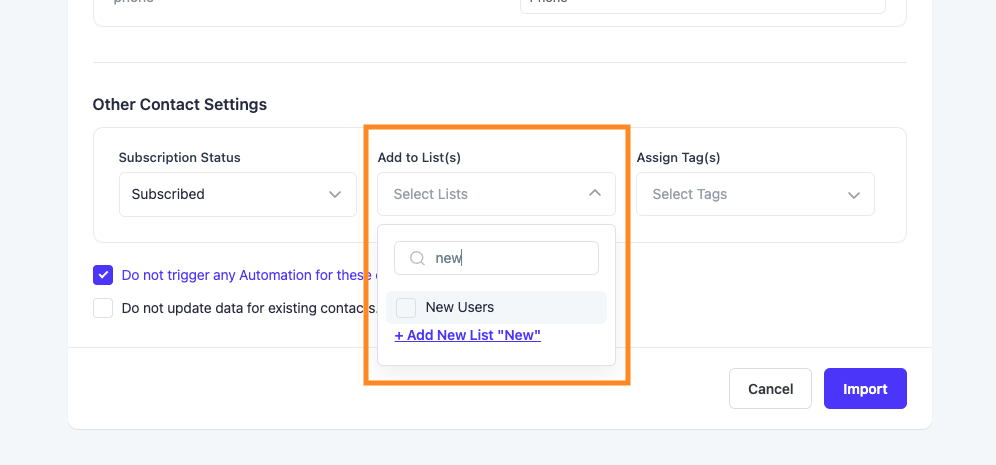 You can either Add an existing List or create one.
It's possible to assign multiple Lists to these contacts.
Step 5: Now you can assign this group of contacts a Tag.
Either Add an existing Tag or create a new one.
Step 6: You'll find two more options:
Send Double Opt-in Emails for Pending Contacts.
Turn Off Trigger Automation for List/Tag Events.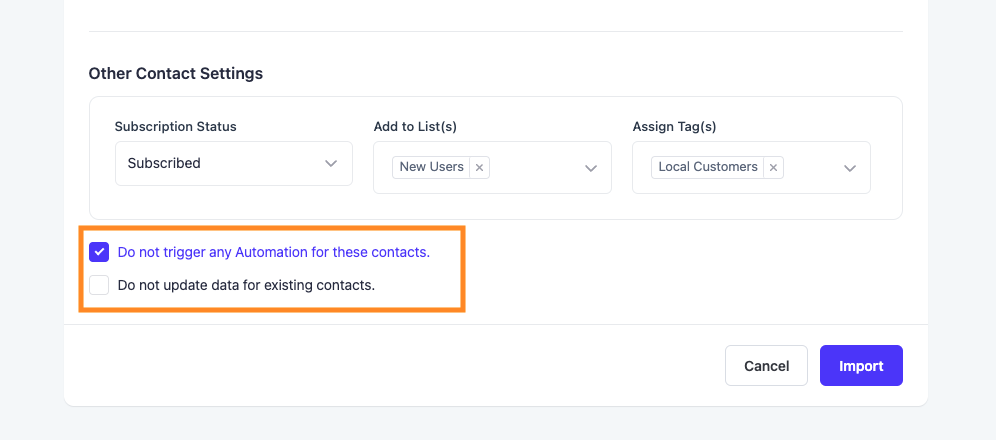 Choose the settings most suitable for you.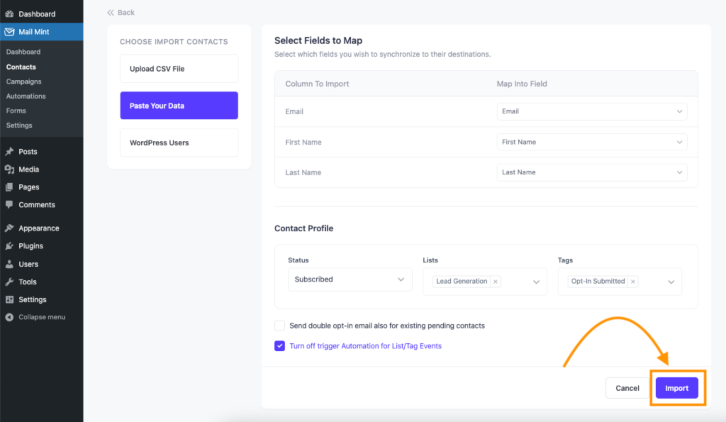 Step 7: Once you've updated all the information simply click on Import to add the contacts.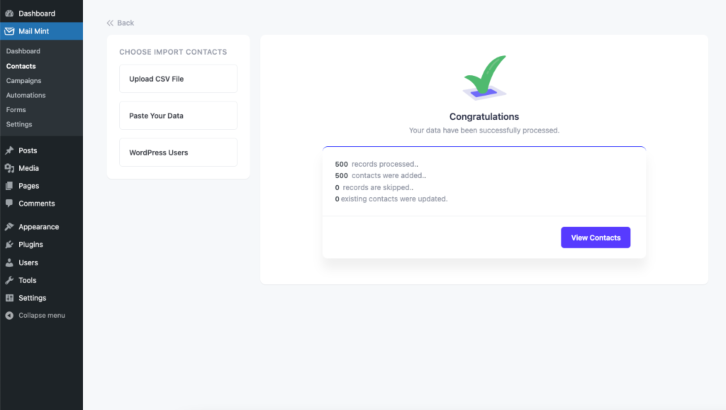 Once your contacts are imported successfully, you will be shown this success message.
Next, click on View Contacts to check them from the Module.