Now you can run A/B Testing on every step of your funnel and choose the best variant for more conversion!
Here's how you can set up A/B Testing for your WPFunnels steps.
Step 1: Edit Your Funnel
1. Make sure you have WPFunnels Pro installed and activated with a valid license key on your site.
2. After that, create a new funnel or edit an existing one to use the A/B testing feature.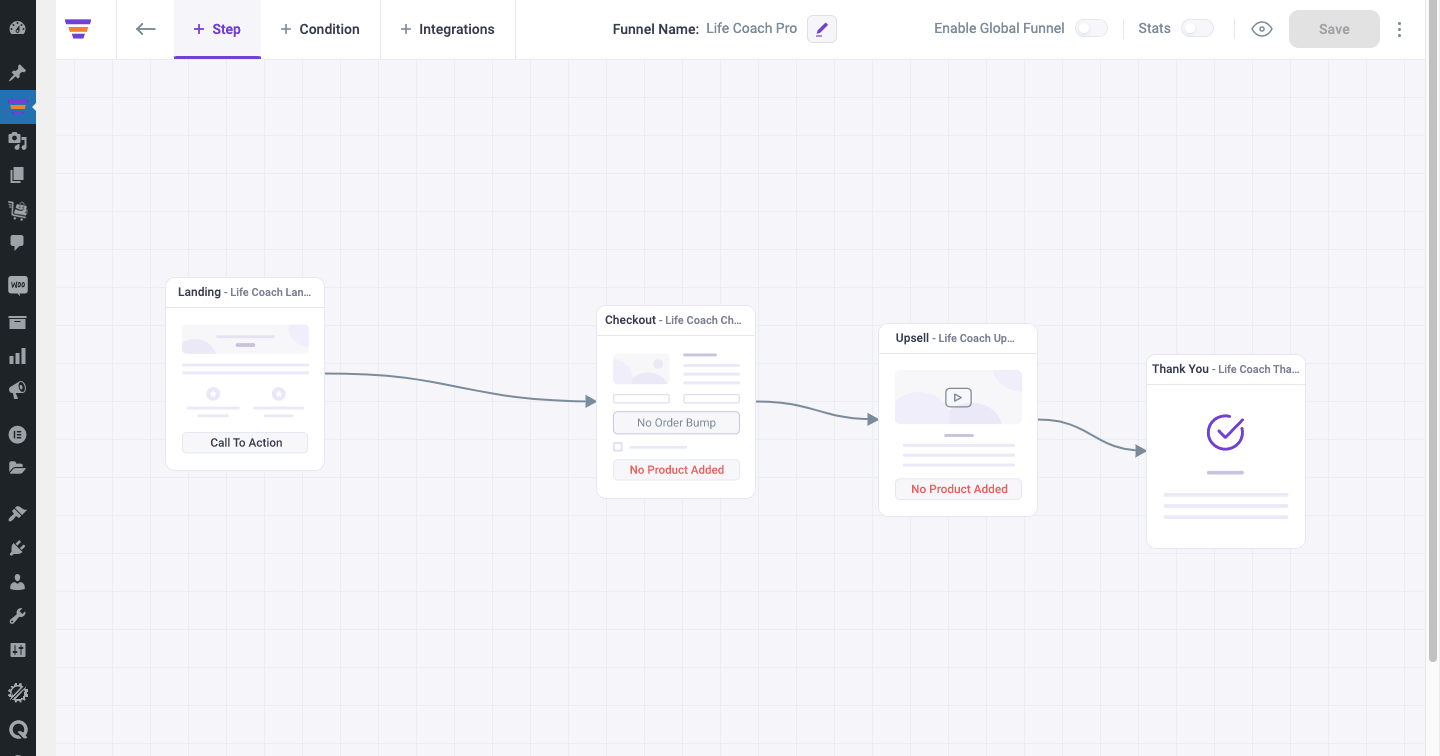 Step 2: Create Variants For A Funnel Step
1. Click on the Landing step and select the [A/B] option.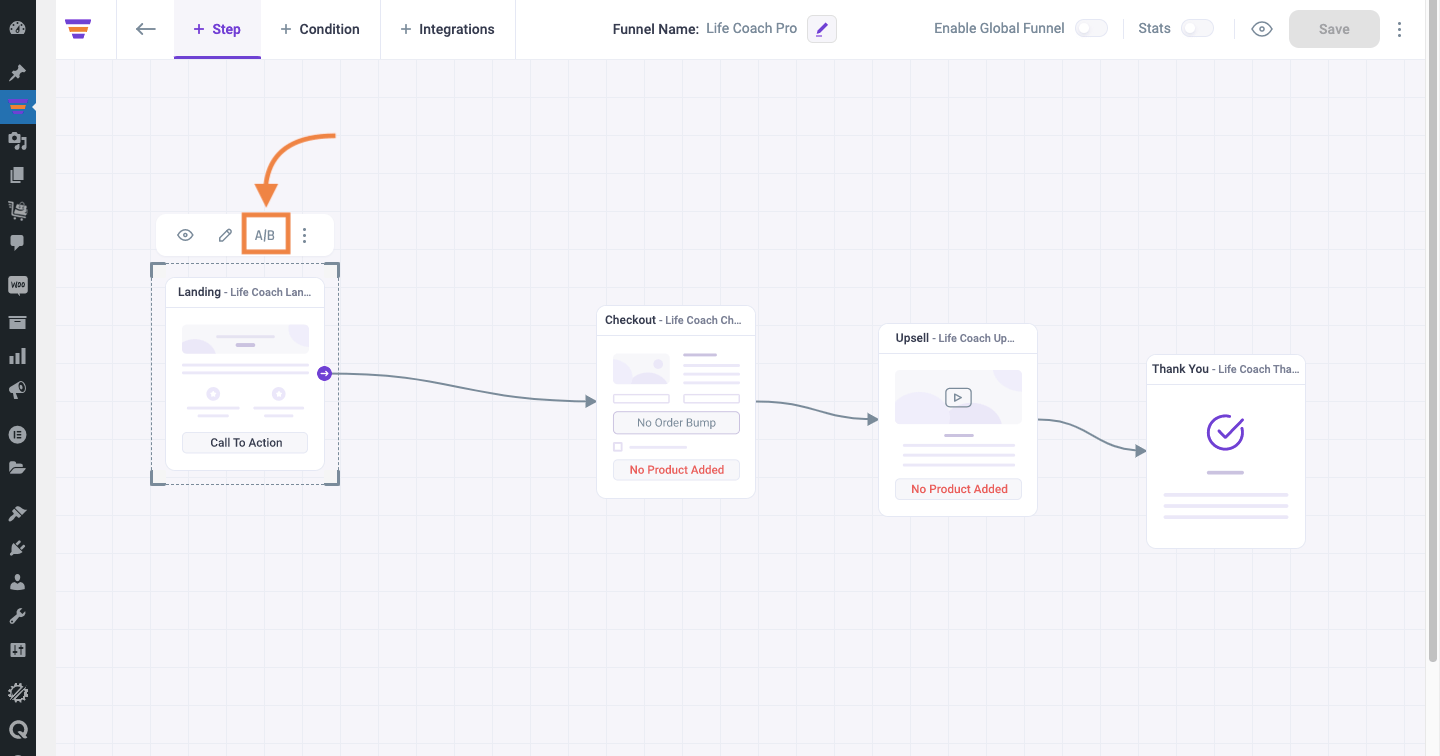 2. Now, choose from the 3 options how you want to create a new variation of the Landing step.
Duplicate Variant – it will duplicate the funnel landing page
Choose From Template – it will let you choose a template for another variation of your landing page
Start From Scratch – it will let you design another landing page from scratch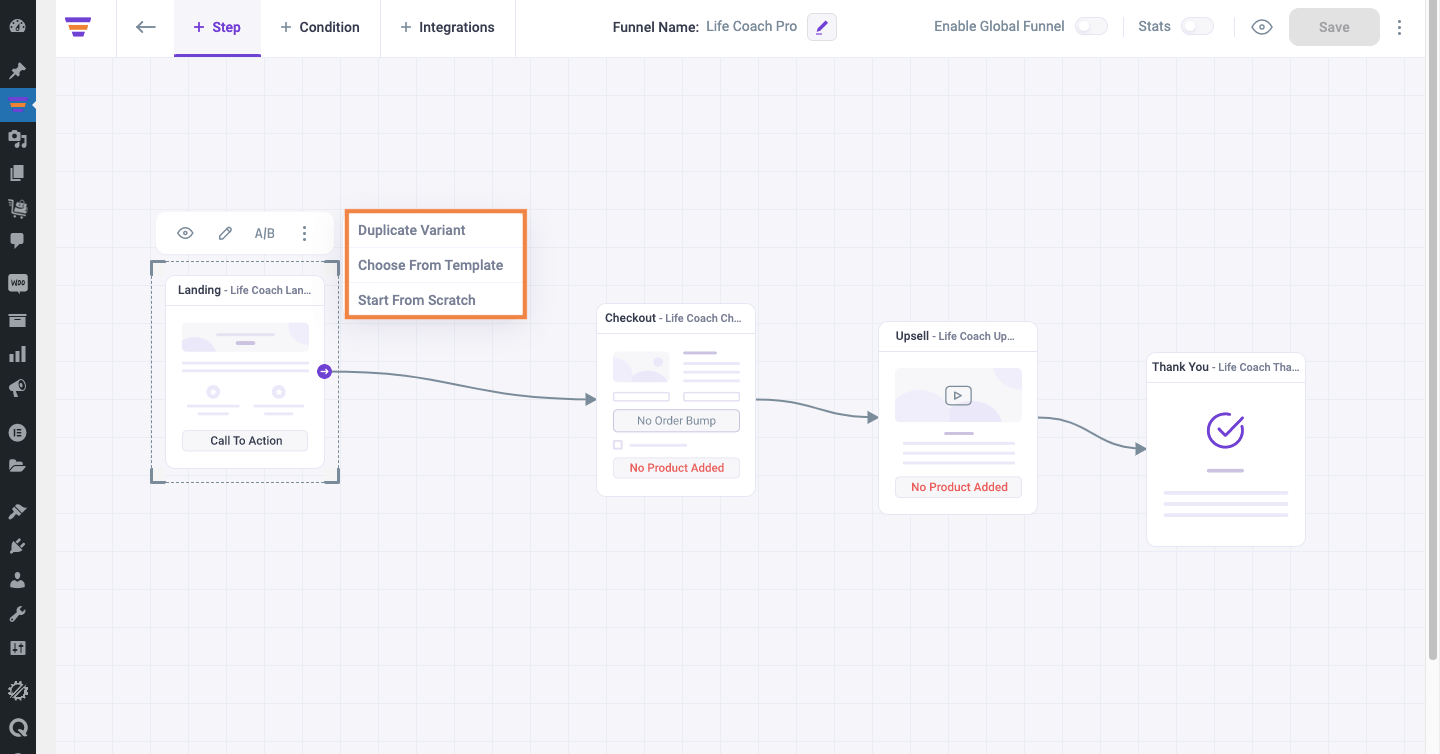 Here, I am choosing the Duplicate Variant option to create another landing page variation.
3. After choosing an option, your variant will be created on the funnel canvas.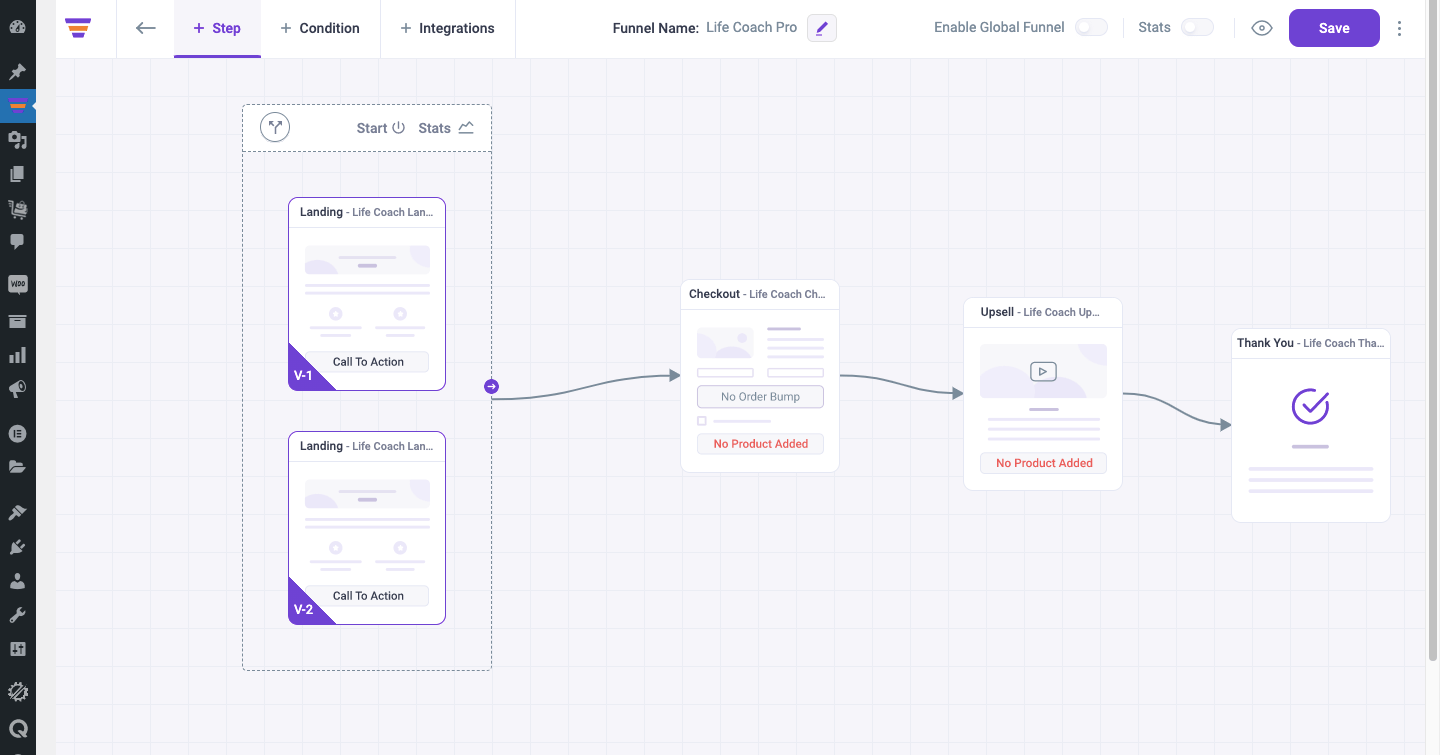 4. If you want to create another variant of the same step, click on the Landing step again & click the (+) sign. It will give you 3 options to choose from again.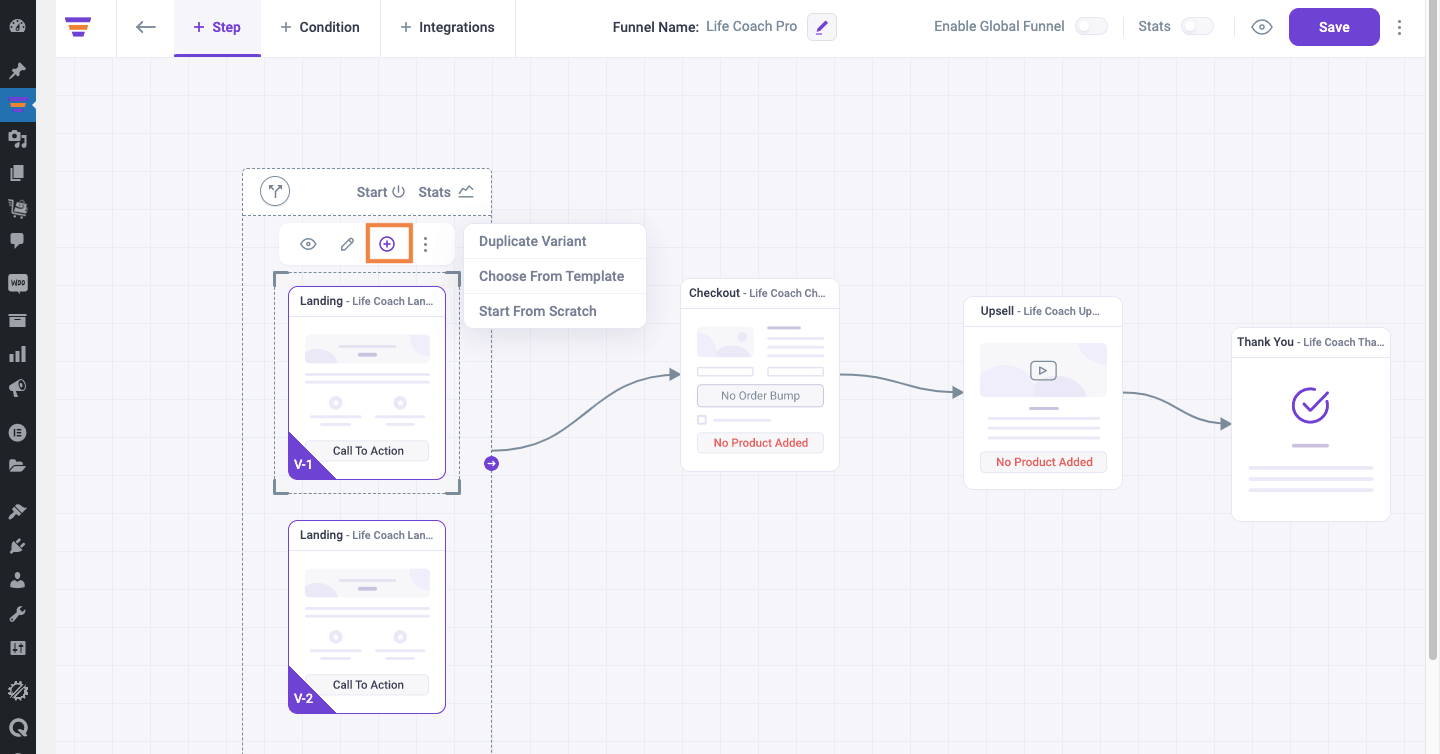 5. Click the Save button on the top right corner of your funnel canvas.
Step 3: Set Up & Run A/B Testing
1. Now to set up your A/B testing, click on the Start icon. It will open a setup window for you.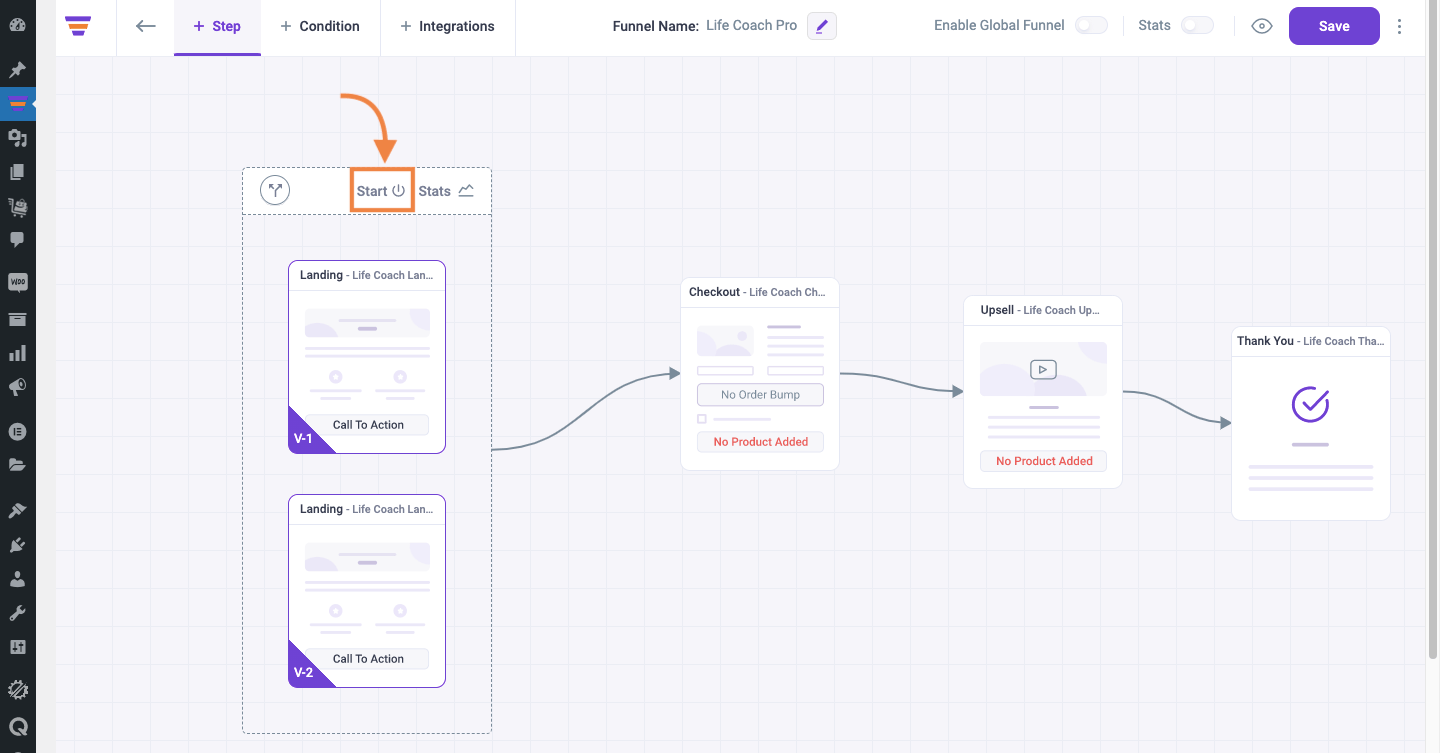 2. Now set up the Weight Distribution to define the percentage.
Here I've set 60% for Variation-1 & 40% for Variation-2.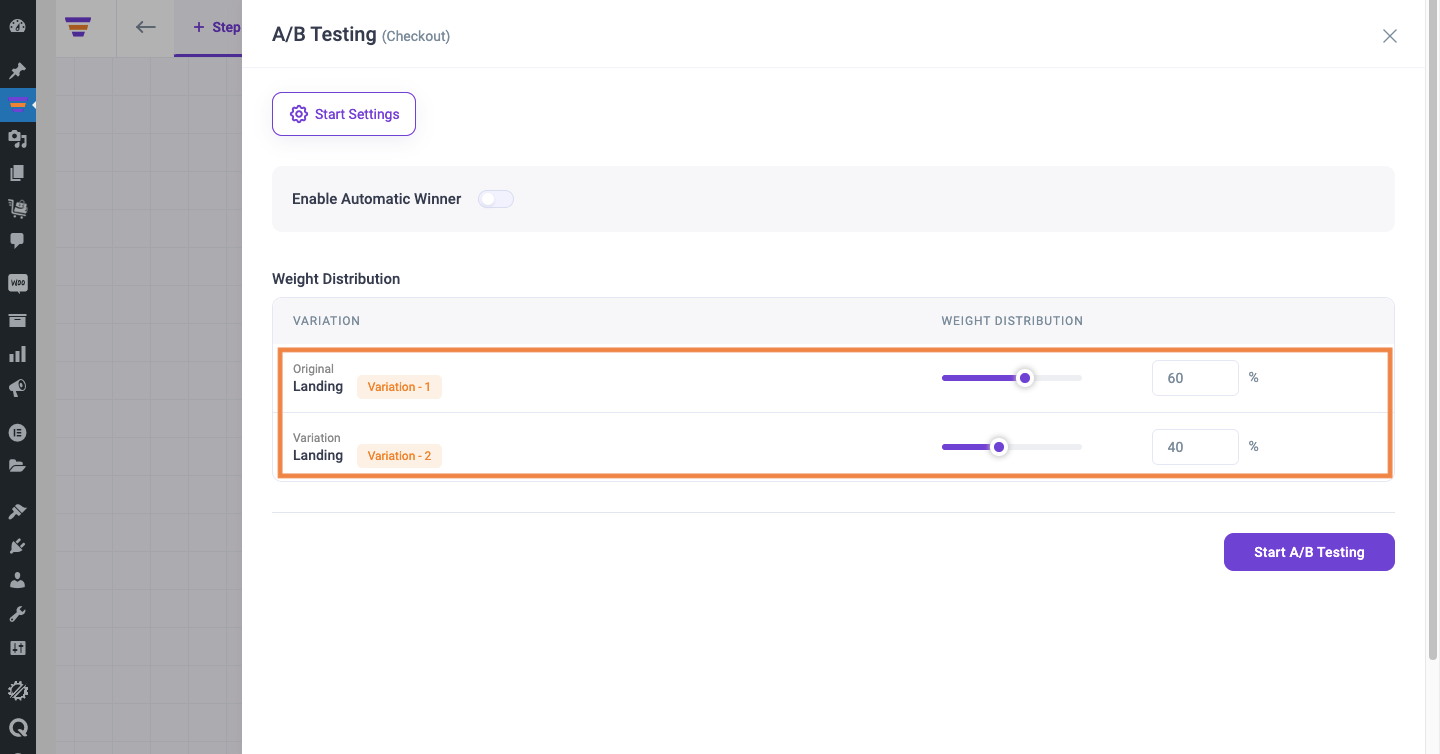 3. If you want to see the result on which variation wins, just Enable Automatic Winner.
After that, choose a winning condition (let's say "Traffic" in this case) and set a value for it (let's say 20).
This means the variation which gets 20 traffic first, will be the winner among these 2 variants.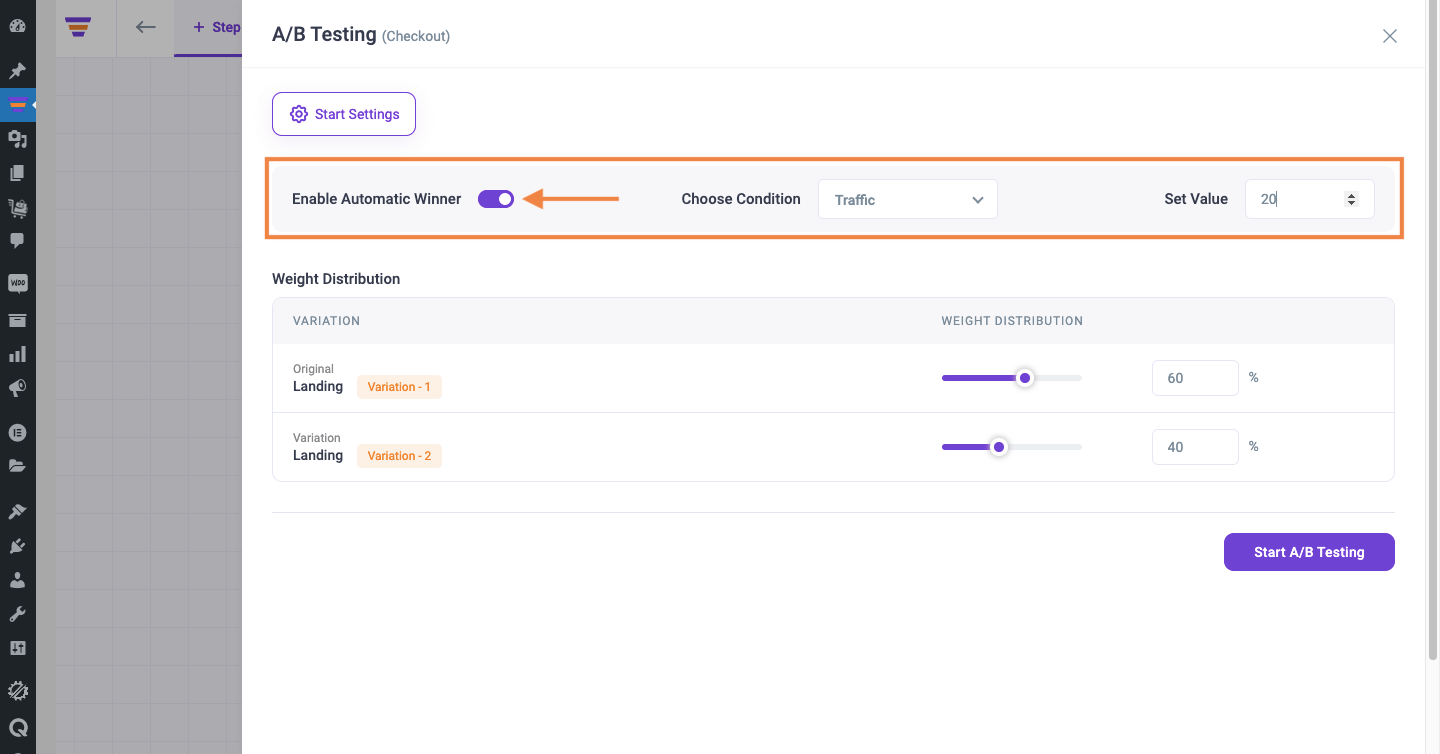 4. Click on the Start A/B Testing button to start A/B testing for this step.
Step 4: Check A/B Testing Stats
1. On your funnel canvas, click on the Stats icon above your variants.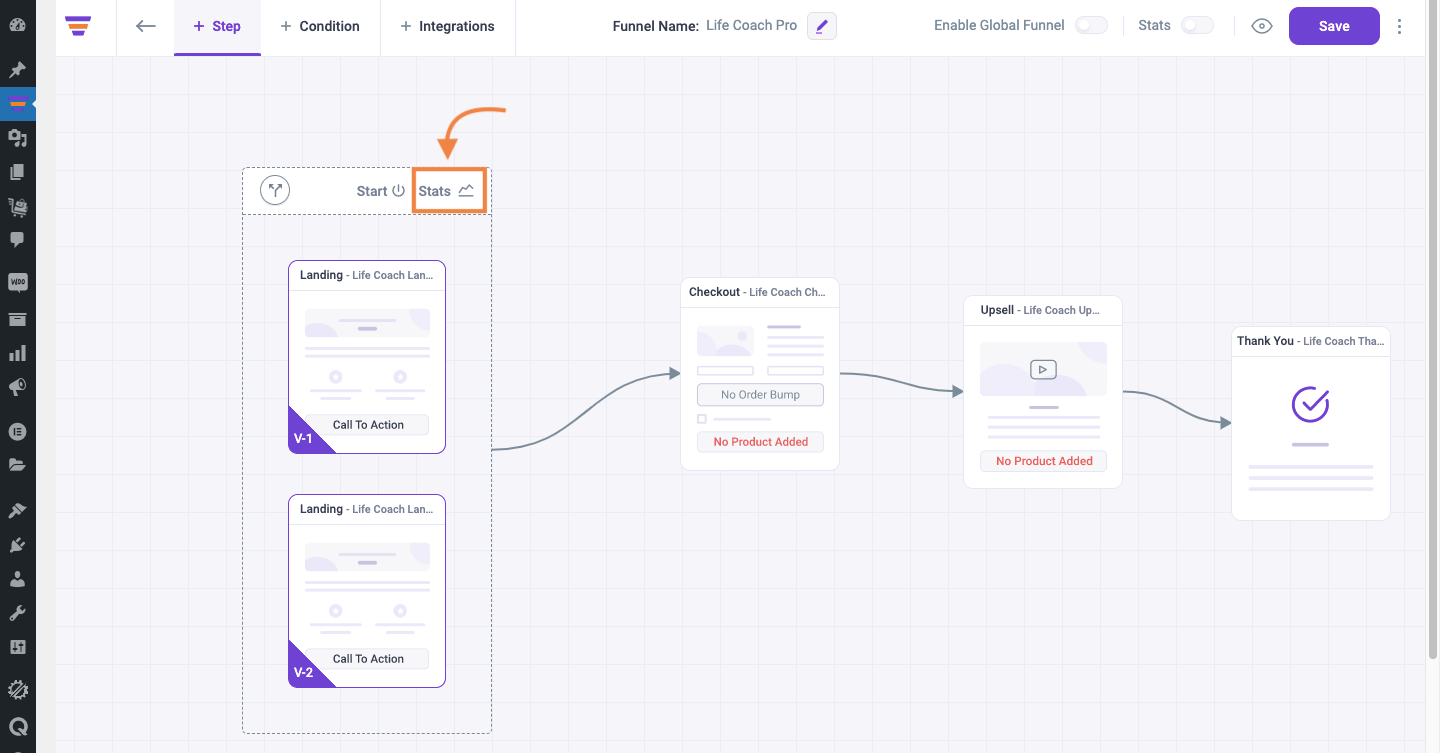 2. It will open the Stat window and you can view the details such as visits, conversion, conversion rate, revenue & winner of this A/B testing.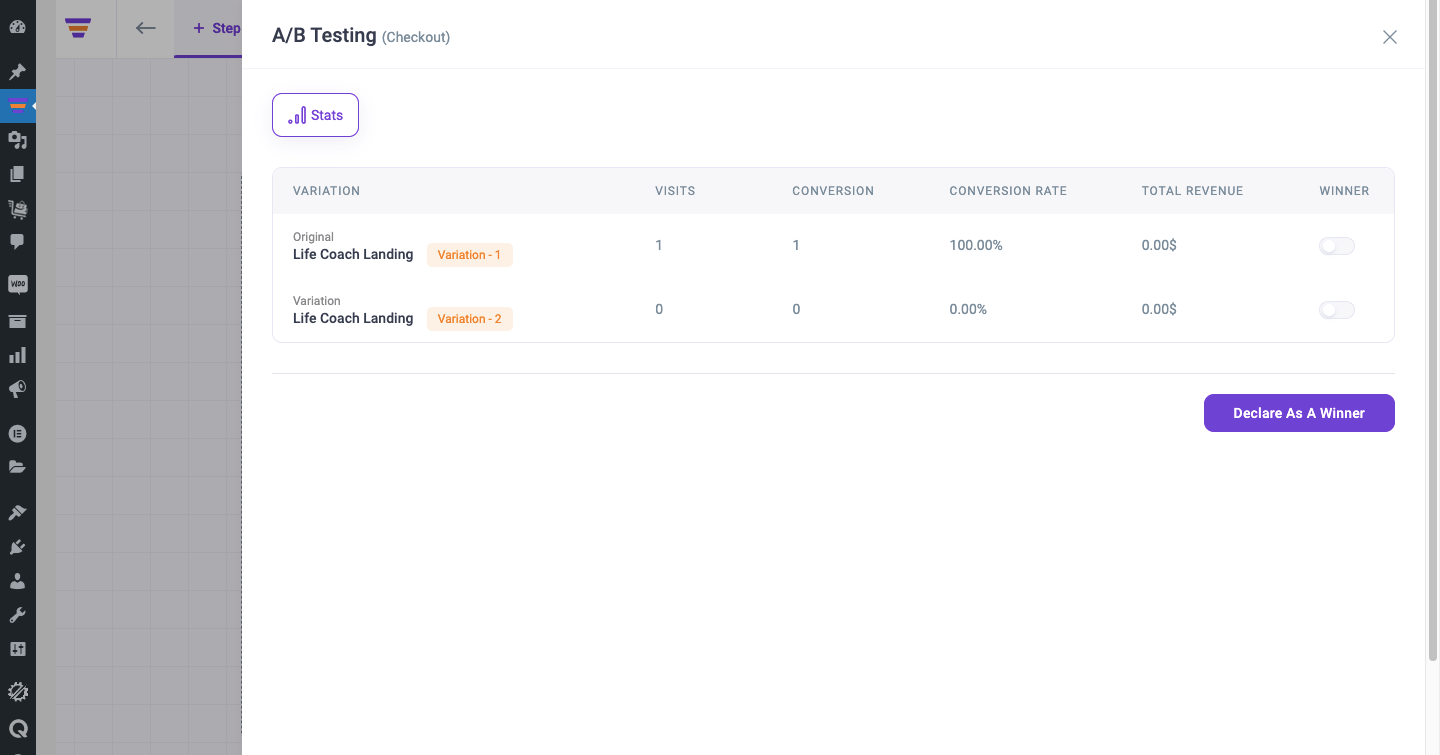 3. If you want, you can declare a winner manually – just enable the toggle for a variant manually. Then click on Declare As A Winner button.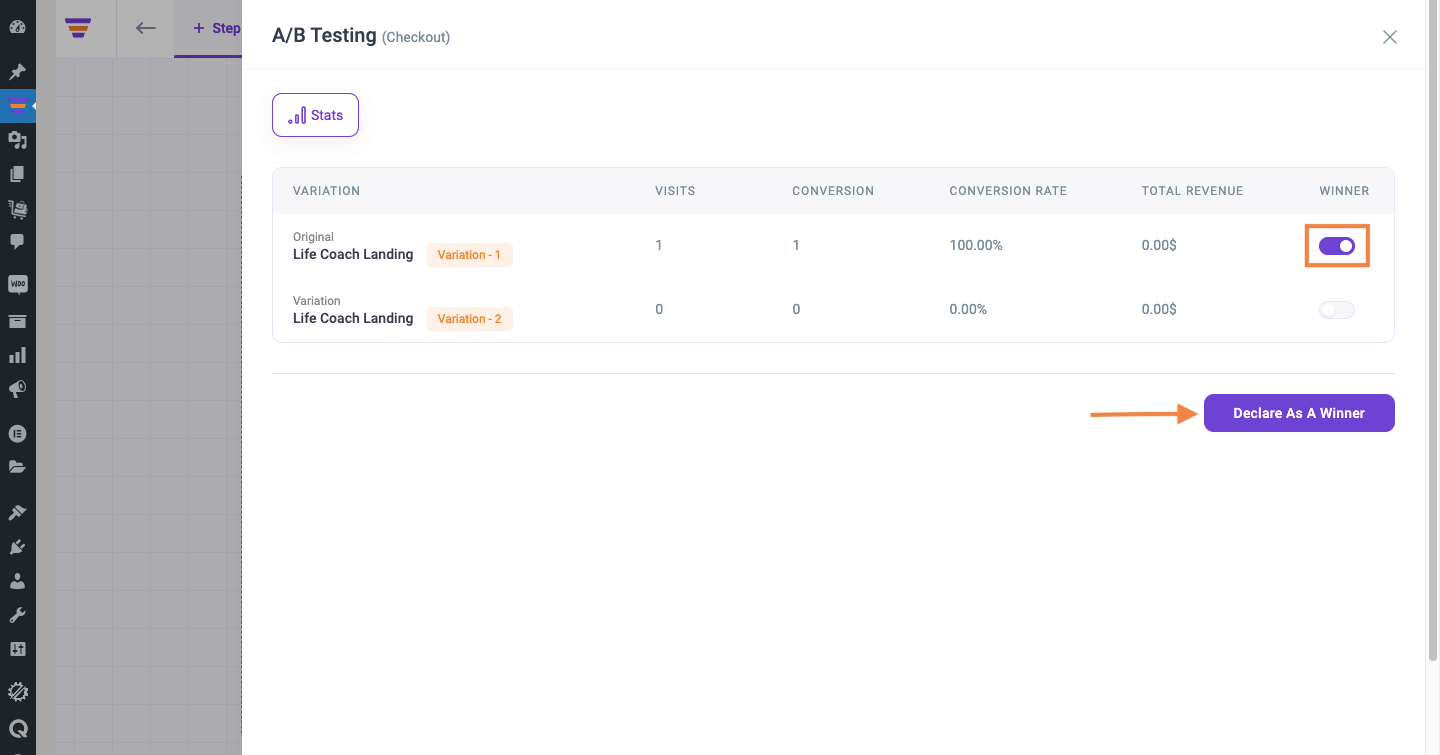 Step 5: Stop Running A/B Testing
Now that you have a winner you can stop the A/B testing for this step.
On your funnel canvas, click on the Stop icon above your variants and the A/B test will stop running.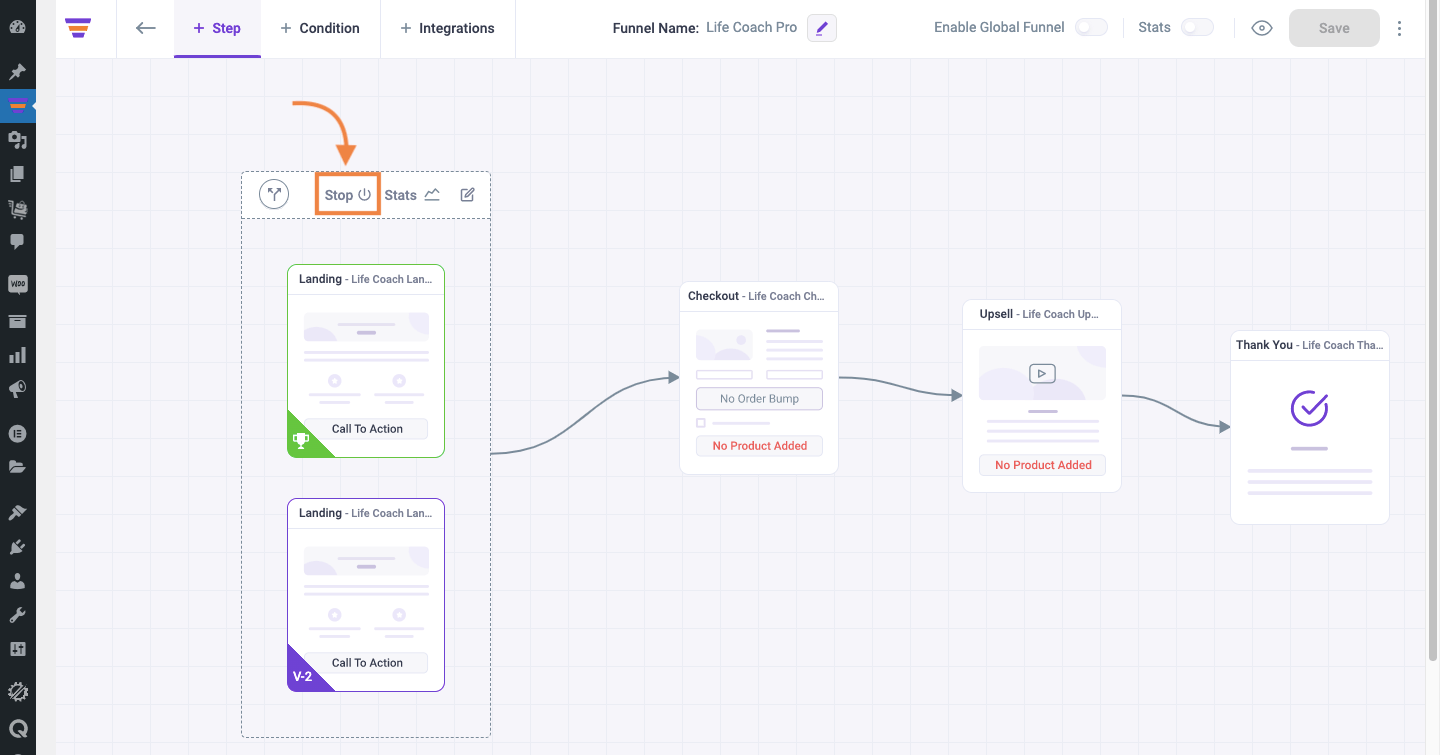 That's it, now easily repeat these processes for other funnel steps as well to run A/B tests.